Diwali is a time for family, friends, food and fun. Given the multitude of things to keep in mind while partying during a pandemic, your home might be the most ideal venue. We have your back with this thorough DIY house party manual, that'll ensure that a deadline doesn't come in the way of your celebrations.
Fun munch
The difference between a good and a great party is the grub, and setting the right menu can elevate the entire experience. Chef Vanita Tondon from Ballygunge-based gourmet catering service Brown's emphasised on menu planning, and thinking about how you wish your guests to spend their time at the party, before preparing the menu. "You can either go for heavier snacks and a lighter main course, or focus on the main course, with light accompaniments like a Mezze spread, cheese board, or dip and crackers. If you wish to serve a one-pot meal like curry and noodles in your main course with plenty of condiments on the side, you need to keep a minimum of 4 filling starters, so that your party is about passing around snacks and enjoying conversations over them, rather than just spending your time eating," she said.
She also brought renewed focus onto presentation and perspective, when it comes to food. "Something as simple as tacos, which are normally difficult to assemble, and can only be eaten in a sit-down format can be tweaked into bite-sized flat tacos to make for a more handy starter. Another creative way to make a snack more wholesome and festive is to transform your risotto into an arancini, which are deep-fried risotto balls served with a sauce," said Tondon.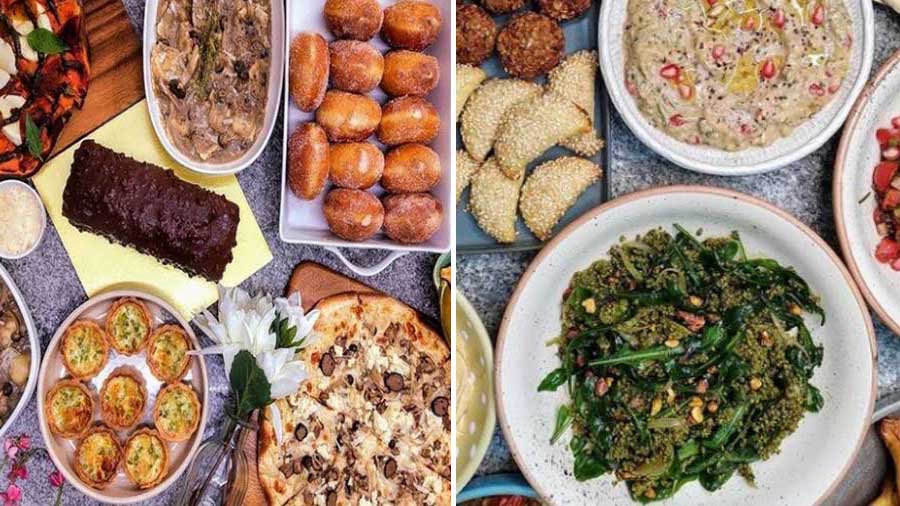 Ballygunge-based catering service, Brown's, has an elaborate spread for both a (left) tea party, and a mezze platter
Instagram
She added that a Diwali party should not just be about food, but about chatting and bonding, suggesting a 'buffet corner' to make the host's job easier. Food risers and cake stands not only make for a more polished presentation where the dishes are kept at different levels, but also allow guests to replenish their plates as per their convenience, rather than having intrusive servers offering food every few minutes, and interrupting the flow of conversation.
What about a party that begins late, and goes on till the wee hours of the morning though? "If you are planning a stayover, lay out the first few snacks as the evening kicks in, and serve dinner a bit late. Do not bring out all your food, and keep some easy reheatable snacks aside for later in the night, that you can bring out without much fuss. Sandwiches are an excellent choice, where people can assemble the buns and fillings themselves. Pizza is also an ideal midnight snack, as it can stay in the fridge for a long time, and all you need for a hot pizza is 8 minutes in the oven," Tondon added.
The concept of cooking together has become a major hit in recent years, allowing for people to bond over tasty, and sometimes unappetising experiments. For such parties, Tondon suggested options such as falafel sandwiches, tortilla wraps and pita pockets, where guests can choose their own sauces and fillings. "If you want something more elaborate, opt for an interactive curry laksa, where everyone can add their own toppings and do away with the hassle of holding a dinner plate. You can also add black bean chicken and stir-fry vegetables to make it a complete Asian meal," she said.
Drink and be merry
A hearty meal is incomplete without a refreshing (or uplifting) beverage, which is often a major source of bonding for people. 'What are you drinking?' is generally the most-asked question at a party, and cocktail enthusiasts take this opportunity to get validation for their unique tastes.
Virat Kohli's famed One8 Commune, which has an address at Ho Chi Minh Sarani is known to be a fest for cocktail enthusiasts. If you are looking for someone to curate a special Diwali drinks menu, visit One8 Commune Kolkata's head mixologist Neeraj Sharma's Instagram handle, where he shares sweet sips that can elevate your party. "For teetotalers, mocktails like mango mojito, lemongrass cooler, cucumber spritzer and lavender iced teas are great, exotic choices. If your guests like alcoholic beverages, you can offer them a whisky sour, and some reliable options like ginger or cumin cocktails," said the former head-bartender at Tresind Dubai.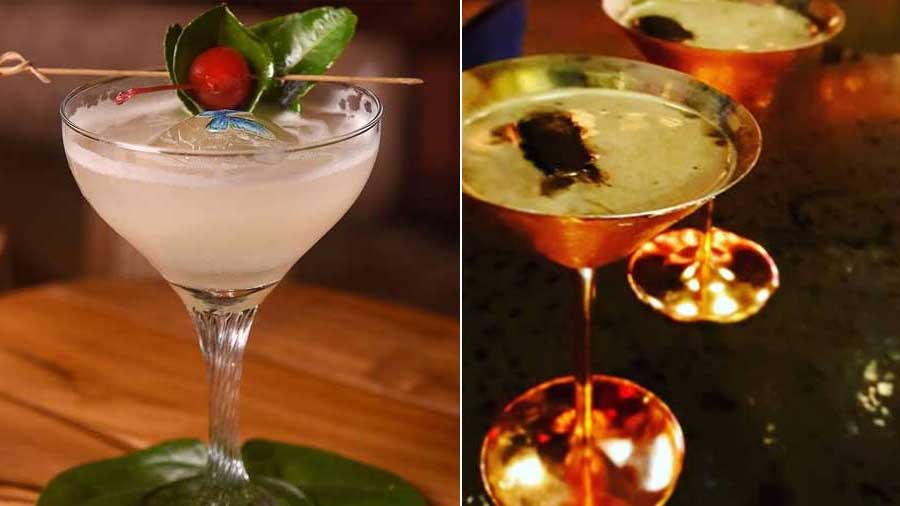 One8 Commune Kolkata's head mixologist Neeraj Sharma shares exciting mixes on his Instagram like (left) The Fairy Lady and Charred Cinnamon Infused Bourbon
Instagram
Sharma also suggested giving a twist to classic drinks like the virgin mojito with items that are easily available, such as tangerine, kiwi, watermelon, pineapple. "I have prepared a kala khatta spritzer too," he smiled.
He also warned hosts to be mindful of presentation given the occassion, as garnish adds an appeal to the eye. "Always choose your garnish according to the drink and its ingredients. You need not go overboard, and routine items like mint leaves, lemon and orange slices, pineapples and green apples are a great way to make your drinks pop, just like crackers," said Sharma.
Let the music play
Good music sets the mood for every party, especially after everyone has a few drinks in them. With virtually every song ever released now available to stream, one might think that curating a party playlist has never been easier. However, resident DJ and nightlife director of M Bar Kitchen, Girish says that things aren't as linear as they seem.
"It depends on the type of party. If people have already had their food and drinks at a bar before bringing the party home, chill-out ambient or deep house music works best, which can be anything from Meduza to Zhu to Ciggerets After Sex. As the night commences and people get drunk, there will be a couple of wackos in every party who will crank up the volume to commercial tracks and take to the dance floor," he said.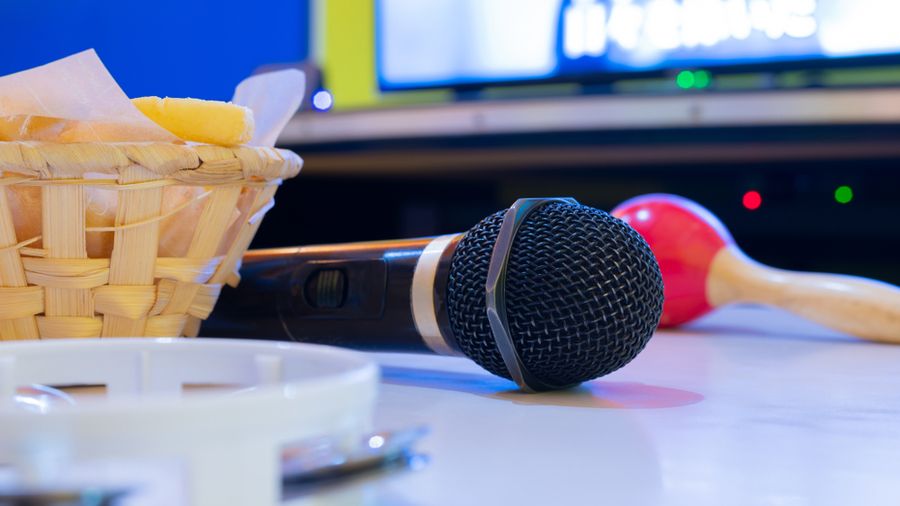 Karaoke modules allow people to sing together and bond at parties
Shutterstock
Girish added that there has been a certain democratization of music, with it being virtually impossible to curate a party playlist anymore. "Now, every hour someone else takes over the DJ duties, and makes their friends and family listen to their music taste. In order to plan such an intimate party at home, you just need a good quality boombox from Sony to Bose depending on your budget, along with an extension cord and conversion cables for both Android and iPhone. This is exactly how I would organise a party at my place, where everyone has the freedom to take over the console, and I can focus on getting to know my guests. In a house party, there shouldn't be music guidelines, neither should the tunes interfere with the conversation," said Girish, who curated special party mixes for international South-Asian radio group, Rukus Avenue.
He also recommended buying a Karaoke module which came preloaded with all the popular numbers, a splurge that will no doubt be made sweeter with a Diwali deal. "You can find a good module for Rs 7,000, so if a few friends can split the cost. The microphone also comes with an inbuilt programmer that can make literally anyone sound melodious. All you need for a fun karaoke session is to simply plug it into your TV and everyone will act like Backstreet Boys," he said.
Decor and Entertainment
While everyone has mastered the art of converting their home into an office in the past year, turning it into the perfect party pad requires a little more finesse. When event organiser Pepsi Kalwani of UD Events and More couldn't visit her client's homes during the first wave, she decided to curate all the materials for the party in a DIY kit, and sent it over to the host, who was guided on putting everything in place through a video call.
"When people finally got comfortable with us sending a small team for a small setup, we focussed on a particular section of their home. Instead of creating a universal experience for a large party like we used to, smaller groups have allowed us to pay attention to everyone, and we now create personalised things for guests, from napkins to tee-shirts to even bedsheets," said Kalwani.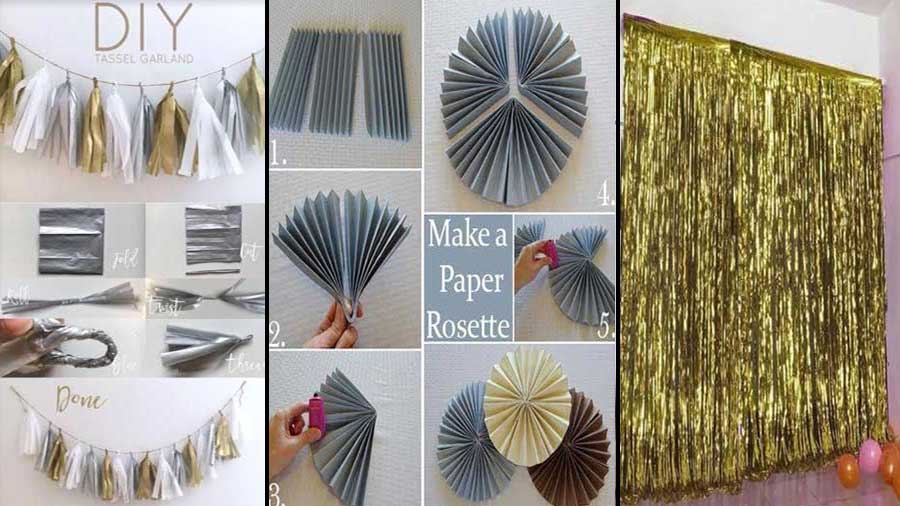 Simple and cost effective DIY hacks can be used to amplify your space
Pepsi Kalwani
She remarked that there are plenty of easy ways to make your home party-ready. "Candles are a great decorative item, particularly for Diwali, and enhance dinners especially. People can set up tents with bed sheets in their balcony or lawn, which is a great corner for a couple to chill in. You can also purchase inflatable balloons with messages relevant to the occasion to create a striking backdrop for pictures. These balloons are found everywhere, from New Market to Beckbagan. Foil curtains are also an easily available backdrop. String lights are a great way to aesthetically decorate your home on a budget," she said.
Kalwani emphasised on the importance of creating experiences that were unique and entertaining, be it by putting up a dance performance with the help of a professional choreographer to celebrate someone's engagement, or even bringing in a zumba instructor for a fun 30 minute session. Besides this, guests today are spoilt for choice when it comes to party games, with family friendly options like Monodeal and Catan, and more mature ones like Cards Against Humanity, all of which are easily available on Amazon. Needless to say, a Diwali party without poker and Taash is incomplete.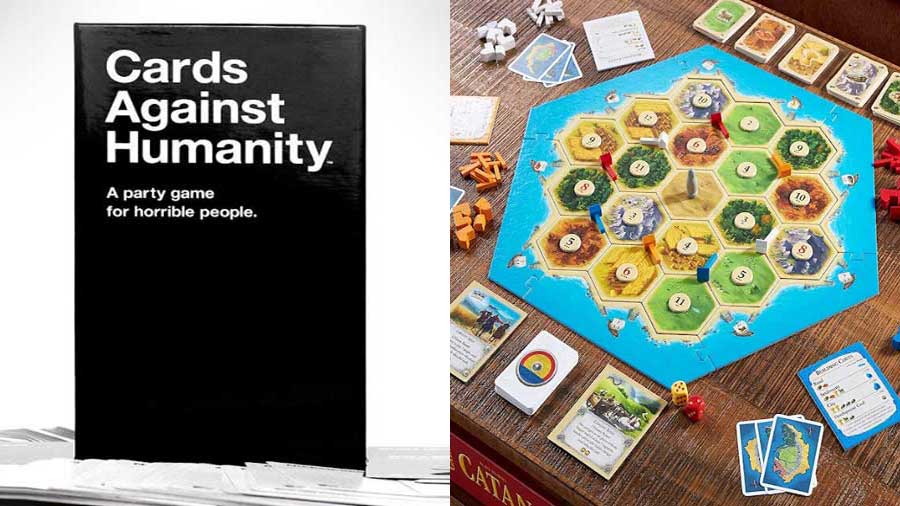 Games like (left) Cards Against Humanity and Catan help engage guests in fun competitions.
Amazon
That being said, the consensus remains that there is no one right way to conduct a party. If the ambience is welcoming, food good, and friends close, even the most unorthodox gathering can make for a memorable Diwali.
Have a good one!