India is a country that contains multitudes not just in terms of geography and culture, but performing arts too. Filmmaker and FTII, Pune, alumnus Cyrille Larrieu's film, Dance India Today, documents author, dancer and choreographer Annette Leday's interviews with contemporary and classical dancers across the country, which also inspired Annette's book of the same name.
The duo were in Kolkata for the Apeejay Kolkata Literary Festival 2023 to speak about Annette's book and their film in a session with dancer and choreographer Vikram Iyengar and Ranvir Shah, founder of Prakriti Foundation, which is hosting a tour of the book and film in India.
My Kolkata caught up with them just before the event on January 15.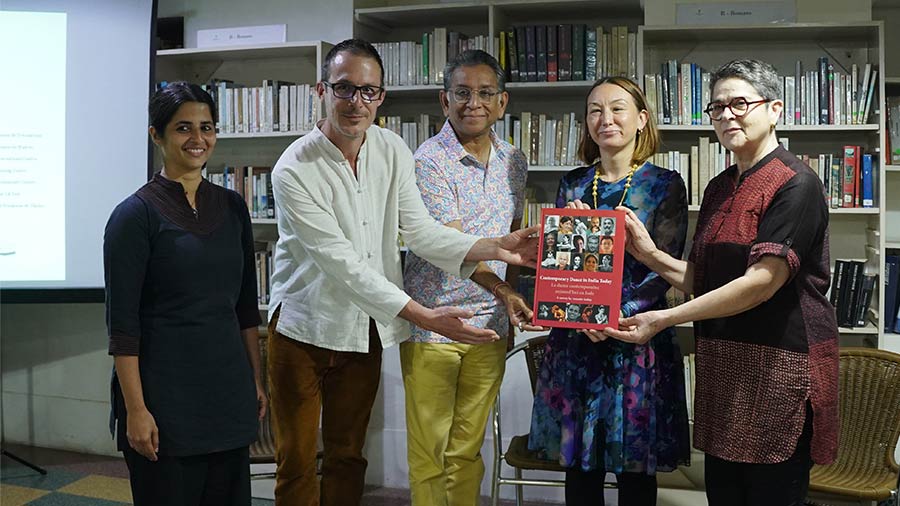 (L-R) Dancer Anoushka Kurien, Cyrille Larrieu, Ranvir Shah, the French consulate general in Pondicherry and Chennai, Lise Talbot Barre, and Annette Leday at the book and movie launch at Chennai
"We've known Annette for a few years, and she is a dear friend. While we often criticise people from the West for exploiting and taking our art, she is exceedingly sensitive and imbibing. Her motive is to share her findings with audiences worldwide. To engage with an artiste who has such generosity of intent is a pleasure," said Ranvir, who is at the helm of the Chennai-based organisation that works to promote Indian arts and culture through events, awards and more. In its 25 years, the foundation has focussed on poetry, modern literature, theatre, contemporary dance, contemporary and traditional music, heritage and conservation, indology and Indian art history.
From France to India, for the love of dance
Annette's journey with Indian dance is over three decades old. Born and brought up in France, she first visited India in 1975. "I studied Bharatanatyam and Kathakali for a year in Madras. After that, I spent a few years studying Kathakali in Kerala. Besides performing, I was also learning and organising tours."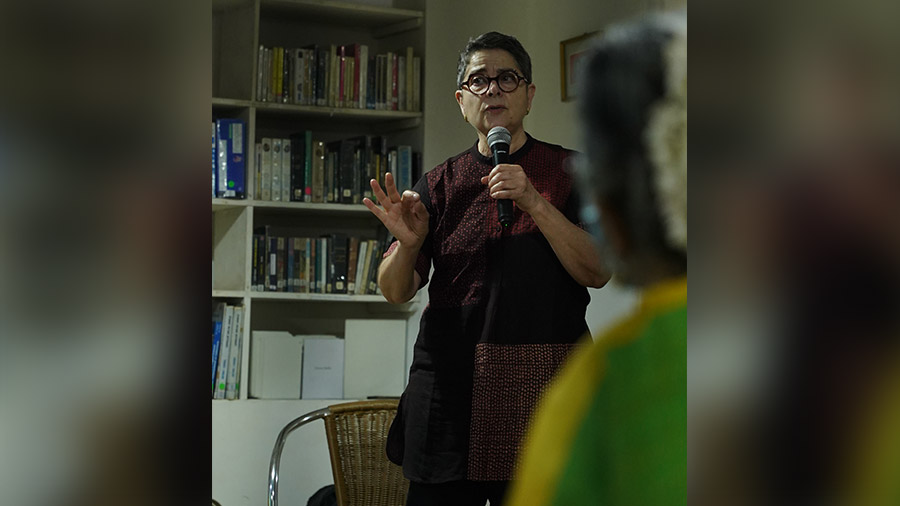 Annette Leday spent two years meeting and interacting with contemporary dancers in India for a research project, which sparked the idea for her book
She slowly moved towards production, first with an adaptation of King Lear in Kathakali, before organising many more with Indian and French dancers. She continued to grow in the theatre circuit, translating many modern and contemporary French plays in India, and directed her own choreographic productions. "When I developed an interest in modern playwriting, people in the West did not even know about the existence of any modern or contemporary performing arts in India. I decided to open my eyes to alternative forms of performing arts, and met dancers and choreographers for this."
The turning point for Annette was when she contributed to a French magazine for an issue devoted to Indian contemporary dance. "While writing an article on dance for the magazine, I felt like expanding upon the concept of contemporary dance in India, and approached an institute which gives grants to researchers who want to study dance globally. Once my research proposal was selected, I spent two years meeting and speaking to over 20 performers, artists, choreographers and scholars from all across the country, trying to figure out what was the ecology of contemporary dance in India. That's what gave birth to my book."
It was while conducting her interviews that Annette got in touch with Prakriti Foundation. Among the dancers Annette spoke to are winners of Prakiriti's bi-annual Prakriti Excellence in Contemporary Dance Awards.
From Paris to Pune, for the love of Indian films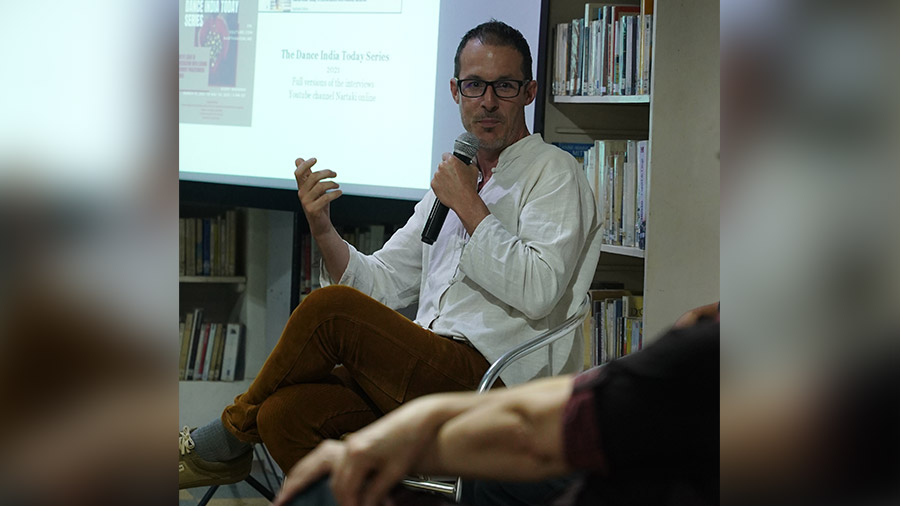 Cyrille's desire to study India more deeply brought him to FTII Pune's film direction course
When she returned to Paris to write her report, the filmed interviews made her realise that her work also had visual potential. "I knew Cyrille through our mutual India connection and told him about how it would be interesting to make a documentary film on my work."
"While studying anthropology in Paris, India was my cultural focus. After watching Indian films, I wanted to join a film school in India, and my anthropology professor told me about FTII (Film and Television Institute of India), Pune. I cleared the entrance exam and got admission in the film direction course," said Cyrille about his journey to India.
At FTII, Cyrille made a number of fiction short films and documentaries. His background made him the perfect collaborator for Annette's project.
Cyrille connected deeply with her vision, having spent a great deal of time imbibing Indian art. "Annette wanted to keep an audio-visual archive of her exchanges with the performers. After doing a workshop together and getting the equipment, we shot a few hours of interviews. When we saw all the footage, we realised that it supported the book," he said.
From book to film
Adapting the book into a film was tricky. Speaking about the process the filmmaker said, "The book is an academic work with a specific table of contents. The film followed what was in it, but the editing organised things differently. Things were shuffled around, since it is a very different medium." He added that there were a lot of conversations about which parts of the book to keep, and what to leave out. Finally, after talking to a lot of people, the duo zeroed in on a 37-minute runtime.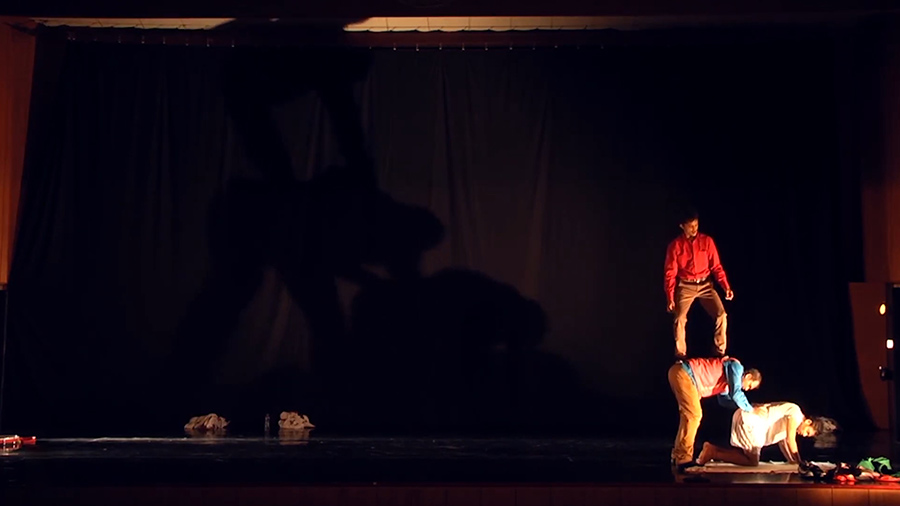 The film has a snippet from NH7 by Deepak Kurki Shivaswamy in Delhi
"My questions had been prepared in advance and I wanted to explore a few themes. There was a structure to the answers, and I extracted particular subjects and asked Cyrille to articulate them," said Annette while elaborating that a lot of elements from the book, like the portions on budgeting process and government policies, did not make it to the film. "One of Cyrille's major concerns was that the film would only have talking heads, but the editing gave it a rhythm and brought movement to clips which would have otherwise seemed dull."
Going by the overwhelming response, plans are afoot for a sequel too, Cyrille reveals. "Our skills complement each other and we are a good team. The film was like a research video supporting the book. We are planning a second wave of the project which will do justice to organic movements and choreography. For now, the purpose of this tour is to update today's generation and meet more dancers, while also meeting more people and doing a recce. The second film will be an Indo-French collaboration with a more cinematographic purpose, where choreographic items will play a major role."
A celebration of Indian contemporary dance
In the end, the film is a celebration of India. "Annette's survey is a very important milestone in the journey of Indian contemporary dance, which is forming its own language and craft. Everywhere we take this film and book, people ask different questions, from expression to pedagogy to geography," said Ranvir. He also emphasised on his desire to take the book and film to everyone, in order to raise awareness and inspire youngsters to embrace contemporary dance. Annette and Cyrille's tour is part of the foundation's silver jubilee events.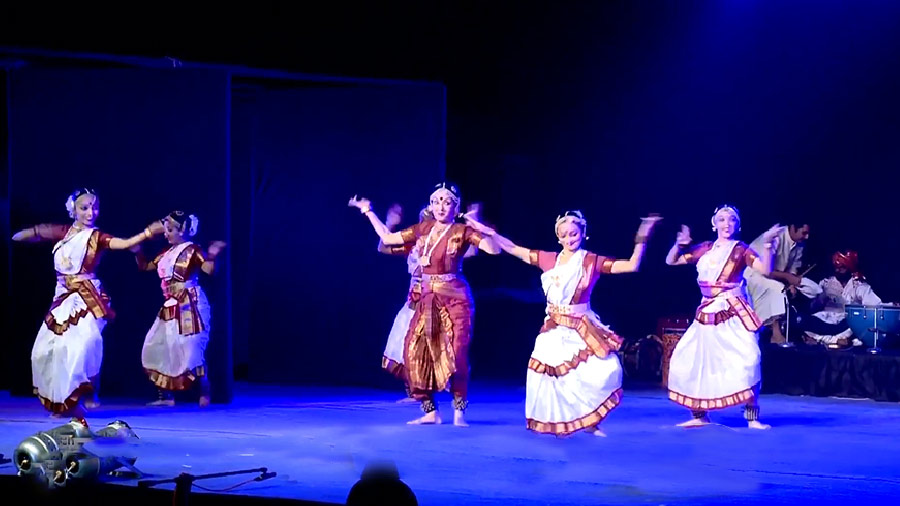 Annette captured the Share and Care event by the Mallika Sarabhai Company at Chennai
"The joy of India is that the more you travel, the more incredible talent you find across the country, just like Annette has. The movie features exemplary dancers from Imphal, Bhilai and Arunachal Pradesh. When these energies come into one field, they bring different inspirations, and engage with the future generation in interesting ways."
Annette also expressed her excitement to meet Kolkata's audiences. "I have performed in the city many times and people have a special curiosity, along with the comfort of giving India great artists like Ray and Tagore. A lot is happening in Kolkata's dance field, and it is a great time to bring our work to the people."
Highlighting how this tour marks his return to the country after a decade, Cyrille said, "We owe a lot to India, with the time we spent here, the encounters we had, and the work we did. This is our way to share with the country all that we've received."