"Kolkata is intense and elegant at the same time," says Paulina Wilk, a journalist and author based in the Polish capital of Warsaw, who has made it a habit of returning to Kolkata ever since her inaugural visit as a student in 2003. "I first came to Kolkata almost two decades ago for research work as a student of political science. I wanted to look at women and children's lives in the city, because it is a vital metric to understand the state of the economy, law and society in any country." With every trip since, Paulina has fallen deeper in love with Kolkata, a city that has made her feel "welcome, secure and charmed".
Paulina confesses that she had a vision that she would love Kolkata even before she made her way here from Warsaw via Delhi: "Somewhere deep down, I knew that Kolkata would become one of my favourite places on earth." Back in Kolkata after a gap of three years due to the travel restrictions imposed by Covid-19, Paulina says that in 25 years of travelling and reporting around the world, "I've never felt a deeper relationship with any other city".
Calcutta Bungalow: I was surprised to see such a place exists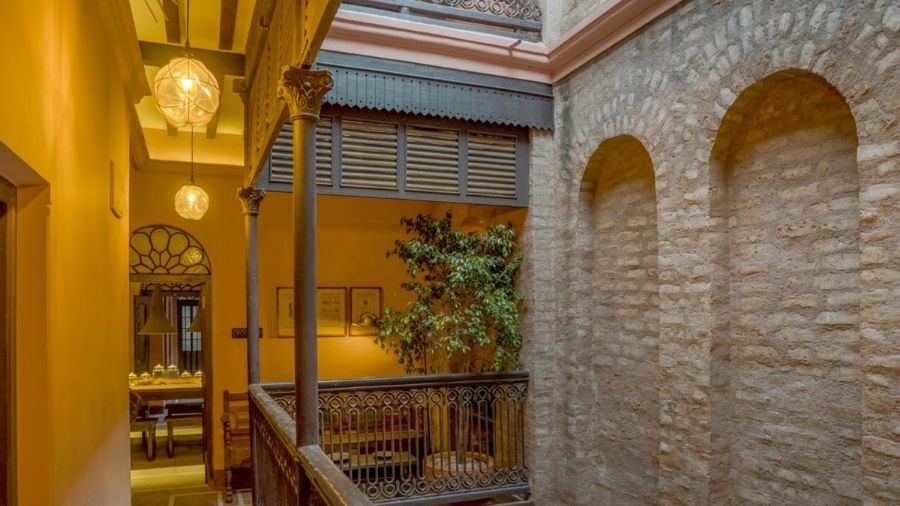 Paulina feels that Calcutta Bungalow captures the old and new Kolkata perfectly
Arijit Sen
Each time Paulina comes to Kolkata, she discovers something new, some previously unexplored nook and corner that redefines her experience of the city, much like fresh ink on a decades-old palimpsest. Among her discoveries this time around is an entire building, more precisely the heritage bed-and-breakfast lodge of Calcutta Bungalow on Fariapukur's Radha Kanta Jew Street. It does not take an expert to gauge that Paulina is enamoured by Calcutta Bungalow, where she is staying for the entirety of her time in Kolkata this summer. 
"I was quite surprised to see such a place exists, that someone loves the city enough to refurbish an old townhouse into a boutique hotel. When I first arrived here, I stood for some time outside the building admiring the facade. The intricacy and attention to detail is fascinating. During my days in India, I have stayed at many hotels, but Calcutta Bungalow is unique. It captures the old and new Kolkata perfectly," says Paulina.
Kolkata's two faces: the old that values its heritage and the new that chases modern dreams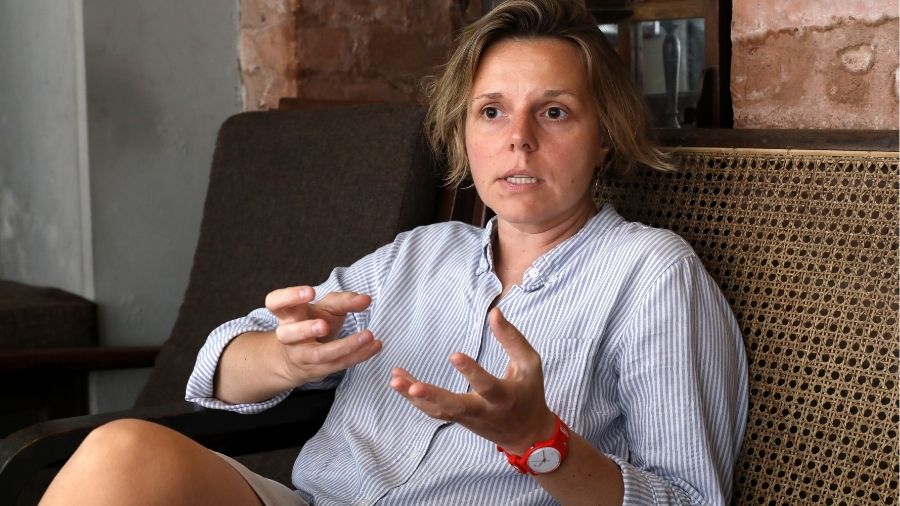 Having grown up in Warsaw, which was ravaged by the Second World War, Paulina knows the importance Kolkata's material history holds
Arijit Sen
Old and new are two words Paulina uses frequently to describe Kolkata, proud at how the city has retained its "two faces": the old that values and preserves its heritage and the new that chases modern dreams and ambitions without severing the past. Born and brought up in Warsaw, a city whose material history was obliterated almost entirely by the Second World War, Paulina knows the anguish of not inheriting a rich cultural legacy. "Back home, when I was growing up, we didn't have anything that was older than 70 years. Warsaw is a city that was brutally shaken by history, which is why whenever I come across a 300-year-old building in Kolkata, I feel a rush of amazement."
In her formative years, Paulina did not get to travel much, at least not outside the erstwhile Soviet Union. "My parents didn't have their passports at home, but my father still made sure we travelled within the Soviet Bloc whenever possible. Once I came to Kolkata, I remember calling my parents using the STD connection. In many ways, I've been travelling because of them as well as for them."
Kolkata has kept its spirit intact; knows how to repair, reuse and repurpose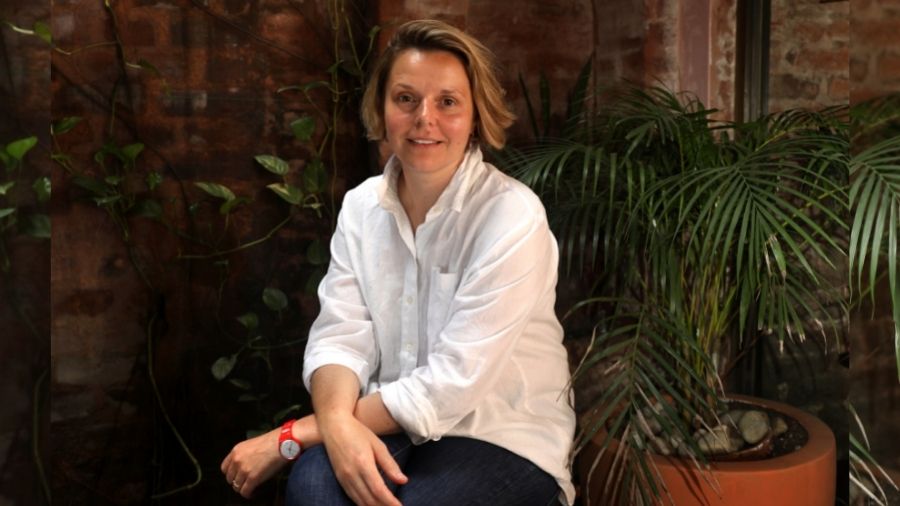 Paulina explains how Poland and India underwent a similar trajectory of growth and expansion in the 1990s
Arijit Sen
As someone whose youth coincided with the moment of Poland's "clean break" from socialism at the end of the Soviet era, Paulina feels she has been part of a generation trying to make up for lost time. "The generation before me felt they missed out on a lot and that their children needed to be thrust into the capitalistic world with knowledge of English and computers and the experience of having seen many places across the planet. So we became the tigers for a new Poland, virtually in sync with how Indians in the '90s were adapting to a different society following the liberalisation reforms championed by Manmohan Singh. Whenever I speak to my female friends in India, I realise that we grew up watching the same MTV videos and desiring the same pair of jeans!"
In spite of Poland and India's similar trajectory through the last part of the 20th century, Paulina believes that the two have diverged somewhat in more recent times. "I see how Kolkata, in particular, has kept its spirit intact. For instance, take Kolkata's culture of handicrafts, art and jewellery. This isn't something you'll see in so-called developed European capitals because people over there have forgotten how to pass on the knowhow of craftsmanship across generations," says Paulina. She goes on to narrate how she recently went to New Market to fix a broken bangle, one she had purchased in Kolkata 20 years ago. "The guy told me that he remembered me and that he'd fix it for me. I had a similar experience at a jewellery shop where I had gone to mend one of my earrings that had lost a precious stone. These experiences go to show that Kolkata knows how to repair, reuse and repurpose, which is a unique form of capital in its own right."
Wandering through College Street, sipping coffee at the Indian Coffee House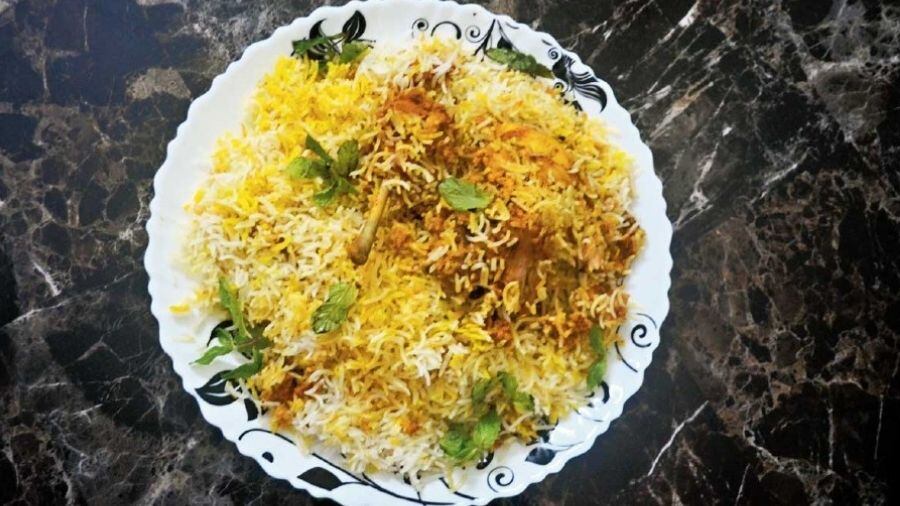 Biryani, whether from Arsalan or Zeeshan, is among Paulina's favourite dishes in Kolkata
TT archives
When in Kolkata, Paulina's day begins by waking up to the "soundscape of auto rickshaws honking, people praying, dogs barking and hawkers unleashing their rallying cry". It is something she enjoys, but not as much as wandering through College Street, sipping coffee at the Indian Coffee House, just like in her student days, and ordering several kilograms worth of books. "In the earlier days, the women at the Warsaw post office would get so excited to see beautifully stitched packages arriving from Kolkata with handwritten notes and a lovely smell," recalls Paulina. Those packages, of course, would contain books bought by Paulina in Kolkata and sent through sea mail across 6,500km. "I switched to air mail over the last few years, but I still miss waiting for two or three months in Warsaw to receive my books," smiles Paulina.
Orange stick ice cream by the pond in Santoshpur, ginger tea and sandwiches at Dolly's
Having stayed in Santoshpur as a student, Paulina never fails to take the bus from Park Street to Santoshpur whenever she is in the city. Fond of whiling away some time sitting by the pond in Santoshpur and feasting on her favourite orange ice cream stick, Paulina also goes to areas like New Town and Salt Lake, eager to witness how different parts of Kolkata are growing. For her gastronomic pleasures, chiefly biryani, Arsalan or Zeeshan, with "its huge, fat potato", is Paulina's port of call, often preceded by ginger tea and sandwiches at Dolly's Tea Shop at the Dakshinapan Shopping Complex in Dhakuria.
One day in India is equal to five years in Europe, simply because there's so much to observe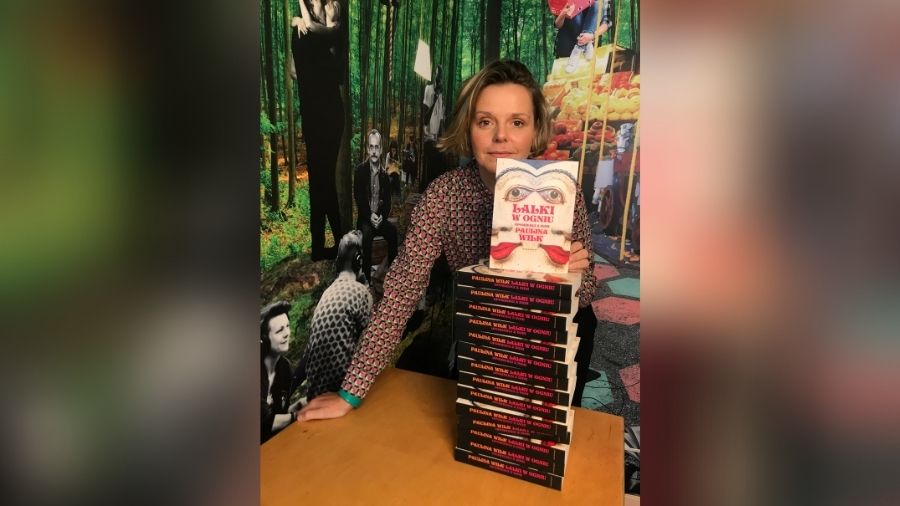 Paulina with her book on India 'Lalki w ogniu: Opowieści z Indii', roughly translated in English to 'Dolls on Fire', which was published in 2011
Marta Wróbel
"I'm very interested in observing what Kolkata, and India as a whole, is gaining and losing," remarks Paulina, as the conversation slowly shifts to her work in Poland. Apart from her columns and features for Polityka, a weekly political magazine in Poland, Paulina writes for Przekrój, Poland's oldest weekly newsmagazine, established in 1945 and relaunched in 2016 with a focus on wellness and lifestyle for a global, cosmopolitan audience. "India is a great inspiration for us at Przekrój, and our September issue this year will be dedicated to India. There will be stories on Rabindranath Tagore, Swami Vivekananda, ayurvedic medicine, among other quintessential Indian personalities and practices."
In 2011, Paulina published Lalki w ogniu: Opowieści z Indii, roughly translated in English to Dolls on Fire, her authoritative tome on India and how she sees the country. The book, which was republished in April 2022, became an instant bestseller upon its initial release in Poland, selling 70,000 copies. "My book came at a time when the trend of backpackers travelling to Asia was gathering momentum. For Poles coming to India, it became a sort of a guide, because India is a complex country. I feel that one day in India is equal to five years in Europe, simply because there's so much to observe! My primary aim in writing this book about Indian life, culture and society was to peel away the stereotypes about India. And also to eliminate the idea that India needs to be fixed, which is the most inaccurate reaction someone can have to the country," explains Paulina.
"A bit of culture won't hurt"!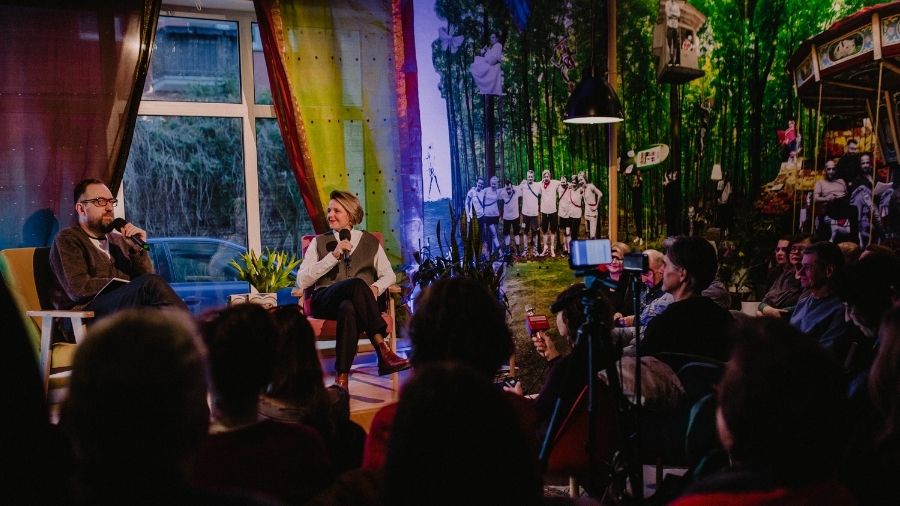 Paulina in conversation with author Michał Nogaś at Warsaw's Big Book Festival
Courtesy Paulina Wilk
Paulina's quest to inform her compatriots about Indian and other cultures found another outlet in 2013, when she and her team at Kultura nie boli (which translates to "A bit of culture won't hurt"), an independent NGO, started the Big Book Festival in Warsaw. In the years since, the festival has become one of the most important literary events in Central Europe, hosting literary stars such as Svetlana Alexievich, Zadie Smith, Hanif Kureishi, Jeet Thayil, among others. "Every year, the Big Book Festival takes place in unusual locations – places nobody would associate with reading – from old factories to railway stations to otherwise busy crossings. For us, literature isn't something limited to the page. It's something that's out there, with all its dynamism, excitement and lived realities," says Paulina.
To come back to Kolkata, its places and its people, is always comforting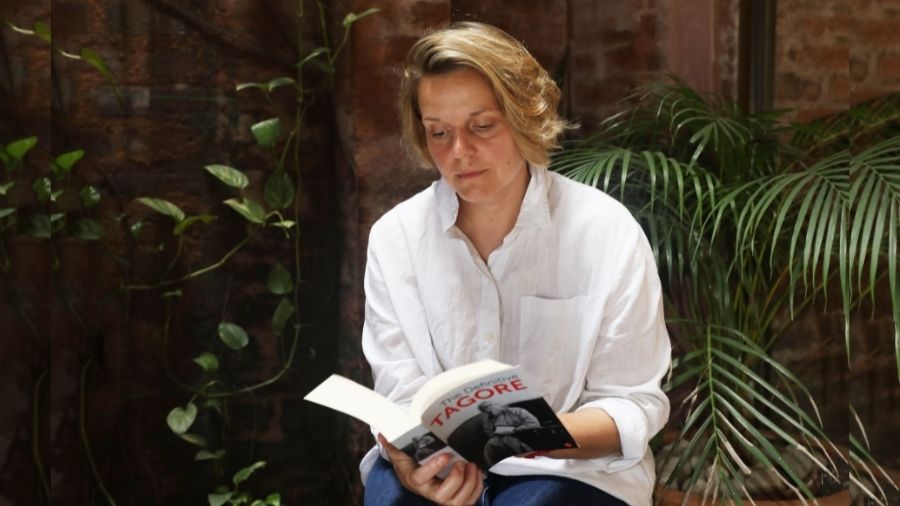 Paulina describes Kolkata as her "second home"
Arijit Sen
Even though she is presently on vacation in Kolkata, Paulina cannot help observing and analysing everything around her. "The other day I watched a driver unpack the engine of an Ambassador. He was patient enough to answer my numerous questions," she chuckles. A second edition of her book on India is also brewing in her mind, one that explores the impact of new technology on Indians. "I want to document how the smartphone and the internet have changed India. I get a feeling that India, the land of hope at the start of the century, hasn't quite lived up to its billing. I want to know why." 
With each thought about what is new, there comes the lingering desire for whatever is old. "I'll be heading over to meet the family I stayed with during my time in Santoshpur as a student (Paulina was introduced to the family by her cousin sister, then an Indologist at Jadavpur University). We've become really close friends over the years," says Paulina, before adding that she intends to be in the city till mid-July.
"My heart breaks whenever I have to leave Kolkata and I end up crying. I'm someone who feels overwhelmed by change. To come back to Kolkata, its places and its people, is always comforting," concludes Paulina, whose timeless love for Kolkata means that she will keep returning to her "second home, which endures more than it changes".