MEXICAN WRAP
Ingredients
 Tortilla: 1
 Refried beans: 25g
 Salsa: 25g
 Sour cream: 25g
 Iceberg lettuce: 15g
 Bell pepper: 40g
 Chilli flake
 Processed cheese: 25g
 Refined oil: 15ml
 Jalapeno: 10g
 Corn: 15g
 Roasted cumin seed: 3g
 Tomato ketchup: 15g
 Garlic: 4 cloves
 Onion: 1 piece
 Coriander: 4g
 Lemon: ½ tsp

Method
Heat a pan, add chopped garlic and saute it. Add thick slices of onion, bell pepper, corn, jalapeno and sauté. Add salt, chilli flake, tomato ketchup and mix well. Add cumin (crushed), coriander and lemon juice. Keep aside.
Take the tortilla and spread the refried beans. Then pour the filling on refried beans. Add iceberg lettuce, processed cheese, salsa and wrap it tightly. Heat another pan and add some oil. Place the wrap on the pan and cook till golden brown.
Remove and cut into two before serving with sour cream and salsa.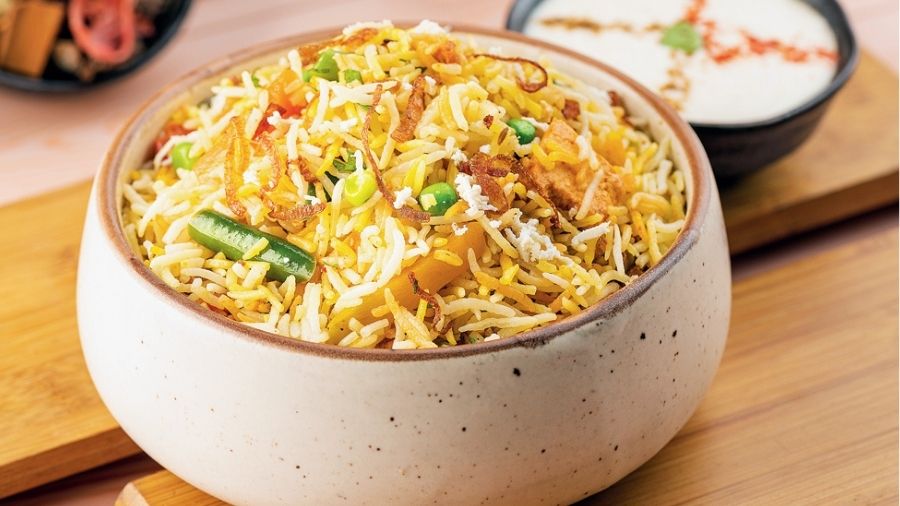 VEGETABLE DUM BIRYANI

Ingredients
 Biryani rice (soaked for 45min): 80g
 Salt
 Cinnamon: 4 pieces
 Cardamom (green): 6 pieces
 Clove: 6 pieces
 Star anise: 1 piece
 Lemon: 1
 Rosewater: 1tbsp
 Kewra water: 1tbsp
 Mitha attar: 3ml
 Garam masala ½ tsp
 Biryani masala: ½ tsp
 Milk: 100ml
 Saffron (soaked in hot milk): a pinch
 Mawa: 20g
 Sugar: 20g
 Ghee: 2tbsp
 Refined oil: 50ml
 Bay leaf: 1
 Sliced onion: 2 (medium size)
 Ginger garlic paste 2tsp
 Kashmiri lal mirch powder: ½ tsp
 Turmeric powder: 1tsp
 Cumin powder: ½ tsp
 Coriander powder: ½ tsp
 Cooking cream: 1 tbsp
 Green chilli: 3 pieces
 Coriander: 10g
 Mix vegetables (carrot, beans, cauliflower, green peas): 100gm
 Paneer: 25g
 Tomato: 1 big
 Baby potato: 15g
 Cashew:  10g

Method
For the rice: Take a heavy bottom pan and add five cups of water. When water comes to a boil, add a couple of cardamom, cinnamon, two pieces of clove, bay leaf, half of the lemon juice, salt and a piece of green chilli. Then add soaked rice and cook until it's 70 per cent done. Strain and keep aside.
For fried onion: Take another heavy bottom pan, add refined oil. When the oil is hot, add onion (sliced) and deep fry.
For vegetable gravy: Remove 40ml of oil from the pan and add one tbsp of ghee. Add rest of the cardamom, cinnamon and clove in the oil. Then add another sliced onion and saute until golden brown. Then add ginger-garlic paste and cook for three minutes. Add chopped tomato and cook until tomato become soft. Add chilli powder, turmeric powder, cumin powder, coriander powder, and biryani masala. Next, add blanched mix vegetables, baby potato, salt and sugar. Pour some water into the masala to make the gravy and cook for a few minutes. Add while cooking cream, garam masala and fried paneer. Finish with lemon juice.
Assemble: Take a heavy-bottom pan, first add the gravy or vegetable yakhni and then pour the boiled rice; spread it. Sprinkle fried onion, chopped coriander, crushed mawa and hot milk. Then add ghee, cashew nut, garam masala, rosewater, kewra water, mitha attar and saffron milk. Cover with a lid for dum (15 minutes). Then rest for another 15 minutes be.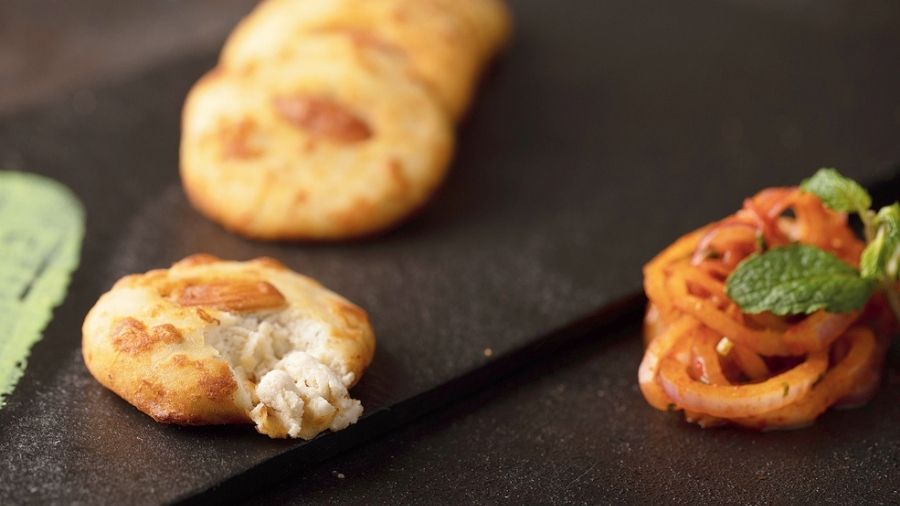 DAHI KEBAB

Ingredients
 Hung curd: 100g
 Milk powder: 50g
 Mawa: 30g
 Chopped green chili and ginger: 5g
 Almond: A few pieces, cut into half
 Salt
 Refined oil: 30ml
 Dry bhuna besan (optional)

Method
Mix hung curd with mawa, milk powder and chopped green chilli and ginger. Season and keep in the refrigerator until it becomes hard. Take small balls of the mixture and shape them into kebabs and put a piece on almond on top. Shallow fry in oil and serve with mint chutney.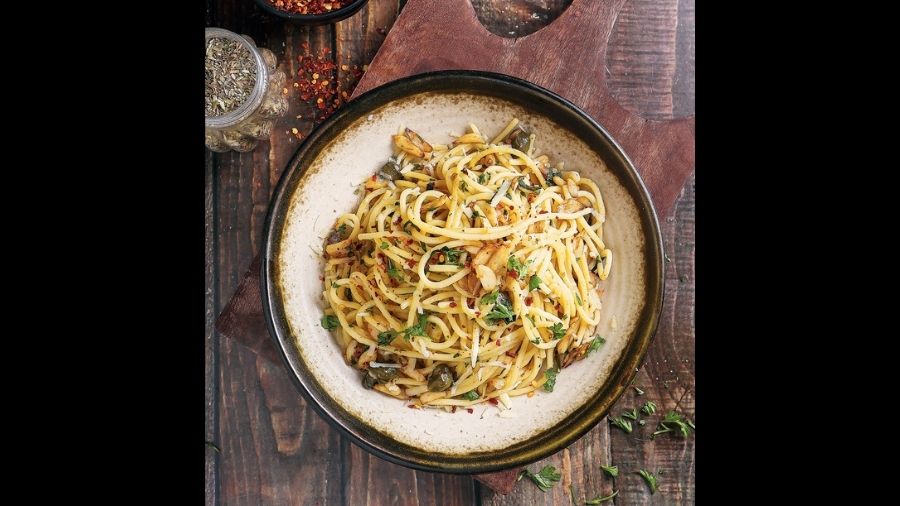 SPAGHETTI AGIO E OLIO

Ingredients
 Spaghetti: 130g boiled
 Garlic: 25g
 Chilli flake: 2g
 White wine: 25ml
 Basil leaf: 5g
 Capers: 5g
 Olive oil: 20ml
 Chopped parsley: 3g
 Parmesan cheese: 15g
 Black pepper: 3g
 Salt
Method
Take a non-stick pan, add olive oil and fry sliced garlic. When the garlic is golden brown, add a few basil leaves, capers, wine and chilli flake. Add pasta and season with salt and pepper. Finish with parmesan cheese and chopped parsley. Serve with garlic bread.