Decided your outfit for Poila Baisakh? It's time to pick the perfect accessories to complement your Nabo Borsho look. My Kolkata picks accessories inspired by Bengal folk and handicrafts to complete your statement fit.
Textile or fabric jewellery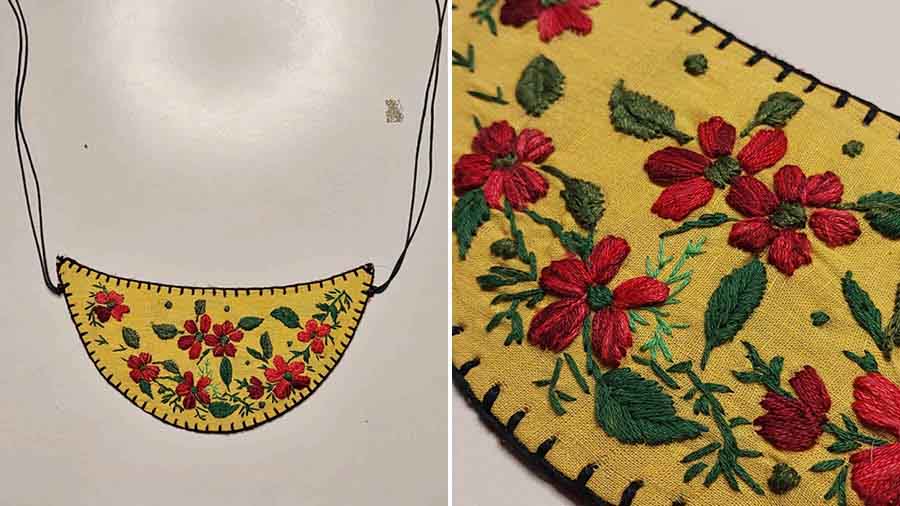 If you are looking for dainty pieces to complement your attire, then check out Golpo's textile jewellery section called Golpo Goyna. Jaysmita Saha, who owns the brand, started making textile jewellery in 2021 but the pieces became a permanent part of her collection this year.
About the statement necklace, she said, "We at Golpo are very fond of colours and floral patterns. This particular piece is an ode to nature, beautifully hand-crafted and perfect to amp up an outfit."
The yellow ochre fabric with hand embroidered floral motifs with a dainty black string goes well with both Indian and western wear. In fact, if you prefer wearing minimalistic jewellery, then a piece like this should find a place in your wardrobe.
Price: Rs 800
How to Order: DM on social media
Hand-painted patachitra-inspired earrings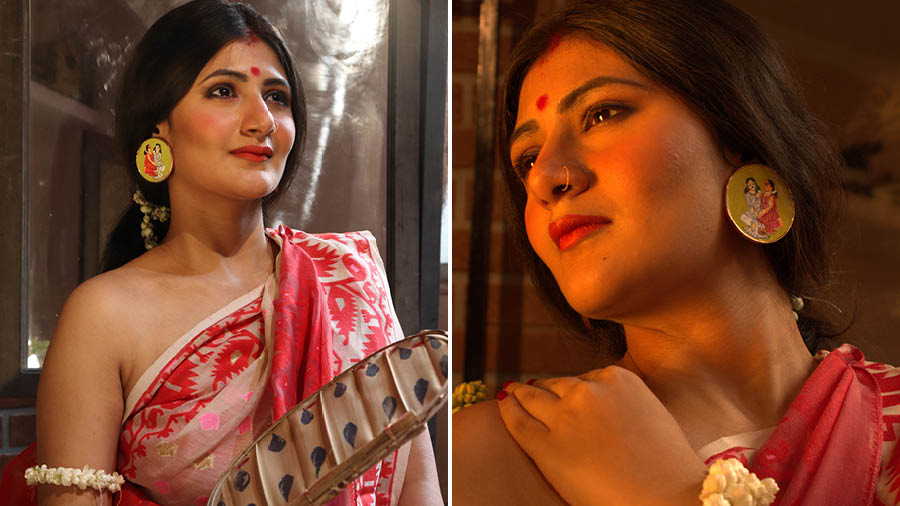 Butterfly Tree by Utsha Nandy has been championing Indian folk art with a hand-painted accessories collection. For Nandy nothing can match a Bengal patachitra-inspired statement piece on Poila Baisakh. Talking about the earrings, she said, "Poila Baisakh marks the beginning of the Bengali New Year and anything auspicious, new or happy in a Bengali household is incomplete without sweets especially ek hari rosogolla. We have incorporated this Bengali tradition and drawn a couple dressed in traditional attire enjoying their rosogolla. This piece also stands for rediscovering and refuelling the charm — be it relationships, passion anything."
The stud earring can pair very well with a sari or salwar suit, but can also be a funky pick for an Indo-western or western outfit. Also, Butterfly Tree is open to customisation as per your choice so reach out to the brand if you'd like yours customised.
Price: Rs 500, however you can get a 15% discount as the Aparupa Chaitra sale is on
How to Order: On www.butterflytree.in or DM on social media pages
Hand-painted patachitra-inspired clay necklace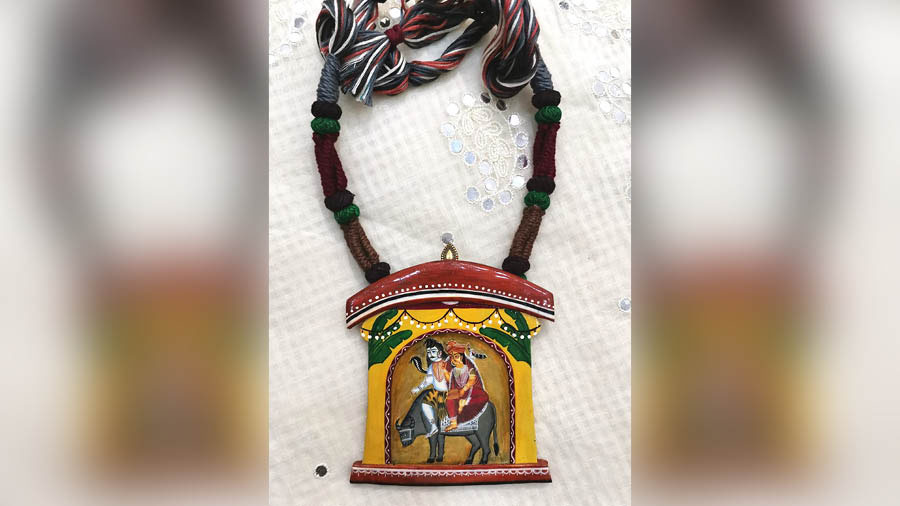 If you thought you can't get enough of Kalighat patachitra, then Mohua Das's designs, which fuse patachitra-inspired art with a contemporary polymer clay base, are sure to catch your eye. Her brand Monjima has been running strong for the past nine years.
Talking about this standout yellow piece, Das said, "I wanted to feature the Kalighat Patachitra because it fascinated me a lot. I thought that the art is dead and the new generation hasn't experienced it. So, I want to revive that art form."
Mohua has several other pieces in her collection, and you get can get your hands on them by contacting her on social media. "This standalone neckpiece is pretty huge and exclusive and goes well with a stud earring," mentioned Das. At the moment she has exclusive designs available with her but should you want multiple pieces you will have to place an order at least 15 days in advance.
Price: Rs 2,000
How to Order: DM Monjima on Instagram
Kantha stitch brooch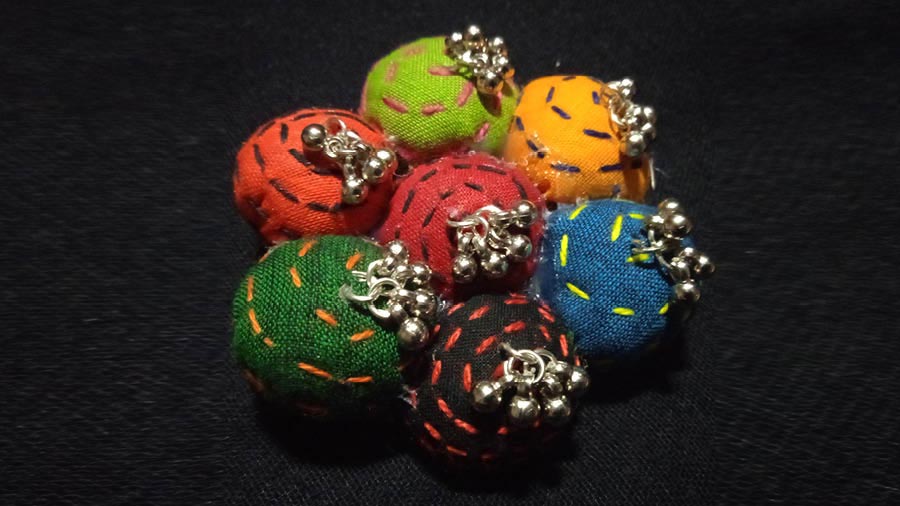 Treasure Trunk, The Art Studio, has been showcasing the beauty of Bengal craftsmanship for quite some time. If you happen to love wearing brooches, check out this kantha stitch brooch from their collection. Little colourful fabric balls with a kantha stitch pattern are joined together to a flower-like shape and accessories with a ghunghroo. This big brooch can be styled in multiple ways and it will only enhance your fashion game.
Price: Rs 250
How to order: Head over to their Instagram page
Brass earrings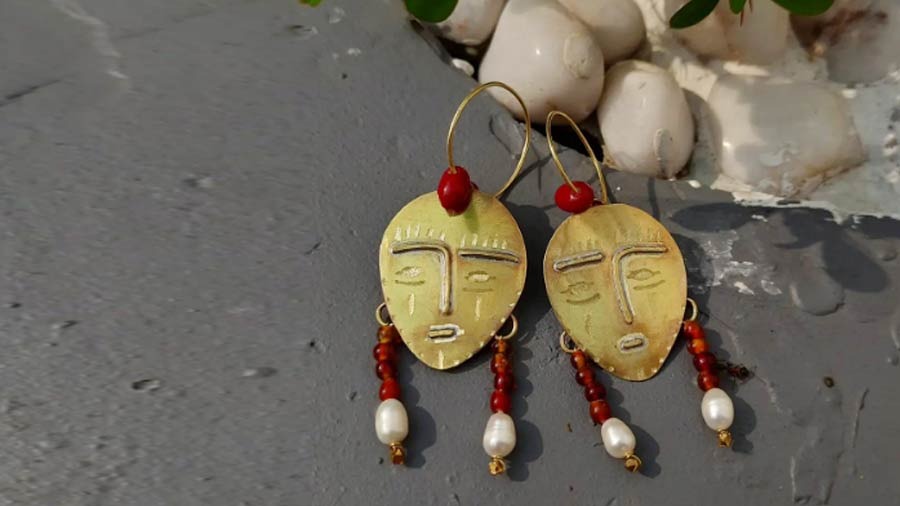 The sight of brass utensils and lamps being polished is synonymous with the time of Poila Baisakh. The pale golden alloy now also adorns people's festive looks, like it does their home. Priyanka Chanda has been running Boho jewellery brand Gemini Art and Craft since 2017. The brand's collection has — among other styles — a selection of brass jewellery including this earring which brings together arts and craft styles from Bengal and Africa. "This [piece] has references from African tribal jewellery. It has been made by attaching every element through the process of soldering." She adds, "I started working with brass last year and hand-make all the pieces. These are customisable as well." As of now, only the earring is available but should you require a neckpiece, it can be made with sufficient advance booking.
Price: Rs 650
How to order: DM on social media
Bonus: A Gariahat haul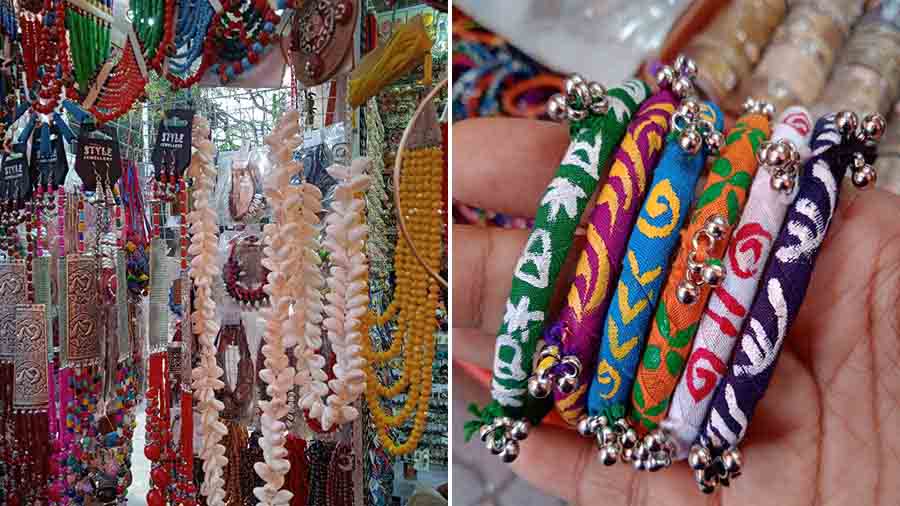 Subhadrika Sen
When in Kolkata, you cannot help but make a trip to Gariahat before any festival. My Kolkata made a stop at the Gariahat market and picked these two accessories for a Nabo Borsho fit.
If you are near Hindustan Park, walk ahead to Gariahat main road and you will find colourful fabric bangles with an alpona design and ghugroos. They come in an array of colours and various sizes. Try them on before buying as sizes cannot be adjusted once purchased.
Price: Rs 20 each
A little ahead, you will see shops laden with cowrie shell necklaces. They come in different sizes. The neckpieces consist of nothing but cowrie shells tied together in a bunch, making for a statement look. You can also amp up a traditional look by winding the necklace around a bun in your hair and using it as a gajra.
Price: Rs 350 for a shorter one, and Rs 550 for a long one.
Pro tip for Gariahat shopper: Always try your luck at bargaining when in Gariahat.