Nabo Borsho means cooking up a storm and digging in without feeling guilty. From starting the day late with some luchi and chholar dal to swiftly making a coconutty and minty sorbet, an interesting pulao paired with a hot and happening mutton, and ending the saga with a delish halwa — now, that's what we call a perfect Poila Baisakh.
So far the recipes are concerned, we've got your back. Scroll down and start prepping…
Coconut and mint sorbet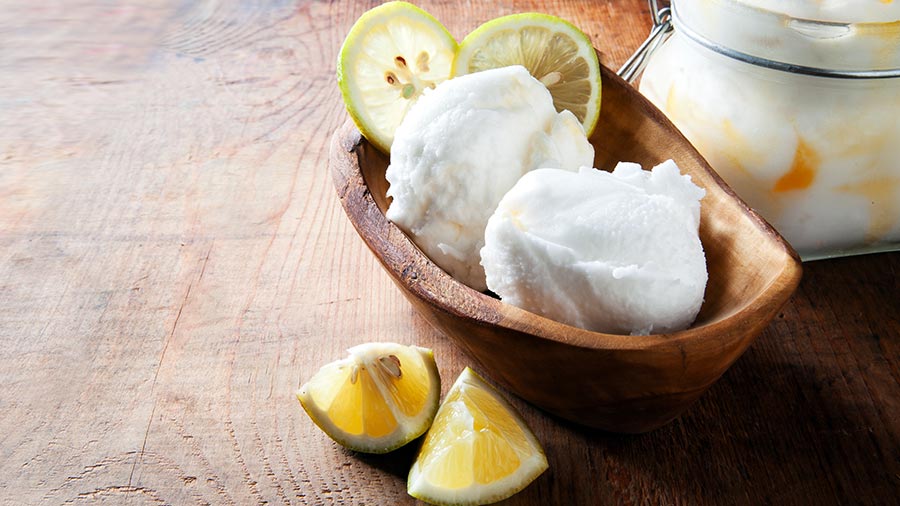 Coconut and mint sorbet
Shutterstock (Representational image)
A refreshing sorbet to start with, the flavour of coconut and mint set the mood right before you dive into the other delicious dishes on the Poila Baisakh-special menu.
Ingredients
Grated coconut: 1 large cup
Green coconut malai: 8-10 pieces
Finely chopped mint leaves: 3-4 tablespoons
Lemon juice: 2 tablespoons
Rock salt: 1 and ½ tablespoons
Powdered salt: 3-4 tablespoons
Recipe:
Put all the ingredients except the malai in a blender and blend for 1-2 minutes
Now, roughly chop the malai
Pour the mixture in a container and add chopped malai. Give it a quick stir
Put the sorbet in the deep freezer for minimum 3 hours
Take a scoop and dip in water and take out scoops of sorbet in a bowl and enjoy it chilled
Tip:
You can batch cook this and savour for 2-3 days
Kancha aam aar amshotto diye pulao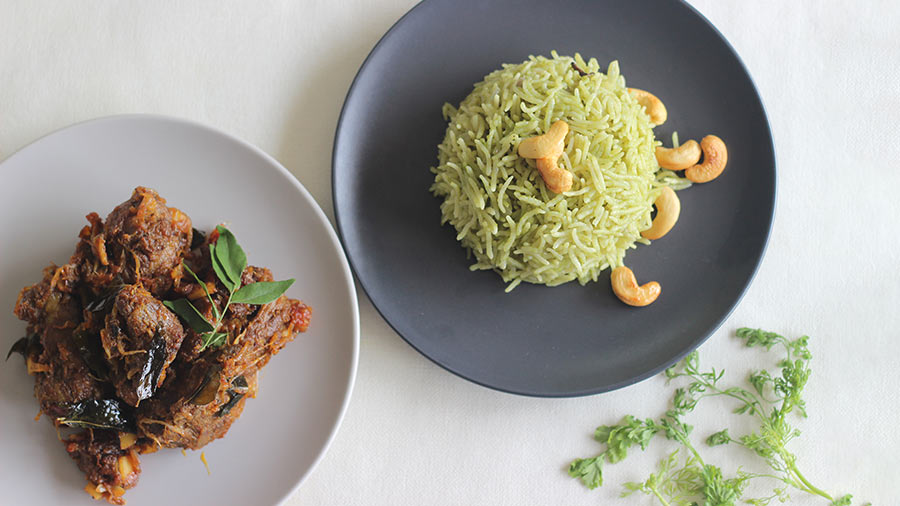 Kancha aam aar aamshotto diye pulao
Shutterstock (Representational image)
Making the right use of the summer favourite, aka mangoes, here's a recipe that will be a perfect companion to the spicy and hot Mathania mutton.
Ingredients
Gobindobhog rice: 1 medium cup
Water: 4 large cups
Grated raw mango: ½ of a small cup
Finely chopped aamshotto: 1 medium cup
Cashew: 8-10 pieces
Raisins: 8-10 pieces
Saffron: 1 tablespoon
Cardamom: 3-4
Cinnamon stick: ½
Bay leaf: 1 large
Powdered sugar: ½ of a small cup
Turmeric powder:1 tablespoon
Salt: To taste
Ghee: 6-7 tablespoons for cooking
Recipe:
Wash the rice well and strain excess water. Now add turmeric powder, 2-3 tablespoons of ghee and marinate well. Leave aside for 10-12 minutes
Meanwhile, add the 6-7 tablespoons of ghee in a deep kadhai and heat well
Add bay leaf, cinnamon stick, cardamoms and saute well
Add the cashew and raisins too and saute until the cashews turn golden brown
Now add rice and mix well with the ingredients in the kadhai
Saute for 7-8 minutes on low flame or until the rice is translucent
Pour water, add salt to taste and put on a lid. Cook on low flame until the pulao is ready, occasionally stirring and checking the water level
Once the rice is almost cooked, add grated mango, chopped amsotto and mix well. Check the taste and then add sugar and salt Please note that the pulao will be sweet and tangy
Cook on low flame for 3-4 minutes. Sprinkle saffron and some ghee. Turn off the heat and serve hot
Tip:
You can also use ripe mango or paka aam in this recipe if you are not a fan of tanginess. The best way to incorporate it is by taking mango pulp and giving a quick blend in the mixer before adding to the rice
Add water in moderate portions, checking the status of the rice at intervals so that the pulao doesn't get soggy
Mathania mutton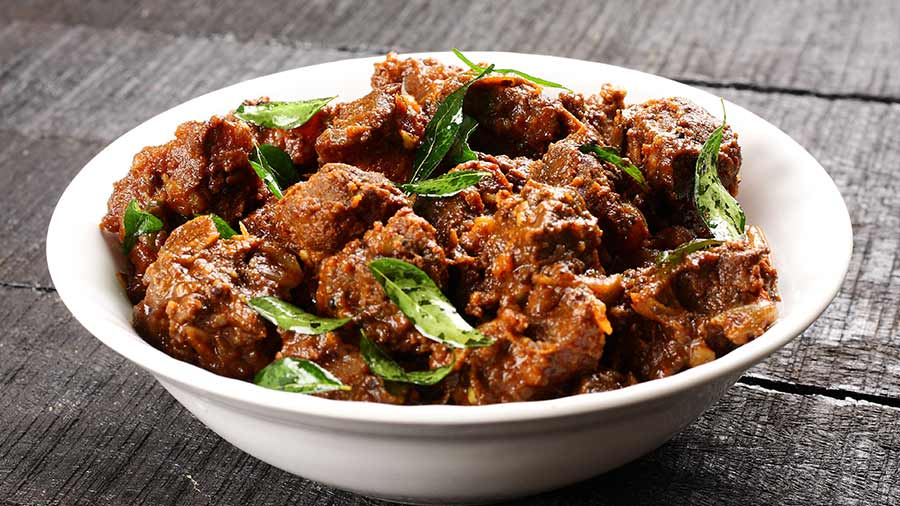 Mathania mutton
Shutterstock (Representational image)
Red, hot, spicy — this mutton curry recipe is something you'll go back making several times.
Ingredients
Mutton: 1 kg
Mutton fat: 50gm
Mutton liver: 5-6 pieces
Finely sliced onions: 3 large
Ginger and garlic paste: 3 tablespoons for marination; 2 for spice paste
Mathania chilli paste: 2 chillies
Tomato and Kashmiri red chilli paste: 1 small cup
Hung curd: 1 small cup
Roasted cumin powder: 2 tablespoons
Roasted coriander powder: 3 tablespoons
Sugar: 2 tablespoons
Salt: To taste
Mustard oil: 8-10 tablespoons
Bay leaf: 1 large
Whole garam masala: 1 tablespoon
Garam masala powder: 1 teaspoon
Ghee: 2 tablespoons
Curry leaves: 8-10 pieces
Recipe:
Marination
Marinate the mutton with ginger-garlic paste, add cumin and coriander powder, hung curd, salt and ghee. Keep in the freezer for minimum 2 hours and preferably overnight
Spice base
Put mustard oil (about 2-3 tablespoons) in a kadhai and heat well
Add some sugar and caramalise
Put the onions first and saute till it turns golden
Now, add the remaining ginger-garlic paste and saute for a minute or two on low heat
Add the mathania chilli paste next and saute well for 3-4 minutes
Now, add tomato paste and cook for 2-3 minutes
Mix the spice paste well and turn off the heat once the paste leaves oil to the surface
Cool the spice paste and blend in a mixer until smooth
Curry recipe
Add mustard oil in the same kadhai and heat
Now add bay leaf and whole garam masala. Saute well
Add the spice paste and cook for 2-3 minutes
Add the mutton and mix with other ingredients in the kadhai
Cook on high flame for 5-7 minutes, stirring at regular intervals
Now turn the heat to medium and cook for another 7-8 minutes
Add a lid, turn the flame low and cook for 20-25 minutes, checking and stirring at regular intervals
Once the mutton is cooked well with a thick spice base sticking to it, add required amount of warm water
Add salt and sugar. Cover and cook until the mutton is ready
Take a separate pan and shallow-fry some curry leaves in ghee
Check seasonings and top off with the garam masala powder, the curry leaves and the residual ghee
Tip:
The curry should ideally be red in colour. Bank on caramalising the sugar, the Mathania paste (don't go overboard with the chillies), tomato paste and Kashmiri red chilli powder for the desired colour
Removing curry leaves from the recipe is fine
Mutton fat is essential to this recipe for the consistency
Badam aar paka aam diye halwa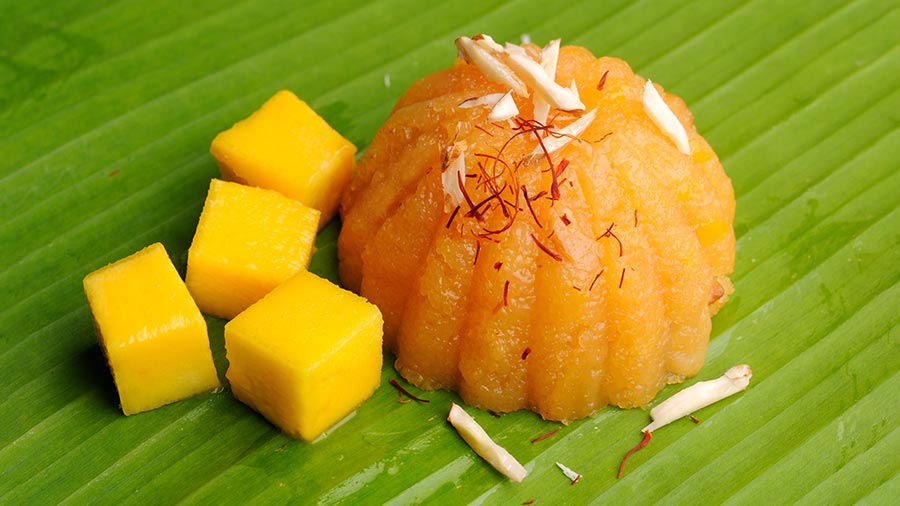 Badam aar paka aam diye halwa
Shutterstock (Representational image
A quick recipe that needs only a couple of ingredients but turns out to be a dessert that you can't leave at one helping.
Ingredients
Peanuts: 100gm
Cashews: 50gm
Raisins: 30gm
Mango pulp: 1 large cup
Semolina: 1 medium cup
Condensed milk: 1 medium cup
Saffron: 1 tablespoon
Powdered sugar: 1 small cup
Ghee: 6 tablespoons
Cardamom: 2
Full fat milk: 1 medium cup
Recipe:
Dry roast peanuts and cashew and make individual dry powders of both
Dry roast semolina and keep aside
Blend the mango pulp until smooth
Add ghee in a kadhai and heat well. Now, add the cardamom pods
Add semolina, peanut powder, cashew powder and mix together with ghee
Saute for 3-4 minutes on low heat before adding milk in smaller portions, stirring constantly to avoid lumps
Add sugar and give a good stir. Cover and cook for 7-8 minutes, checking occasionally
Once the mix starts leaving the corners of the kadhai, add the mango pulp and raisins. Mix well and cook for 3-4 minutes before adding the condensed milk. Check the sweetness of the halwa before adding the entire condensed milk
Cook for another minute or two, add saffron and turn off the heat. Best to have warm but can be refrigerated too
Tip:
Taste the mango before adding to the halwa. If you find it tangy-sweet, balance with sugar and condensed milk