Jean-Luc Godard's women had their demure cardigans and headbands, Satyajit Ray's muses were all for dhanekhali, jamdanis and ghoti puff sleeves. Srijit Mukherji's leading ladies, however, often go for a modern and effortless styling that's rooted in homegrown thought and aspires for timelessness.
Be it Swastika Mukherjee's cotton weaves in Jaatishwar, Sushmita Sen's minimalist prints in Nirbaak or Azmeri Haque Badhon's light Dhakai weaves from Hoichoi's Robindronath Ekhane Kawkhono Khete Aashenni — Srijit's heroines can totally inspire your everyday dressing essentials.
Statement glasses: Aparna Sen in 'Chotushkone'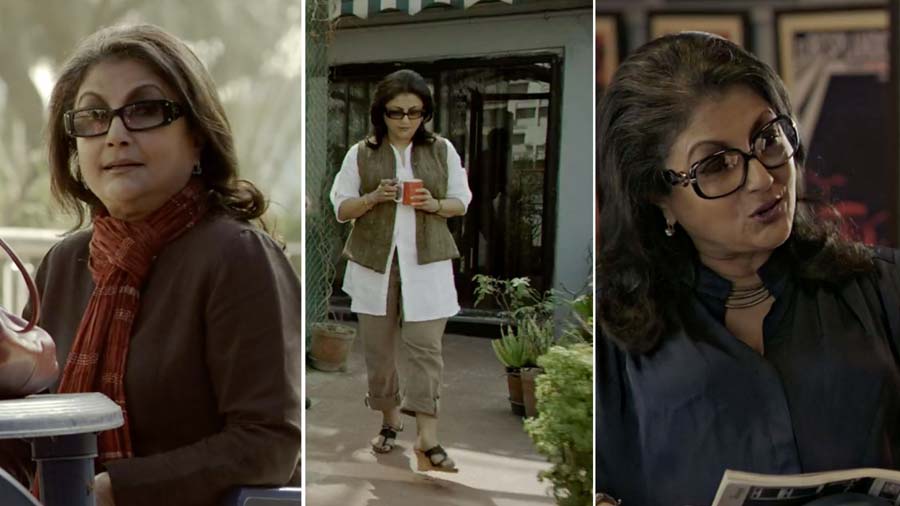 Srijit uses wearable, tinted statement glasses in oversized frames to perfect the urban look on Aparna Sen, who plays Trina Sen, a filmmaker, married to an English professor. Trina is shown to have an understated, but polished wardrobe, something that's not too gimmicky and yet quite on-trend.
We see her in casual cargo pants, handloom scarves and safari vests but she could also pull off a sari with equal elan. Accessories were an important part of her classy informal look which exuded a spontaneous but immaculate vibe.
Summery cotton salwar: Sushmita Sen in 'Nirbaak'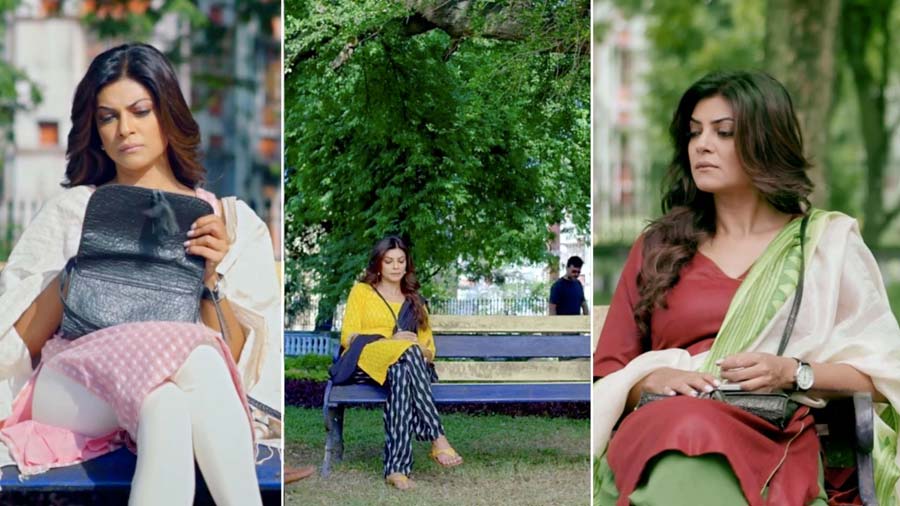 Sushmita Sen went normcore chic for Nirbaak — quite a detour from the glamorous Sush we're used to seeing on screen. In the film, Sushmita plays an author, who loves Kolkata and it made sense for her to choose cotton kurtas and breezy taant dupattas. A wardrobe comprising simple, muted salwar sets and ethnic capsule essentials can help you channel Sushmita's effortless, summery style.
Handloom blouses: Swastika Mukherjee in 'Jaatishwar'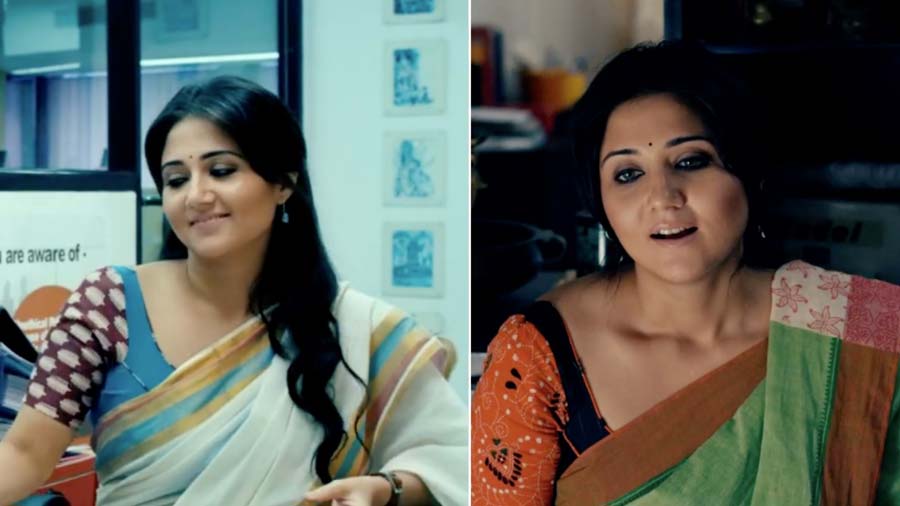 In Jaatishwar, Swastika plays Mahamaya, a popular radio jockey with a vibrant wardrobe. We see her in quite a few printed handloom cotton saris and quirky patchwork blouses, as well as some interesting scarves and fusionist tops and skirts. Mahamaya also loves her bindis and kajal, so she usually leans towards low-key, printed numbers and relies on some mixing and matching to bring out her quirkiness. An efficient, budget-friendly modern Bong look if you will.
Earthy linen separates: Raima Sen in 'Dwitiyo Purush'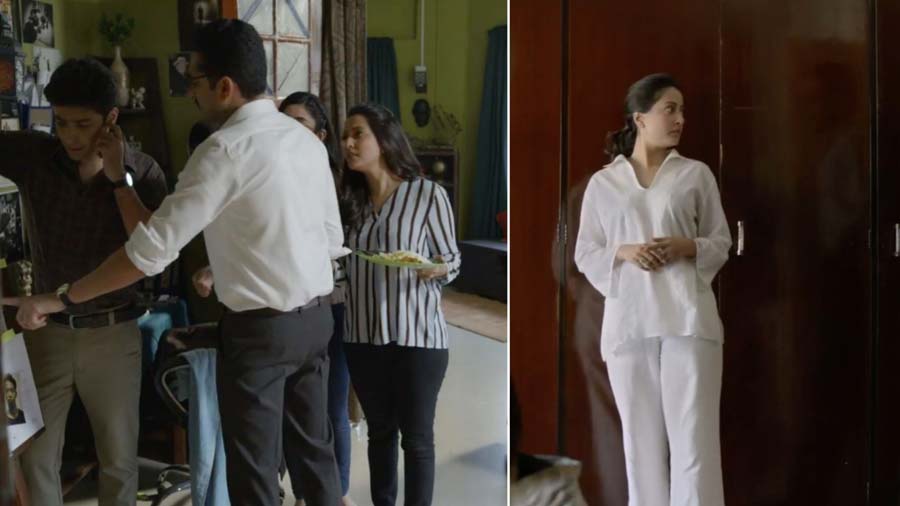 Dwitiyo Purush is set nine years after Baishe Srabon. Raima Sen's journalist character Amrita is now married and almost a decade older. She has steered away from tank tops and denim-kurta pairings and her wardrobe mainly relies on cool, earth-toned pieces, monochrome co-ords and some A-line cotton kurtis. Channelling her look is really easy because it's all about the right essentials that work for every memo, whether it's work or adda at home with friends.
P.S. Don't miss out on her easy-to-replicate hairdos like loose curls, low ponytail or the laidback half-up styling (along with a dash of mascara, a little cheek tint and nude lip colour)
Contemporary Dhakai saris: Azmeri Haque Badhon in 'Robindronath Ekhane Kawkhono Khete Aashenni'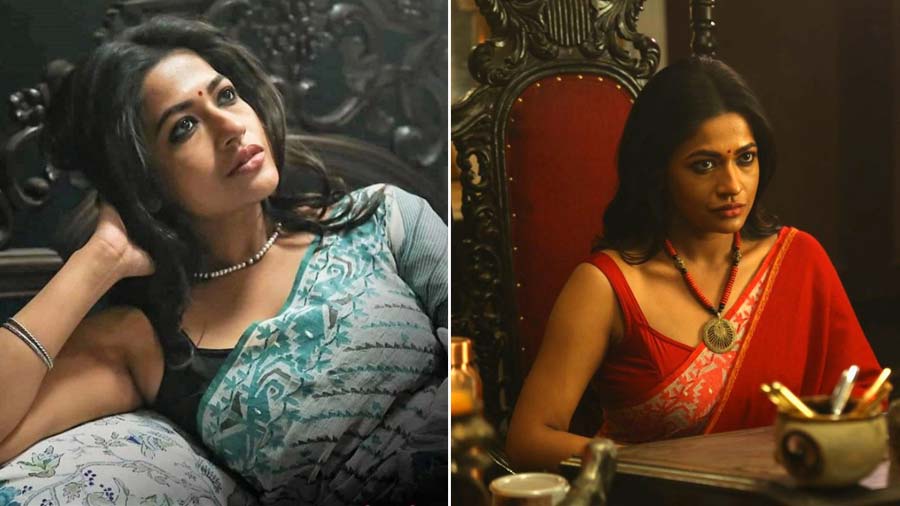 In Srijit's web series REKKA, Bangladeshi actor Azmeri Haque Badhon plays a mysterious innkeeper, named Mushkan. She channels a femme fatale vibe with some offbeat Dhakai saris. We see pale ice blue, scarlet and white Dhakai saris which are light and sensuous and don't scream screen vamp.
Explore pairing pastel Dhakai jamdani saris with heavier silver jewellery, some sleek pearls or a backless blouse, just like Mushkan.
Boho skirts: Nandana Dev Sen in 'Autograph'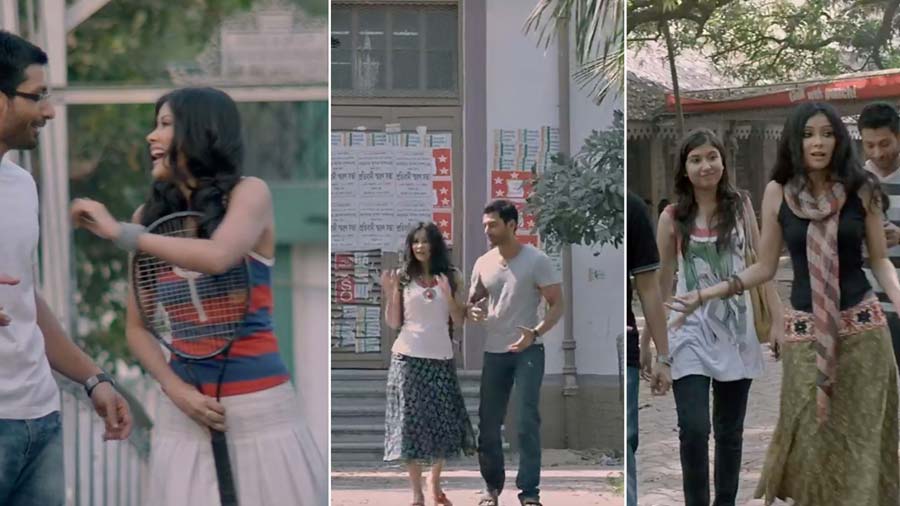 Shirin's (Nandana Dev Sen) boho, tea-length skirts from Autograph are spontaneous, fun and innately pairable. Throughout the film, she styles them with almost everything, from polo tees to printed scarves and tank tops. Not to mention, they're body-loving and work for all silhouettes. You can even dial up what drama if you pair them with chunky belts and some stilettos.
Old world hair: Paayel in 'Chotushkone'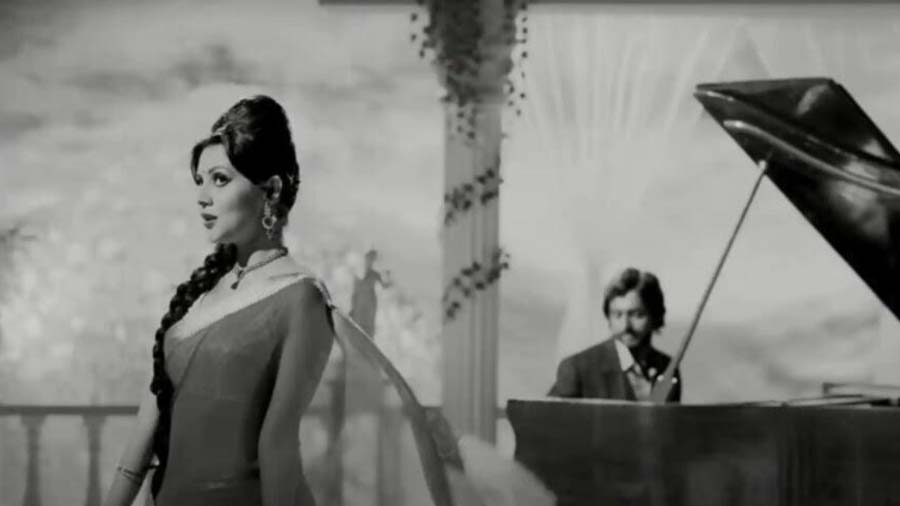 Srijit aces the retro styling with this look because he takes a few subtle fashion liberties with the period dressing. Paayel Sarkar plays a yesteryear actor who goes for the big, bouffant and side braid but opts for a filmi sheer sari and not a taant or homegrown weaves (like most female stars would wear in '60s or '70s films). If you want to add a dash of retro-ness to your look, pair a soft, semi-sheer chiffon sari with a '60s-style bouffant.