The Pataudi Trophy hangs in the balance as England and India get set to finally draw the curtain on the Test series that got underway last autumn. Originally supposed to be played in Manchester last September, the fifth Test between England and India got postponed indefinitely due to a COVID-19 outbreak in the Indian camp. The rescheduled match has been allocated to Edgbaston, with the first ball to be bowled on July 1, almost 10 months since the last spell of action in the series.  
Before both teams take to the field and the struggle between bat and ball begins, My Kolkata takes a look at the burning questions that will define the destiny of this match.
How has the series unfolded so far?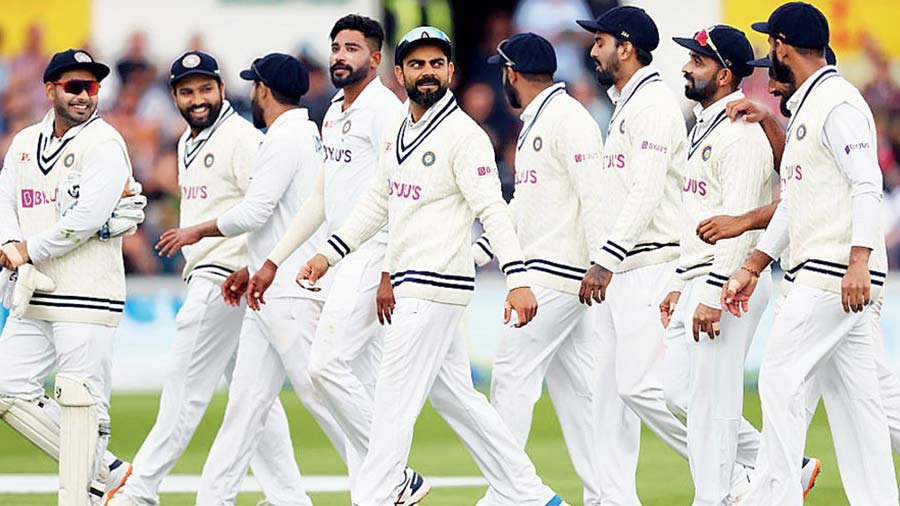 India lead the series 2-1 after victories at Lord's and The Oval
TT archives
As things stand, India lead England 2-1 in the series, with the final Test set to play out at Edgbaston, where avoiding defeat will be good enough for India to wrap up the series and retain the Pataudi Trophy. 
The first Test of the series began at the start of August 2021 at Trent Bridge and finished all square as Ollie Robinson and Jasprit Bumrah exchanged five-fors to keep both sets of batters under check. The second Test at Lord's belonged to India as a majestic century from K.L. Rahul set the Indians on their way, with an unbeaten 180 not out from Joe Root not enough to prevent India from drawing first blood. 
Over to Headingley next, where England came back with a vengeance, hammering India by an innings and 76 runs, with Robinson, James Anderson and Craig Overton firing on all cylinders. Come the fourth Test at The Oval, India were back in their groove as a masterclass from Rohit Sharma in the third innings of the match swung the momentum and the series in India's favour.
How will Jasprit Bumrah manage as skipper?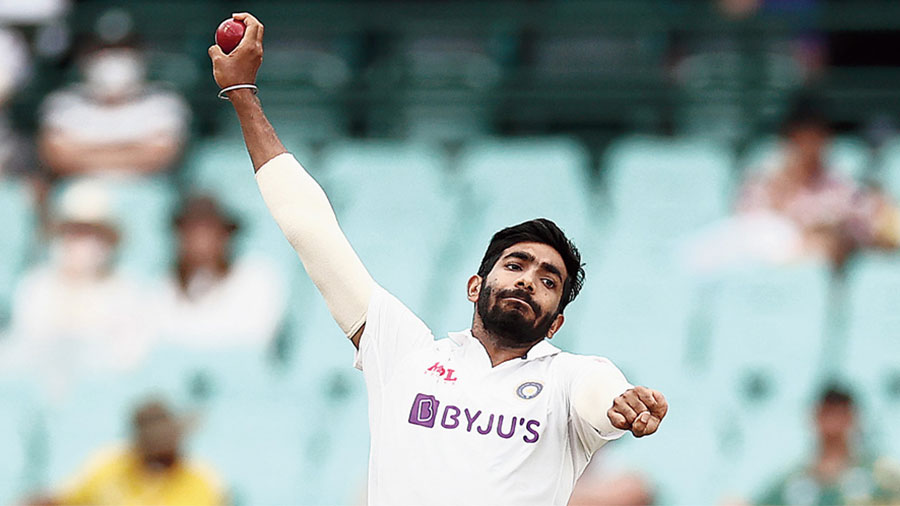 Jasprit Bumrah will lead India in the absence of Rohit Sharma, who tested positive for Covid-19
TT archives
Virat Kohli bid adieu to the Indian captaincy earlier in the year after the tour to South Africa, resulting in Rohit Sharma being named the Indian captain across all formats. Rohit was set to take the reins of the Test team for the first time in Edgbaston but tested positive for COVID-19. He is currently isolating with the help of the BCCI medical staff. In Rohit's absence, the Indian management has opted for Jasprit Bumrah to step in, a move that follows courtesy but still looks curious. Courtesy because as the team's vice-captain (K.L. Rahul is not part of the contingent), Bumrah is supposed to be the next in line. Curious because he has practically no captaincy experience and is set to be the first Indian fast bowler since the great Kapil Dev to lead India. While Bumrah will have his fair degree of support from senior players, it remains to be seen how captaincy affects his attitude on the pitch as well as his potency with the ball. 
Will the English have an extra edge in Edgbaston?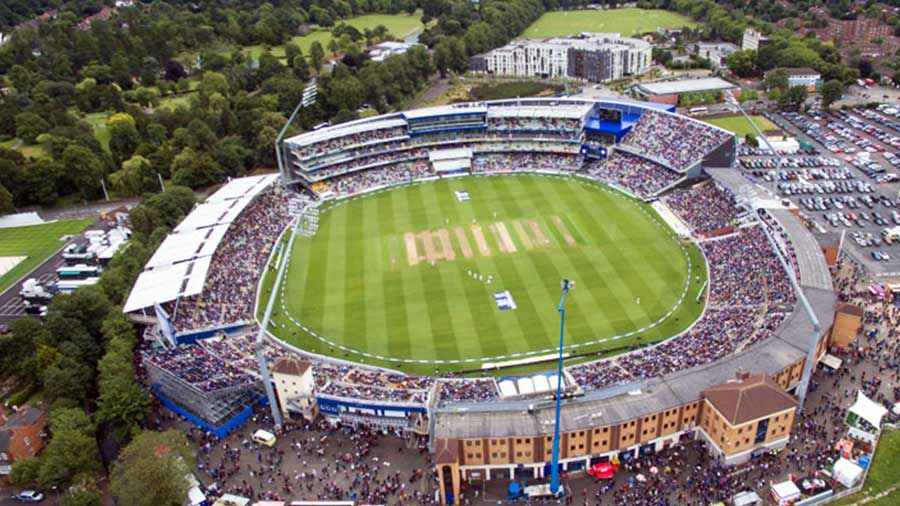 India have never beaten England at Edgbaston in seven attempts so far
ECB
Playing England in England has always been a tough ask. India have not played a single Test since losing the series to South Africa earlier in the year. England, on the other hand, are coming off a fantastic 3-0 series victory against New Zealand, the current World Test champions. Their players are in scintillating form and have the right mindset, especially the batting duo of Joe Root and Jonny Bairstow. To make the challenge more ominous for the visitors, Edgbaston is to the English what the Gabba is to the Australians. England have won 28 out of 53 previous Tests at Edgbaston, including six victories out of seven against India. Having said that, it was only last year that India turned history on its head to triumph at the Gabba in Brisbane for the first time in close to 75 years. There is no reason why similar heroics cannot be achieved at Edgbaston, with Indian expats in Birmingham packing the stands.
How will the new backroom staff make a difference for both teams?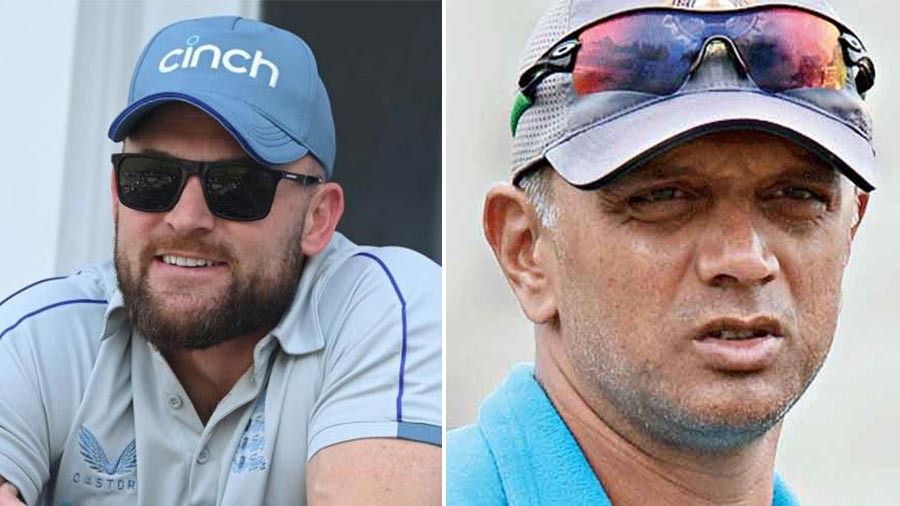 As coaches, Brendon McCullum and Rahul Dravid bring entirely different styles to their respective teams
ECB
Brendon McCullum's impact as England coach has been immediate, evident in the gusto and gumption with which his team brushed aside his compatriots in New Zealand. As compared to his predecessor in Chris Silverwood, McCullum is far more aggressive and decisive in his approach, something that helped England maintain a run rate in excess of four runs per over during the recently concluded series against the Kiwis. 
On the other hand, Rahul Dravid has taken over from Ravi Shastri and barely had any preparation for the longest format. While McCullum and England skipper Ben Stokes have started gelling already, Dravid has had the best part of two days to strategise with stand-in captain Bumrah. With the odds stacked against him, Dravid will have to revert to his tried and tested approach of patience and endurance, something that might make India defensive to begin with, adding to the contrasts and intrigue of the contest.
Will Root or Kohli steal the show?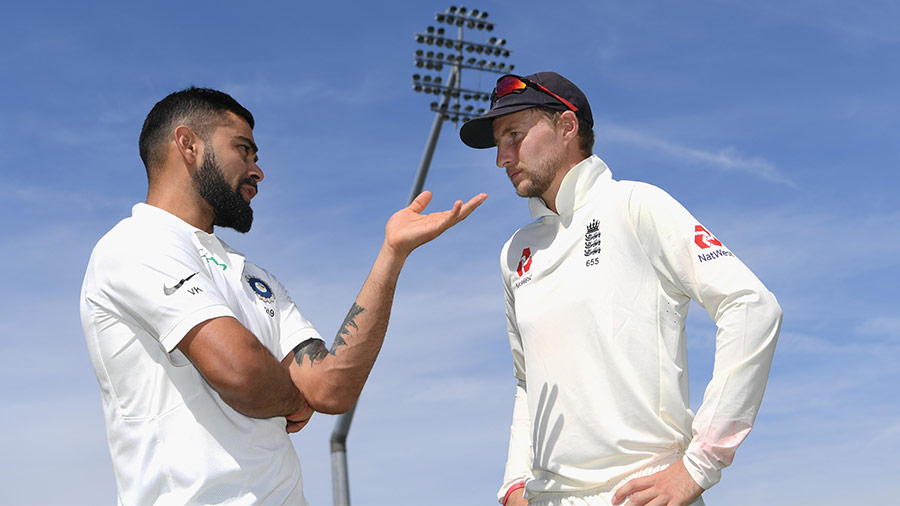 While Joe Root cannot stop scoring, it has been two and a half years since Virat Kohli scored a ton in any format of cricket
ICC
Two of modern cricket's fab four will take centre stage at Edgbaston, with Root and Kohli keen to focus on their roles as premier batters for their teams now that the burden of captaincy has been shed once and for all. For his part, Root is in the form of his life and has scored 10 Test centuries since Kohli last raised his bat to mark three figures in Indian whites. With his habit of saving his most spectacular knocks for India, Root will be a leading contender to finish top-scorer in the match and the series, unless Kohli decides to return to his dominating best. It is no secret that Kohli is going through the roughest patch of his career for India and has to get back among the runs at the earliest. What better occasion to do so than in the finale of the series that is likely to be remembered for generations!
How historic will an Indian win be?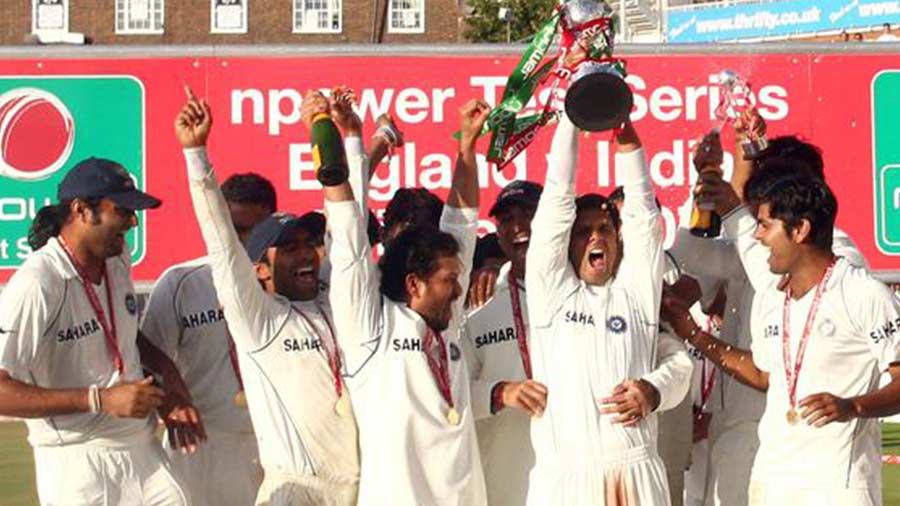 The last time India won a Test series on English soil was 15 years ago, when Dravid and Co. made history with a 1-0 series win
BCCI
With the series standing at 2-1 in India's corner, a third victory would mean that India win a five-match Test series in England for the first time. India first toured England for a Test series way back in 1932, and some 90 years later, this fiery young Indian team has a chance to conquer England over the span of five Tests. In all this time, India have only won a Test series on English soil on three occasions. In 1971, after drawing the first two games, India won the third Test to claim their maiden series victory in England. After the highs of the 1983 World Cup, India proved to be a force to be reckoned with and wrote another glorious chapter in England in 1986 when they won the first two games of the three-match test series and went unbeaten by drawing the third Test. The last Test series victory came more than two decades after that, when Dravid's side sneaked out a 1-0 win in a three-match series that saw India crawl their way to a draw at Lord's, better England at Trent Bridge and play out a stalemate at The Oval. Fifteen years later, history beckons once more.