Think out of the box, think Pinky Kenworthy. Think saris, think Pinky Kenworthy. And, think saris with a twist, think the multifaceted Pinky Kenworthy! The artist is on our speed dial for all things hatke, and for this shoot too, she has given a regular sari-jewellery shoot a spin. Past meets present is Pinky's theme for this Akshaya Tritiya fashion shoot with actresses Priyanka Mondal and Darshana Banik, for which she has conceptualised the looks. We leave you with a stunning album.
The tete-e-tete begins with a round of afternoon tea. Darshana Banik (left) and Priyanka Mondal look straight out of an exquisite picture postcard, the stunning interiors of Glenburn Penthouse making the frame breathtakingly beautiful. Laid out in front of them are delicious tidbits and steaming cups of tea. Darshana enjoys her afternoon tea, draped in Woven Chanderi Checks from Fabindia, teamed with a full-sleeved blouse. Temple jewellery from Avama Jewellers — handcrafted temple necklace set and temple pendant with chain and a gold temple bracelet — and bel flowers add to her serene charm. Priyanka is fusion radiant in her woven Maheshwari Reshampala sari from Fabindia and a wrap-around jacket. Avama Jewellers' antique gold collection — antique gold jadau necklace set with gold antique pacheli on hand — complement the fun spirit.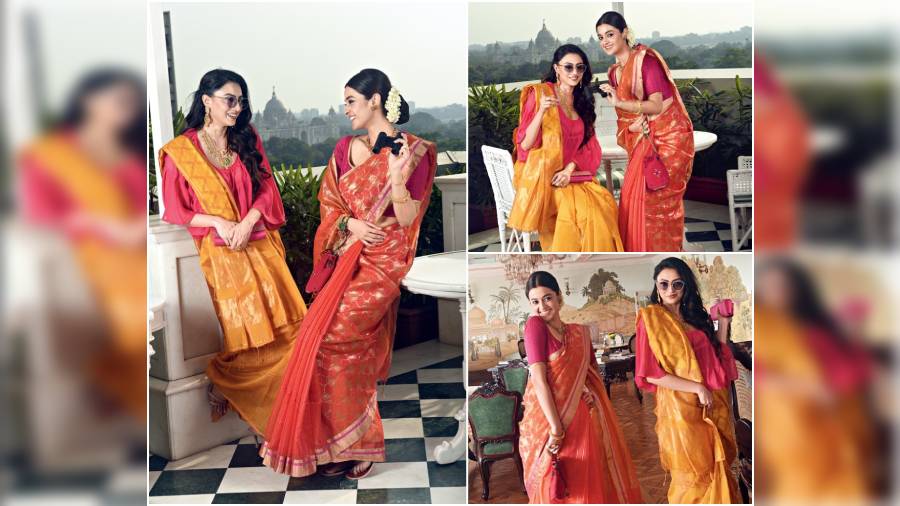 I love saris and keep borrowing saris from my mother and have even worn her Benarasi! I have loved working with this team. The comfort zone is great. I love all the styles. There is a twist to the sari and the draping is innovative. I too prefer saris for any festive occasion or pujas
Priyanka
The adda hits higher notes with the majestic Victoria Memorial in the backdrop, a view from Glenburn Penthouse that's pure romance. The women jig their way to the shot, draped in happy summer hues. Darshana wears a Woven Chanderi Jaal sari from Fabindia with handcrafted gold temple necklace set with an antique gold bangle from Avama Jewellers. The binoculars are a homage to the yesteryear mood. Priyanka rocks a flouncy top with a Woven Loom Barfi Phol sari from Fabindia. She matches it with jewellery from Avama Jewellers' antique gold collection — antique gold jadau necklace set studded with semi-precious stones — that instantly lends the look a youthful vibe.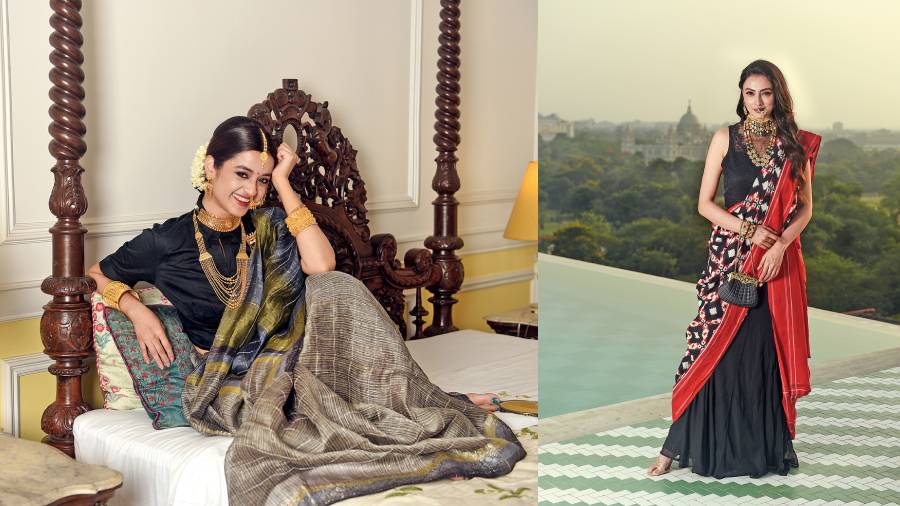 I love saris and dressing the traditional way. My personal style is a lot like the ones I have sported. All the looks are festive. I love my third look best. It is an out-and-out traditional look with a retro touch. I would always choose to drape a sari for traditional festivities
Darshana
Childlike innocence meets happy anticipation in this look on Darshana, as she gets ready for the festivities. The hand-block printed chirchira sari from Fabindia is complemented by a shirt-style blouse (cut from a black shirt into blouse size, from Pinky Kenworthy's wardrobe!). A bridal gold set made in 22k hallmarked gold from Indian Gem & Jewellery Creation is laced with a romantic nostalgic vibe. Choker, rani haar, nath, maangtika and patla complete the look. The old-world room at Glenburn Penthouse lends its personality to the picture too.
Priyanka drapes a woven ikat thin strip sari from Fabindia with a lace top and a skirt, with the pleats at the back. A nawratron set — choker, rani haar and bangle — from Indian Gem & Jewellery Creation, made in 18k hallmarked gold and studded with natural gemstones, adds to the glamour quotient. The view of the Kolkata skyline from Glenburn Penthouse, against the canvas of the setting sun, enhances the beauty of the frame.
We have gave Darshana a yesteryear look with a flower-laden bun + kohl eyes + nude-ish-pinkish lips and pink cheeks. Kajal and bindi were a big part of the look at that time. With Priyanka, it is more contemporary, flowy hair, a touch of braid and curls for volume, matched with winged eyeliner + clean eyes + mascara + brownish-peach lip
Mainak Das, our hair and make-up pro for the day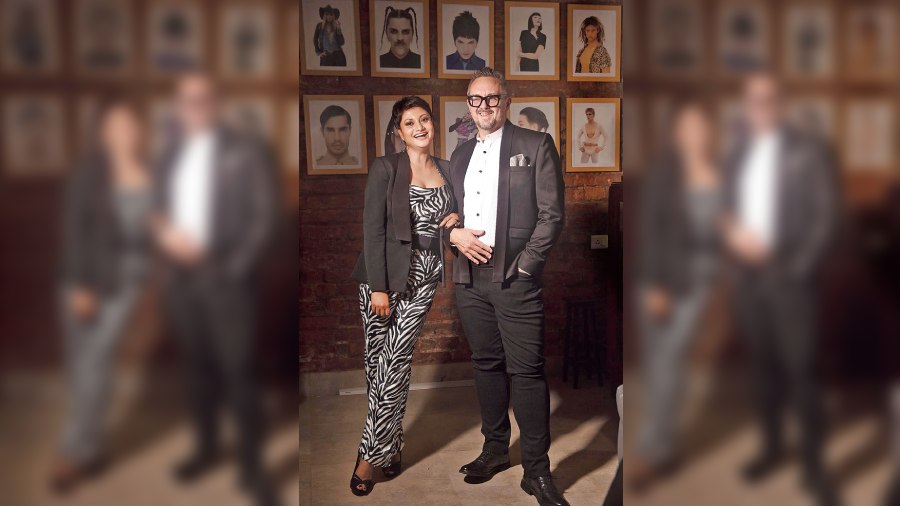 The concept is old-school-going-back-in-the-past meets the modern woman. I think some women in north Calcutta still dress traditionally for Akshaya Tritiya. The modern woman likes to go traditional, but in her own way. The location, Glenburn Penthouse, is also old-meets-new. I love it simply because this is not about fashion but more about style and mood, style from two different eras. I love saris, jewellery, the look of Penthouse and t2! Sari is one size fits all. The grandmother and granddaughter can wear the same sari. They never go out of style and are passed on to the next generations. Same for jewellery. It is inherent to our culture and heritage and can be worn traditionally or with a modern touch. I don't think the women from two eras would be intimidated by each other because each has their own established style and they would appreciate each other
Pinky Kenworthy, our stylist for the day