After a year full of gizmo launches, here's one with a twist and it's beneficial to a niche audience. This is a projector that will interest anyone shouldering the responsibility of running a small enterprise or heading the IT department.
BenQ EH620 is a full HD projector with built-in Windows 11 operating system. That's right, it comes with Windows 11 operating system (Windows 11 IoT Enterprise OS), which enables driverless casting from handheld devices, PC-free presentation and it's an out-of-the-box video-conferencing solution. This is the world's first smart Windows projector powered by Intel Processor 4000 Series CPU.
Expect a typical BenQ experience in which all the necessary cables are present in the box and even a pair of batteries for the remote control. The question is why do you need a Windows-powered projector? For enterprise clients the Windows 11 OS simply points to speaking the IT department's language.
Users can log in to a network account directly from EH620 to instantly start Cloud-based meetings and video conferences on a 150-inch big screen. The projector can download business applications from the Microsoft Store and host any Windows software, including web browsers and conferencing apps.
BenQ has been a champion when it comes to smart projectors. The EW800ST came in 2020 but since it ran a version of Android, the performance wasn't up to scratch. Not that it was not an interesting concept during the Covid season when people were moving their offices to home but things could have been better. And that better projector arrives two years later in the form of the EH620. By taking the Windows 11 route, BenQ is delivering on the most widely-accepted enterprise operating system.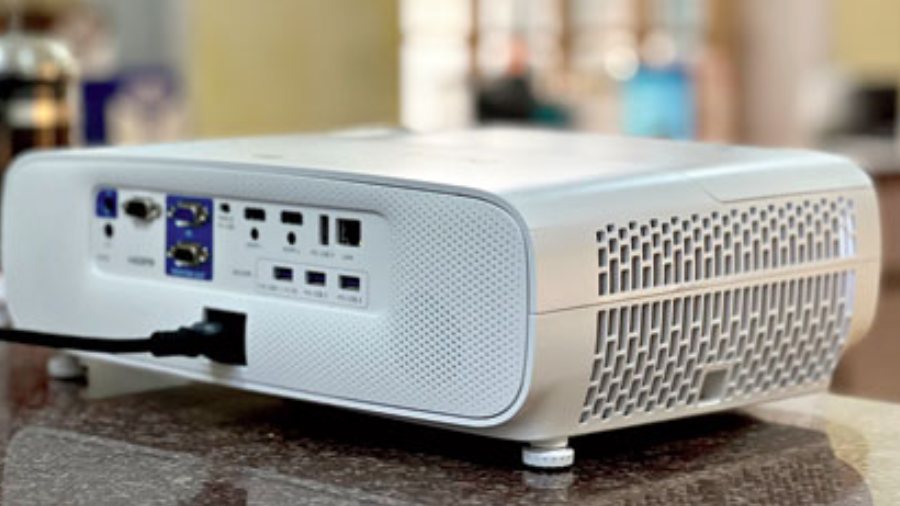 The fan doesn't flare up too much even after using the projector for a couple of hours
Reducing meeting preparation time
There are plenty of advantages working with the EH620. The first is the user interface. You can work within the familiar Windows 11 desktop interface or you can operate within BenQ's launcher UI. If that's not enough, toggle between the two. Launcher UI is friendly the launcher home screen and has three buttons accounting for the three key operations you'll want to have — Wireless Projection, Conference and File Manager.
The advantage comes in the form of how seamlessly the projector can be incorporated into an enterprise Microsoft platform. There is also enough in way of security, including WPA2 enterprise wireless security to protect all Wi-Fi traffic. Also present is AES-128 data encryption, which is handy for any business that takes its IT seriously.
Let's come to conferencing. There is the pairing of Windows and Teams in this projector. The projector is also pre-loaded with Google Meet, Skype and TeamViewer. Meeting directly on the projector can free up personal devices from public use.
Even with only one person signing into the meeting, participants in the same room can cast individually and share content via the projector to remote attendees. The EH620 allows easy wireless access to files on OneDrive. All you need to do is turn on the Windows projector, launch Edge or Chrome browser and access presentation files in OneDrive and Microsoft Teams without using laptops, reducing meeting preparation time.
The projector comes with a Wi-Fi dongle. Once you've found the network, participants can cast the projector via Miracast, AirPlay Google Cast or BenQ's own Instashare system without extra dongles. Up to four participants can cast at once.
Coming to image quality, there are no flaws and one can get something like a 100-inch image from around two and a half meters away. Besides businesses, the projector has immense potential in educational institutions.
For audio output there are two 5W speakers, which deliver loudness and clarity. It's way better than most enterprise-focussed projectors in the market. About fan noise, it picks up slightly but nothing to distract you from work while very little heat gets generated even after hours of usage.
The DLP projection system weighs around nine pounds and there is enough RAM to natively run any Windows application your school or office relies on.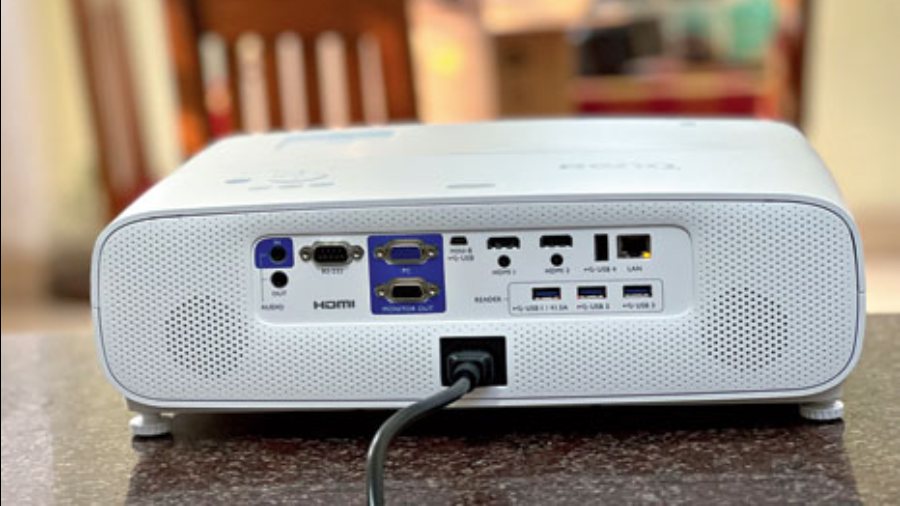 There are enough ports to take care of connectivity
Should you buy it?
The EH620 is not trying to directly compete with a meeting room interactive flat panel (IFP) but there are instances where it could be more cost effective, especially when Windows OS is important and oversized images are required. If not anything else, portability is key on the EH620.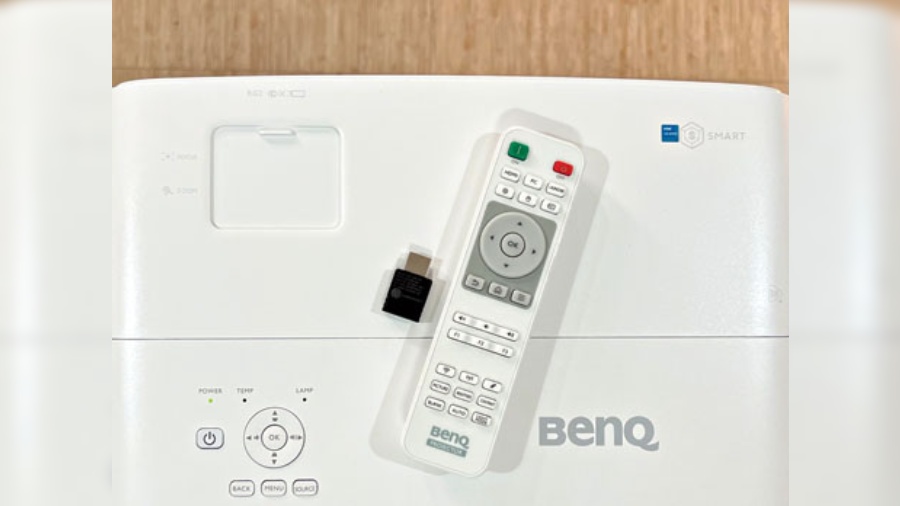 The remote control is well laid out and appears sturdy
At a glance
Device: BenQ EH620
Price: Rs 95,000
High notes
Windows-based project fits well with IT plans in an organisation
Seamless connectivity
Good picture and sound quality
Enough ports