On December 9 and 10, I visited some of my favourite venues in North Goa to watch the action unfold from the last-eight in the FIFA World Cup 2022. It ended up being a historic couple of days in the world of football. Brazil and Portugal, for whom most of Goa appeared to have pledged its allegiance, suffered shock exits to Croatia and Morocco, respectively. England bowed out to France. Here are the highlights.
Jersey swaps and penalty blues at a typically atypical Goan house party in Porvorim
Oyster Daniels, a 26-year-old from Parra, loves football. He can recall the most obscure footballing events from 20 years ago as if it were yesterday. He even joined as an aspirant for priesthood for a week, because the other aspirants played football.
Oyster was supporting Brazil. He had love for all Brazilians, except for substitute striker Pedro, because of his diabolical performance against Cameroon. He was defensive of Neymar when I commented that this was his time to lead the group. And his defence was vindicated when Neymar gave Brazil the lead with a superb goal.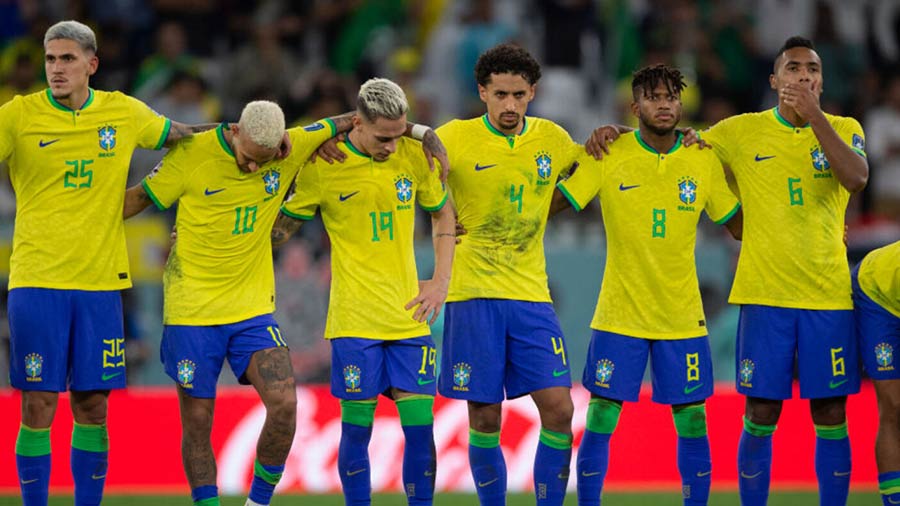 Brazil crashed out of the World Cup on penalties against Croatia
Courtesy FIFA
Oyster was wearing a Brazil jersey, but not for long. Around 10pm, Ross Freitas, a Porvorim boy, showed up. He had to leave for his night-shift in an hour, but he first wanted to drag Oyster to his Parra home. He needed to borrow his shoes because he would be playing as a wicket-keeper for his office's cricket team at the weekend. Oyster, instead, distracted him with a Portugal jersey in his bag, and soon enough, the two kept swapping Brazil and Portugal jerseys — an apt symbolism of Goa's general allegiance.
Whenever Ross was reminded of his urgency to head to office, Keegan Pinto, also from Porvorim, easily convinced him to stay with the right trigger words, such as "finish your drink", "penalties are coming" or "just tell your boss that your thumb hurts".
It was a typically atypical Goan house party scene, adorned with cigarettes, chakna, unique friendship dynamics, the perpetual pressure to be funny, and football. By the time penalties arrived, everyone was fixated on the JioCinema screen. Rodrygo missed. Casemiro and Pedro did not. Croatia took advantage of Rodrygo's penalty miss and converted their chances. Eventually, Marquinhos missed, signalling the end of Brazil's journey. Oyster immediately poured the fattest peg of Rockford I have seen. Ross lamented that the point of the World Cup was lost. Oddly, the topic of Neymar deferring his penalty responsibilities never came up.
Everyone became much more morose, foreshadowing the events of the next day.
'He's doing a yacht party… But let that be. Football comes first, man'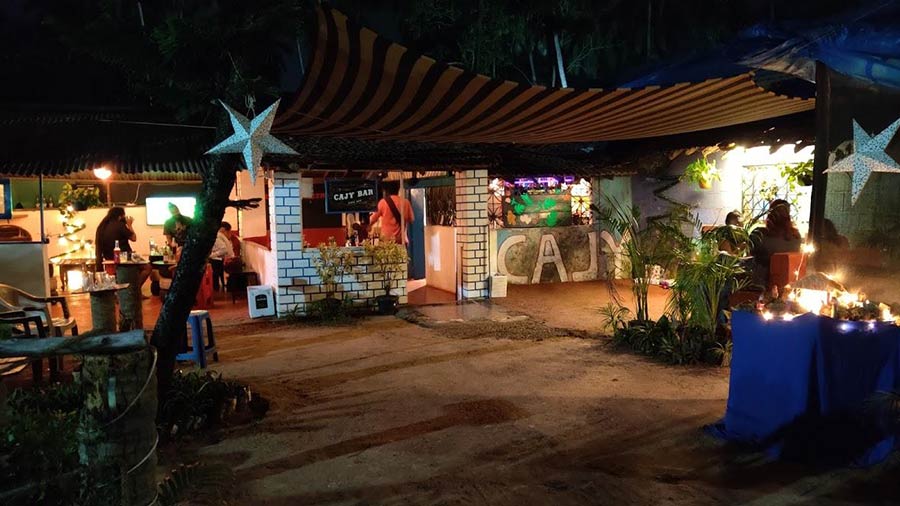 Cajy Bar is one of the most happening pubs in North Goa
Courtesy Cajy Bar
At a time when the tourist crowd in Goa has doubled because the World Cup has conspired to coincide with the Christmas month, Cajy Bar is as local as it gets. Cajy's began during the pandemic, in Eligio Fernandes's backyard. It is named after Cajetan Fernandes, Elly's grandfather. It is run by Elly, his mother Philomena, his sister Evelyn and his brotherly friend Shrey, among others.
Cajy's quickly expanded from house parties to one of the most happening pubs in North Goa. Crucially, amidst its popularity, it has retained its local character. The entrance is lined by coconut trees. Philu aunty serves elite Aad Maas. Some of its tables are basically three flat tyres balanced on top of each other. Their kitchen has a shrine of Jesus Christ.
The place also has a lot of regulars. Everyone knows everyone, or knows someone who knows someone. Among the many regulars were Zico, Jeanette and Kora Fernandes. They are a Portuguese family with Goan roots. Kora was transfixed on a phone while Jeanette and Zico only had eyes on the match.
"Elly used to go to the same school as us. Holy Family High School in Porvorim," Zico said. "We've been coming here ever since it opened. Uncle Tim [another regular] was here yesterday. He's doing a yacht party, which I'm meant to be at right now. But let that be. Football comes first, man."
Cajy's only has one TV. Above it, a white paper stuck with transparent tape reads: "Please note we will not be screening the 12:30 am match", because the police start cracking down on noise around midnight.
The match itself made for tense viewing. Nearly everyone and their dog was rooting for Portugal. They roared when Bruno Fernandes whacked a shot over the crossbar. They applauded when the referee called for 10 additional minutes. They laughed when Walid Cheddira (nicknamed rather crudely by someone at the bar) was sent off. But, unfortunately, Portugal gave them so little to cheer about that at one point someone began screaming 'goal' just to poke fun.
When the final whistle blew, a murmur of disbelief pervaded the bar. One person booed. Jeanette was too incensed about the result to talk to anyone. And those who were standing in front of the TV immediately melted away to rejoin their cliques. Perhaps they knew, from experience, that taking football to heart was a pernicious choice. It could delight, but it could also depress, and despair was against the susegad spirit. Understandably, yet harshly, there was almost no appreciation for Morocco, the underdogs who had prevailed.
Bar de Goa: A rare jewel at the heart of commodified Goa
Much like Cajy's, Bar de Goa is built on the front portion of an ancestral home, in this case of Gilbert Fernandes. It is owned by him and his wife Marcia Pereira. Its interiors and exteriors are designed like a Goan Portuguese bar. But the fine polish has made it appear more modern — not to mention the fact that it is situated on the ever-lit Baga, Calangute and Candolim road. This is a road I mostly avoid, for it is the personification of commodified Goa. But I cannot emphasise how much Bar de Goa stands out, like a rare jewel.
Bar de Goa is first and foremost a karaoke scene. Two large TV screens dominate the walls. Music like Backstreet Boys or the Walk of Life plays, as people lathered with fireball shots randomly snatch the mic to sing to it. Words like 'Bulldog', 'Jameson', and 'Jim Beam' are written in neon at the bar counter. Thirty-one flags adorn the ceiling (one must have fallen), while the bartenders sometimes wear football jerseys. The game's commentary is drowned out by music and noise, which is probably why there is always a spill of approximately 20 people outside, chatting over cigarettes and enjoying the silence.
Tonight, however, only two to five people were singing and dancing to the karaoke, while the rest of the dance floor had their eyes transfixed on the TV screen. The match between England and France was of high quality. France took the lead in around 15 minutes, to which the singer interrupted his karaoke by cheering, "Go France!"
The response was lukewarm. Over half of the support was for England. The karaoke changed to Wavin' Flag when England equalised with a penalty in the 54th minute. The raucous applause preceded Olivier Giroud heading home the winner for France. The tragedy for the English was compounded by Harry Kane uncharacteristically missing a late penalty. France won the game 2-1 and proceeded to the semi-finals, where they will face Morocco.
Darren, an Englishman from Oxbridge, watched intently as his home nation bowed out of the Cup. He was sitting and chatting with Deep and Yash Dhandhania, brothers and Bangalore boys, the whole time. They spoke like old friends, when in fact they had just met that night. Darren was kind enough to buy me a free whiskey and opinionated enough to argue that footballers needed a wage cap to stop them from becoming divas.
My plan was to head to another place in Campal to catch the second half, but I ended up staying at Bar de Goa for the entire game. Why fly to another perch when the view was just right?