The most noticeable thing about BPS Sports Club in Goa's Margao were the flags. The front courtyard was adorned with banners of Portugal, Brazil, Argentina, Germany and England. Jerseys hung from the treetops. This looked like a place where one could not only screen football matches, but also play a casual game of five-a-side.
Most of the flags and jerseys belonged to members of the BPS Sports Club. The club, named after the first Goan governor Bernardo Peres de Silva, has over 1,300 members. Thirty-two of them sponsored the screening of football matches, and in exchange, put up their colours. These were customised, too. One jersey had "Black Lives Matter" printed on it. The South Korean flag read "No to Racism". The Portuguese flag bore "Travco Holidays", as the company's owner, Bruno Gomindes, was one of the patrons.
One of the organisers, an England fan, explained why he did not put his own name or company: "We had a [BPS] member who was a very good friend of mine. He's a famous guy around Margao. His name was Luis (Bakar) Silveira. He passed away this year. So, I put his name on my England flag, as a kind of tribute."
Since 2014, the BPS Sports Club has been screening every single match of every FIFA World Cup, including the current one. The club provides the space, projectors (of 1800 and 3000 lumens), beers and snacks, for a cover charge of Rs 50. They co-host the games with the Football Dug Out, a community founded by Conrad Barreto.
BPS is not affiliated with any football club. Its importance is not even constrained to football. It also dabbles in badminton, lawn tennis and table tennis, even hosting karate and taekwondo classes. People can use the space for weddings and birthday parties. It is very much a space by, for and of the locals.
'Once Conrad comes, they'll all follow'
I witnessed the club's telecast of Spain versus Germany on November 28. It was a 12.30am kick-off on a Sunday night and I did not expect a massive crowd. At first, my suspicions appeared accurate. At 10 minutes to kick-off, there were only a handful of people in the hall. When I hinted at the turnout, an organiser chuckled. "Watch the crowd," he simply said. "Once Conrad comes, they'll all follow."
Conrad has been around the block. Aside from being the founder of The Football Dug Out, he helped make FC Goa's anthem and design their mascot, Gaurdinho. He was involved in the FIFA U-17 World Cups for men (in 2017) and women (in 2022), has worked in the operations team for the AFC Champions League and is the city head for Reliance Foundation Youth Sports. The night of the game, he had just returned from Qatar. Minutes after he entered, the crowd tripled in size.
Conrad is a Liverpool fan. Around 2012, he had created a Facebook page about Liverpool, and used to watch games with his mates. Soon enough, he decided to co-host a screening with fellow Liverpool fans in a restaurant. He put up an invite on the Facebook page. "It went viral. We expected 20 to 30 people, but some 70 turned up. We started watching more and more Liverpool games together. Then I decided: why not get other fans involved as well? We added fans of different football clubs. They added their friends, who added their friends." The Football Dug Out has around 20,000 members at present.
'With us, it's purely football. We don't party on the side'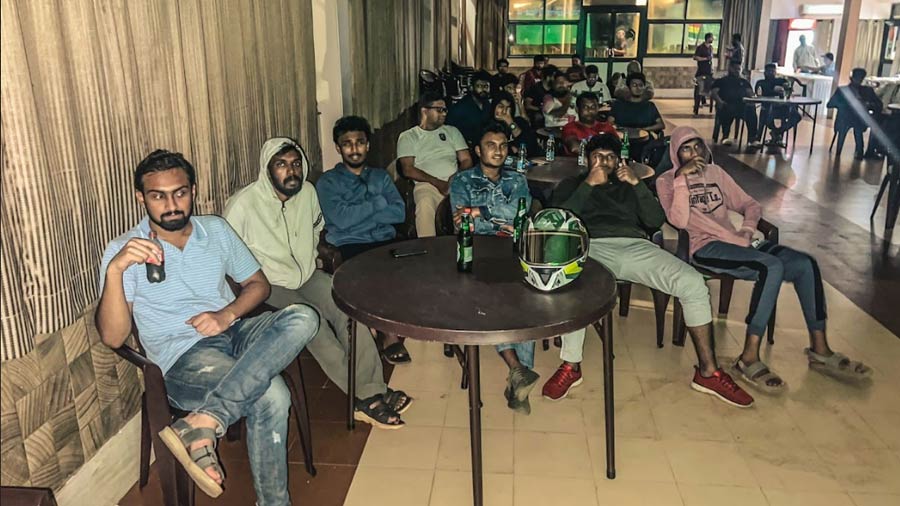 Football fans at the BPS Sports Club taking in the action
Conrad Barreto/Football Dug Out
"Spain is red, right?" someone asked when the game kicked off.
This was a misdirect, a red herring. For it was instantly clear that this was not a group of casuals and party-goers. This audience lived and breathed football. People frequently stood up from their seats and yelled. When the screen showed David Villa and Carles Puyol, there was a smattering of approval. When Sergio Busquets simulated for a penalty, a familiar sort of laughter wafted around the room.
Another example to illustrate the football fandom was when Spain's Dani Olmo hit the crossbar with a terrific effort. Usually, a crowd would react only to that moment (or to replays, having missed it live). But here, the crowd was captive throughout the passage of play. The sound rose like a crescendo as Gavi carried the ball forward, passed it to Marco Asensio, who found Olmo, who found Manuel Neuer's fingertips.
"Since 2008, a lot of people have done World Cup screenings in Goa," said Conrad, before adding: "Nobody used to put on the commentary. They used to play music. But with us, it's purely football. We don't party on the side. We never had a DJ for any of our screenings."
A common criticism levelled against the Video Assistant Referee (VAR) system is that it dilutes the drama of the game. Players and fans hesitate to celebrate a goal because they know the referee might rule it out for offside or a foul. But when one such instance occurred in this game, the Goans offered a compelling counterpoint. They cheered like madmen when Antonio Rudiger headed the ball past Unai Simon and they cheered again when the referee unceremoniously chalked the goal off. No one looked particularly confused or disgruntled. The drama was not diluted, it was heightened.
Encouraging and tantalising
Not only were the viewers captivated, they were also cultured. When asked, several recounted anecdotes of Paolo Rossi at the 1982 World Cup, Brazil's undeserved loss in the 1998 World Cup final and the struggles of following the tournament in the 80s, when Doordarshan would only telecast the semi-finals and final.
"In 2014, we screened the final here. We had about 750 people. It was so packed, we had to find someone, get another screen, and put it in the side-hall. Even that got full! So I sent someone to my home to get my Tata Sky box. There was a TV in the club area. We put the game there also. I didn't get to watch the game at all. It was crazy," Conrad recounted.
Despite the healthy turnout, Conrad felt the crowd would increase even more as the tournament rolls on. I am inclined to agree. This is still the second round of the group stages. Cup upsets will happen. Dark horses shall emerge. Goa's football fandom is still in second gear. And yet, the fact that the city is already producing such a turnout at this stage, is encouraging. Encouraging and tantalising.