The Bleeding Border is an anthology of stories which revisits the Bengal Partition. According to the editors, Joyjit Ghosh and Mir Ahammad Ali, "Most of the stories included in the volume have been translated into English for the first time. The stories are representative of Bengal Partition fiction in their poignant depictions of various forms of violence, agony and anxiety at the 'border' which is porous and bleeds still."
In a short foreword to the book, political psychologist and social theorist Ashis Nandy writes — "The European holocaust in the 1940s was followed by a huge mass of research by psychologists, psychiatrists and psychoanalysts studying the killers, victims and survivors. This research not only influenced research on other genocides, but also enriched literary works on the subject. The genocide that accompanied the partitioning of British India did not trigger such research, despite the presence of welltrained psychologists, psychiatrists and psychoanalysts in the region. For some reason, they maintained an unnatural silence. The few who touched the subject, did so coyly. That silence was only broken by a few gifted, feisty writers who documented the psychopathic nature of the violence bypassing the professional psychologists. Two generations later, in the 1990s, a new group of young researchers, mostly women, once again smudged the border between social research and literature and, simultaneously, challenged the tyranny of the political borders dividing the intellectual and literary cultures of South Asia. This collection of Partition stories is an excellent byproduct of that movement. It will remain one of finest reminders of the psychopathic violence of which we are capable."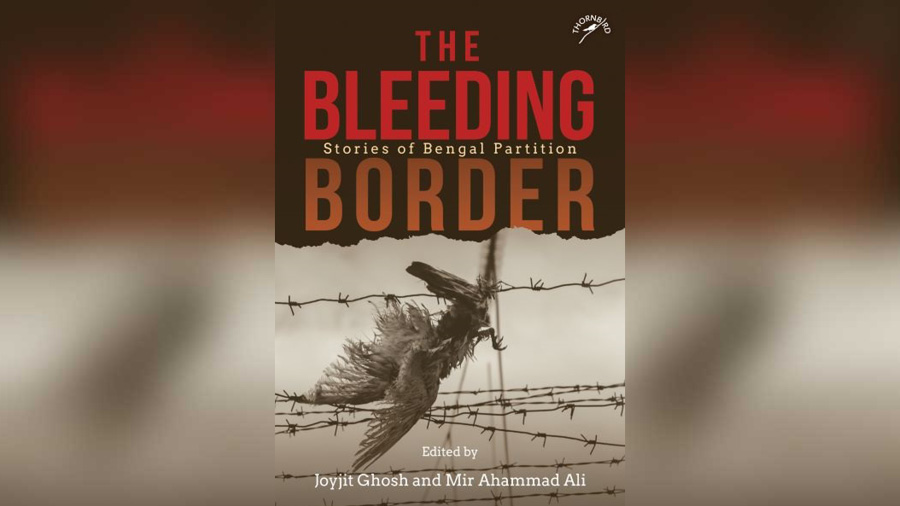 The following is an excerpt from the story, Acharya Kripalani Colony by Bibhutibhusan Bandyopadhyay. 
**********
My wife was nagging me relentlessly.
Our home was in East Bengal. If we didn't buy a piece of land in West Bengal right off, would one be available later on? We didn't have the money to buy a house or a land in proper Calcutta but after 15 August, would we at all get a piece of land in the close vicinity of the city either? Whatever was to be done had to be done right away.
As a result, I started my land-hunting in every direction—Dum Dum, Ichhapur, Kashipur, Khardaha, Dhakuria and the like. The daily newspaper was full of advertisements of plots being bought and sold. House and land owners had lost no time in grabbing the opportunity of taking advantage of the helpless and bewildered state of the terrified Hindus who came away from East Bengal. A piece of land that would not sell for Rs 50 a bigha was being sold at the rate of Rs 700–800 per katha.
I was gradually growing exasperated in this never-ending scouting.
The price of land, close to Calcutta, had shot incredibly up; and we could not afford buying land at those places either. And even if we had the money, where were the plots of our choice? 
Meanwhile, my wife brought a paper to me and said, 'You don't seem to like any of the plots. You are very choosy! If you want it right, do it yourself. What if there's no scenery? You don't like this, you don't like that! Will you ever be able to buy a plot at all? Get going and see this plot. Looks like it's very good, just what you're looking for.Read it.'
Whatever my wife might think, I was not sitting idle. I was searching in earnest, with heart and soul. And none would be happier than me if I could clinch somethingtruly nice. 
I asked, 'Where did you get this paper from?'
'I went to Beena's place. They are also in search of a plot. Many of their distant relatives too are migrating to this place, in the close vicinity of Calcutta. They collected it from somewhere.'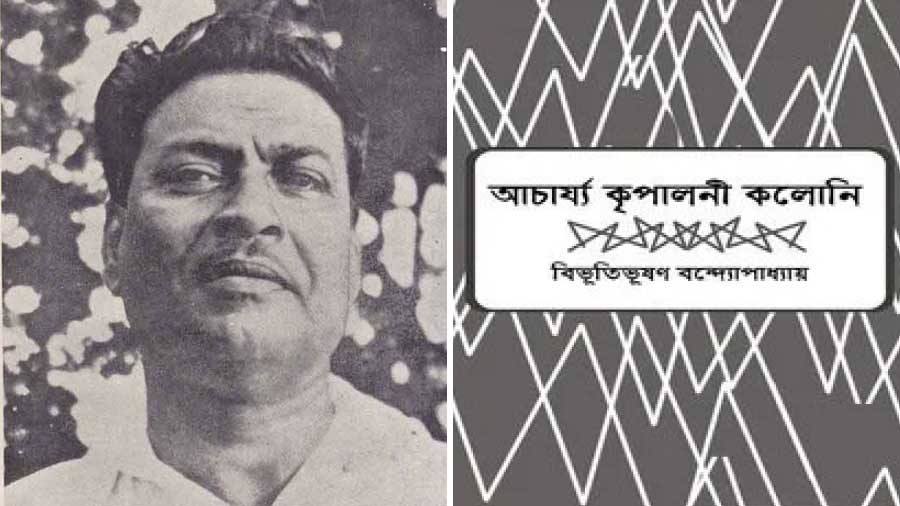 'Acharya Kripalani Colony' by Bibhutibhusan Bandyopadhyay
I started reading:
ACHARYA KRIPALANI COLONY
Come today! Get your name registered!!!
Only a few miles away from Calcutta, close to the station on a vast area, this mighty township is developing. Beautiful natural landscape. The bottom of the colony is washed by the sacred waves of the crystal-watered Ganga. 50 ft-wide thoroughfare, electric light, tap water, school, library and all the pleasures and amenities of urban life are available here. Send only Rs 50 to get your name registered.
The name of the place suggested it to be close toCalcutta indeed.
My wife said, 'Have you read it? Doesn't it sound good?'
'At a glance, looks good. Has Beena's uncle bought aplot here?'
'No, but he will. He's already got his name registered. Talk to him and send Rs 50. You'll have to send Rs 50 per katha. Send the money first, you can see the plot later. Even he hasn't seen it yet.'
'Shouldn't I see the land first? Alright, let me talk to him.'
Beena's uncle was Chintaharan Chakraborty. He had always been in service away from home, never built a house anywhere and therefore, was highly interested in landed property. Earlier he thought of building a house in Calcutta, but recently forsook that hope.
Chintahran Babu said, 'Please come. Did you see the pamphlet? It appears to be good.'
'Don't you think it's a little too far?'
'Where will you get anything closer than that?'
'That's true. It is supposedly close to the station, on the bank of the Ganga.'
'It's still cheap, but won't be even so after a few days. Electric light, water connection, 50 ft-wide road—'
'Did you send the money?'
'Of course! Got the receipt too. If you decide to buy it, send the money.'
'Even without seeing the land?'
'Look here! Get your name registered now, you'll lose the chance later. The address is—New National LandTrust, Rajibnagar.'
My wife was happy to see the receipt in my name. She said, 'It's Rs 50 per katha; how much did you send, only for two kathas?'
'Yes, for the time being. Let 15 August pass by. Let the decision of the Boundary Commission come out. Can arrange something afterwards.'
The long-awaited 15 August passed by. The verdict of the Boundary Commission did not come out. My wife said, 'Why don't you go and see that plot ? Take Beena's uncle along—people are pouring in from Mymensingh, Pabna, Noakhali. The flats of our neighbouring building are overcrowded. Three to four families are taking shelter in each family home.'
'But why? There's no trouble anywhere.'
'How should I know? And who shall I ask? Even at Beena's place, her cousin and her grandfather's younger brother have arrived with their children.'
**********
Excerpted with permission from Niyogi Books.