Alphabetica: A Satire On Majoritarianism, author Kaushik Roy's first book under the pseudonym of Roy Phoenix, was launched at the Oxford Bookstore on Park Street on November 26.
This allegorical tale features the letters of the alphabet as 'characters' living on the planet 'Typewriter' and in a country called 'Alphabetica'. With the consonants being the majority and vowels the minority, the book takes a deep dive into the majoritarianism of the world.
Not a simple book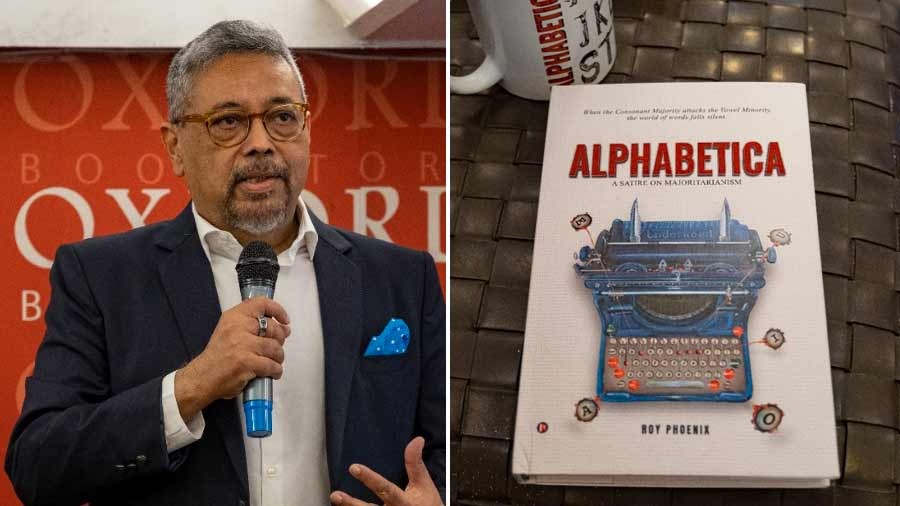 Kaushik Roy, who uses the pseudonym Roy Phoenix, introduces the book
Ritagnik Bhattacharya
"This was never meant to be a simple book, because I guess in some ways I'm not a very simple person either, people think I'm very complex in my way of thinking. There are 26 characters and they are unique and very special characters as far as I'm concerned because I grew up with these characters as a young kid in the advertising agency my father had. I was told that they are characters and not letters," Roy Phoenix explained while introducing the book. 
Stellar launch panel
The launch panel comprised National Award-winning director and actor Aparna Sen, author and academic Professor Kunal Basu and adman Sumanto Chattopadhyay (popularly known as The English Nut), who conducted the Q&A session.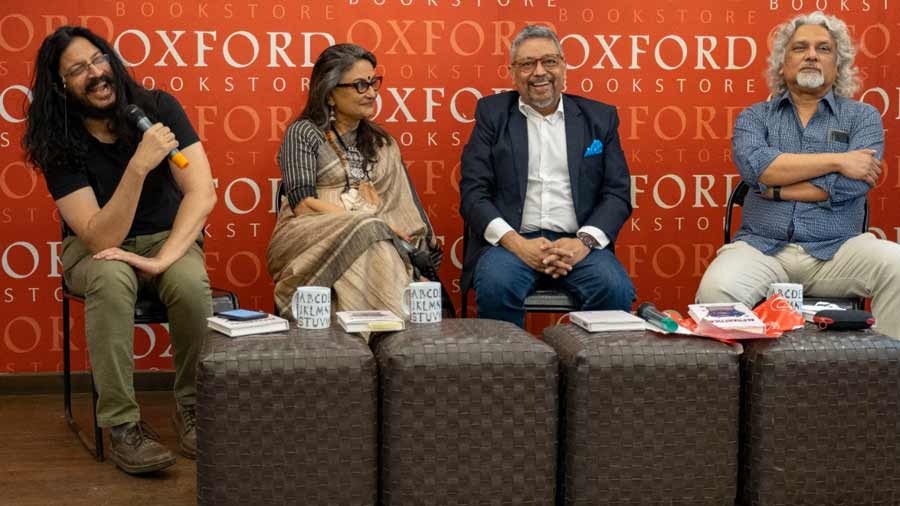 The panelists share a light moment
Ritagnik Bhattacharya
"I was truly intrigued and interested. When the book appeared on my desk, what first caught my eye was the subtitle. What could be more important than this theme today? I don't simply mean in our country. I live in Europe, and in most of the European countries, the tussle between the majority and minority and the domination of the minority by the majority is very much the political landscape. When I speed-read the novel, for a debut novelist to choose such a meaty theme is truly a reason for celebration!" said Kunal Basu. 
Making the connection
Aparna Sen read out a few excerpts from the book, including a poem that is meant to be a song in the context of the story. 
Aparna Sen reads out an excerpt from 'Alphabetica: A Satire On Majoritarianism' at Oxford bookstore
Ritagnik Bhattacharya
"The impression that I got is that not only is the author very clever, but also very good. He is a good person. I think it's a very important book considering the times we live in and all of us can make the connections. Once we make the connections, we know that it's a reflection of the world that we live in — not only India, but all over the world. Dictatorship, authoritarianism, majoritarianism is what threatens our happiness. As the song says, "we are a happy family". We can't be happy without the vowels. We can't be rich in diversity without the minorities and the vowels," said Aparna Sen, reflecting on the excerpts she read out.