Fashioned by the craftsmen of Bengal, Tanishq launched its Puja special collection 'Shaaj' on September 21 at ITC Royal Bengal with their brand ambassador actress-MP Mimi Chakraborty (centre). Mimi, adorned in pieces from the collection comprising intricately crafted quintessential Bengali jewellery designs, was the showstopper. Classic jewellery pieces like paatihaar, sitahaar, chaandbali, jhumkos, lohori, bala, churi, chur, mantasha, kharu, ratonchur designed in the signature Tanishq style with a contemporary appeal are highlights of this collection that represents a confluence of craftsmanship and tradition. The collection was launched alongside the brand's 2021 Puja campaign 'Utshob Amader, Shaaj'o Amader'. Mimi looked gorgeous in a sitahaar, chur and jhumka look that is a perfect blend of tradition and contemporary style. "I love the entire collection, so it is very hard to pick a favourite. The Puja collection is very close to my heart because every year I launch it with so much pride. What I wore on the ramp was one of my favourites... they have lots of new collections like chaandbalis, in keeping with the yellow gold Bangaliana (heritage)," said Mimi, who plans to spend a relaxed Puja. "I am keeping hectic days, so my Puja plans are chilling at home with friends and family. I'll probably go to the constituency (Jadavpur) to meet my people. Ektu shajbo gujbo, pujo debo, anjali debo, khawa dawa korbo and it will be a relaxing time at home," she smiled.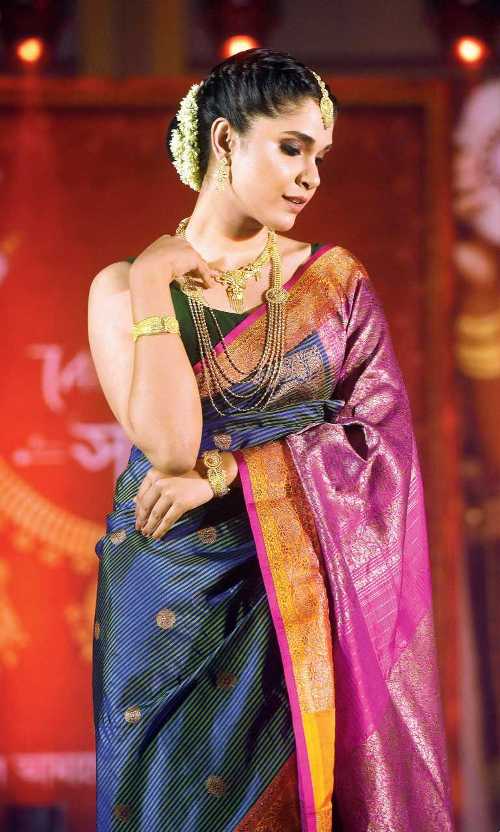 Lohori worn as a neckpiece along with long earrings and maangtika inspired by floral motifs, paired with a floral-motif neckpiece and churs completed the glam festive evening look.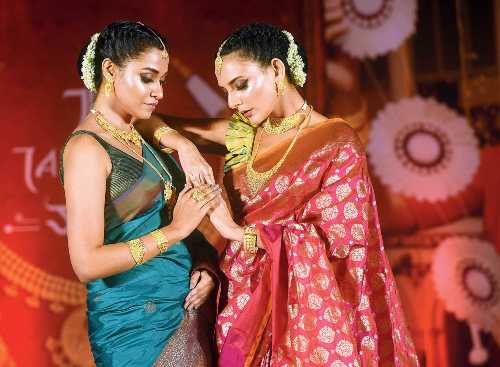 The Saptami look (left) was all about stamp necklace, a lightweight stamp sitahaar, mantasha, chur and a cocktail ring on one hand and a matching maangtika. The Ashtami look was a belt sitahaar paired with intricately designed choker, a pair of matching earrings, maangtika and a pair of chur on both hands.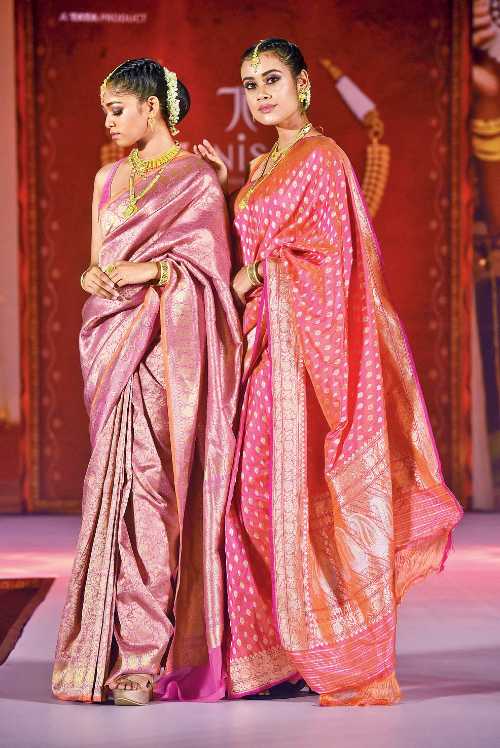 These fresh, subtle-glam festive looks were accessorised with small neckpieces paired with sitahaar, churs and a sleek maangtika.
Pictures: Pabitra Das