The Apple Watch is now seven years old and the device has sold more than 100 million units, grabbing the imagination (and wrists) of people around the world. It's a device that's perfect for all occasions yet it couldn't reach a niche crowd — endurance sports. That is finally changing as the Cupertino HQ-ed company has launched the Apple Watch Ultra.
A big progression from the Apple Watch Series, Watch Ultra will prove to be a watershed moment for smartwatches. Instead of charging more with a fashion-driven upgrade, Apple has gone the other way by offering features that are close to anybody driven by fitness; anybody who is an athlete; anybody who wants to be a fitter version of himself. Ultra is about endurance sports, which includes marathons, scuba diving, snorkelling, swimming, mountain climbing…. All these things have challenges that are not easily addressed by smartwatches. This is where it gets interesting.
Design differences
The target audience for Watch Ultra is completely different than that for Apple Watch Series 8. There are important differences between the two devices. First, the Watch Ultra has a titanium 49mm case, which is the largest ever Apple Watch. In comparison, Apple Watch Series 8 comes in 41mm and 45mm sizes (both in aluminum and stainless steel). In terms of design, the Ultra has a flat display while the Series 8 screen has a soft curve.
You can't miss the difference in buttons. Like before, Apple Watch Series 8 comes with a digital crown and side button on the right side of the chassis. On the Ultra meanwhile, there is a larger digital crown that's now placed as a protruding extension with the regular side button. The big change is on the left side where there's the new Action Button that can quick-launch an assigned feature, as well as a visible speaker grille.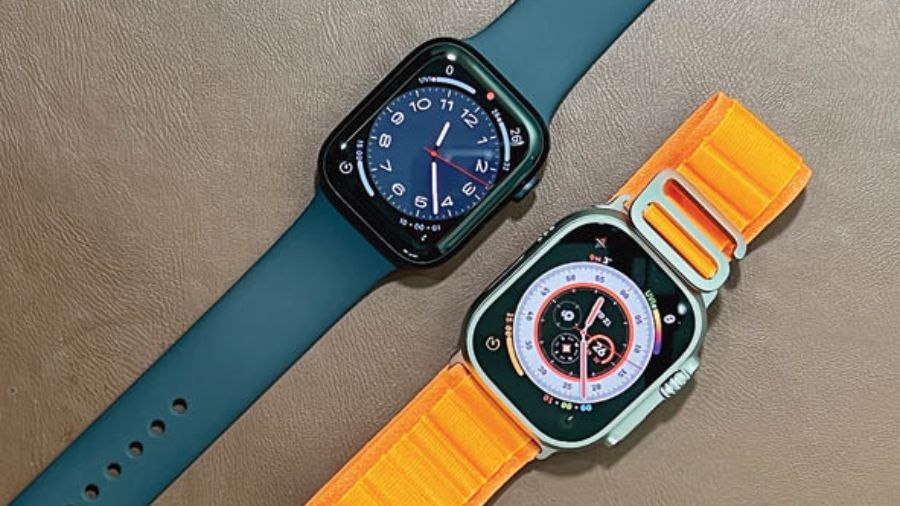 Apple Watch Series 8 (extreme left) and Apple Watch Ultra
Let's talk about functions
Both watches run watchOS 9, feature the new skin temperature sensor, new crash detection emergency function, a familiar set of communication options, support all Apple Watch apps and, of course, track fitness. Plus, both devices get the redesigned compass app, which now allows users to save waypoints and retrace steps with a track back feature.
Now the differences. The Apple Watch Ultra has the latest GPS protocol (L5), which offers precise location data that's especially important if one is a hiker and is often found in places where mobile signals are iffy.
The Ultra comes with a new siren app that will come in handy if one is lost. It takes advantage of the speaker to give out an 86-decibel alarm. It can be heard up to 180 metres away.
There is a Depth app for the Ultra and it can automatically start measuring a dive below three feet while waterproofing is up to 100 meters or twice the depth of the Apple Watch Series. 8. The company announced that it is working with Huish Outdoors to turn the Apple Watch Ultra into an on-wrist diving computer. In short, the device is now in competition with leading names such as Suunto, Cressi and Aqualung.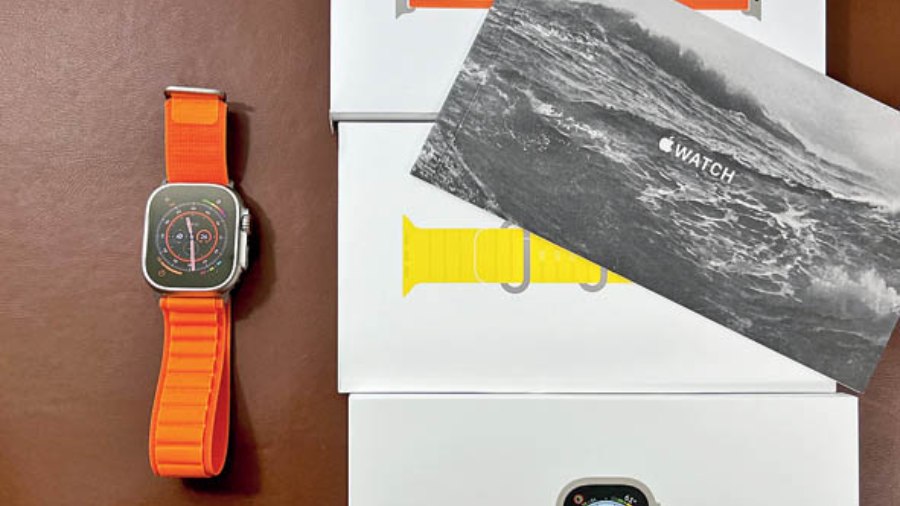 There are special watch straps for the Ultra
Battery life
One oft requested features is better battery life on the smartwatch. The Apple Watch Series 8 can somehow manage a day, the Ultra lasts 36 hours with normal use. With the Apple Watch low power mode (disables battery-draining features), the Apple Watch Series 8 lasts up to 36 hours and the Apple Watch Ultra lasts up to 60 hours.
Straps and pricing
Apple Watch Ultra comes with three new watch bands that have been designed keeping fitness enthusiasts in mind. There is a textile Alpine Loop, an elastomer Ocean Band and a nylon Trail Loop. Besides, you can use existing bands from 44mm and 45mm Apple Watches with the Ultra, or use any of the three new Ultra bands on the same sizes of Apple Watch.
The Apple Watch Ultra (available starting September 23) is priced at Rs 89,900 while the Apple Watch Series 8, upwards of Rs 45,900.