Where: Aminia  (Golpark, New Market, Chinarpark, Rajarhat and others)
Want to treat your taste buds to some authentic biryani backed by the experience of chefs from the Mughal kitchen? There's one name that pops up at the top of the list — Aminia. This iconic destination has been ruling hearts for generations. Dig into the Kolkata-style biryani or try their handi biryani. If you order the latter, the biryani will be served on the table, fresh from the handi, that adds to the regal experience.
Pocket pinch: Rs 700 for two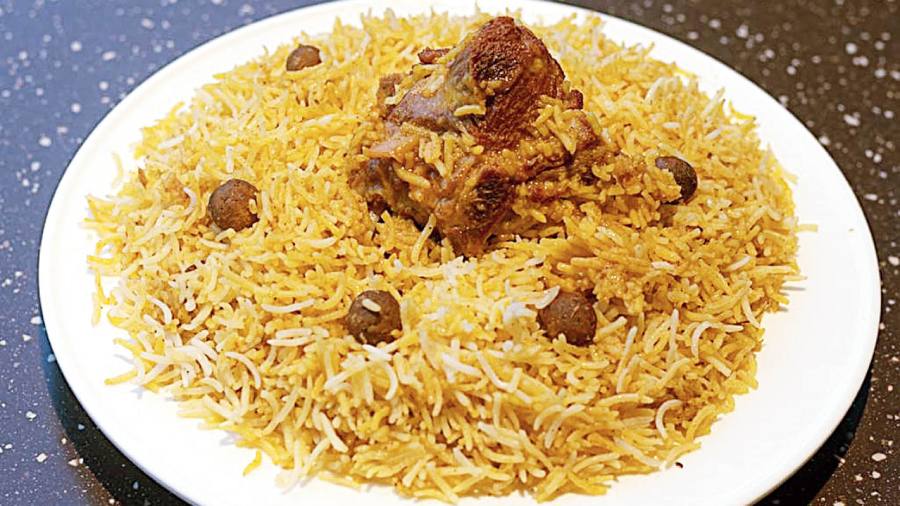 Where: Royal Indian Hotel
Address: 147 Rabindra Sarani, Bortola, Burrabazar Market
Royal Indian Hotel started its journey with mutton chaanp during the pre-Independence era in 1905. Today, it has a strong presence in Chitpur with another branch in Park Street and a menu that features an array of biryani, sides and their signature dessert Shaahi Tukda. Their Mutton Biryani with Kofti that was introduced almost 30 years post the start of their operations and has caught the fancy of foodies, had to be in our must-have list. Made Lucknowi-style with a subtle fragrance, lightly spiced and with no potato, this variant is a meat lover's delight.
Meal for two: Rs 600 plus taxes.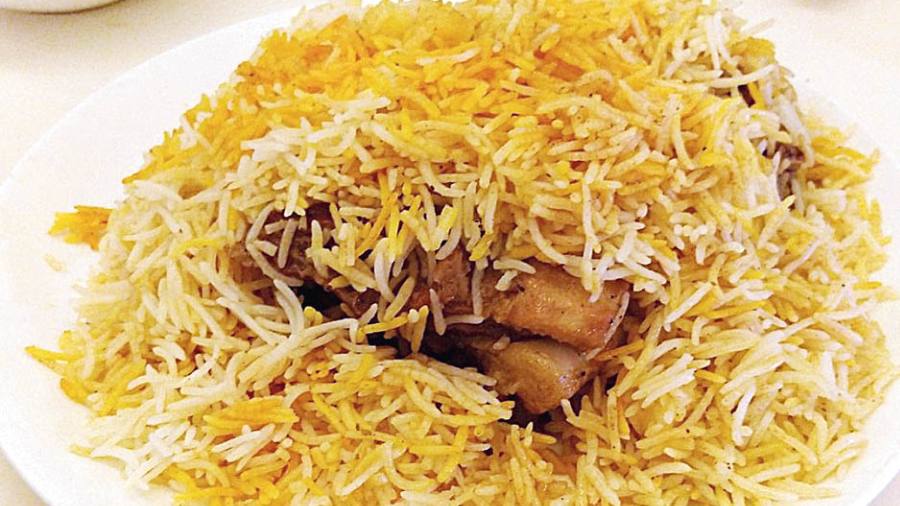 Where: Shiraz Golden Restaurant
Address: 135 Park Street, behind Neuro Science Hospital, Beniapukur
Since 1941 Shiraz has been ruling hearts in the city. Their Rezala, Qorma and Chaanp have sparked many a memorable rendezvous at the six-decade old Mughlai restaurant. Their signature dishes still command the same loyalty. Though we are a dedicated fan of their Tandoori Chicken and believe that they are one of the best in the city, their Mutton Biryani is also must-have.
Pocket pinch: Rs 800 plus taxes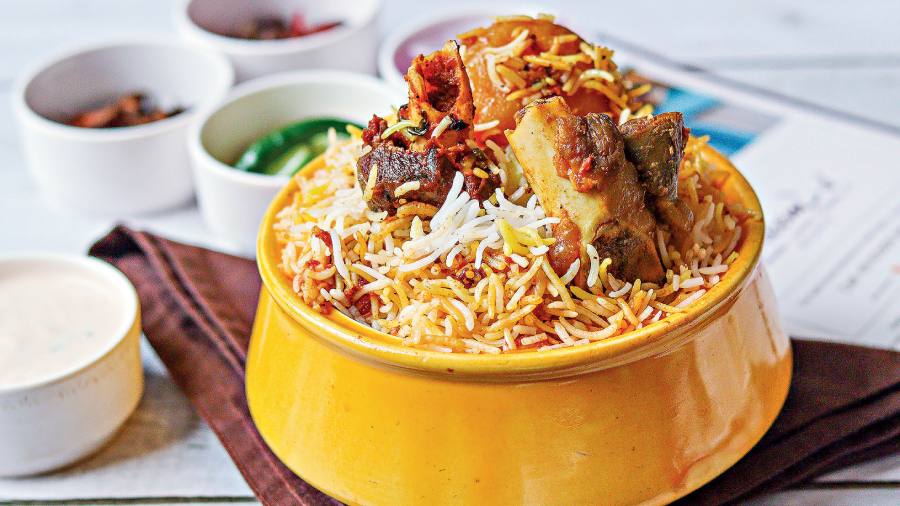 Where: Cloud Social Rooftop Lounge
Address: 145 Rashbehari Avenue, 6th Floor, Terrace
Over the years biryani, though essentially a non-vegetarian delicacy, has been experimented with. And for the vegetarians, Cloud Social Rooftop spread over a whopping 17,000 sq ft in the heart of Gariahat, has come up with the plant-based mock meat Handi Biryani. The flavour, in terms of spices and mock meat, matches the non-vegetarian dish, beautifully. You can also relish plant-based meat options like Crispy Fried from Heaven, Teriyaki Jack, LemonGrass Scented Malai Soya Chap, Mexican Hot Dog and more.
Meal for two: Rs 1,800 plus taxes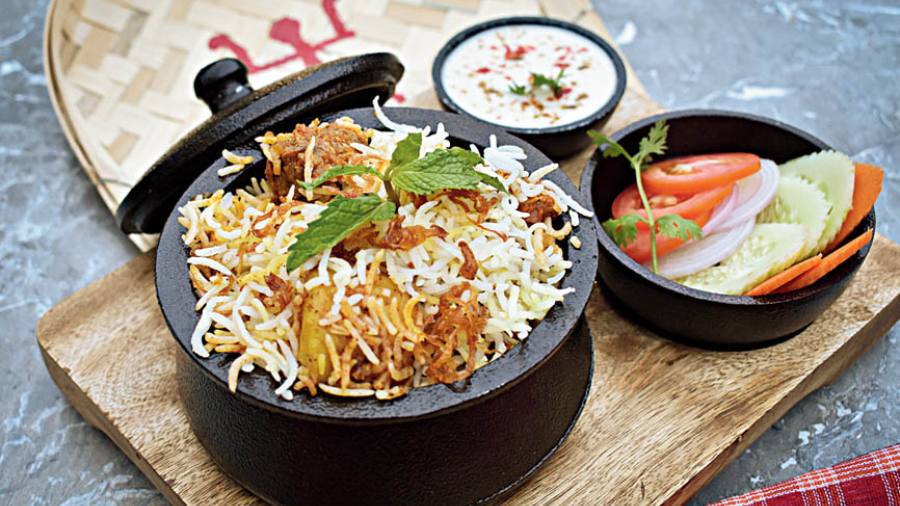 Where: Kareem's Kolkata
Address: Sector V, Salt Lake,
Chinar Park and  Mirza Ghalib Street
This Mughlai diner from Mumbai has created a niche for itself among the biryani lovers of the city. Their menu is a great show of their expertise in the field of culinary art and we recommend their Mutton Dum Biryani. While at Kareem's, you can also try their Chicken Peshwri Tikka, Chicken Potli Kebab, Mutton Barra Chaap, Fish Tandoori and Mutton Karachi.
Don't walk out before tasting the decadent Malai Firni and Caramel Custard.
Meal for two: Rs 1,000 plus taxes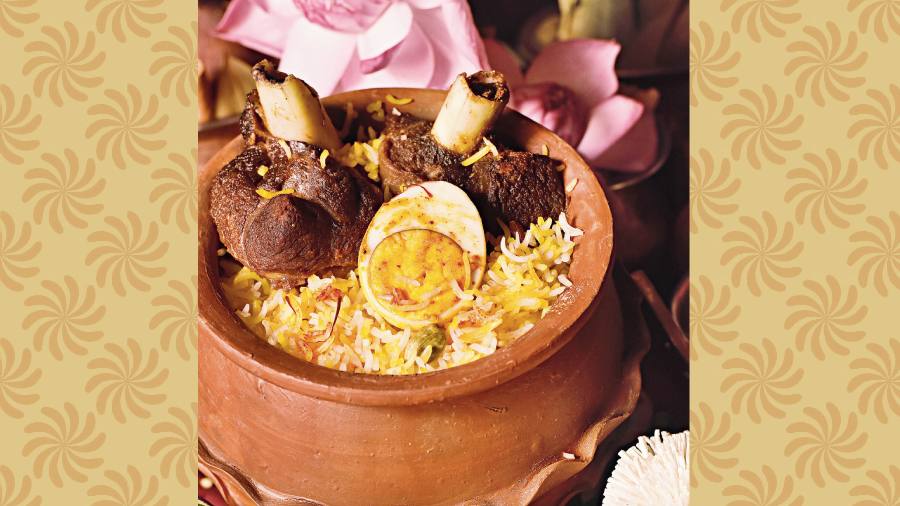 Where: Oudh 1590
Address: Deshapriya Park, Vivekananda Park and Salt Lake
Dining at Oudh 1590 transports one to the Mughal era. We recommend their Raan Biryani, a star dish that has earned rave reviews by patrons. Its flavourful, meat-y and delicious. You can also try their Chicken Qalmi Kabab, Mutton Galawati Kabab, Awadhi Sugandhi Mahi, Awadhi Handi Biriyani, Murgh Shahi Korma and Nehari Khaas. Round this up with all-time classics desserts like Phirni and Shahi Tukda.
Meal for two: Rs 1,000 plus taxes.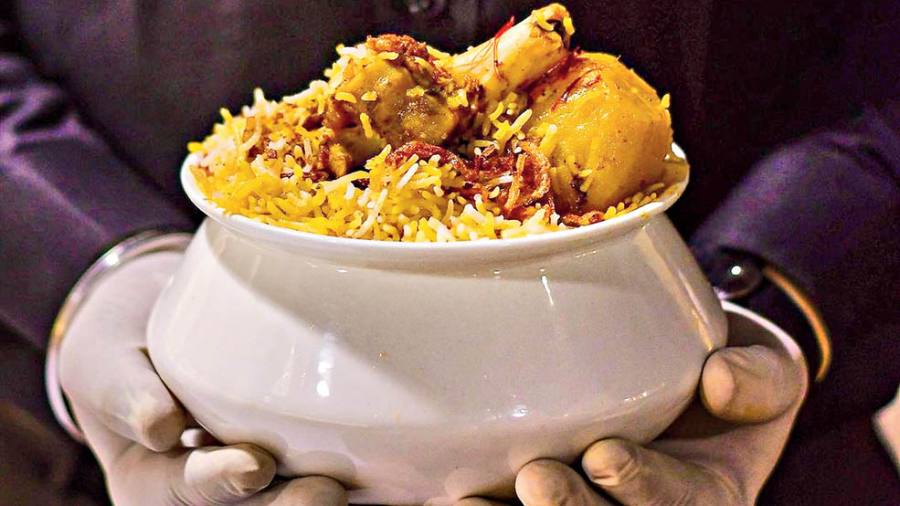 Where: Karim's
Address: 84, Shri Aurobindo Sarani, Hatibagan
When this Delhi-based brand came to the city, foodies were sceptical if biryani without potato will survive here. It, however, did and over the years, it has become a go-to biryani destination for many for it's non-greasy biryani and a range of sides and appetisers. The highlight of the menu includes Chicken Jahangiri, Mutton Rara Masala, Kolkata Biryani, Mutton Chaap, Chicken Qorma,  Mutton Qorma, Mutton Kosha, Mutton Barra and much more.
Meal for two: Rs 1,000 plus taxes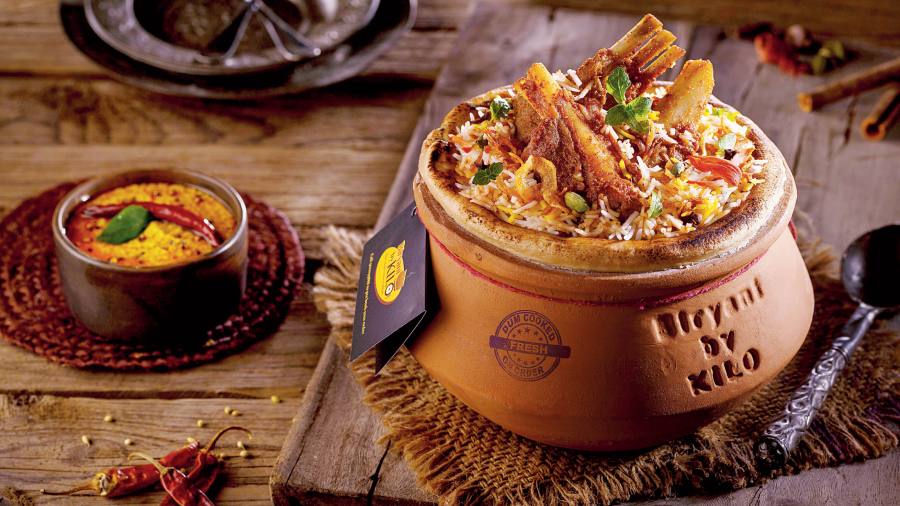 Where: Biryani by Kilo (Behala, Gariahat and Salt Lake)
They have  emerged as one of the fastest growing biryani chains in the country and it opened it's 100th outlet recently, their fourth in Kolkata. Serving an array of biryani including Hyderabadi, Lucknowi and Kolkata style, it has option for all foodies. We recommend you try their Lucknowi Biryani that blends the spices perfectly.
Meal for two: Rs 1200 plus taxes
Where: Arsalan
Address: Marina Garden Court, No. 191, 7 Point, Park Street, Beniapukur
Arsalan, at the heart of Park Circus, is quite a landmark, always buzzing with foodies. From here our pick is their hot seller— Kolkata Chicken Biryani. Fine rice and succulent meat served with a soft saffron hued potato. Yummy! A plate of this biryani can light up your day. You can also try their mutton chaap that goes extremely well with the biryani.
Pocket pinch: Rs 800 plus taxes.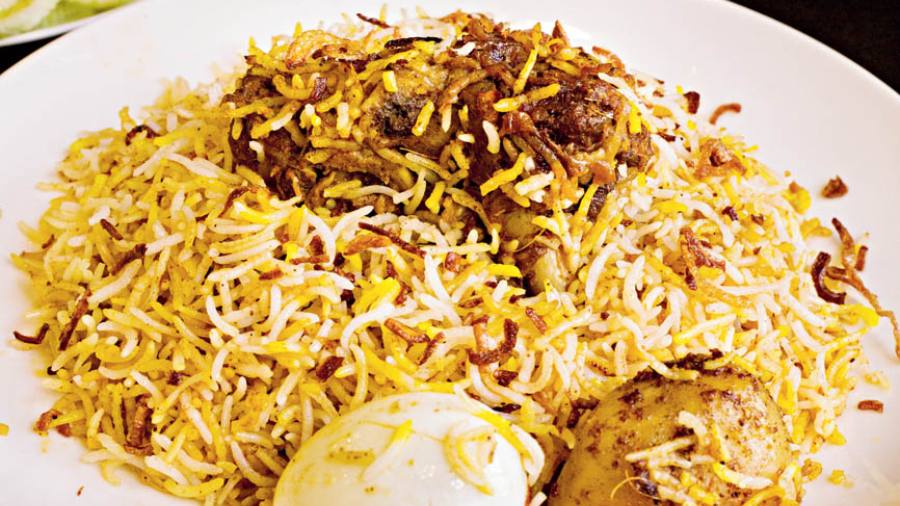 Where: House of Royals
Address: IA 195, IA Block, Sector III, Bidhannagar
This brand new dine in Salt Lake is just a month old and is already trending on social media. Their Chicken Biryani is already a hotseller with aromatic rice blending well with soft potatoes and succulent meat. Their Kolkata Mutton Biryani is equally toothsome and we highly recommend it.
Meal for two: Rs 650 plus tax