South Indian food goes well beyond the basic fare of idli, vada, dosa and uttapam. The comforting medley of sambar and chutney with umami-filled idlis and dosas gets stiff competition from the spice-infused Mutton Ghee Roast, Chicken Chettinad, Thalassery Biryani and more. And yet many still believe the stereotypical notion that the fare from the southern states of India is all vegetarian! Fish, crab, prawn, lobster, squid, mutton and pork play a key role in south Indian coastal cuisine and are worth exploring.
So, if you're wondering how to get your hands on some non-vegetarian southern fare, here are a few Kolkata eateries serving the works…
Fusion Fantasea
Among the host of cafes serving up French, Italian and American bites in Southern Avenue, lies an eatery with a menu that boasts the bewitching flavours of India's southern states. "We started Fusion Fantasea in 2015 in an attempt to showcase the non-vegetarian items of southern India. We serve food from the coast — from Andhra Pradesh to Kerala," says Abhijit Saha, co-owner of Fusion Fantasea. Saha runs the restaurant along with his brother Kaushik Ghosh.  
Fusion Fantasea's menu features lobster, crab, squid, octopus and fish (pomfret and surmai) — the works! The Andhra-style Crab Curry, Chicken Chettinad, Surmai Masala Fry, Squid Cochin Curry, Lobster Ghee Roast and Octopus Chilly-Milly are the fast-moving items on Fusion Fantasea's menu. 
"We use refined oil instead of coconut oil, because that's what works in Bengal. We also reduce the spice level in most dishes along with the amount of coconut, because that's what our customers prefer. We have to add a twist to the food for it to it be a good fit," reveals Saha.
The Thalassery Biryani, a south Indian delicacy, is a best-seller at the eatery. This biryani is quite unlike the Kolkata biryani, but is still very popular among customers. It's a mix of rice, dry fruits, spices, coconut milk and lamb, slow-cooked in a bamboo shell till the lamb is tender and the rice retains a rich flavour. This dish is so palatable that Kolkatans often overlook the missing potato! 
Location: 14B, Anil Roy Road, Southern Avenue, Kolkata (near Vivekananda Park)
Pocket pinch: Rs 1,000 for two
Must-tries:  Prawn Ghee Roast, Octopus Chilly Fry, Squid Cochin Curry and Thalassery Biryani
Tamarind
"Tamarind was the outcome of a road trip my brother and I took to south India. Kolkata has always thought that southern India's cuisine is vegetarian, but in reality, it's unnatural for people living near the coast to not have a love for seafood. South Indian cuisine has so many non-vegetarian items — from seafood and chicken to pork. So, we began Tamarind, which serves authentic south Indian food that is not dosas and idlis," says Gautam Purkayastha, who helms Tamarind along with his brother Dr Siddhartha Purkayastha. 
The fine-dine on Sarat Bose Raod set up shop in 2002 and Chef Kand, the man behind ITC's Dakshin, helped the brother duo with its menu. Consistent bestsellers over the last 20 years are Prawn Dakshini Yera, Mutton Stew and Appam, Malabar Chicken and Paratha and Pomfret Meen Moilee. "We have travelled across India's southern states to understand the flavours and replicate them at Tamarind," says Purkayastha. 
Each Durga Puja, Tamarind throws a Hyderabadi food festival that sees authentic picks from the Hyderabadi cuisine. The menu changes each year, so keep an eye out for this year's menu on Tamarind's Instagram page. Psst: The Hyderabadi biryani remains a constant at the festival. 
Location: 177, Sarat Bose Road, opp Deshapriya Park, Kolkata 
Pocket pinch: Rs 1,100 for two
Must-tries: Chicken 65, Mutton Stew, Malabar Prawns and south Indian Paan
SurFiré the Coastal Café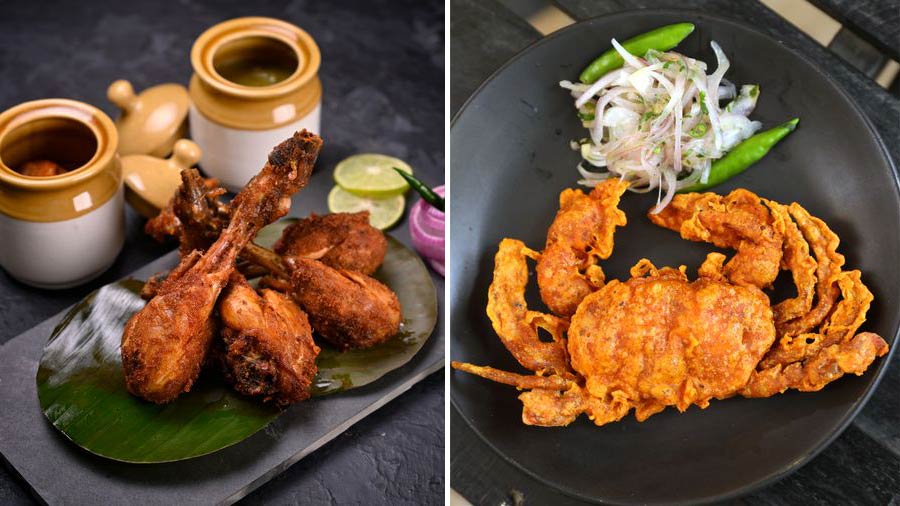 Chicken Drumsticks Kerala Style and Fried Soft Shelled Crab
Arijit Sen
SurFiré the Coastal Café is a little haunt in Southern Avenue that Kolkata's south Indian population heads to for a taste of home. Ishani Priyadarshini Sinha, founder and chef of the enterprise, aims to break the notion that south Indian food comprises only vegetarian offerings. 
The eatery began with a menu that saw idlis, vadas, dosas and uttapams in a new fold — they were dotted with lamb! "I only had idlis, dosas, vadas and uttapams on my menu for the first six months. This was to give the city a taste of the non-vegetarian south Indian food before launching our full menu! We now have a small menu, but it features the best of the best," smiles the entrepreneur. There's Kerala-style Deep Fried Mutton, Thattukada Mutton, Fish in Mahabalipuram Masala, Soft Shelled Crabs and Goan dishes too. "My food is home-style, so it's simple and tasty," says Sinha.
Sinha maintains the quality of her food by keeping an eye on the ingredients. "We don't get the same fish as south India, but I'd rather serve fresh bekti and basa than source the proteins from the south. As long as the flavours of my food is intact, the dish is complete," she says. 
Psst: When at SurFiré, make sure to ask what the 'Day's Special' is. 
Location: 24, Rajani Sen Road, Southern Avenue, Kolkata (near Menoka Cinema)
Pocket pinch: Rs 800 for two
Must-tries: Thalassery Biryani, Pork Vindaloo and Fried Soft Shelled Crab