Today, Kali Puja may not be about cap bonduk and baji but it remains the time of year when homes are decked out and festive fervour gladdens the heart of Bengalis. From lighting 14 pradeep to catching up with friends and family — some traditions are everlasting.
And if there are festivities, there has to be a feast! This Kali Puja, try out these traditional Bengali recipes that will transport you to the chhotobelar Kali Pujo.
Bhoger khichuri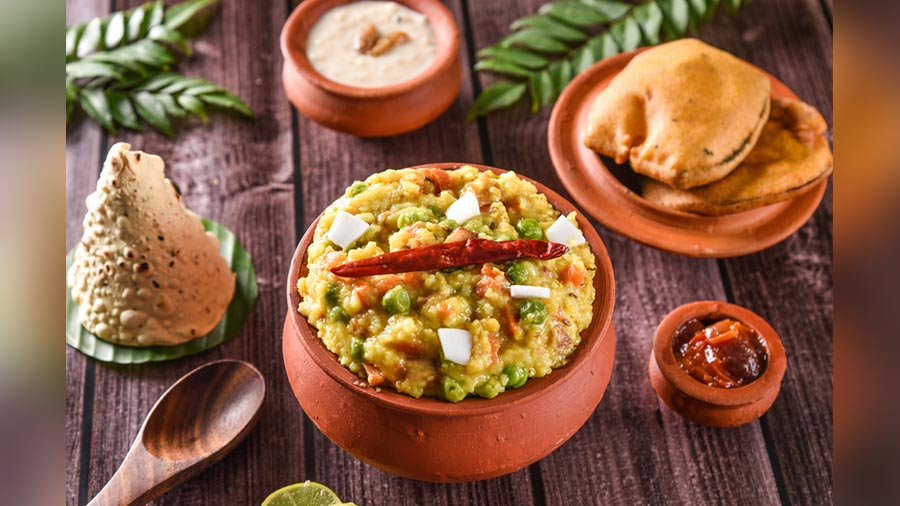 Shutterstock
Smoking hot khichuri with dollops of ghee and sides of ilish bhaja, beguni and more as the fragrance of dhoop-dhuno fill up the air — khichuri and Kali Puja are indeed synonymous.
Ingredients
Gobindobhog rice: 200gm
Moong dal: 200gm
Potatoes cut into halves: 4 large
Cauliflower cut into big florets: 2 large
Tomato cut into halves: 3 large
Carrots cut into medium pieces: 2 large
Green peas: ½ cup
Slit green chillies: 3-4
Finely chopped coconut: ½ of a coconut
Grated coconut: ½ cup (small)
Cumin seeds: 1 teaspoon
Cinnamon: 1
Cloves: 2
Bay leaf: 1 large
Whole dry red chillies: 2
Ginger paste: 2 tablespoons
Turmeric powder: 1 tablespoon
Cumin powder: 1 tablespoon
Garam masala powder: 1 teaspoon
Salt
Sugar
Ghee
Mustard oil
Recipe
Wash the rice well and spread it on a large plate to air dry
Dry roast the moong dal until light golden brown and set it to cool. Wash well and keep aside
Shallow fry potatoes, carrots and cauliflower one by one until golden, drain excess oil and set aside
Take a kadhai and add ghee
Shallow fry the rice until translucent and set aside
In the ghee, add bay leaf, whole dry red chilli, cumin seeds, cinnamon and cloves
Add the grated coconut and cook for about 2-3 minutes on low to medium flame
Now add the ginger paste, turmeric powder, cumin powder and cook for 3-4 minutes
Once the oil separates, the spice base is cooked. Add the rice and dal, mix well and cook on low to medium flame for 4-5 minutes
Meanwhile, boil water in a separate pan and add the hot water to the kadhai
Cook for 15-20 minutes, occasionally stirring
Now, add potatoes, carrots and tomato along with the green chillies and cook for another 5-8 minutes before adding the peas and chopped coconut
Add the green chillies, check seasoning and the status of the khichuri
Once the khichuri is completely cooked and water absorbed, add dollops of ghee and sprinkle the garam masala. Serve hot
Niramish mutton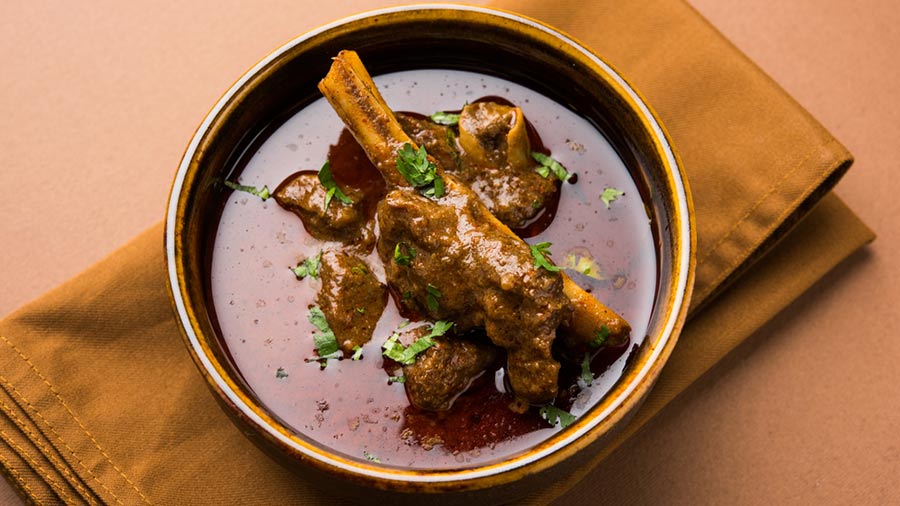 Shutterstock
'Niramish' mutton, a Bengali-style mutton curry cooked without garlic and onions is a perfect accompaniment to your steaming khichuri.
Ingredients
Mutton: 1kg
Hung curd: 4 tablespoons
Ginger paste: 2 tablespoons
Grated ginger: 1 tablespoon
Green chilli paste: 1 tablespoon
Kashmiri red chilli powder: 1 tablespoon
Red chilli powder: 1 teaspoon
Turmeric powder: 1 teaspoon
Garam masala powder: 1 teaspoon
Bay leaves: 2 large
Whole dry red chilli: 1
Cinnamon stick: 1
Cloves: 2
Cardamom: 2
Nutmeg (jaiphal) powder: 1 teaspoon
Fennel (mouri) powder: 1 teaspoon
Mace (joitri): ½
Asafoetida (hing): 1 teaspoon
Potatoes, cut into halves: 8
Tomato cut into halves: 4
Slit green chillies: 2-3
Mustard oil
Ghee
Salt
Sugar
Recipe
Marinate mutton with hung curd, ginger paste, green chilli paste, Kashmiri red chilli powder, red chilli powder, turmeric powder, fennel powder, salt and sugar. Cover and leave for minimum one hour or preferably overnight
Marinate the potatoes with salt and turmeric powder and deep fry in mustard oil until golden brown. Keep aside, draining excess oil
In a kadhai or pressure cooker add mustard oil and ghee (70:30 ratio) and heat well
Add bay leaves, whole dry red chilli, cinnamon, cardamom, cloves and mace. Temper well
Add hing, mix well with the other spices and temper
Add grated ginger next and saute for another 1-2 minutes
Now add the marinated mutton and give a good mix. Turn the flame high and cook for 5-8 minutes, occasionally giving a quick stir
Lower the flame, add the nutmeg powder and mix well with the meat and spices
Cover the cooking utensil, keep the flame low and start the koshano (slow cooking on a low flame to cook and seal the meat) that will approximately take 30 minutes. Point to remember, if you are doing it in a cooker, keep it loosely covered with the lid in interim periods
Add desired amount of water, tomatoes and seasoning and pressure cook for 2 whistles
Open the lid and add the potatoes. Check final seasoning, close the lid and cook for another whistle
Add some ghee and the garam masala powder on the top and serve piping hot
Chhanar chutney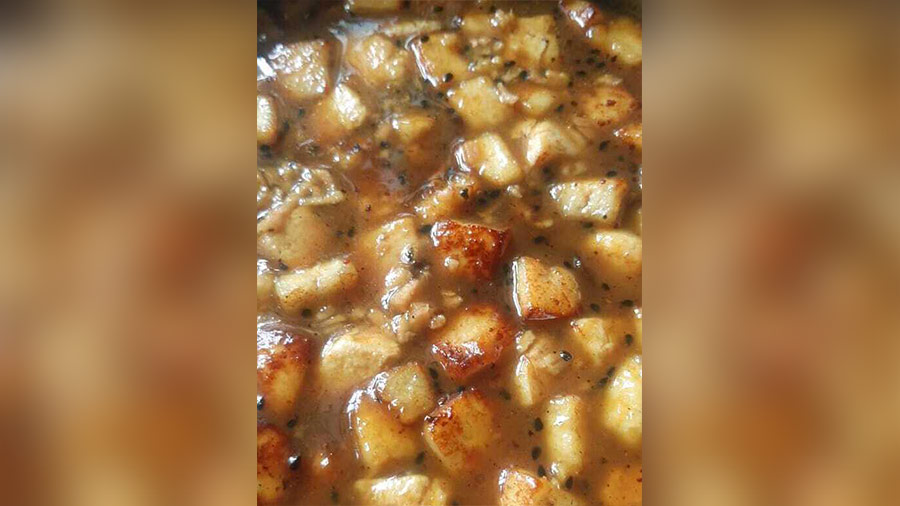 Rinku's Kitchen/Facebook
Surprise your loved ones with this almost forgotten traditional recipe.
Ingredients
Full fat paneer: 300gm
Tamarind pulp: 50gm
Liquid or grated jaggery: 1 cup
Panch phoron (Bengali five spice mix): 1 teaspoon
Bay leaf: 1 large
Whole dry red chilli: 2
Salt: 1 small pinch
Sugar: 2 tablespoons
Mustard oil
Recipe
Cut paneer into small cubes
Make tamarind paste with the pulp and set aside
Shallow fry the paneer cubes in mustard oil until light yellow
Meanwhile, boil a saucepan full of water seasoned with salt and sugar and keep aside
Put the sauteed paneer cubes into the boiled water
In a non-stick pan, heat mustard oil, add bay leaf, dry red chilli and saute well
Now add panch phoron and temper the spices
Add the tamarind pulp and cook on low flame for about 5 minutes
Add the jaggery, mix well and cook on low flame while stirring continuously for another 5-6 minutes
Check seasoning, and add the paneer cubes (not the water). Cook on low flame for 3-4 minutes and turn off the heat
You can serve this chutney warm or chilled
Bhapa sandesh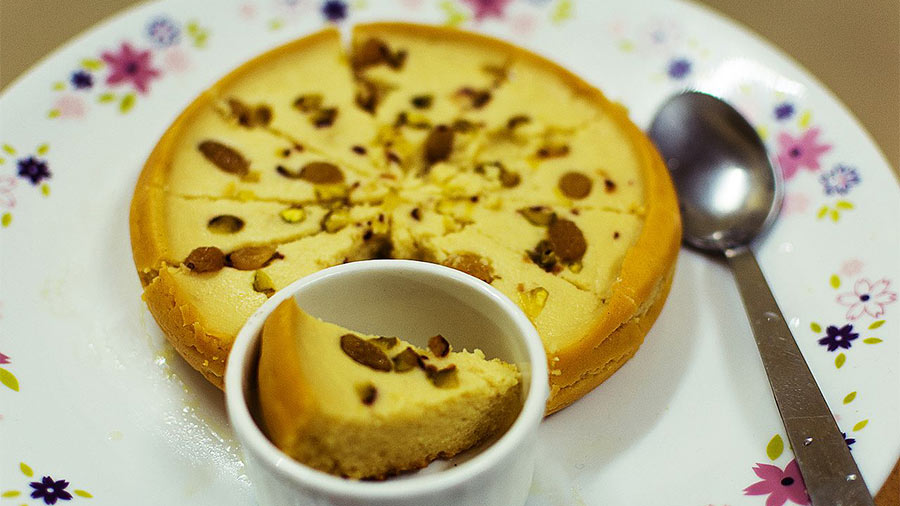 Wikimedia Commons
Barir toiri sandesh is a whole other emotion, no. Show off a little for your Kali Puja menu with this bhapa sandesh
Ingredients
Full fat milk: 2 litres
Lemon juice: 4 large lemons
Powdered sugar: 1 cup
Milk powder: 1 cup
Cardamom powder: 1 teaspoon
Saffron: 1 teaspoon
Finely chopped dry fruits: 8-10 tablespoons
Ghee
Recipe
Start with boiling the milk in a deep-bottomed vessels, preferably made of aluminium
When the milk starts to thicken, start pouring lemon juice little by little. Keep stirring until it curdles and the water separates from the curd. The curd is your chhena/chhana
Use a cheesecloth or a clean, preferably white thin cloth to drain the water and squeeze out excess water from the chhana
Spread the chhana on a large plate and allow it to dry for about 15-20 minutes
Add milk powder, sugar, cardamom powder and a dollop of ghee and knead it well until your palms are oily
If you want a smooth sandesh, you can also give it a quick blend in the mixer
Now, take a steel tiffin box with lid, grease it with ghee and pour the kneaded chhana into it
Boil enough water in a kadhai submerge the box halway, place it at the centre and cover the kadhai with a plate
Cook on low flame for about 30 minutes and turn off the flame. Let the utensil rest for another 20 minutes before opening the lid
Demould on a large plate, sprinkle the chopped dry fruits (and some rose petals if you like), cut into medium sized squares and your sandesh is ready
You can have it all warm or serve it chilled