Walk into a Baskin Robbins store this summer, and order a… pizza! Yes, an ice-cream pizza to beat the scorching temperature outside is one of the brand's newest offerings for summer as it celebrates three decades in the Indian market.
As one of the leading ice-cream brands in the city market marks 30 years in national operations, My Kolkata caught up with Mohit Khattar, chief executive officer, Graviss Group (Baskin Robbins) for a chat about the evolving Kolkata market, product development and of course new products that will soon hit the stores near you.
Edited excerpts from the telephonic conversation below
My Kolkata: Around 30 years ago BR first came to India. How would you describe people's reaction to the brand then and now?
Mohit Khattar: Baskin Robbins came to India in 1993 with the first flush of liberalisation, when all the international brands had just begun coming into the market. When you look back today at those times, ice cream displays in parlours was a completely novel concept. The reaction to it was that of a kid in wonderland. And there was a perception that the brand was an international premium brand. As the years went by, and people's familiarity with the brand grew sling with the competition, the parlour displays became the norm. The way parlours are set up today is exactly the way parlours were set up in 1993. At that point of time it was novel, today it's no longer novel. We were sampling our products 30 years ago — it was a trend that we started and it's something that is followed by the industry today. So, a lot of things that we today take for granted were very new at that point in time.
Though ice cream is loved all year round, are there specific growth margins noticed during the summers in Kolkata?
Yes absolutely. Around 60-65% of the sale in the Kolkata market comes in the first six months of the fiscal year (April - September / October) and the rest of the six months contributes to the remaining sales per cent.
If we are trying to do a slightly more complex dessert like a cheesecake sundae or an ice-cream cake, the motivation for those can come from anywhere. For instance, we noted that cheesecakes were becoming very popular in the country, so we worked with our team and created a product sample that worked well in terms of taste and other parameters like portability.
Will Kolkata see new flavours launching this summer? Can we get a sneak peek?
There are three ice cream flavours being introduced — Caramel Milk Cake, Blueberry and White Chocolate and Fruit Ninjaa. We are offering various new ice cream options. This includes ice cream cakes called Anytime Cakes which are for individual consumption or smaller families. There are ice cream pizzas in Praline 'N Cream and Cookies 'N Cream and rocks which are bite-sized ice creams in Cotton Candy and Mississippi Mud flavours. There are also ice cream floats in four varieties — Berry Burst, Mango Passion, Hawaiian Punch and Magic Bubble. The Mermaid Sundae and the Unicorn Sundae will keep the love of ice cream sundaes alive especially in children. There are a lot of new products being introduced so that the customers have reasons to come back to us.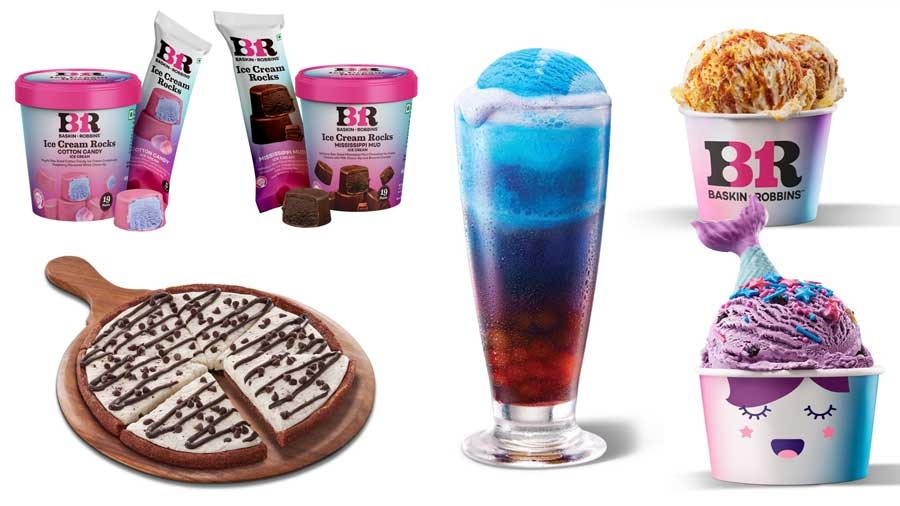 From bite-sized ice cream rocks to ice cream floats, pizzas and kid-friendly sundaes, Baskin Robbins has a host of new summer offerings
Courtesy Baskin Robbins
Tell us something about the Cheesecake sundaes?
Cheesecake was introduced in October 2022. The idea stemmed from the feedback from our research and development team that cheesecakes were becoming popular amongst youngsters. We were not very sure how it would have been received but since we introduced it, it's been an absolute blockbuster hit. It was immediately accepted across the country including in Kolkata.
With a growing number of ice cream brands in the city, does Baskin Robbins face any challenges from the Kolkata market for its sustenance?
We have been growing reasonably and have already opened 41 stores in the city. This gives us a presence across the length and breadth of the city. In terms of competitions, yes there are brands coming up and that keep us on our toes, not just in terms of network expansion but help us continue to strengthen our own operations, product offerings and marketing efforts etc. This is why we continue to grow at a pace faster than the market.
With easy fix homemade recipes available on social media, what strategies are Baskin Robbins adopting to stay afloat?
Regarding the availability of recipes, I don't think that consumers are creating ice creams from scratch at home. They are maybe buying the ice cream from a known brand and then creating whatever they want to create around it.
Also, we leverage social media ourselves and ensure that our brand presence on the platforms is good and growing. In fact, if you were to compare our social media presence with other brands who are probably bigger, then you will find that we are pretty much at par with them. Our presence is better than a lot of other brands who are operating in the space.
Do Kolkata stores see more walk-in customers or delivery orders?
In general, on an average the stores see more walk-in sales and relatively smaller online sales. But when I say this, online sales has played an increasing role around the country and we have seen the share in online sales grow over the years. Having said this, offline sales constitute around 67-70% of our total sales and online contributes to around 30%.
Rapid fire
Most popular new item (last six months) in Kolkata: Gulab Jamun Ice Cream
Top performing standalone outlet in terms of sales in Kolkata: Park Street outlet
Top performing mall outlet in terms of sales in Kolkata: South City Mall outlet
Most popular outlet in terms of ambience or vibe: Park Street outlet
Best performing delivery outlet: Bansdroni
Your favourite flavour(s): Mississippi Mud