Warm and welcoming. That's Mangio's new avatar at the quiet 2H Alipore Avenue address. Comfortable and cosy, the 40-seater from the stable of Kookie Jar that opened more than a decade ago at Enclave mall in Alipore and decided to shut due to Covid, shares its premises with an art gallery this time and the aesthetics are beautifully common. Be it the textured walls or the art on them. Lovey, one of the pillars of Mangio, says the response has been "amazing" so far. "We are a little overwhelmed with the response," she smiles. And, she has her fingers crossed for the all-day diner. "We have waited patiently," she smiles. In a candid chat, she tells The Telegraph what's new at Mangio and her top tips for the next generation.
Mangio is back after a break...
We shut it down because of Covid. The pastry shop was running and is still there. Our team is the same, our servers and chefs. We are training new chefs. Then when we were thinking of reopening with everything opening up, we came across this beautiful space which has a different ambience. And, we are here today. (Mangio's original outlet at Enclave mall in Alipore) is an ownership place and we can do what we want. We thought of giving people a different experience and let's see how it goes.
How did you discover this place?
The lady who owns this is a friend of ours. We were in school together. She called to say that she had this place. This was their residence and she converted it into a commercial place and they live somewhere else now. I loved it and thought it's perfect for Kolkata. They love art and good food and I don't think there is any other place like this. Our style is also food artistically plated and it's not about too much noise. I felt the vibes here and Puja (Kapur, sister) and I both fell in love with it. We got it ready in four months.
What have you changed about the space?
That (where Mangio is, on the left side when you enter) was a bare space. She was finishing up the gallery again. We have gone with the same walls, but since it's a restaurant and people are going to be seated, we have opened up a few windows. Together we worked on the whole thing. We brought in our own furniture. We are not rushed. You can come, sit with your cup of coffee, a nice teacake, and read a book. I would love to give that experience.
What's new on the menu?
We have kept a lot of popular things from the Mangio menu and we have added the new things we have been experimenting with over the years and it is a blend. We'll keep changing it. We didn't want to keep the entirely old menu because you have to move with the times and innovate.
Is the food still mostly European?
Well, we have got few Oriental things as well, with the market changing, but mostly European. Our desserts are all European for sure.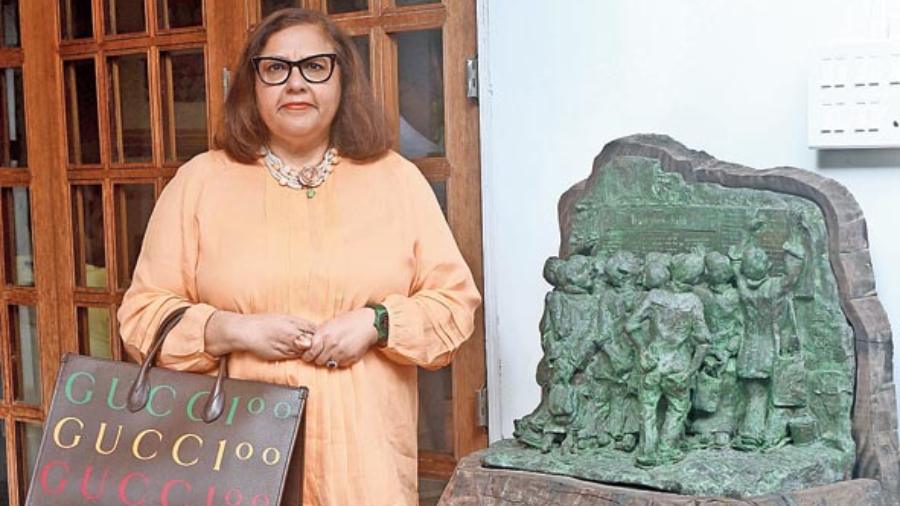 We have no gimmicks and have stood for real food, presented beautifully. We have always believed in that and we hope to continue with that. I feel people are coming back for that. A couple, when they were dating, used to be at Mangio and their favourite was the udon noodles and they had come for their child's first outing and they had udon noodles. (Smiles) This is very satisfying
Lovey
You opened Mangio more than a decade back. What are the things you kept in mind when you reopened Mangio?
What I am finding amazing is that people are more experimental and are receptive to a lot of changes. They are more aware of what's happening in the world, which is great for people like us. When we opened Mangio, we felt we were a little ahead of our times. I think now Kolkata is absolutely ready.
I kept the new food trends in mind, definitely. We want to believe that Covid is behind us. So, now, everybody has these QR codes and people are on their phones. So, they also wanted to put a QR code in our menu too, but I said no. We'll have one menu for the table which is on a frame and everybody looks at it and talks. I wanted to bring interaction in.
Everyone has become such home chefs also (laughs), we have tried to give them a slightly more different experience when they come here. We have hand-painted Mangio on the glasses (on the table; a part of the display). I felt since it was a gallery, it had to be hand-painted.
How do you think the industry has changed in the last couple of years?
Well, we have suffered a lot. We held back with the restaurant because we were apprehensive... open-close, open-close.
People are eating out a lot now...
They are going out with a vengeance, which is excellent. We are enjoying that a lot. Like I said, people are knowledgeable now. Maybe initially it was just the experience of experimenting. Now people are selective about where they are going and they want good food. That's what we stand for. We have no gimmicks and have stood for real food, presented beautifully. We have always believed in that and we hope to continue with that. I feel people are coming back for that. A couple, when they were dating, used to be at Mangio and their favourite was the udon noodles and they had come for their child's first outing and they had udon noodles. (Smiles) This is very satisfying. With all the changes around and the gap, we were a little apprehensive, but it's all been worth it. People now value their time, where they spend it and with whom.
What do you think people are looking for when they dine out now? Is it the ambience, the food or a mixture of two? And, will old favourites remain old favourites?
I have seen that (people going back to old favourites). I think people come back for good quality food. That's also sustainability which we are known for. Now it's an experience as well. You are not just going to eat a meal. There has to be a balance.
After almost four decades, how do you approach the F&B business now?
Among the people dining out, there's one (section) that knows their quality and food and they go back to the old favourites. Even the old favourites, you want it in a better environment. There's another lot that is experimenting. The customers have also matured a lot. Exposure, travel, Internet. There wasn't anything when we started. Now you get a lot of things that you wouldn't get here earlier, like a lot of different kinds of mushrooms. We are bringing truffle and carpaccio sauce from Italy. We are not using flavouring. Even the chocolates are of a better quality. So, one is able to create better quality.
NEW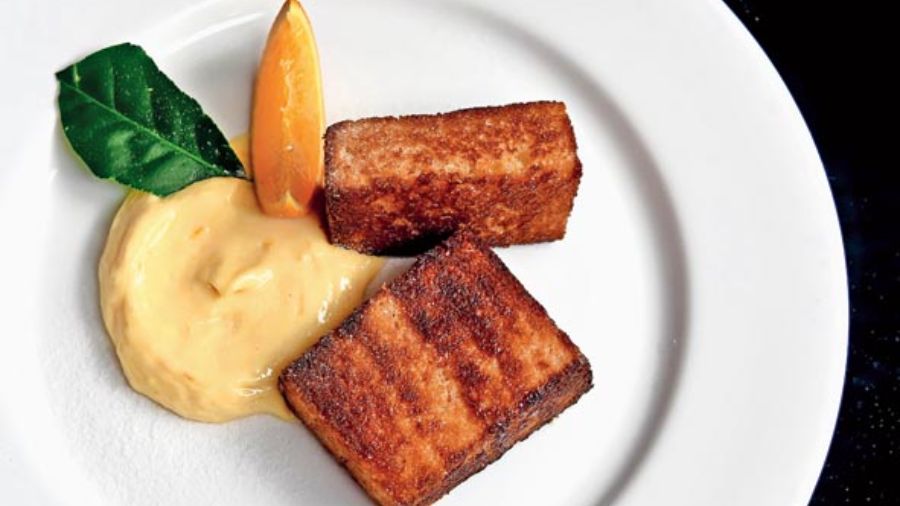 Toasted Honey Brioche with Orange Creme is "rich brioche with honey and orange cream".
OLD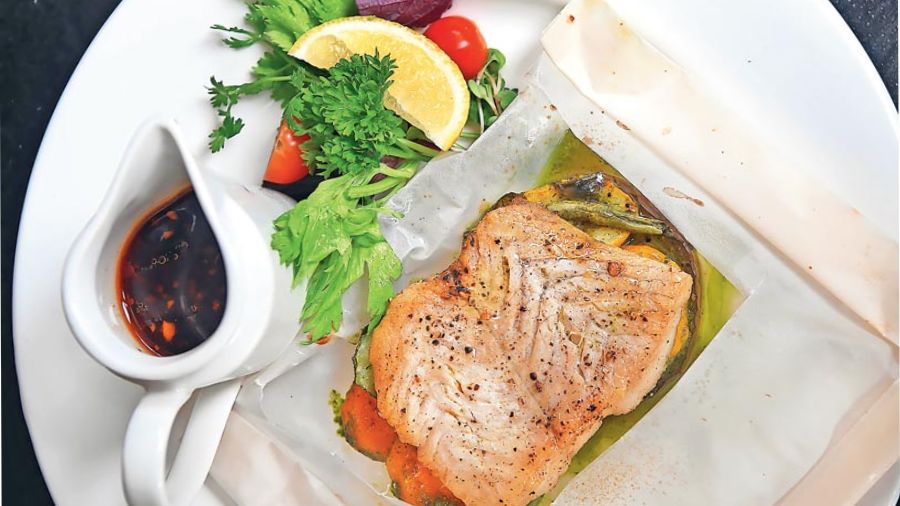 Kolkata Bekti with Aromatic Herbs, Baked in Paper has "light, delicate flavours of herbs". This is a speciality. "It goes to the table in parchment and the cutlery has scissors," says executive chef Suvir Parekh.
Why does everyone want to open a restaurant?
May I say that I am a good example? (Laughs) I know I have inspired a lot of girls to start as home bakers... but, we wonder ourselves... a lot of people don't know anything about food.
The F&B space is also oversaturated, right?
Totally. That's why we also held back, but then the feedback we got was people are going back.
What would be your top tips for someone starting out now?
I would say know your subject. Know what you want to do. This needs a lot of passion, hard work and commitment. It's very easy to open it. Sustaining it is the tough bit....
Mangio @ The Space
2H Alipore Avenue
Meal for two:
Rs 1,000-1,500
Open all days;
noon-10pm
MUST TRY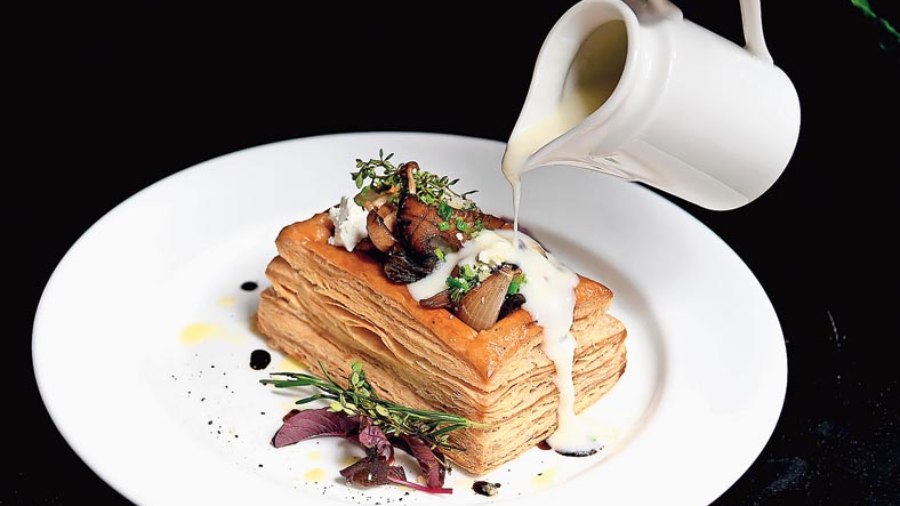 Mushroom Open Flaky Pie is "a light flaky melt-in-the-mouth puff" with mushrooms and cheese.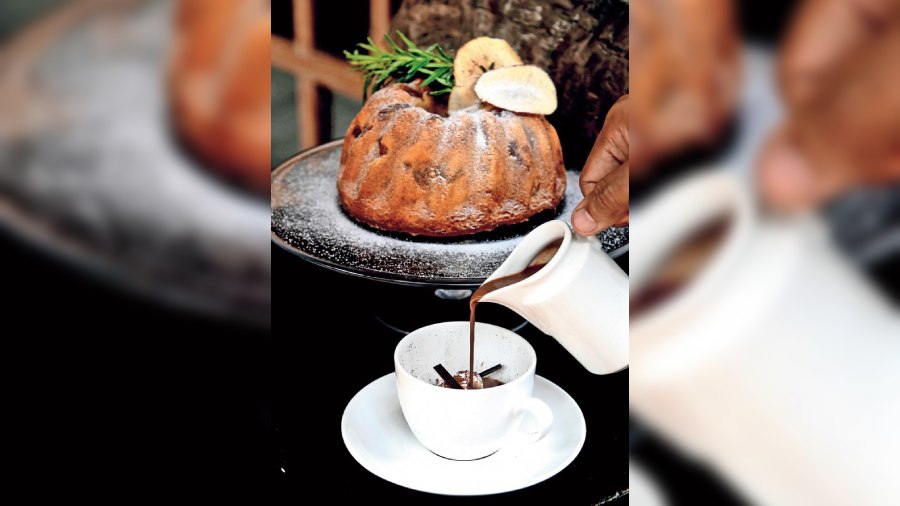 Hot Chocolate with Chantilly Cream is a sinful delight of pure chocolate with light cream. And, teacake of the day: Apple Cinnamon. "We are going to do our teacake of the day where you come for your tea or coffee in the evening and enjoy it," says Lovey.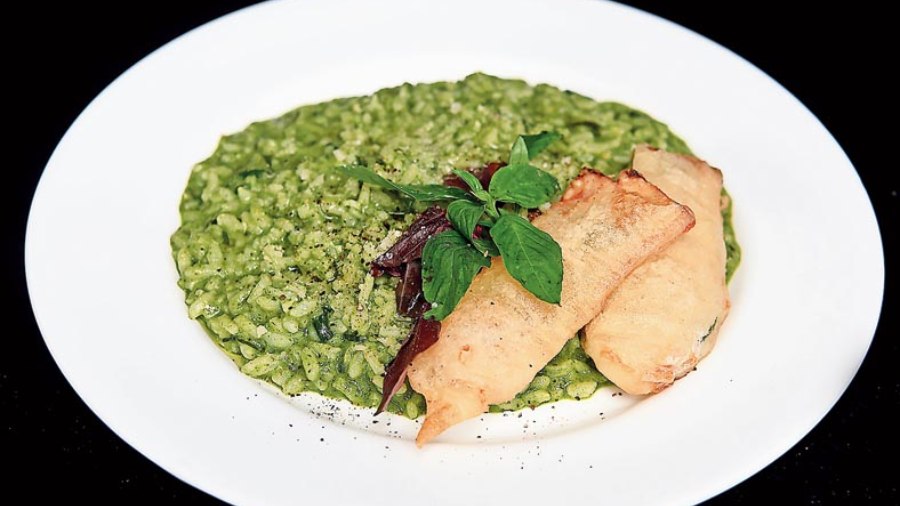 Genoese Pesto Risotto with Zucchini Parmigiana is "risotto cooked in Italian pesto".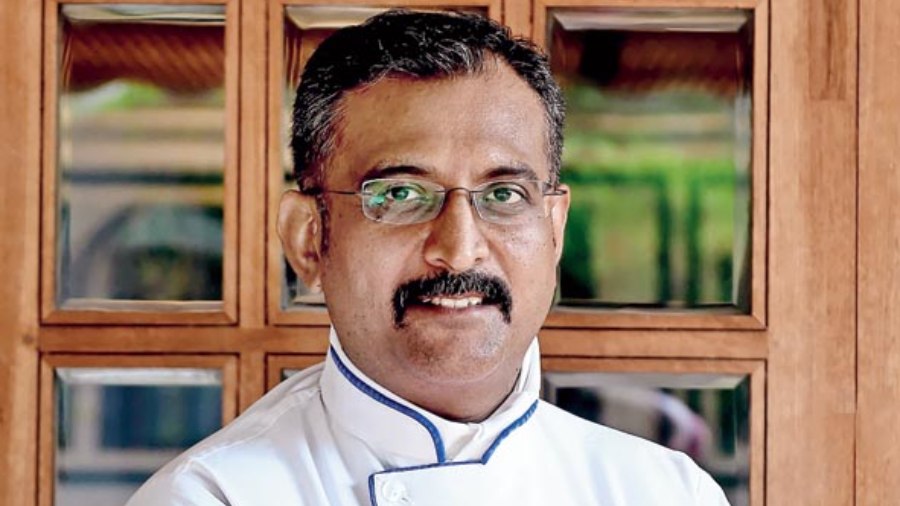 "In the last two years, there's been so much happening in the F&B space.... I want to give a twist to the food. I won't say this is not a social place, but food has to be the highlight. All our dishes are original. We have kept it simple, tasty and refreshing. When you see what's on the plate, you should like to eat it first, rather than taking a picture," says Suvir Parekh, executive chef.
More new additions...
 Mixed Berry Yuzu Cheese Cake
 Apple Rosemary Tart. "We had Apple Pie before. So, we have made a tart which is different. And, everybody does it with cinnamon. We have done it with rosemary," says Lovey.
 Warm Chocolate Mousse. "Everybody does a mudpie or molten cakes. We made a Warm Chocolate Mousse. Everyone serves cold mousse," says Lovey.
 Profiteroles with Homemade Ice Cream and Frozen S'mores. "We serve our profiteroles with a difference and the frozen s'mores are  a favourite with most. We have been doing it for a bit now," says Lovey.
 Tofu Tempura in Togarashi Sauce
 Bekti Tempura in Togarashi Sauce
 Open Flaky Pie
 Patel Eggs
 Baked Scrambled Eggs
Two of Lovey's faves from the menu:
 Salted Caramel with Espresso Ice
 Grilled Avocado & Rocket with Yuzu Sour Cream
Old is gold...
 Egg Fettuccine tossed in EVOO, Chili & Fresh Herbs, made with eggs
 Beetroot Goat Cheese Ravioli
 Wok Tossed Udon Noodles with Asian Greens in Ponzu Topped with Tofu Tempura
 Beer Batter Fried Kolkata Bekti  with Homemade Chips & Chili Tartar
Pictures: Pabitra Das and B. Halder