It is a mandatory ritual for many Christian homes in Kolkata to have their Christmas cakes made at bakeries with ingredients they get from their own homes. Every year before Christmas, essentially by the first week of December, families buy tutti-frutti, raisins, cashews, murabbas, and more, chop them at home, dry them in the sun or soak them in rum. Sometime between December 18 and Christmas Eve, they take all baking essentials to the bakery where the cake mixing and baking is done against a charge. 
This ritual came to a standstill due to the pandemic. The bakeries either sold their own cakes, or were out of business completely. However, this year, the Christmas ritual has been renewed and the small bakeries of Kolkata, especially in the southern part of the city, are back in business.
My Kolkata visited two bakeries in Behala and Thakurpukur, where the ovens don't stop baking until the night of December 24.
Karco Bakery, Thakurpukur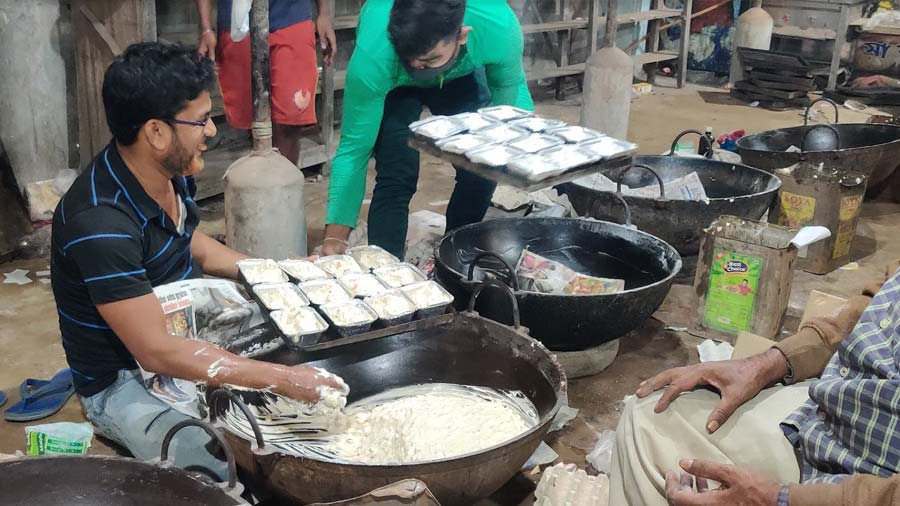 At Karco, all the cake mixing is done by hand
Over 30 years old, this bakery caters to customers from Thakurpukur, Kabardanga, Tollygunge, Joka and surrounding areas. The bakery has been shut for daily operations for about six to seven years now, however, they are open annually from December 18-24 for Christmas cake baking.
Sheikh Abdul Manan, the owner of Karco bakery, said, "We don't make bread or cookies anymore. The bakery had to be shut down as the demand died out and shops sourced cakes from popular bakeries. Nowadays, we open this time in December and bake cakes for customers who bring in ingredients. These customers have been frequenting here for more than 20-25 years."
Manan said that the pandemic years have affected them badly — even when they did open, customers did not turn up like in other years. "We were operational during Covid, but the customers didn't turn up. People were scared. Even though we took all precautions, many didn't want to risk it. So we had about 50-60 families in comparison to other years when at least 200 families turned up to bake their cakes," he added.
The bakery has lived up to its traditional method of mixing by hand and baking in a huge wood-fired clay oven that can accommodate about 140-150 cakes in a single batch. This baking method is the primary USP of the bakery.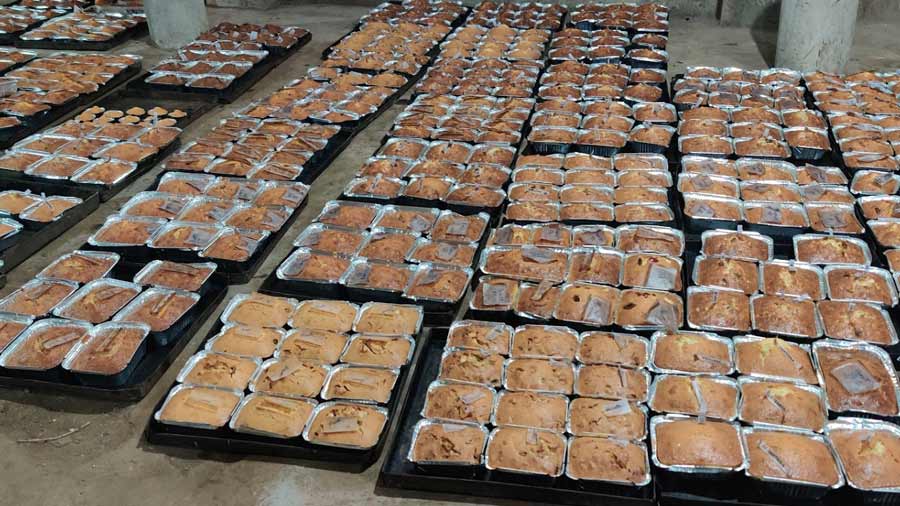 Freshly baked cakes cooling
Bishakha Mondal, a resident of Keorapukur, has been getting her cakes baked for Christmas here since her teenage days. The septuagenarian explained the draw of the clay oven. "The clay ovens add a different aroma and flavour to these cakes. If you visit other bakeries in Kolkata, most of them use electric ovens. They are good, but clay ovens are better. Also, the mixing here is done by hand as opposed to other bakeries where commercial mixers are used."
After a gap of two years, Mondal rushed to Karco Bakery as soon as she heard it was open. "Last year, I thought of getting cakes baked, but my family members were not keen on it. They thought it might not be safe as Covid was still coming in waves. So we bought some from the shops," she said.
Like her, retired corporate professional, A.N. Karali is also against buying cakes from large shops. He said, "The cakes you get in the shops are either very expensive or do not have proper ingredients. When we make it ourselves, we use the best quality dry fruits and butter. That's why this baking culture is still alive in Christian families."
Bimala Bakery, Behala Chowrasta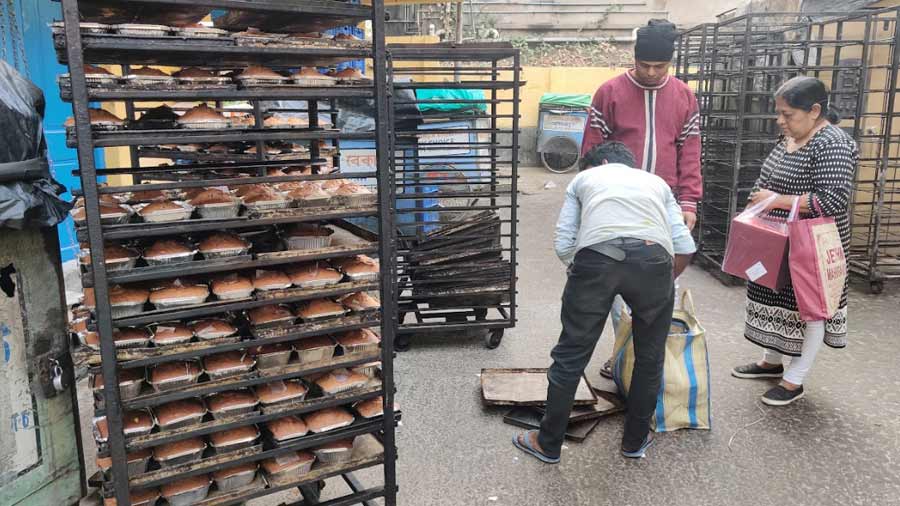 Cakes cooling on the rack outside Bimala Bakery
The ovens of Bimala Bakery, established in 1970, bake breads, cakes and cookies all year round. However, around mid-December, all regular production is shifted to a night-time slot to accommodate baking Christmas cakes.
"We have been mixing and baking cakes for more than 40-50 years. We have committed customers who have been baking their cakes here for many years now. But the pandemic was a bad blow to the business. The Christmas season saw a dip in the demand for mixing and baking. Although our mixing is done in a machine and not by hand, many people were sceptical. But the situation is better this year. We are getting back the numbers," said Shatrughan Saha, one of the owners of the bakery.
Bimala Bakery gets approximately 400-450 bookings every Christmas season from December 17-25. Some families also get cakes baked for the New Year after December 25.
"Most of the families from Behala, Kidderpore, Alipore come to us for baking and many of them turned up last year too. We tried to take all the Covid precautions. Social distancing, masking up and sanitisation was mandatory. Also our workers were staying at the bakery premises and were tested for Covid frequently," Saha said.
Sumita Chakraborty from Sakherbazar packed all her ingredients and made her journey to the bakery early in the morning on December 19. "I wanted to get this done so that we can start distributing the cakes before Christmas. I have been coming to Bimala for 40 years now. Last year, we didn't risk it. Christmas celebrations were on a low scale. But now, when everything is getting back to normal, we are also recommencing the age-old family rituals."