Holi is, of course, the festival of colours, but just like all Indian festivals, it is also the time for lots of mithai and thandai! From gujiyas and rasvadas to malpuas and pedas, the choices are endless. If you're looking for recipes for this day and wondering what to try, look no further, because Ishika Konar, the executive chef of Hyatt Regency Kolkata is here with three easy and crowd-pleasing recipes.
"As a child, the festival of Holi wasn't something I enjoyed because I was scared of the colours. However, now, Holi for me is a time to connect with people and have fun with my friends and family," said chef Konar.
Here are three recipes for you to try this Holi (or any other time) straight from the chef's recipe book…
Ricotta Kalakand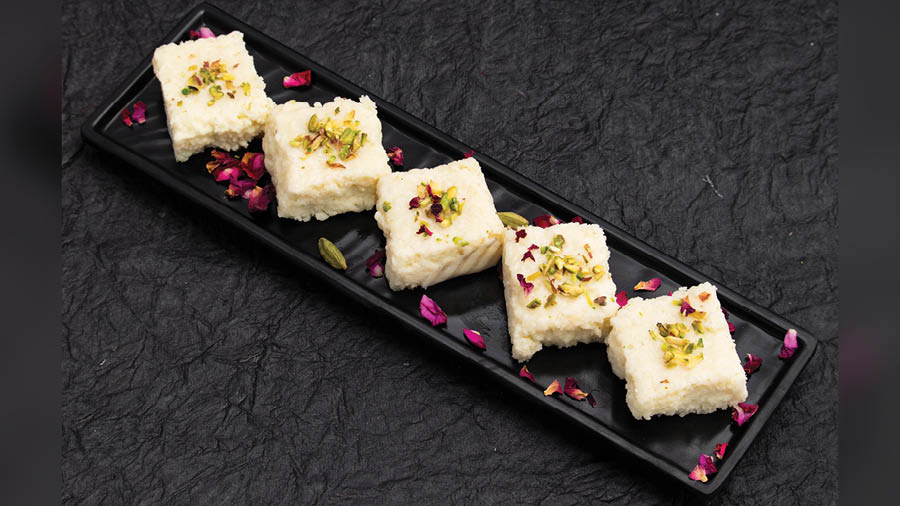 Representative image
Shutterstock
"Traditionally, kalakand is a Bengali sweet made by curdling the milk and then cooking it with sugar till it solidifies. The taste and flavour of kalakand made with ricotta cheese is a modern take on the traditional sweet, but quite close in taste to its original version. It is not overly sweet and can be made in under 30 minutes," said Konar.
Ingredients:
Ricotta cheese: 1 cup
Condensed milk: ½ cup
Ghee: 5 tablespoons
Cardamom powder: 2 tsp
Milk powder: as needed for binding
Recipe:
Mix the ricotta cheese, milk powder, sugar and condensed milk and make sure there are no lumps
Pour the mixture in a pan and cook on a low-medium flame stirring continuously to avoid a burnt bottom
Add ghee and cook for two minutes
Lastly add cardamom powder and mix it in, turning off the heat.
Grease a plate with ghee and pour the mixture and spread it evenly.
Cool for 15 mins and then place it in the refrigerator to set. Garnish according to your choice with rose petals, saffron and nuts and serve
Pro tip: Initially the mixture will become soft and watery — continue cooking, stirring often. Adjust the burner if the mixture is spilling out. It will take around 20 minutes to thicken, depending on the moisture content in the ricotta cheese.
Moong Dal Rasvada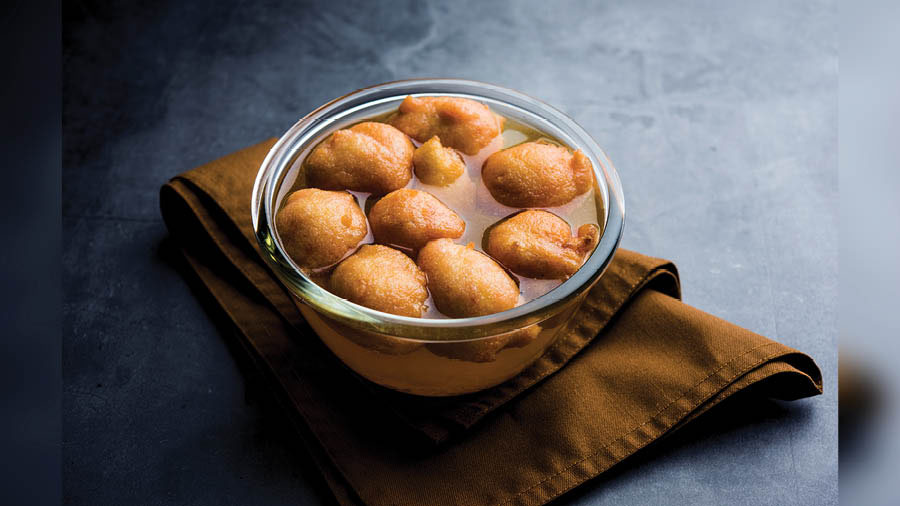 Representative image
Shutterstock
"These sugar-soaked vadas are soft in texture and will melt in your mouth. To make this dessert, you only need a handful of ingredients, but it tastes delicious," said the chef.
Ingredients:
Yellow moong dal: ½ cup
Saffron: 4 strands
Sugar: 1 cup
Paneer: 100 gm
Green cardamom: 2
Vegetable oil: for frying
Recipe:
Wash the dal well and soak in hot water for 45 minutes
Drain all the water and blend well to form a thick and smooth paste. Add paneer chunks, 2-3 tbsp water to the blender and blend well to make a smooth paste
Add 1 cup sugar along with 1 cup water to a pan and keep on medium flame till the sugar dissolves completely. Add crushed cardamom and saffron strands. Let the syrup cook until it thickens till it attains a one-string consistency
Beat the moong dal batter using a spoon or a whisk to make it fluffy
Heat oil in a kadhai and use a ladle or spoon to drop small balls of batter into hot oil and fry from all sides until golden in colour
Transfer the vadas to the sugar syrup and let them soak for at least 30 minutes
The soft and mouth-watering Moong Dal Rasvadas are now ready to be served!
Ghar Ki Thandai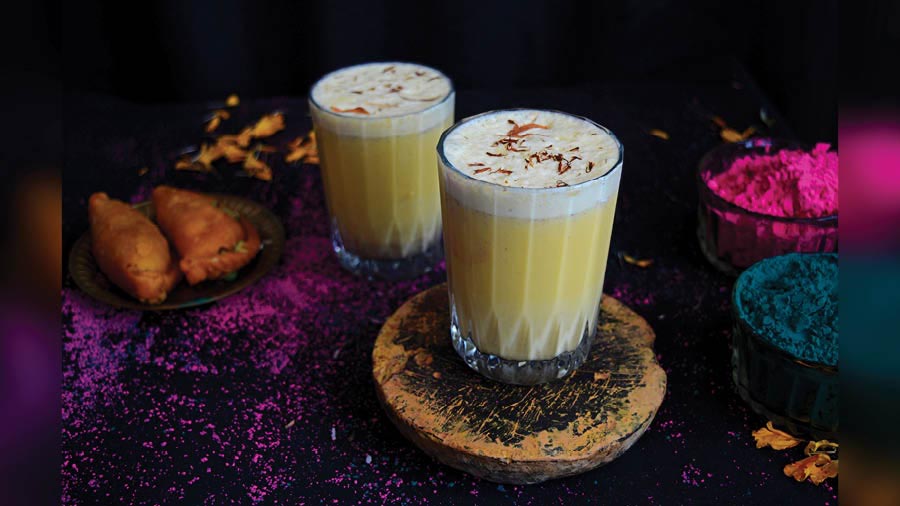 Shutterstock
"Thandai is a refreshing Indian drink synonymous with Holi and it's made with milk, peppercorns, almonds, fennel seeds, poppy seeds, cardamom, saffron and rose, which give it a great aroma and flavour," said Konar.
Ingredients:
For Thandai masala
Almonds: 35-40, blanched
Black peppercorns: 20
Fennel seeds: 4 tsp
Poppy seeds: 4 tsp
Watermelon seeds: 2 tbsp
Green cardamom pods: 15-20
For Thandai
Whole milk: 1L
Sugar: ½ cup, or to taste
Rose water: 2-3 tbsp
Saffron: 3-4 strands
Sliced nuts and rose petals for garnish
Recipe:
For the Thandai masala paste:
Soak almonds overnight or soak in hot water for 15-20 minutes and then peel off the skin
Transfer the blanched almond to a blender along with peppercorns, fennel seeds, poppy seeds, watermelon seeds and cardamom pods and grind to smooth paste. Add in some milk, if needed.
For the Thandai:
Add milk to a heavy bottom pan on medium heat and let it come to a slight boil as you keep stirring
While the milk is getting heated up, remove 2-3 tablespoons of the hot milk from the pan and transfer to a small bowl. Crush saffron strands between your fingers and add it to the hot milk. Let it sit until it gets a nice yellow colour
Once milk comes to a boil, lower the heat and add the thandai masala to it. Use a wire whisk to mix it all together
Add the sugar and mix until it dissolves.
Turn off the heat and add the saffron-milk mixture to the pan and stir. Let the thandai sit like this for 30 minutes
Add rose water and stir once slightly cooled and then let it sit for another hour. Pro tip: It is important to let the milk cool and sit in order to let it absorb all the flavours of the spices before straining.
Strain the thandai using a sieve into a pitcher. Press the solid thandai masala that collects into the sieve with the back of a spoon as you strain it to get maximum flavour out of the spices into the drink
Chill the thandai overnight and to serve, pour thandai into glasses and garnish with sliced nuts like pistachios, almond, rose petals and saffron strands