When in the mood for some comfort food that statiates the soul, Pronto Gourmet Food on Purna Das Road in Golpark is the new den to head to. Ramen, pizzas, shawarma, burgers... whatever you are craving for, a host of lip-smacking dishes is what Pronto offers. All the dishes are completely made in-house from scratch — from the delightful range of sauces to burger buns and breads like brioche, ciabatta and saj. They make their ricotta cheese in-house, used in appetisers and pizzas that'll leave you licking your fingers after the sumptuous meal.Pronto Gourmet Food kickstarted in 2020 as a cloud kitchen and soon opened an outlet at Tollygunge Club before the latest 40-seater outlet became fully functional at Golpark. Headed by Tanuj Sahay who's the founder and executive chef, and Shlok Vijay Gadhigaokar who's the sous chef and culinary director, Pronto Gourmet Food is your one-stop solution for a satisfying quick meal.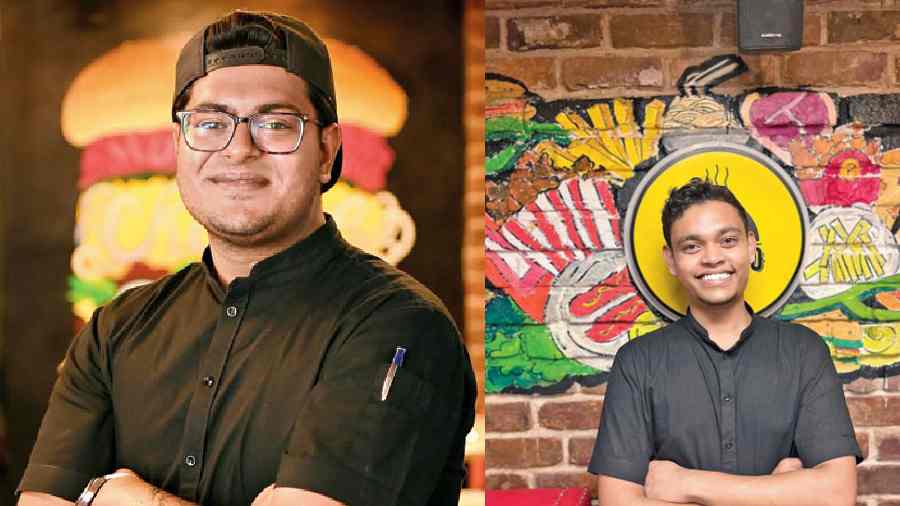 (l-r) Tanuj Sahay, Shlok Vijay Gadhigaokar
"We hope to keep destigmatising what people think of fast food. By opening up a restaurant we have a forum to not only showcase our skills but doing food R&D and further create new dishes for Calcutta to experience. As per our plan for Pronto, as a team we aim to open various outlets for each section of our menu. We would like the people of Calcutta to come to experience Pronto at our new restaurant at Golpark," said Tanuj Sahay, founder and executive chef at Pronto Gourmet Food.
Shlok Vijay Gadhigaokar, sous chef and culinary director of Pronto Gourmet Food.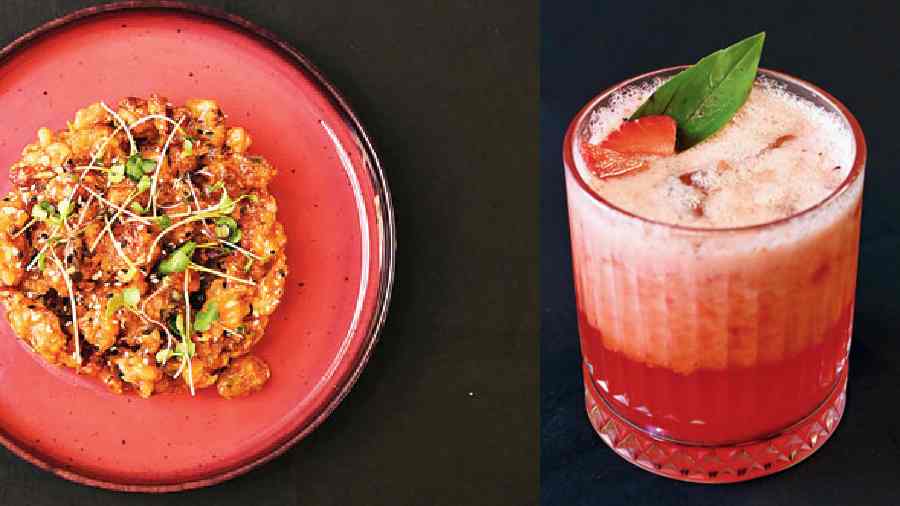 Dynamite Chicken: Made with small cubes of deep-fried chicken coated with the Pronto special sauce, served with in-house mayonnaise (specially handcrafted and complements all the dishes available), this dish is a must-try. The fried garlic, Dijon mustard, jalapenos, and sesame seeds enhance the flavours that you can taste in every bite. Rs 350
Strawberry Fresh Lime Soda: Made with freshly sourced strawberry and a basil leaf on top, the seasonal soda pops are your go-to drink this summer. Rs 195.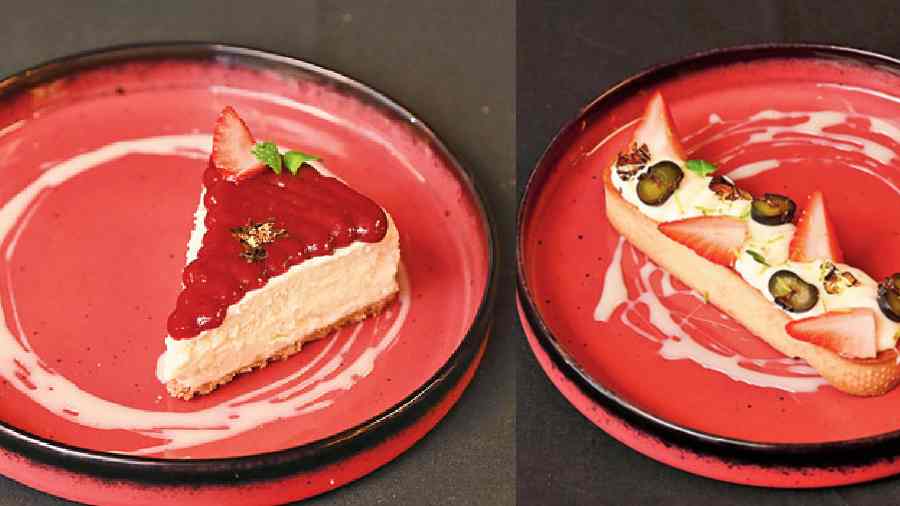 Berry Compote Cheesecake: It draws inspiration from the New York Cheesecake baked with biscuit crumbs and butter, topped with berry compote and gold leaf. A single bite is like a heavenly escapade. Rs 375.
Mix Berry Tart: This dessert made with mixed berry compote is a treat for your sweet tooth. The strawberry and blueberry are both organic and freshly sourced. The tart uses pastry cream and is layered with fresh fruits, lime zest, pink radish micro greens and edible gold leaf. Rs 350.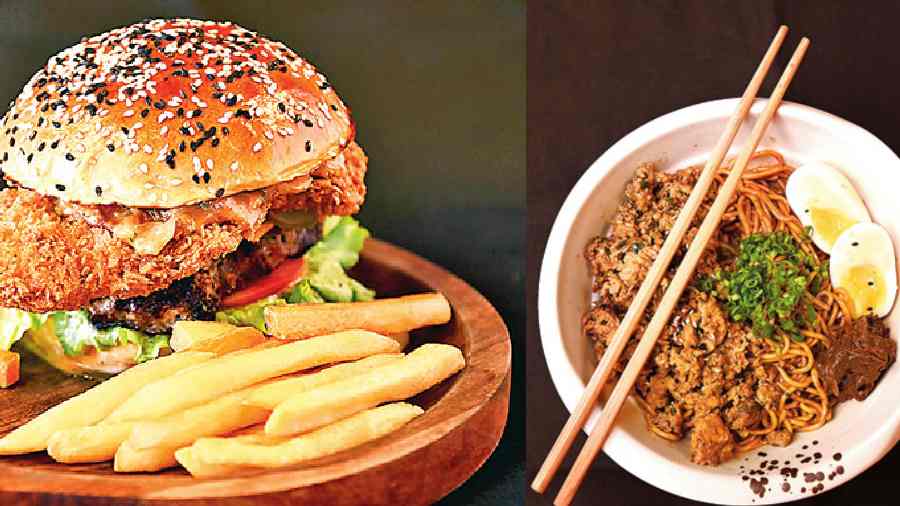 The Hustler: The burger stuffed with fried patty, Pronto's special sauce and cheddar cheese, is called The Hustler and has an interesting back story. It had appeared in a dream and eventually executed. The brioche bun, smokey mutton, beef, chicken or pork patty, stuffed with some lettuce, tomato and in-house pickle is served with a piece of fried chicken and fries. If you want a filling burger, The Hustler is a must-try. Rs 460 to 530 (depending on the choice of meat).
Dan Dan Noodles: It's a typical Chinese dish with a special smokey flavour coated with five spice Sichuan chilli sauce and sesame sauce, tossed with pickled spinach and minced meat of your choice. Rs 390 to 450 (depending on the choice of meat)
SIP & BITE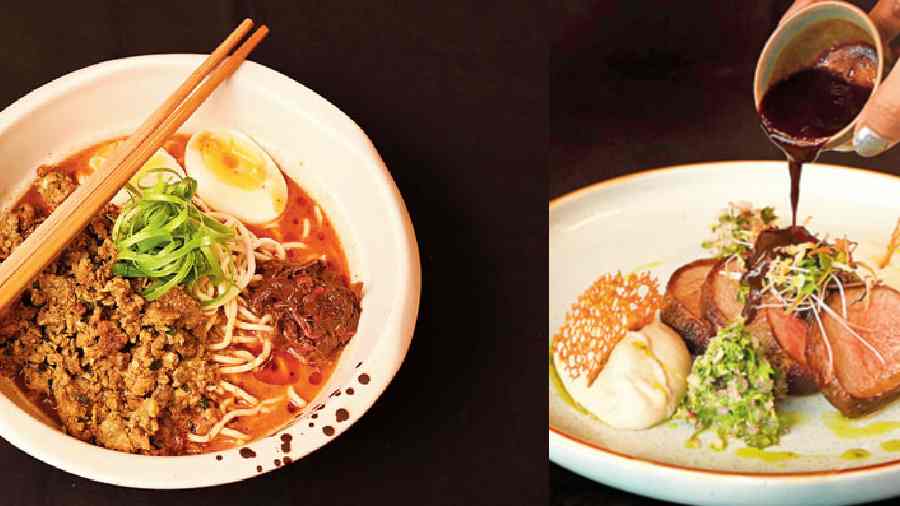 Chicken Tan Tan Mein: This bowl of ramen is the ultimate comfort food made with handcrafted noodles prepared fresh. Chicken roulade, softboiled egg and pickled greens in aromatic, spicy and creamy broth in Sichuan chilli oil and tahini paste. It's a Chinese dish turned into a Japanese concept based in soya sauce. The woktossed minced chicken in the broth simply melts in your mouth with a burst of flavour. Rs 400.
Chateaubriand Steak: This dry-aged steak is made with tenderloin. The meat is tender and juicy. The in-house beef jus chimichurri, the red chilli tuile, parsley and mashed potato make this steak a scrumptious delight. Rs 650.
What: Pronto Gourmet Food
Where: 50/1B Purna Das Road, Golpark
Timings: 12.15pm to 10.30pm (Tueday to Sunday)
Pocket pinch: Rs 500-plus