The Seven Sister States are known for their nuanced flavours — the masterful blend of chillies, herbs and fatty protein, always balanced perfectly and never overpowering.
For the longest time and despite having a palate for it, Kolkatans weren't privy to the cuisine — simply because restaurants in the city didn't offer the fare. Most food-lovers have eaten at The Blue Poppy Thakali, but there are a number of other eateries that have cropped up in the last few years that serve delicacies from the seven states. Think steaming plates of rice, meat and green veggies — all traditional to the tee.
My Kolkata shares some newer places to sample northeastern fare.
Cafe Porkotini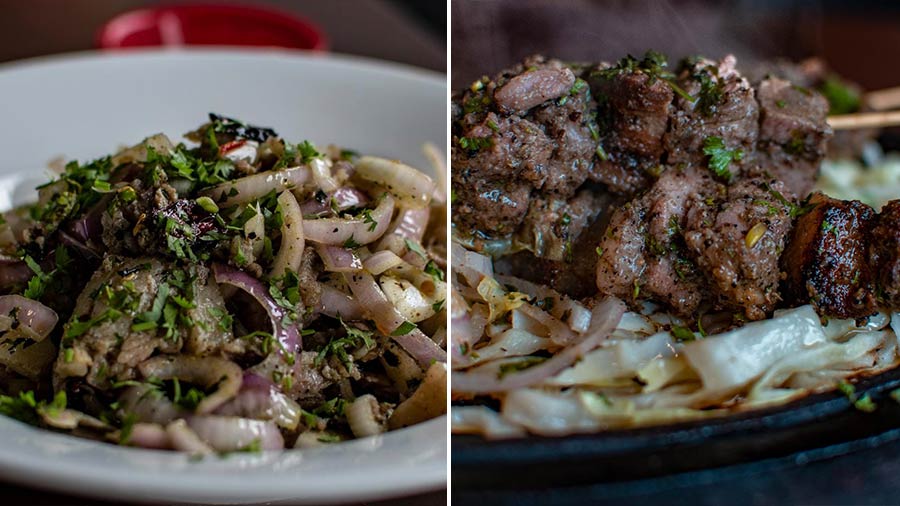 The Pork Bharta Salad and Pork Khorika
Cafe Porkotini, established in February 2021, was inspired by the quaint cafes of France. "I wanted to offer Kolkata a nice place, like the French cafes, and a good bite. Everyone loves pork so we decided to make it the hero of our menu," says Ripan Mahanta, the chef spearheading Cafe Porkotini along with his brother Amit Dutta. 
Like the name suggests, at Cafe Porkotini, you'll spot many pork delicacies. Naturally, a number of northeastern delights crop up."We offer dishes from each of the Seven Sister states! The most popular ones are the Assamese-style Pork Khorika, Black Til Pork from Meghalaya, Mizo-style Fried Pork and Manipuri Pork Thongba," reveals Mahanta.
A specialty on their menu is the Pork Bharta Salad, which has roots in Tripura. It's a mash of onions, ginger, garlic, chilli, coriander and boiled pork with a drizzle of mustard oil, to add a pungent punch. "If anything on our menu stands out it's because of the bhut jolokia (a traditional chilli). We play with the spice level, and it makes most of our northeastern dishes what they are," smiles Mahanta.
Location: 90, Kalitala Road, Kalikapur and 326/10, Raja Rammohan Roy Road, Behala (just off Prince Anwar Shah Road)
Pocket pinch: Rs 500 for two (approximate) 
Yeti — The Himalayan Kitchen
Yeti — The Himalayan Kitchen brings a taste of the Himalayas to Kolkata's dine-and-drink corridor Park Street. The restaurant chain that opened in March 2022 specialises in Tibetan, Nepalese, Bhutanese and Assamese flavours. 
Pick between Thentuk — a Tibetan delight which is a hand-pulled noodle soup punctuated with fresh veggies, Kothays — traditional momos which are steamed and then fried on one side, Assamese Pork Curry — a concoction made with traditional spices and bamboo shoots and Saag Maas — a fiery mutton curry cooked with spinach. 
Location: Celica Park, 24/1 Park Street 
Pocket-pinch: Rs 1,500 for two (approximate)
Hill of Tribes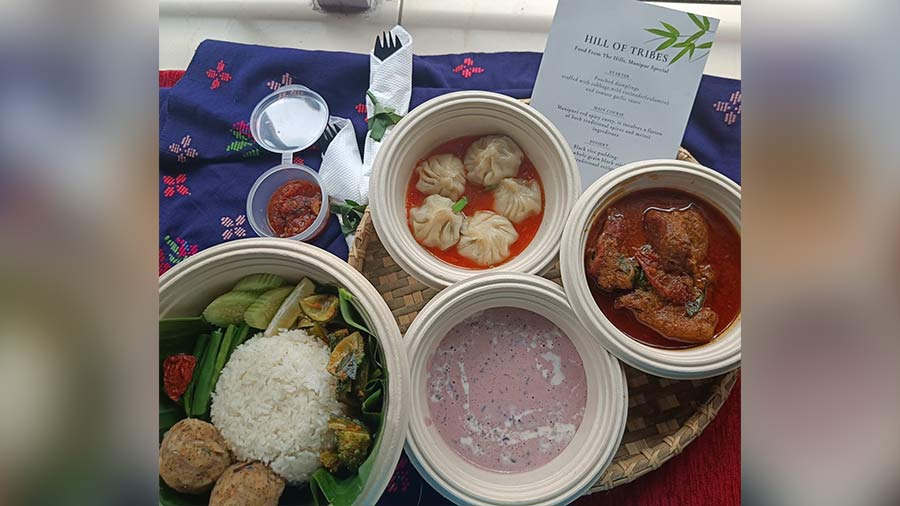 A Manipuri pork thali from Hill of Tribes
Angela Roy, the woman behind Hill of Tribes' pretty plates, set up her cloud kitchen in September 2020. "My paternal side is Bengali and my maternal side is from Mizoram, so I fuse the two cuisines to make dishes that Kolkatans love," says the solopreneur. 
Roy, however, is partial to the rustic notes of northeastern cuisine. She tells us that the fare draws its flavour from the main ingredient, which is usually a protein such as pork or chicken, and that's what makes or breaks the dish. "Northeastern food has minimal spice. It's comforting and soulful, so people love it! Once I realised that people in Kolkata have acquired a palate for it, I've begun focussing more on it," she says.
Since July 2022, Hill of Tribes has participated in pop-ups each weekend, serving humble items from the northeast. "I like to tell a story through my food at the pop-ups. The next one is on August 5, and I want everyone to travel to Nagaland with me so I've named the story, Nagaland Notebook," she explains.
 The pop-up will see a thali from Nagaland dotted with Smoked Chicken Wings — spicy wings in ghost pepper, Hot and Spicy Naga Pork Curry — a classic pork curry, and Cocktail Fruit Pudding — a must-have dessert. The thali will be served with Jadoh and Tungtap chutney — mainstays in every Naga meal. 
Facebook page: https://www.facebook.com/hilloftribes/?ti=as 
Pocket-pinch: Rs 799 for two (approximately)
Shillong Point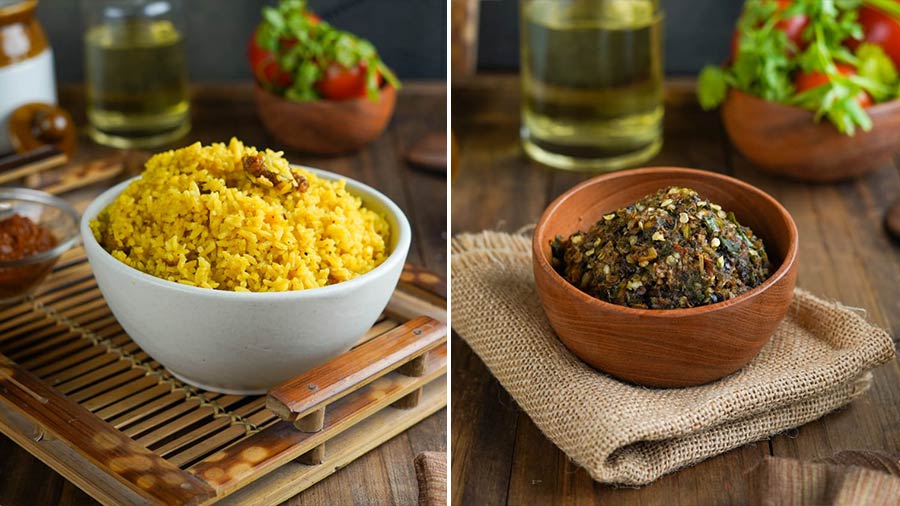 Jadoh, and Tungtap pickle
Station Road in Ballygunge houses a homely restaurant — Shillong Point — that specialises in Shillong and Naga fare. Set up in 2019, the twee eatery is run by Rajajoy Phookan and wife Nandini Basu Phookan. "Kolkatans are familiar with the flavours of northeastern food, they just don't have easy access to the cuisine. I opened this restaurant to bridge this gap," says Rajajoy. 
In an attempt to maintain the authenticity of traditional fare, Shillong Point recruited its head chefs from Khasi and Nagaland. In line with this concept, most of the ingredients which are essential to the flavours of the food are sourced from local markets in the northeast. "The hero ingredients are pork stock, bamboo shoots, ginger and red chillies — which are usually sourced from local markets in Nagaland. We even add pork blood to recipes that require us to do so, so the food remains authentic," he explains. 
Best-sellers at the dine den are Jadoh, a Khasi preparation of rice and meat, the popular Pork with Bamboo Shoot prepared in a pungent sauce, Dohkhlieh, which is a fresh pork salad and Dohneiiong, which has pork cooked in a black sesame gravy. Tungtap Pickle, a traditional pickle made with dry fish, also tickles the taste buds. 
Location: 20/1/1/C, Station Road, Ballygunge, Kolkata
Pocket pinch: Rs 500 for two (approximately) 
PriServes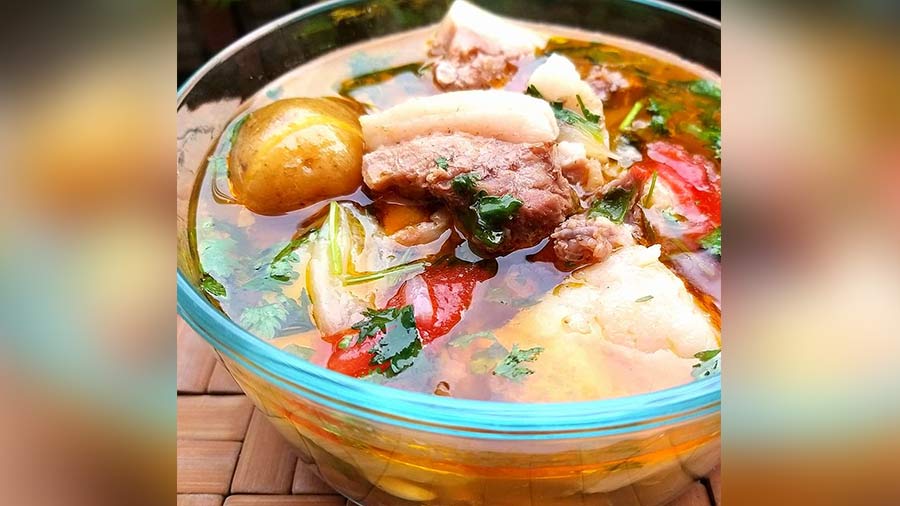 Pork with Bamboo Shoots
A kitchen you can always bank on for authentic flavours is a home kitchen. PriServes is run by Pritha Dutta, an ex-advertising executive turned home cook, who grew up in Aalo in Arunachal Pradesh. Though its claim to fame is the pickles and preserves, there are northeastern items on the menu. "We operate through food pop-ups and home deliveries. Food pop-ups are a great way for people to taste my food, and then order later. I've done an Assamese platter at two different pop-ups and a Galo (a tribe from Arunachal Pradesh) menu recently," shares Dutta.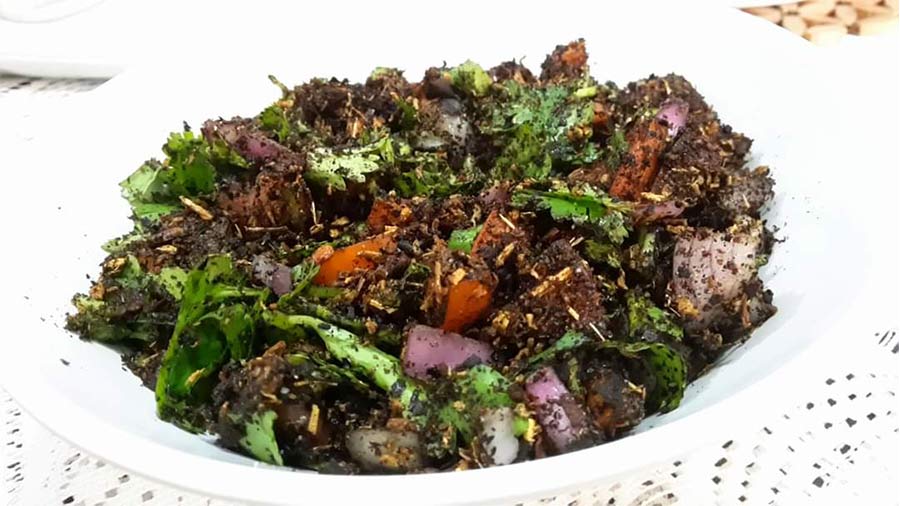 Luktir Salad
Try the Rohu Steaks — steak cuts with pounded Galo sesame and herbs and steamed in a banana leaf or Pork with Bamboo Shoots for familiar flavours. There's also Pork with Baby Potatoes and Bhut Jolokia — a delicacy from Assam, and the Luktir Salad, which is prepared from tender bamboo shoots fermented for about a month in air-tight bamboo containers.
Order via: 9836182999; orders need to be placed at least three days in advance.
Pocket pinch: Rs 2000 for two (approximately)
Mandala — The Oriental Kitchen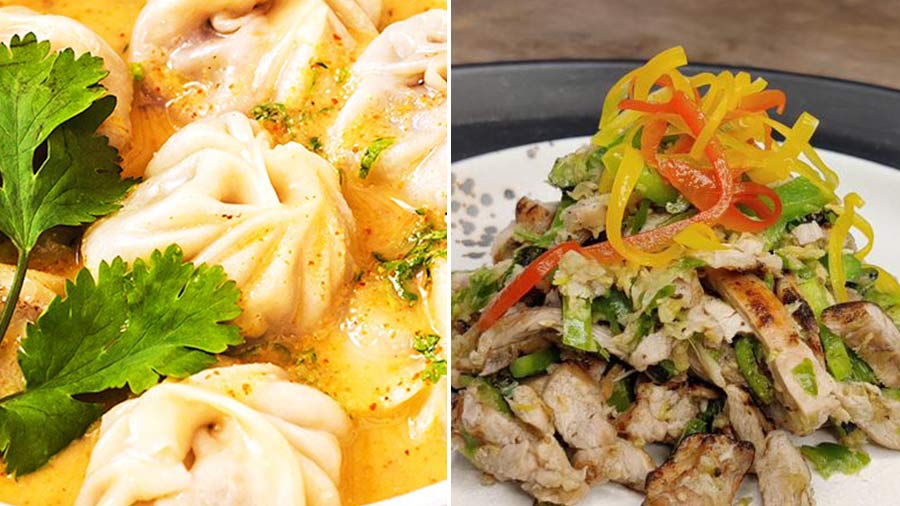 Jhol Momos and Nepali Chicken Salad
Mandala — The Oriental Kitchen is run by Mohanish Lama, who is from Darjeeling. "I began this venture in 2019, aiming to bring something new to Kolkata's restaurant scene," says Mohanish. Though Mandala's menu has a lot of south Asian flavours, there are a number of dishes from Tibet, Sikkim and Burma. Go for a plate of Jhol Momos — momos in a soupy gravy or Shyafaley — fried bread stuffed with spiced cabbage and meat if you're looking for a snack or the Nepali Chicken Salad, Burmese Khow suey and Thukpa, for bigger meals.
The cooks at Mandala are from Kalimpong, with chef Lasang Bhutia heading the cohort, and the menu has been curated keeping in mind traditional ingredients and Kolkata's palate. 
Location: Ground floor of Gorkha Bhawan, 2nd Cross Road, DD Block, Bidhan Nagar, Sector 1, Salt Lake, Kolkata (near City Centre)
Pocket pinch: Rs 850 for two (approximately)