June 4 is celebrated as World Cheese Day. Cheese is an ancient food made from milk. There are many factors that contribute to the type and taste of cheese that is available: country of origin, diet of the animal, whether it has been pasteurised, how long it has aged, mold and bacteria. Therefore, cheese is available in a wide range of flavours, textures and forms.
Milk from goats, cows, sheep and buffalo can be used for cheese production. Different spices, fruit and even wood smoke are used as flavouring agents to give cheese its unique taste and textures. It is high in fat, calcium and protein and has many health benefits. Cheese should always be served at room temperature after taking it out from the fridge. It becomes more flavourful and its texture is better.
Raw milk cheese, the true heirs of century-old culinary traditions, is made from milk that has not been heated beyond 40°C, compared to pasteurised milk cheese which is heated to kill bacteria. Some of the most famous ones are Roquefort, Comte, Brie de Meaux, pitchfork Cheddar and Parmigiano-Reggiano.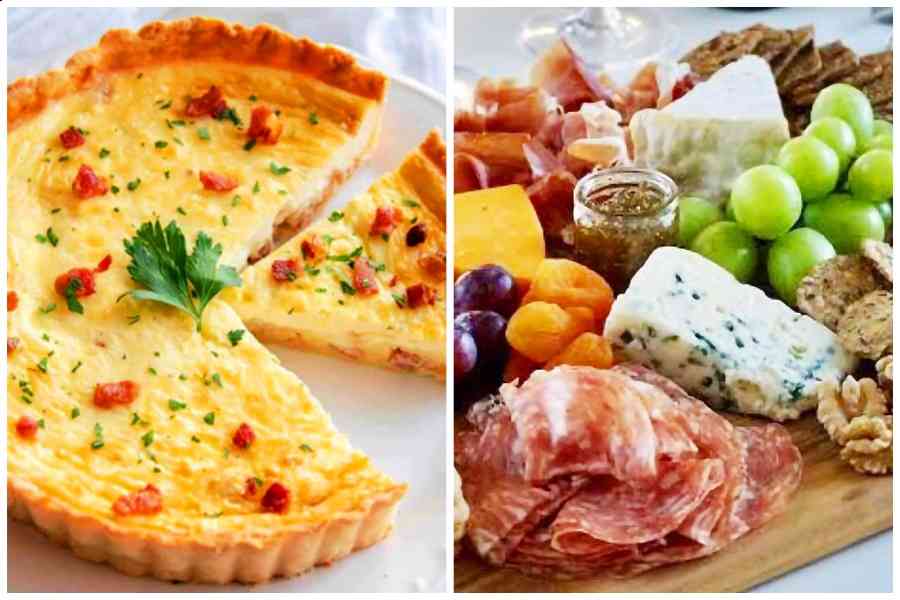 EASY CHARCUTERIE AND CHEESE BOARD
This dish is my favourite party appetiser. You can prepare it a couple of hours before the party and it looks pretty and extremely elegant. This is one dish where you can let your imagination go wild and put a lot of variety of goodies. But cheese is a must.
As you can see from the picture I have placed three different types of meat: Proscuitto, thinly sliced Chorizo and Salami.
Assorted crackers, olives, grapes, gherkins, walnuts and a small jar of spiced jam and flavoured honey too.
There are three types of cheese: blue cheese, Cheddar and Brie.
You can make your own cheese board with your preferences as well as the preferences of your guests.
QUICHE LORRAINE
Quiche Lorraine is a French dish that was introduced to the US in the 1950s. It became very popular and different kinds of ingredients were used to suit one's palate. Originally it was a savoury tart with an egg, cheese and bacon custard baked in a pie crust. You can always use your choice of meat, vegetables and herbs to make your unique quiche. Here, I am showing a classic Quiche Lorraine with bacon, Cheddar and caramelised onions. You can use ham, sausage, shredded chicken and vegetables like spinach, asparagus, baby tomatoes, arugula or roasted peppers. The choice is yours.
INGREDIENTS
All-purpose flour: 1½ cup
Sea salt: A large pinch
Unsalted butter: 8tbsp, chilled and cut into small pieces
Chilled water: 5tbsp
#For the filling
Bacon: 250g, thin slices chopped into ½-inch pieces
Onion: 1, chopped fine
Shredded cheese: 1½ cup (here I have used cheddar, but Gruyere is classic.)
Combined whole milk and heavy cream in equal parts: 1¾ cup
Eggs: 4
Salt: ½tsp
Freshly ground black peppercorns: ½tsp
Nutmeg: A pinch
Paprika: ½tsp
Egg white: 1, whisked for brushing the tart shell
METHOD
Sift the flour and salt into a bowl. Then rub pieces of butter into the flour with your hands until the mixture resembles breadcrumbs. Add water and knead until the dough has formed. Then transfer to a floured surface and roll to a 12-inch round disc.
Line a 10½-inch pie pan or dish with the pastry and crimp the edges, and then pierce the bottom with a fork. Place in freezer for 30 minutes.
Set the oven to pre-heat to 220°C. Line the pie shell with aluminium foil, then place some beans or rice on it (these act as weights). Put the pie shell in the bottom third of the oven and bake for 15 minutes until golden at the edges. Then take it out of the oven and remove the beans and foil. Then return to the oven for 5 more minutes.
#For the filling
First, brush the tart shell inside as well as the sides with the egg white. (This prevents the tart from becoming soggy).
Heat a large skillet over medium heat and add the chopped bacon. Cook till it turns crisp and fat is rendered. Remove the bacon and keep aside. Leave the bacon fat in the skillet. In the same pan add the onions and cook till golden brown. Remove the onions and put it with the bacon.
In a large bowl whisk 4 eggs and then add milk and cream, salt, pepper, paprika and nutmeg. Whisk for a minute or so to incorporate a little bit of air into the custard. Now add the cheese, bacon and onions and then pour it all into the pre-heated baked pie crust.
Bake the quiche in a pre-heated oven at 175°C for about 50 minutes or until a knife inserted into the middle comes out clean and the centre jiggles slightly. The quiche will continue cooking after it is removed from the oven. Cool slightly before serving and garnish with a little chopped parsley.
NOTE: You can use a 8-inch x 1¾-inch tart pan with a removable bottom or an 8-inch round 1¾-inch tall pan.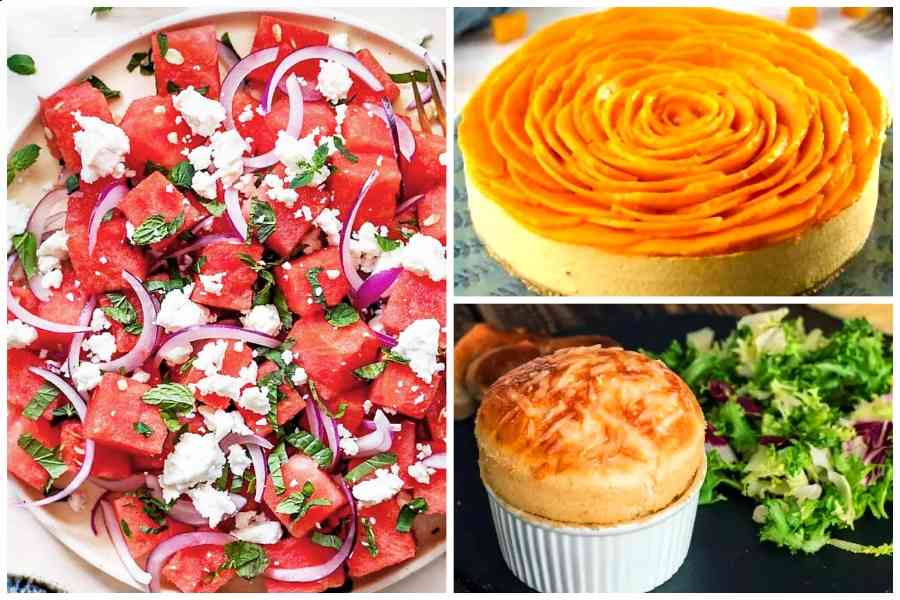 WATERMELON AND FETA CHEESE SALAD
This is a perfect salad to serve on hot day for lunch. It is very refreshing and the combination of watermelon and feta is a match made in heaven. Please use feta cheese only in this particular salad. The saltiness of the feta and the sweetness of the watermelon and the tanginess of the onions create a flavour-bomb in your mouth.
INGREDIENTS
Onion: 1 large, thinly-sliced long and soaked in juice of 2 limes. In no time it will become a nice pink.
Watermelon: 1kg, chopped into chunks
Feta cheese: 1 slab, cut into small cubes
Pitted black olives: 100g
Parsley
Mint
Extra virgin olive oil: A drizzle
METHOD
Mix all the above ingredients with your hands in a large salad bowl. Pour the juices of soaked onions too.
Then give a drizzle of extra virgin olive (about 1tbsp) and your salad is ready to be served.
CHEESE SOUFFLE
The earliest mention of the soufflé is attributed to French master cook Vincent La Chapelle in the early 18th century. They are generally baked in ramekins or souffle dishes. After being cooked, a souffle is puffed up and fluffy and will generally fall after 5 to 10 minutes. Therefore, a souffle is to be served immediately after taking it out from the oven or else it will become flat and will not look good. The souffle earns its name from the French word souffler, which means 'to puff up'.
INGREDIENTS (For 4-5 ramekins)
Eggs: 4 large. Separate the yolk from the white
Butter: For greasing the inside of the ramekins
Breadcrumbs: For coating the insides of the ramekins after greasing them. Shake off the excess breadcrumbs
Butter: 3tbsp
Flour: 1/3 cup
Milk: 1 cup
Shredded Swiss cheese: ½ cup
Shredded Cheddar: ½ cup
Shredded Parmesan: ¼ cup
Salt: ½tsp
Paprika: ¼tsp
Dijon mustard: 1tsp
Grated Parmesan: For topping
METHOD
Melt 3tbsp butter in a pan over medium heat. Add flour. Mix well and cook for a minute or so. Then gradually add milk and whisk continuously till it comes to a boil. Cook for 3 more minutes till it thickens slightly. Then remove from heat.
Add all the cheeses and mix well. Add salt, paprika and Dijon mustard. Mix well.
Now add egg yolks one at a time mixing it well. Add freshly ground black pepper. Transfer all this into a big bowl.
In a bowl put the egg whites. Add a pinch of salt and whisk with an electric blender till the egg whites form into peaks.
Gradually fold the egg whites gently into the cheese mixture, one spoon at a time.
Divide evenly into the prepared ramekins. Sprinkle little grated cheese on top.
Place the ramekins on a pre-heated baking tray and bake for 25 -30 minutes at 190°C.
Serve immediately or it will fall flat.
MANGO CHEESECAKE
The delicate balance and textures of flavours are amazing in this dish. The sweetness and saltines going perfectly together is what makes this dessert so unique and is the main reason behind the popularity of cheesecakes. The best part is that you can experiment with multiple toppings and flavours like strawberry, blueberry, lemon, etc. The result will be the same as long as you follow the same recipe.
INGREDIENTS
Digestive biscuits: 150g, made into a fine powder in a blender.
Melted butter: 80g
Gelatine: 7g, mixed in 50ml water
Cream cheese: 400g
Fresh cream: 250ml
Caster sugar: ½ cup
Vanilla extract: ½tsp
White chocolate: 150g
Fresh mango puree: 200g
Lemon juice: 1tbsp
Lemon zest: Of 1 lemon
Mango slices: For garnishing
METHOD
Mix the biscuit powder with the melted butter. Transfer this mixture in the spring-form mould and press it down with the back of glass bowl to even out the surface and pack it nicely to make the base of the cheesecake. Refrigerate to set until you make the cheesecake filling.
Now, take a mixing bowl and add the cream cheese, cream, sugar and vanilla extract. Whisk with an electric blender until it is fluffy.
Melt the white chocolate in the microwave and add it to the mixture and whisk with the blender until well combined.
Now add the mango puree, lemon juice and lemon zest. Whisk again till well combined.
Now heat the gelatine-water mixture in the microwave for 15 seconds. Remove and add 2 spoonfulls of cream cheese mixture in the heated gelatine and mix well. Then add this mixture back into cream cheese filling and mix well.
Transfer the mixture filling on top of the biscuit mixture. With a spatula even out the surface and make it smooth. Refrigerate for at least 6-7 hours.
Once it is set remove from the mould and garnish with mango slices. (Peel the mango from top to bottom in a circular fashion. Then cut the mango into two halves very close to the seed. Then each half place flat side down and cut thin slices. Start decorating the cheesecake with these slices from the outer edge, overlapping each slice a little. Work your way towards the centre. It will look exactly like the picture.
Pictures courtesy the author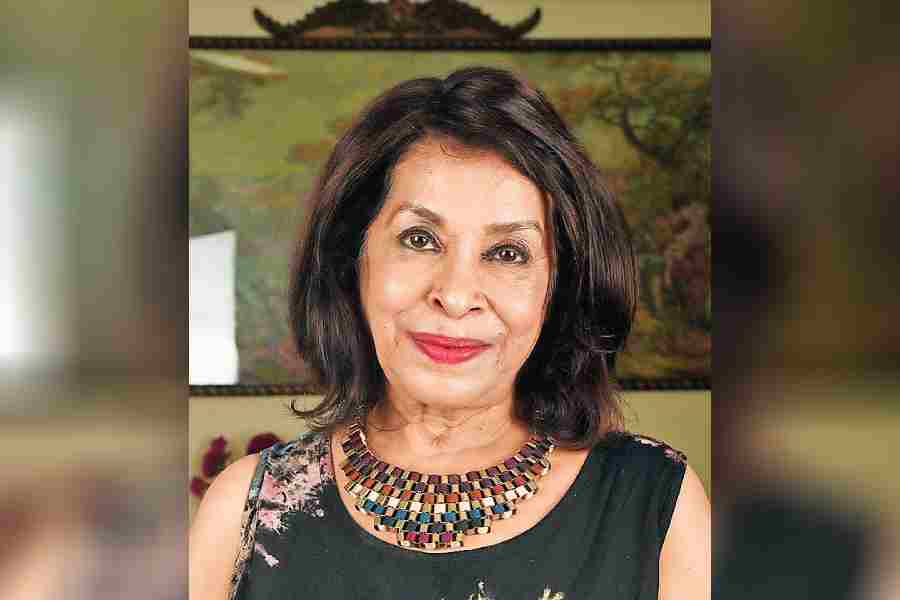 Durri Bhalla is a cookery expert and author of Indian Bohra Cuisine and Inner Truth To Good Health And Weight Loss. You can find her @durribhallakitchen on Instagram, @ Durribhallakitchen on Facebook and Durri Bhalla on YouTube