Winter without nolen gurer misthi is a half-baked experience. Be it the traditional pithey, puli, patisapta and payesh, or making fusion recipes like caramel pudding with nolen gurer rosogolla or a cheesecake with dollops of liquid jaggery — it's time to cook, bake, eat and repeat all things gur till the season lasts.
Caramel pudding with sliced nolen gurer rosogolla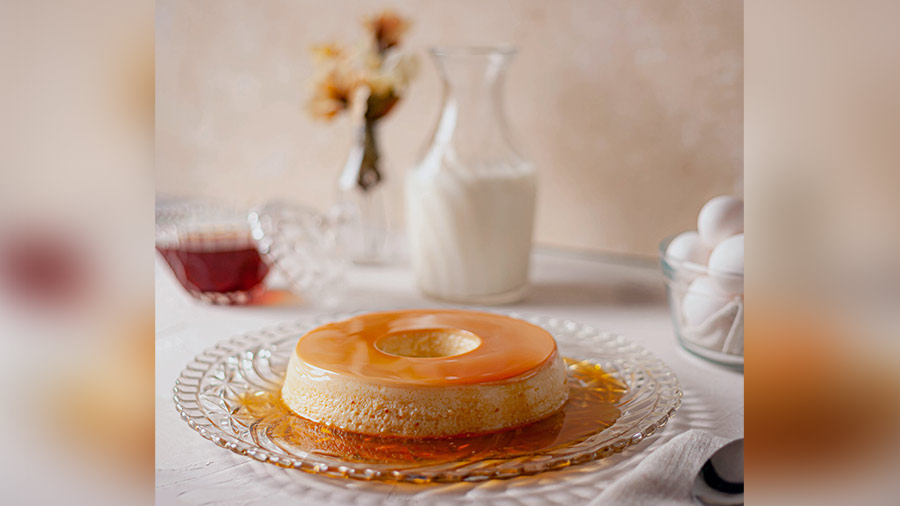 Representative image
Matheus Ferrero/Unsplash
Just another way to have the much-loved gurer rosogolla.
Ingredients:
Eggs: 3
Full fat milk: 1 and ½ cups
Full fat cream: 3-4 tablespoons
Powdered sugar: 1 small cup
Vanilla essence: ½ teaspoon
Nolen gurer rosogolla: 4
Recipe:
Cut the rosogollas into thin slices and keep aside
Divide the sugar in two halves
Mix the other half of sugar, vanilla essence and eggs together
Heat milk in a pan and add the cream. Whisk well
Take one half in a nonstick pan and caramelise. Distribute around the pan evenly
Now take a pudding mould and pour the caramelised sugar quickly
Pour the pudding mixture next
Add the rosogolla slices in the pudding
Heat water in a container, enough to half-cover the container
Cover and steam for 20-25 minutes on low to medium heat
Turn off the flame, bring the pudding to room temperature, and refrigerate for 2-3 hours and serve up
Nolen gur and ripe tamarind sweet and sour candy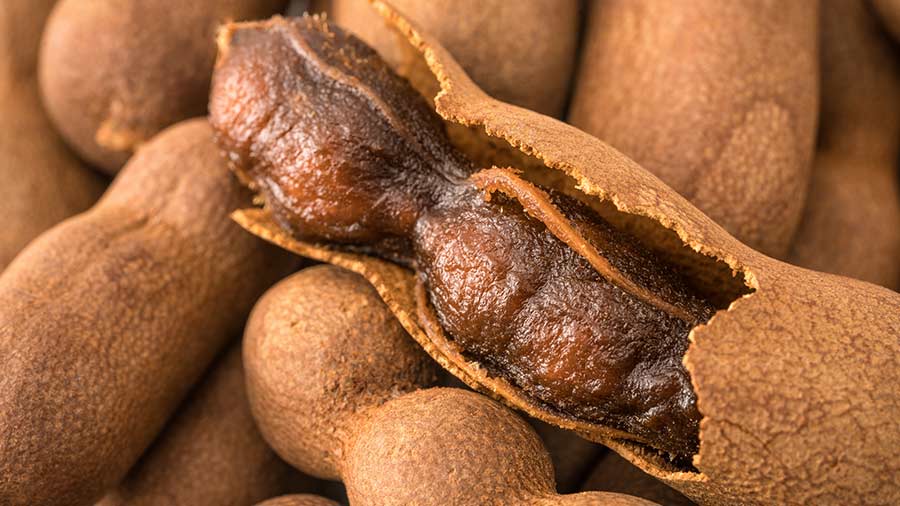 Tamarind adds a delightful sourness to the candy
iStock
Savour this tok-mishti (sour and sweet) chocolaty candy while soaking in the winter sun.
Ingredients:
Nolen gur: 1 large cup
Ripe tamarind paste: 1 small cup
Chilli flakes: 2 teaspoons
Rock salt
Ghee: 1 tablespoon
Molten dark chocolate: 100gm
Candy sticks: 10-15
Recipe:
Add ghee on a nonstick pan and heat
Add the tamarind paste, salt and chilli flakes, mix well and cook on low flame for 3-5 minutes, stirring constantly
Now add the jaggery and mix. Stir for 10-12 minutes on low heat or until it has formed into a sticky lump
Meanwhile, keep the molten chocolate ready in a bowl
Turn off the heat and allow the mixture to cool for 2-3 minutes. Take a spoon, scoop some and add on the candy sticks, rounding the sides with the spoon
Dip each candy in chocolate
Refrigerate for 1 hour and your gur-tentul candy with chocolaty layer is ready
Layered jaggery dessert with berries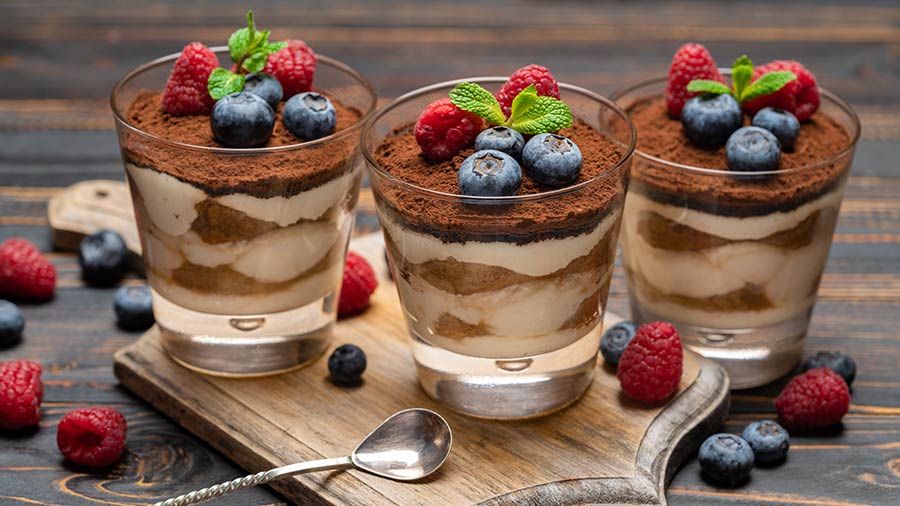 Representative image
Shutterstock
A glass dessert with nolen gur, dry fruits, dark chocolate, blueberries and strawberries.
Ingredients:
Nolen gur: 1 medium cup
Chopped dry fruits: 1 small cup
Grated dark chocolate: 1 small cup
Halved strawberries: 8-10
Blueberries: 5-6
Mint leaves: 5-6
Milkmaid: 1 small cup
Recipe:
Take a glass and add a dollop of jaggery
Take the same measuring spoon and add a layer of chopped dry fruits, followed by a layer of milkmaid
Now add a bed of dark chocolate
Put the glasses in the refrigerator for 30 minutes
Place the strawberries, blueberries and the mint leaves and enjoy
Nolen gurer cheesecake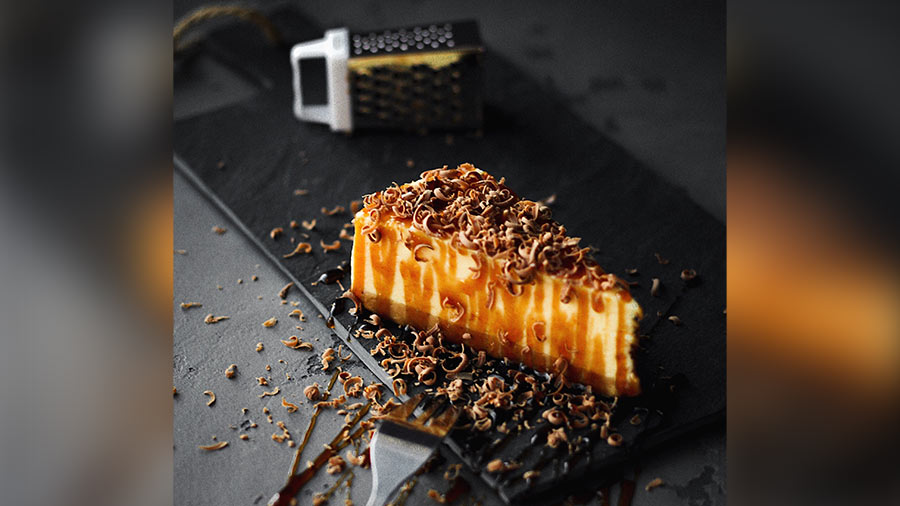 Aliona Gumeniuk/Unsplash
A five-step cheesecake to celebrate the winter and jaggery season till they last.
Ingredients:
Oreo biscuits: 1 large packet
Cream cheese: 200gm
Whipped cream: 1 medium cup
Jaggery: 1 small cup
Butter: 50 gm
Butter paper: 1
Recipe:
Put the biscuits in a blender and make a dry powder
Pour the biscuit powder in a bowl, add 3-4 tablespoons of butter and mix well
Now take a mould and place the butter paper
Grease by brushing some butter and make a semi thick layer of biscuits
Beat the cream cheese and jaggery
Fold in the whipped cream
Pour the cream cheese mix on the biscuit base and even the surface with a spoon or spatula
Add a semi thick layer of jaggery and tap the mould gently
Refrigerate, preferably overnight or at least for 3-4 hours
Slice up and enjoy