The first time I bit into a ravioli, I was transported to a different world! The pillowy goodness of tender pasta with a filling so divine, it was impossible to imagine a food so delicious existed.Pasta has been a mainstay of my kitchen. From the humble macaroni to the exquisite orechiette, pasta is a bi-weekly affair, and with a few minor alterations, I am happy for this ultra-simple, yet elegant dish.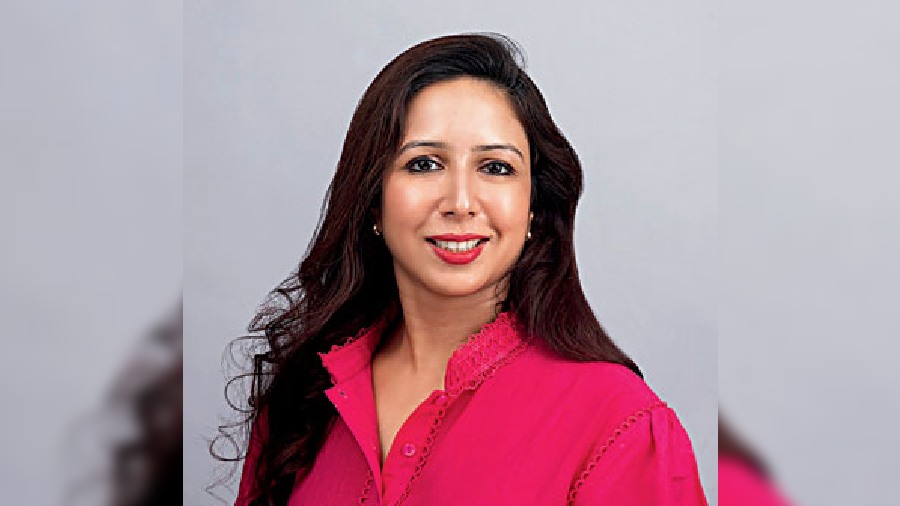 Vidisha Bathwal
ORIGINS
Pasta hails from Italy, where nonnas would painstakingly knead egg yolks and flour to a deliciously elastic consistency, yielding satin-ey results. This divine dough would then be rolled out into strips, long and short, or passed through moulds to create shapes that enrobe the sauces.
OF ALL SHAPES AND SIZES!
As in nature, pastas aren't all the same size or shape. The variation is mind-boggling and although a lot of shapes are commonly available, some are proprietary of the homes in Italy.It is uber comprehensive to go through a blow-by-blow list of all the different types of pastas in the world, but here's my humble take on it. The 'pasta-bilities' are endless!
THE LONG ONES
Angel Hair Pasta:
These long delicate strands of pasta are divine. Imagine a thin spaghetti that bends and coils around thick chunky sauces and provides a wholesome mouthful of pasta-goodness.
Egg Noodles:
Flat long pastas that work very well with creamy sauces. They are called egg noodles because of their distinctive yellow hue. Do not confuse them with the Chinese variant, although they could be considered inter-continental cousins for sure. They add a certain heartiness to soups, stews and casseroles!
Fettucine:
Another flat pasta, which has a lighter, more "pasta-ey" colour. Fettucine has an extremely wholesome mouthfeel. Although it goes extremely well with creamy sauces, I like mine with cherry tomatoes and a good drizzle of olive oil and let's not forget a shaving of truffle.
Linguine:
Somewhere between a spaghetti and fettucine lies the linguine. It almost always reminds me of a shrimp-tomato compote sauce with a generous sprinkling of herbs. Linguine tends to a have a little heft, which gives it a richer "pasta" feel.
Spaghetti:
If there ever was a synonym for pasta, it would have to be spaghetti! By far the most popular, this mass-manufactured pasta is the star of many a dish loved by both young and old alike. Having said that, I have had the pleasure of having freshly made spaghetti and the taste is unlike anything out of a box. The starch of the pasta interacts with the sauce so beautifully, it is a riot in the mouth!
Lasagna:
Besides being Garfield's favourite, lasagna has a legitimate fan following amongst those who love casseroles. This long, wide, flat pasta with fluted edges is perhaps the most popular pasta used in baked dishes the world over.
Vermicelli:
Thinner than angel hair, thicker than spaghetti, vermicelli has a fan following of its own. Also known as spaghettini, vermicelli is extremely popular, surprisingly, in indian cuisine as sevai. Once roasted, it is used with spices and condiments to make an extremely delicious and filling meal.
SHORT AND CUTE
Farfalle:
Popularly known as the bow tie pasta, for it's bow tie shape, this pasta brings a certain flair and pizzas to the dish. Ornamental and delicious at the same time, it's great with silky sauces.
Fusili:
This long thick spiral-shaped pasta adds an unexpected twist to any recipe that calls for spaghetti. Its ridges enfold sauces quite generously and the cutesy shape makes for an excellent addition to any pasta salad.
Gnocchi:
A pasta with potatoes — a meal in one! These chewy little pasta dumplings are usually boiled and tossed with rich sauces. Herby, buttery sauces with scintillating flavours that are bursting in the mouth work exceptionally well with gnocchi.
Macaroni:
Mac and Cheese — yes please! This small tube-shaped pasta is terrific for creamy cheesy sauces. After the spaghetti, macaroni is the most identifiable pasta! Its uses are innumerable and its simple shape carries sauces with aplomb. Definitely the GOAT of the pasta family!
Orechiette:
These bowl-shaped pastas were traditionally hand-rolled by grandmothers. Resembling the indentation made by the thumb, the orechiette taste wonderful in an aglio olio preparation or a light sauce.
Orzo:
Do not mistake them for rice! This look-alike pasta is popular in soups and tossed into salads. The very popular Italian Wedding soup uses orzo, and my gosh, does it add a certain texture to the herbiness of the soup, that is unmistakably divine!
Penne:
Simple, reliable, ridged and honestly a multitasking pasta. Short-ridged tubes that cook and last well. When cooked to al-dente, I think a penne works in just about any dish you desire. The rigatoni is a chubbier version of the penne, and works gorgeously with tomato-based meaty sauces.
Radiatore and Rotini:
Both very similar. Rotini is a spiral kid-friendly pasta, whereas the radiatore is a short, squat, ruffled pasta. The name comes from the Italian word for radiators, which is what it looks like. Great tossed with veggies or in pasta salads.
STUFFED PASTAS
Agnolotti and Ravioli:
Both are pasta sheets stuffed with fillings, usually meat or cheese. The difference between the two is that ravioli consists of two pieces of pasta with the stuffing in the centre, whereas agnolotti is a folded pocket with a filling.
Manicotti:
I wouldn't call it small: both in size and delightfulness, but it's not long either. These large tubes, filled with meats, cheese and other extraordinary stuffings, are baked. Smooth or ridged, manicotti have a fan following of their own.
Shells:
Literally resembling shells, these come in different sizes. Stuffed and baked, the larger variations make for great casseroles. The smaller version usually features in soups and stews.
LET'S GET UP-TO-DATE!
Pastas have come a long way since their inception. Earlier, a staple of Italian households, there are barely any people in the urban world, today, who have not tasted it! What I love about pasta is the tremendous amount of experimentation that is possible. Laminating pasta with herbs and leaves creates a gorgeous visual effect, as well as tastes spectacular.
Pastas are also moving away from the domain of flour and eggs. Today, there are gluten-free versions of pastas, made from everything from quinoa flour to spelt and even lentils. My favourite pasta dish still remains a sage and burnt butter ravioli. Tell me what's yours! I would love to hear from you at vidisha@paprika.net.in
RECIPE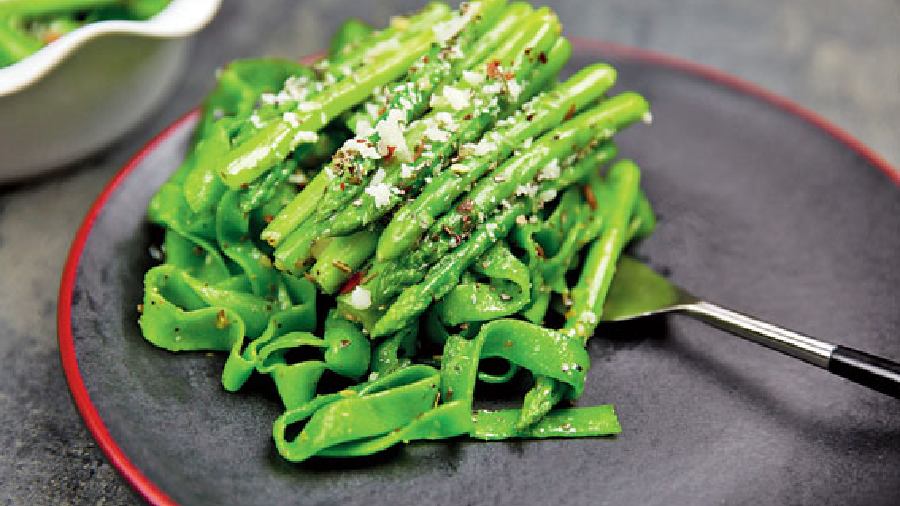 Spinach tagliatelle with asparagus
INGREDIENTS
225g baby spinach
2 large eggs
1 egg yolk
1tsp salt
1tbsp olive oil
1¾ cups all-purpose flour/ 245g plain flour
1tbsp olive oil
5 cloves garlic
Herbs and seasoning of your choice
1 bundle blanched asparagus
INSTRUCTIONS
1. Place baby spinach in a large bowl and pour over boiling water until all is submerged, pushing leaves down as needed. Leave for a minute then drain and allow to drain as it cools. If using larger leaf spinach, put the spinach in a pan of boiling water and boil for about 2-4 minutes, until wilted and soft, then drain.
2. Once the spinach is cool, squeeze well, roughly chop, then squeeze again to get as much moisture out as possible. Put the spinach in a food processor with the eggs, egg yolk and salt and pulse until well chopped and mixed.
3. Add the flour about ½ cup at a time and pulse three or four times after each addition. Add the olive oil part-way through. Once all added, pulse until the dough comes together, away from the sides into a ball.
4. Remove the dough to a floured surface and knead with floured hands for about 5 minutes. It should be soft but not sticky — if it is, add a little more all-purpose/plain flour as you knead.
5. Wrap in plastic/cling film and allow to rest at room temperature for around 30 minutes. At this stage, you can keep the dough in the fridge for a day or two until ready to use. Then, let it rest at room temperature around 30 minutes before rolling.
6. When ready, divide the dough into 4-6 sections and cover the pieces you aren't working with, with a damp cloth to save them drying out. Prepare some trays by dusting them with flour or semolina flour.
7. As you work with each piece, flatten it out slightly, dust with flour, then put it through your pasta roller on the widest settings a few times.
8. Then, either use the cutter attachment or hand-cut if you want to make into linguine/fettuccine and place the ribbons onto the prepared trays in little stacks or laid flat. Cover with a cloth if not using soon.
9. Once all is done and ready to cook, place handfuls at a time in boiling water, helping the pieces to separate as you add them, for around 2-3 minutes until they come to the surface and are cooked.
10. In a pan put olive oil, char the garlic cloves, add the seasonings, last add little pasta water to give consistency, then add the boiled spinach tagliatelle.
11. Serve warm when topped with blanched asparagus
Author is the founder of Paprika Gourmet, an exotic artisan catering service brand in Kolkata. She's also a passionate foodie and a fitness enthusiast