Kolkata has seen an influx of food trucks of late and the one making the most noise (quite literally!) is Yum Yum Korean Bucket on Jatin Bagchi Road. Walk past Gariahat's Doiwala in the evening and you'll spot a blazing yellow truck parked along its pavement. Through the truck's rectangular window, you'll find four friends, dressed in similar yellow attires, serving corn dogs and fried chicken to the city's youth.
Should you find yourself craving some crispy chicken or a corn dog, brace yourself and join the queue almost as long as Pinocchio's nose! You'll find teens and tweens, who, at times, have travelled 17 odd kilometres for a sip of creamy, bubbly boba tea. "I'm from Kolkata but study in Chennai. I saw a reel about this food truck on Instagram while I was away and put it on my must-visit list for food places in Kolkata when I came home for the winter," said a 21-year-old, who lives in Sector V.
The man behind the phenomenon - Argho Mukherjee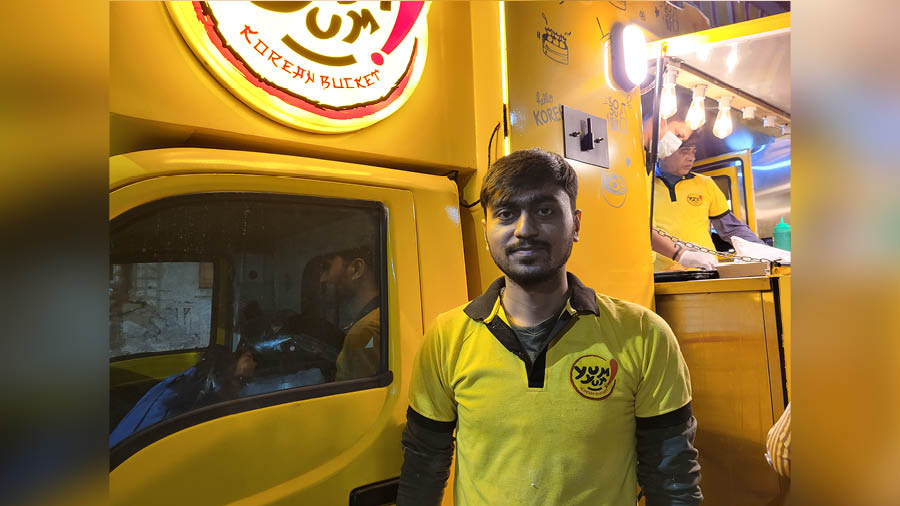 I realised Kolkata needed an eatery that serves Korean food at a price that college students can afford on a regular basis, says Argho Mukherjee
Argho grew up in the village of Tarapur, in Howrah, and came to Kolkata for his engineering degree at Seth Anandram Jaipuria College in 2010. "This was my first step towards achieving everything I have today," said the 30-year-old entrepreneur.  
"While I was studying, I stayed at the Bharat Sevashram Sangha hostel in Ballygunge and I owe everything I have today to its general secretary, who has been my biggest supporter. I started my first start-up — Bharat Engineering and Technical Trading Company — from there and they encouraged me to follow my passion for business instead of taking up a 9-5 job," he said, explaining that his start-up company is still going strong, alongside Yum Yum Korean Bucket.
"Kolkata has a lot of Korean cafes but college students can't afford to visit them more than twice a month. I realised Kolkata needed an eatery that serves Korean food at a price that college students can afford on a regular basis," explained Argho, who pin-pointed that the target audience for Korean fare in the city ranges between 10 and 21 years. 
A delightfully affordable option for youngsters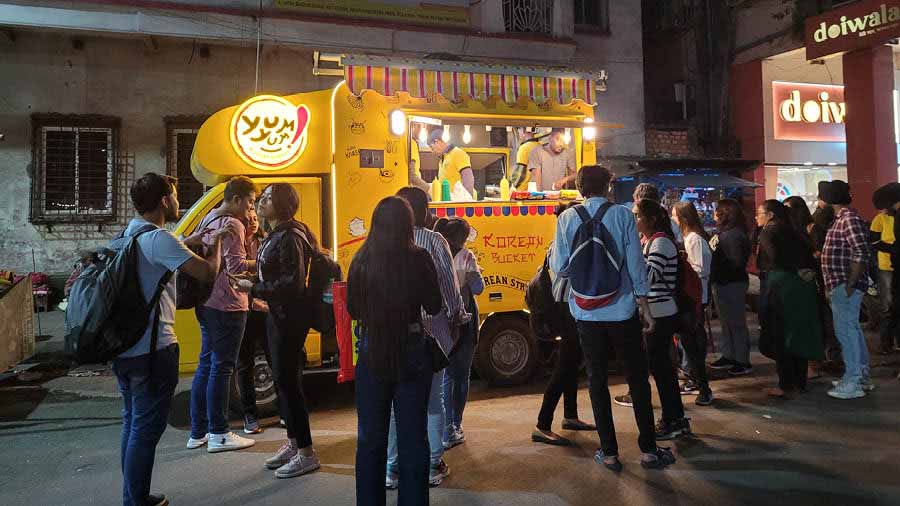 Most evening there are long queues outside the food truck
Yum Yum Korean Bucket's menu is extremely affordable, starting at Rs 99. The boba teas (available in strawberry, mango and taro root) and the fried chicken (available in six flavours) are priced at Rs 99, so customers can try the unusual concoctions, without feeling a pinch.
The idea for Yum Yum Korean Bucket was born during the lockdown of 2020 when Argho and his friends chanced upon a gap in Kolkata's food industry — Korean food was available, but Korean street food was not. "We thought about this food truck two years ago but couldn't start operations till October 2022 because we knew nothing about Korean food, cooking techniques or how and where to source ingredients from," shared Argho.
"It was really hard because most food blogs leave out vital ingredients in every recipe. Korean fried chicken is very crispy but the method to achieve the crispiness is never mentioned," said the entrepreneur, who is now one of the defenders of the well-kept secret. "I did a lot of research from research papers, journals and YouTube to perfect the recipes. I also spoke to Jung Seok, owner of the King's Bakery, for inputs during my research," recalled Argho.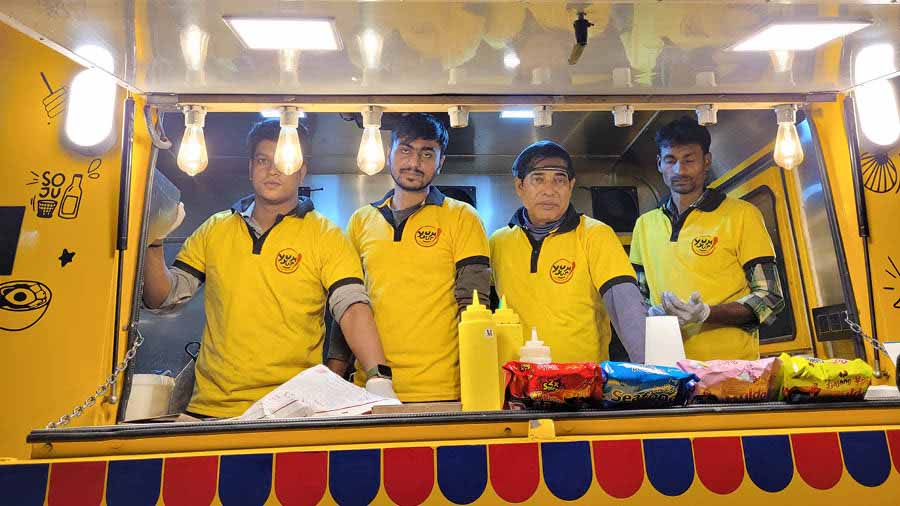 Argho with his team
Even though the recipes are complex, Yum Yum Korean Bucket is not cook-dependent. "Anyone with proper training can run the food truck because we made the operations very simple. The food is well-prepped and most of it needs just finishing touches before being served to the customers," he explained. The model of the food truck plays a key role in ensuring that operations are seamless. "This food truck has very specific fittings, so four people can work inside along with burners, air fryers and a chimney," said Argho, who serves approximately 30 customers every hour.
The food truck is only the beginning of Argho's business plan. "This food truck is a beta test. We wanted to see if people would approach the truck and try out this food. We were not sure if this kind of food would work in Kolkata but fortunately, it has," he smiled.
Expansion plans in order
Yum Yum Korean Bucket plans to expand its operations in the near future. In the beginning of 2023, the street food label will open quick-service restaurants on Southern Avenue and Kankurgachi with an extensive menu. "At the food truck, we serve only a few variations but the restaurants will have a lot more. Stay tuned for more flavours of boba tea, fried chicken and Dalgona candy!" Argho signed off.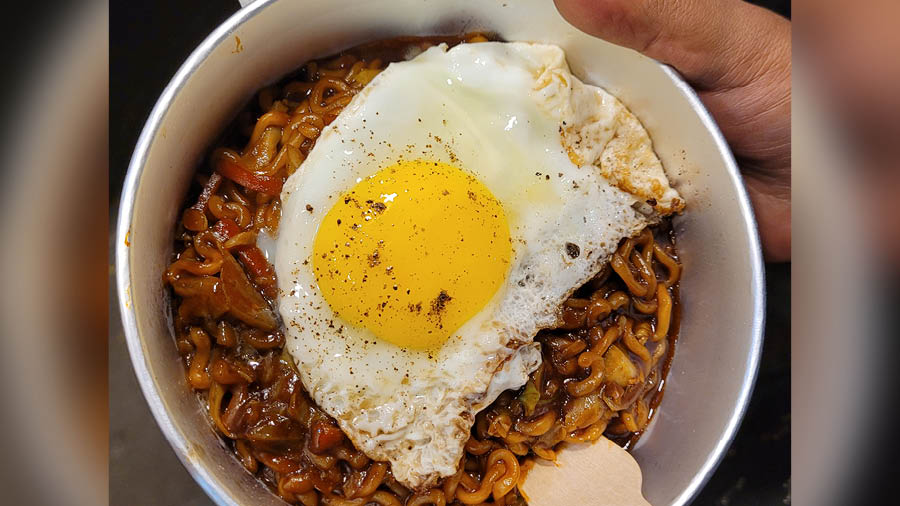 The ramen served at Yum Yum Korean Bucket
Pop-picks:
Korean Street Toast @Rs 69
Korean-style Corndogs @99
Gang-Jeong Chicken @99
Korean-style Ramen @229