Pinkk Sugars is a brand-new artisanal cafe and bakery in Salt Lake. Why pink? Because it defines the owner and it is her favourite colour. And why sugars? Because she loves making desserts. Every element and every corner of this cafe is inspired from the cafes in London and Italy, from where the owner mastered her culinary arts in patisserie and bakery. The cafe is embellished with pretty pink corners adorned with pink roses and artistic selfie backgrounds. It's all about bringing the colour pink alive with mouth-watering Italian and Mediterranean cuisine.
Aayushi Bajaj, the owner, believes in serving good food to people. Every food item on the menu is made from scratch every day in their kitchen with fresh and hand-picked ingredients. All the breads, bagels, croissants and pizza bases are sourdough based, keeping in mind the Italian specialty. They have a range of hand-picked Italian and Mediterranean food items and also a variety of beverages to choose from. Outdoor seating is also available here. If you want to have good and healthy food, surrounded by pretty interiors, Pinkk Sugars is the place for you.
The red telephone adds the English touch inspired from the cafes the owner, Ayushi, visited while in London. The pink interiors and the art wall give an aesthetic touch to the cafe. The whole space has an Instagrammable vibe.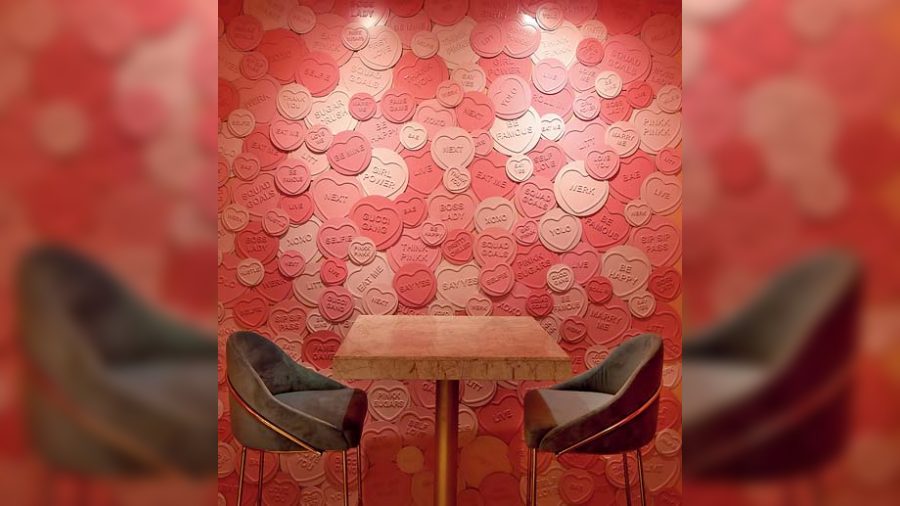 Pretty in pink, this candy wall corner is ideal for a date night. The high chairs add a luxe vibe to the space.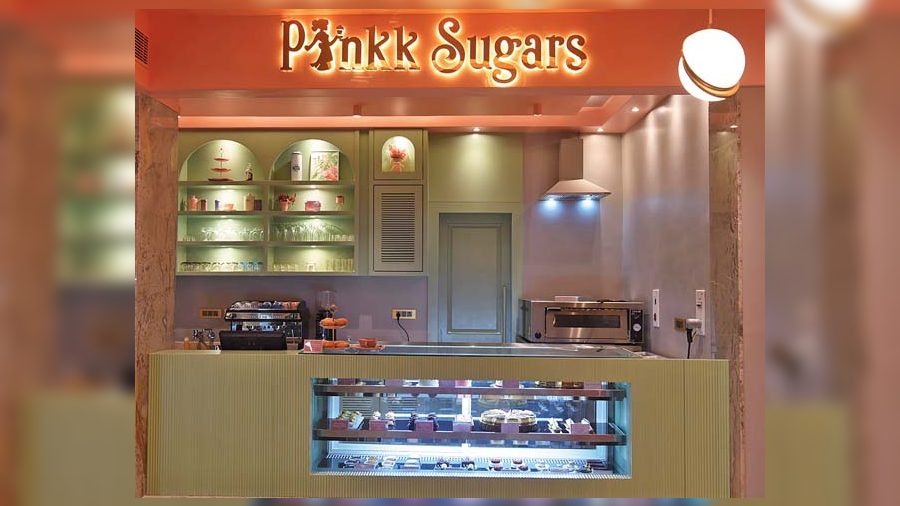 The dessert bar out front has an aesthetic display of yummy treats and is a spot for those looking to quickly take some sweet treats on the go.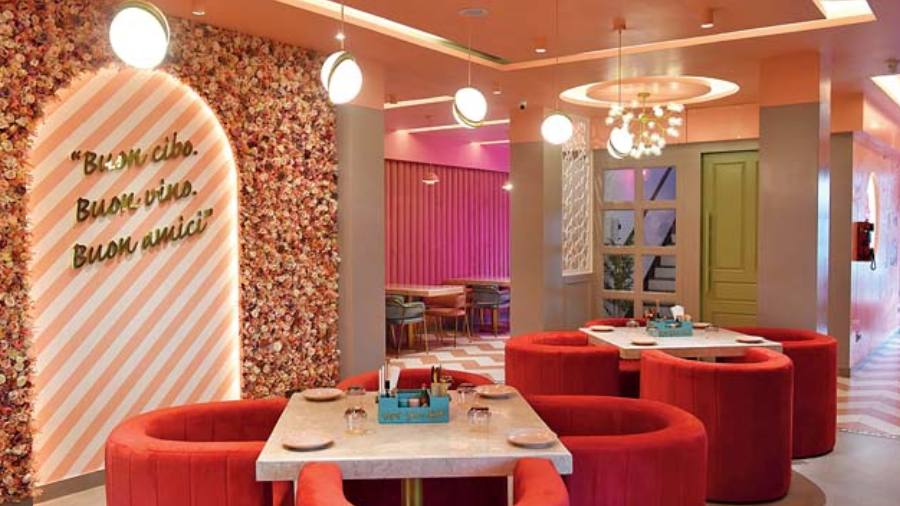 "The wall describes good food, good wine (we don't have wine but the beverages) and good friends, so people can come in and have a great time with friends and enjoy the good food," added Ayushi as she explained the idea behind the cafe and also the writing on the wall that's a good photo corner.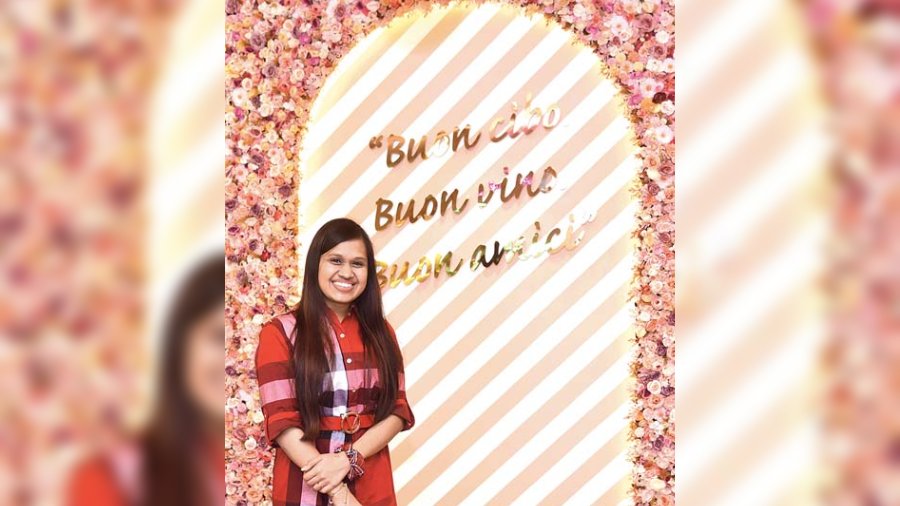 "My late grandfather, Murari Lal Bajaj, and I saw the dream together to open this cafe. When I came back from London, we knew that we wanted to give Kolkata a cafe like this and I've been supported by my whole family ever since. I started as a home baker and gradually everyone loved my desserts, so why not make it big? Hence this pink-themed cafe and bakery because I love the colour pink and I'm very fond of baking. We are serving choicest dishes from Italian and Mediterranean cusine. We have an extensive menu for beverages too. I believe in serving good food to people. I'm hoping that the cutomers love our food and appreciate my vision just like I did," said an excited Ayushi Bajaj who has taken the leap from home baking to a cafe.
F&B Picks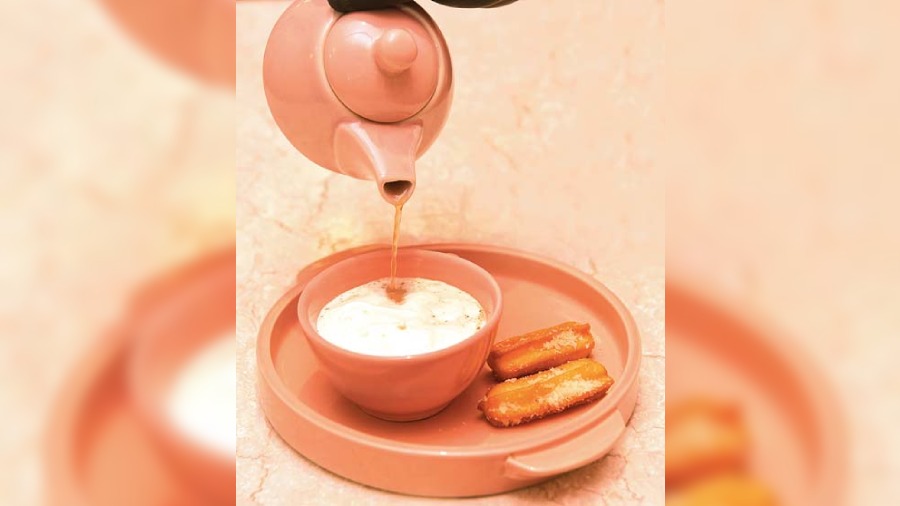 Cappucino di Tarturo Nero, a mushroom soup which will take you to the world of truffle and give you a magical experience, served with churros sprinkled with parmesan cheese.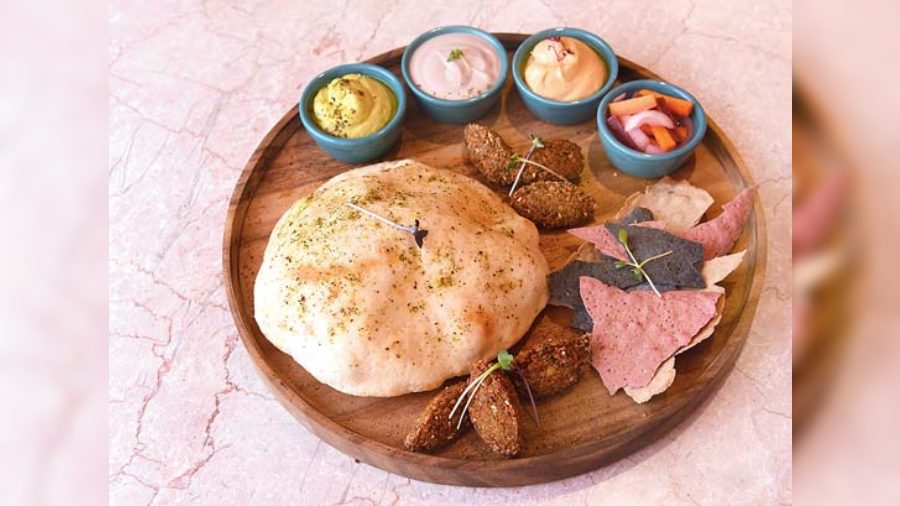 Pinkk's Mezze Platter consists of edamame and chickpea falafel served with za'atar-spiced sourdough flatbread and three flavours of hummus (jalapeno, strawberryand harissa) with gluten-free crackers. This one will take you to a Lebanese tour in your imagination.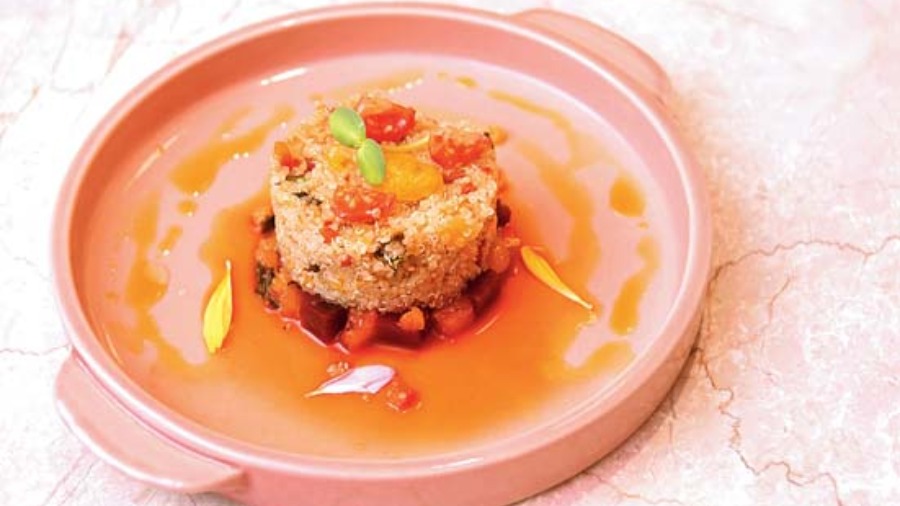 Citrus Quinoa Salad comes with a tangy and fruity orange reduction as a dressing on a bed of beetroot and orange salsa. Perfect for a light and healthy meal.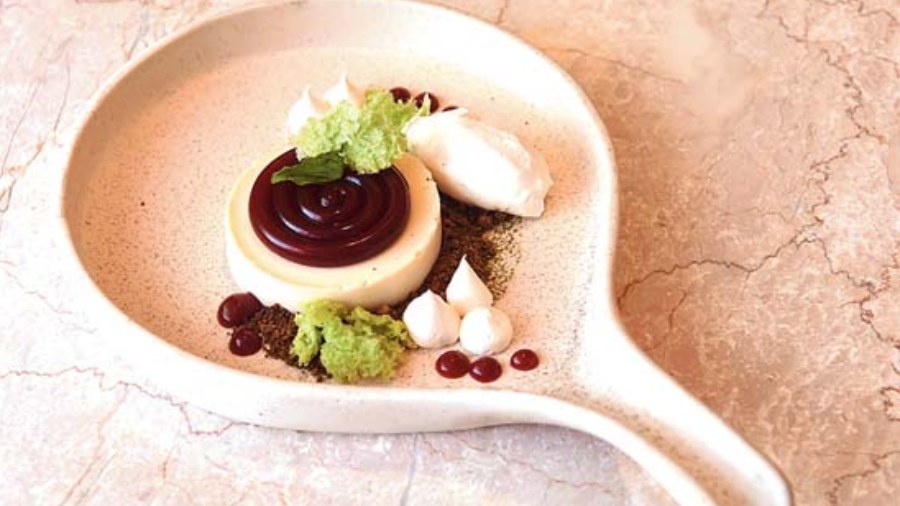 Vanilla Pannacotta with Raspberry Jelly and Matcha Sponge will give you a blast of fresh flavours. The vanilla pannacotta is sweet and creamy and the raspberry jelly adds a tangy flavour to it.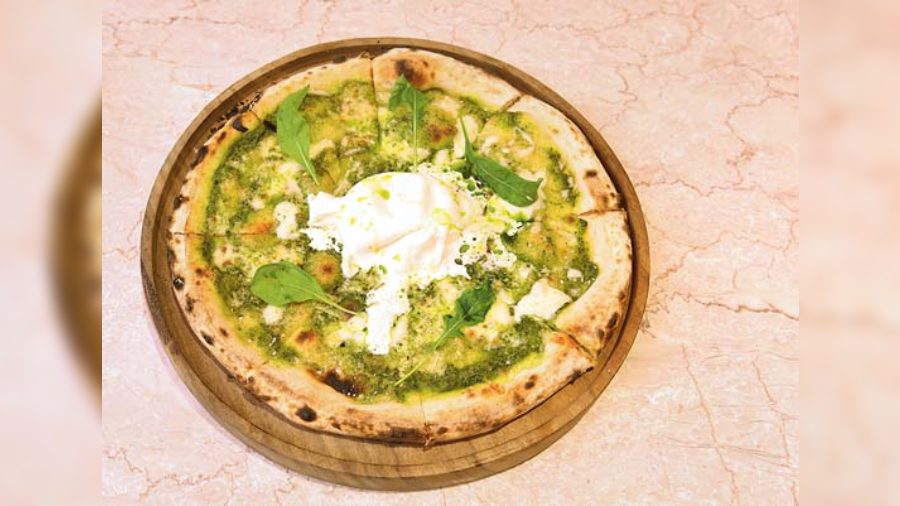 Burrata Al Pesto is a homemade sourdough pizza base with creamy homemade Genovese pesto topped with generous dollops of burrata cheese. A must-try!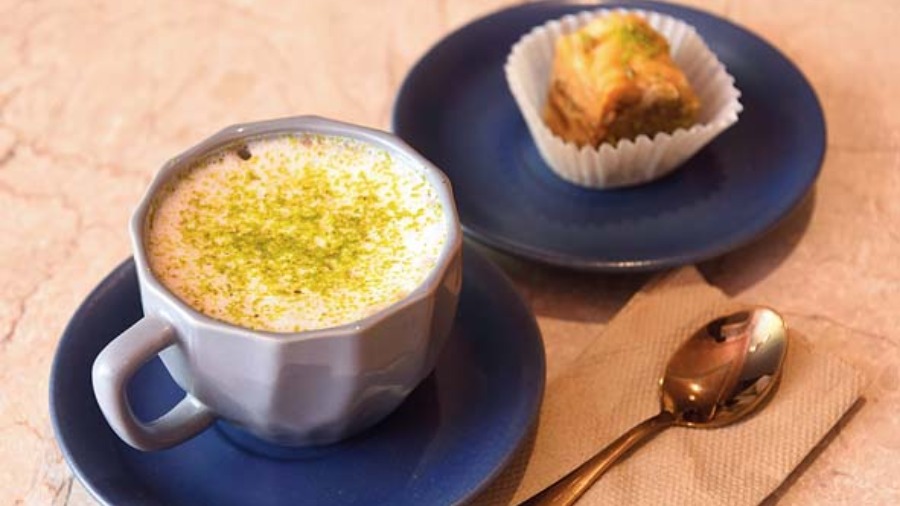 Turkish Latte is a beverage that is coffee but with mild and aromatic flavours and is served with a rose and pistachio baklava to pay respect to the Mediterranean cuisine.
Pictures: B. Halder