In the heart of Theatre Road, AnnaRas has been pleasing taste buds for over three decades. Bringing Gujarati snacks and sweets to the mainstream palate of Kolkata, the shop's Bhowanipore workshop is a hub of strong aromas — a place to taste-test new recipes and perfect classics. With Diwali preparations in full swing, AnnaRas gave My Kolkata a sneak peek into their festive specials like Mohanthal, Kaju Barfi, Methi Puri and Chorafali.
"Our biggest strength is that we do not use a single ingredient that you won't find in your own kitchen. Anyone can make these dishes at home, with minimum fuss," says Bipin Naygandhi, co-owner of AnnaRas. And we couldn't resist bringing these recipes to you, straight from their kitchen! Watch the video above to learn how to make Chorafali and Kaju Barfi and read below for Mohanthal and Methi Puri.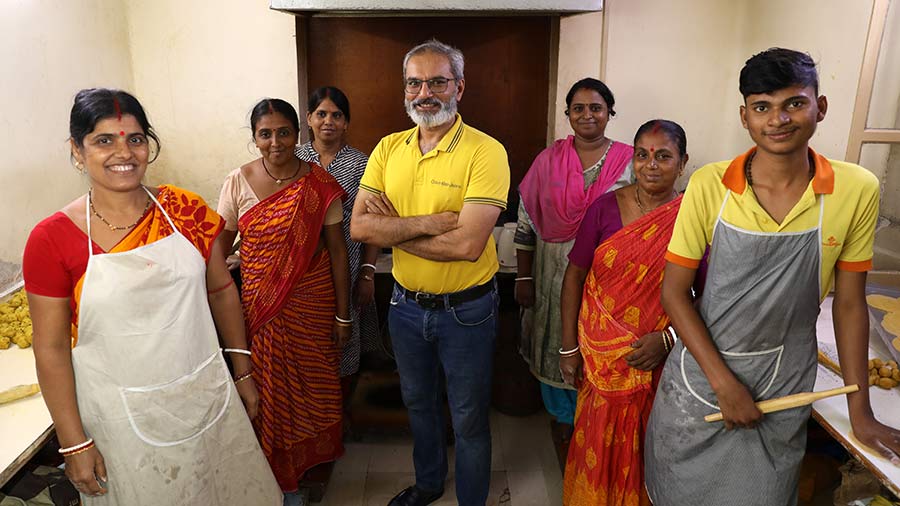 Bipin Naygandhi and his team at their workshop
Photos: Arijit Sen
Mohanthal
One of the most iconic Gujarati sweets, the Mohanthal takes over 90 minutes to prepare, but is well worth the wait. Unlike other sweets, this one has a complex flavour profile that goes beyond simple sweetness, thanks to the array of spices that go into it. The hints of different flavours ensure that every bite gives you a cracker of a taste, fitting the festive mood!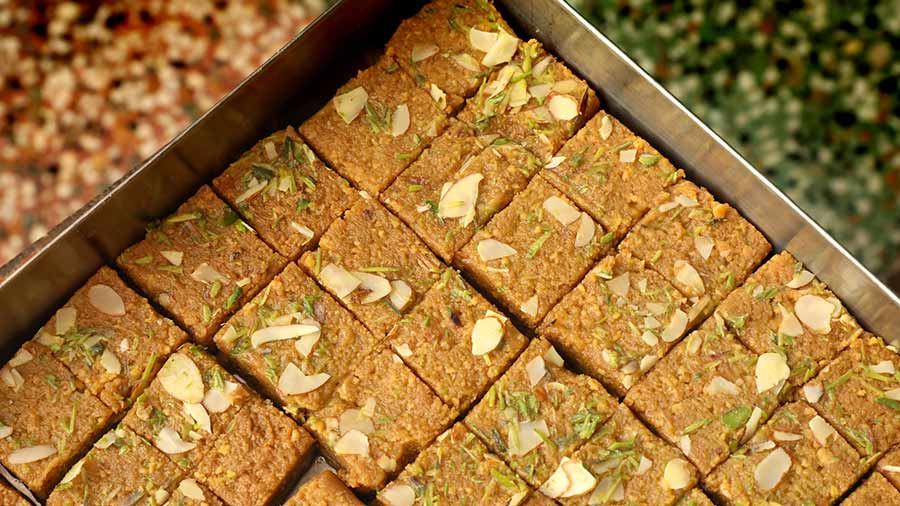 Ingredients (for 4.5kg of Mohanthal)
Bengal Gram Flour: 1kg
Desi Ghee: 1L
Khoya: 900g
Sugar: 2kg
Nutmeg (Jaifal): 5g
Mace (Javitri): 5g
Cardamom (Elaichi): 10g
Saffron (soaked in milk for 15 minutes and grounded into a paste): 4g
Almond: 25g
Pistachio: 25g
Vark (edible silver foil) as required
Method
Heat desi ghee in a kadhai.
Take gram flour in a vessel and make a hollow well in the centre. Pour 1/4th of the warm ghee into it and mix the two properly.
Add the mixture back to the kadhai with warm ghee, and stir it at a low flame for 25-30 minutes.
Once the colour turns pink and there is a rich aroma of ghee, add powdered khoya and sugar.
Stir it well for 15-20 minutes, till the colour changes from pink to brown.
Take the mixture off the flame. Let it settle and cool down.
After it settles, add powdered nutmeg, mace, cardamom and saffron paste. Mix it again.
Spread the mixture on a plate to help it cool down.
Garnish it with chopped almonds, pistachios and vark.
Cut the delicious Mohanthal into pieces and serve!
Methi Puri
Once you start gorging on Methi Puris, it is impossible to stop. Taking barely 30 minutes to prepare, this quick snack goes well with everything, from sauce to chutney to chai. "The speciality of the Methi Puri is how it changes taste with temperature. Freshly fried, piping-hot puris have a different taste from cold puris that have been stored in jars. But both are incredible in their own ways," says Naygandhi.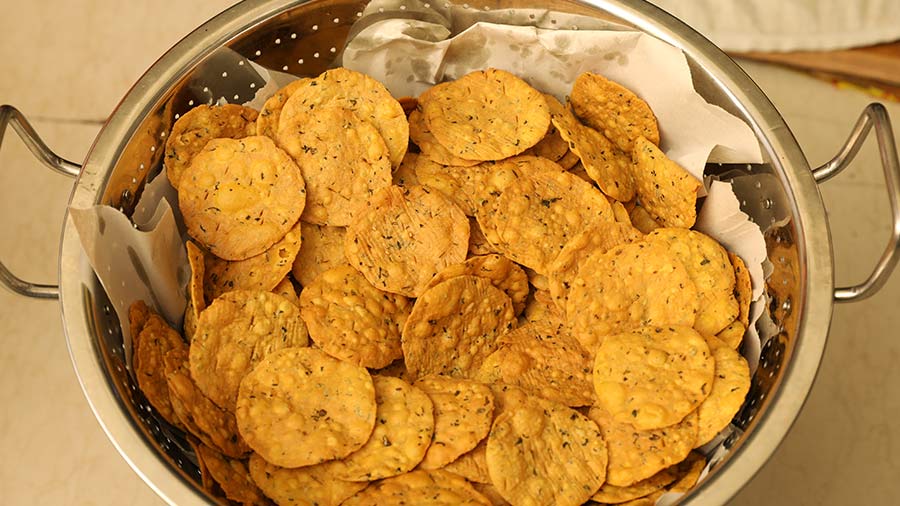 Ingredients (for 1.5kg of Methi Puri)
Wheat Flour: 1kg
Fenugreek (chopped and washed fresh methi): 100g
Asafoetida (Hing): 1/2 tablespoon
Red chilli powder: 1 tablespoon)
Turmeric powder (Haldi): 1 tablespoon
Salt: 1.5 tablespoon
Ginger-green chilli paste: One-inch ginger and 5-6 green chillies
Groundnut oil: 1L
Method
Take good quality wheat flour. Add 10% oil to it and mix well.
Add fenugreek, asafoetida, red chilli powder, turmeric powder and salt to this mixture. If you want it to be spicier, add ginger-green chilli paste too.
Slowly pour water into the mixture, and knead it into a dough.
Let it rest for 15 minutes.
Divide the dough into small portions, and roll each of them into a round puri-like shape.
Place the puris on a flat surface and make 5-6 small slits on them with a knife, so that they don't swell up upon frying, but remain thin and crisp.
Fry the puris on medium flame in groundnut refined oil.
Keep stirring till they attain a pinkish colour.
Once pink, remove them from the oil and let them rest in a perforated utensil/sieve to drain out excess oil.
The delectable Methi Puris are ready to serve!