The Yellow Turtle, a cafe and restaurant in Golpark, has introduced a weekend buffet that features more than 22 dishes, for both lunch and dinner. The buffet keeps shuffling the popular dishes, such as Chili Garlic Prawn, Vegetable Au Gratin, Chicken Mie Goreng Noodles and many more. The restaurant is the brainchild of young entrepreneur Apeksha Lahiri, who also runs Asha Audio after her mother, Mahua Lahiri, passed away. Apeksha said that the inspiration behind the buffet was the fusion of Asian and Continental delicacies. She wanted to respect each and make a buffet that would represent the best of each cuisine. The dine den's Instagrammable brick wall facade and three-dimensional frescoes give it a youthful vibe.
More about it
What: New weekend buffet
Where: The Yellow Turtle, P-596 Hemanta Mukherjee Sarani, Golpark
Timings: 12.30pm to 4pm and 7.30pm to11pm
Pocket pinch: Rs 799-plus for veg and Rs 899-plus for non-veg
"On our guests' demands, we have introduced an elaborate fusion buffet having exceptional Asian and Continental delicacies. We give equal importance to both the cuisines, catering for both vegetarian and non-vegetarians," said Apeksha Lahiri, proprietor, The Yellow Turtle.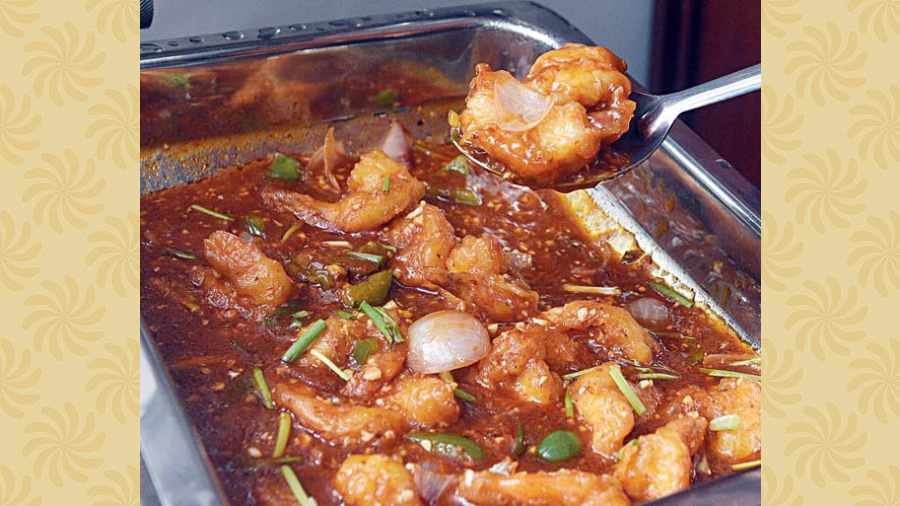 Prawn in Hot Garlic Sauce: Wok-tossed fresh river prawns in hot garlic sauce. It can never go wrong with the ingredients.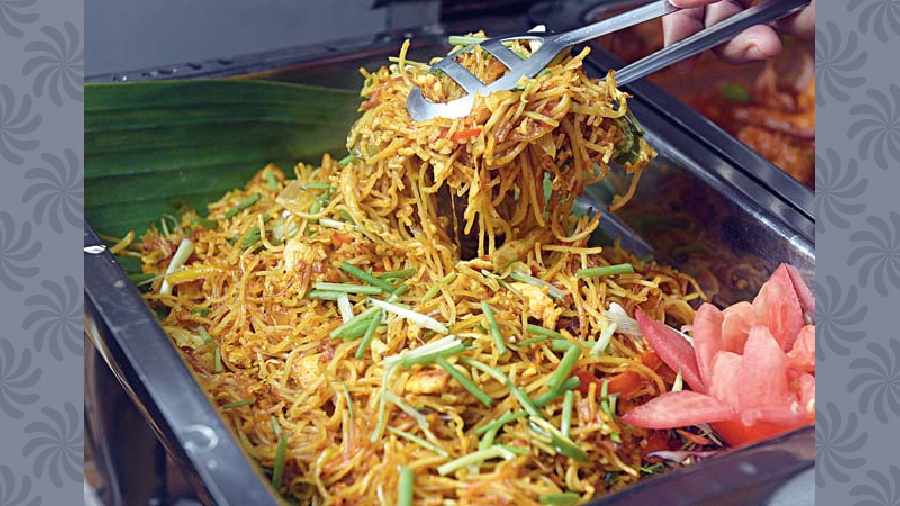 Mie Goreng: It is an Indonesian noodle dish that's also found in Malaysia and other parts of South East Asia. With a sticky, savoury sweet sauce, noodles are tossed with chicken, vegetables and egg ribbons. A street-food favourite.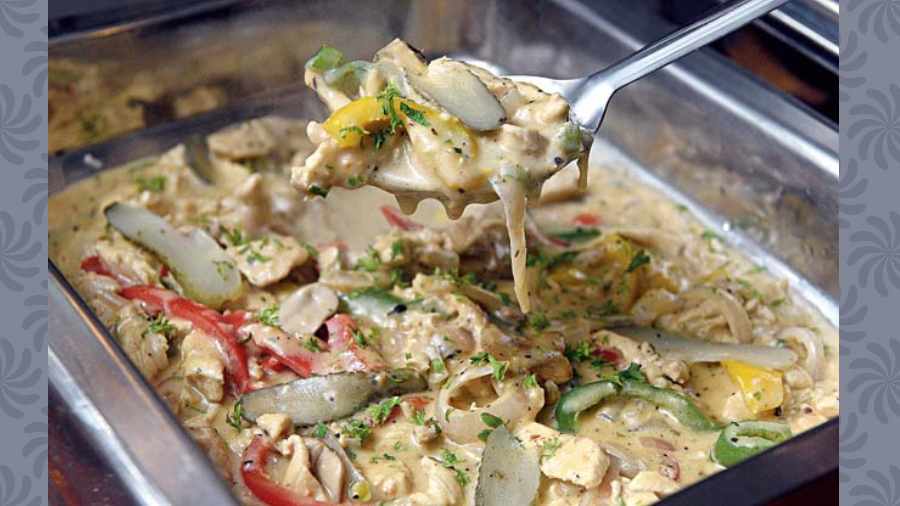 Chicken Stroganoff: It's the perfect dinnertime comfort food with golden seared chicken pieces smothered in sour cream stroganoff sauce. This is usually served with herbed rice.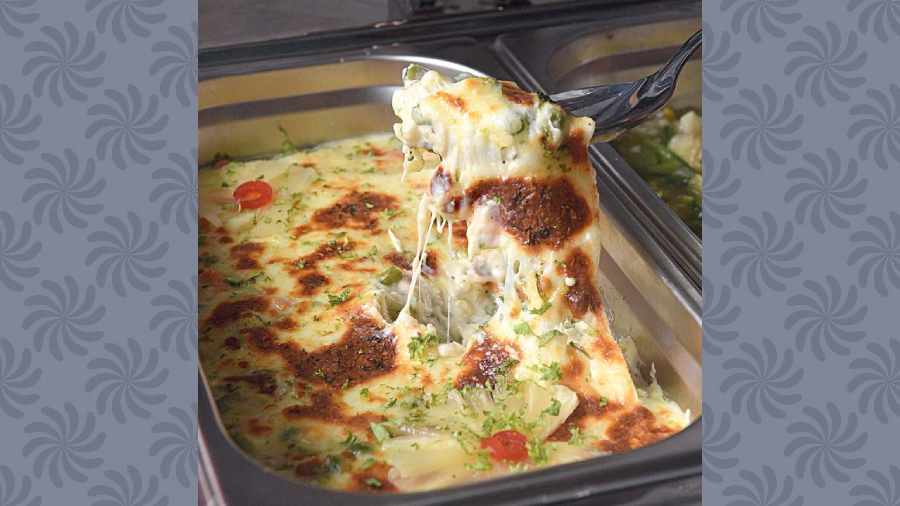 Vegetable Au Gratin: It is a French dish made with mixed vegetables, white sauce base and cheese. It is creamy with a perfect crust.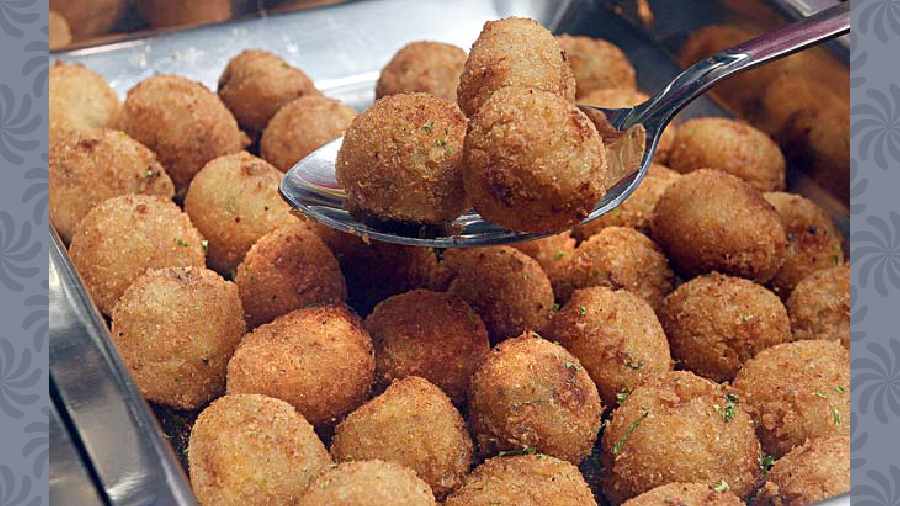 Jalapeno Cheese Balls: A perfect game-day snack, they are deep-fried, melted cheese balls stuffed with diced jalapenos and bacon, coated in crispy breadcrumbs.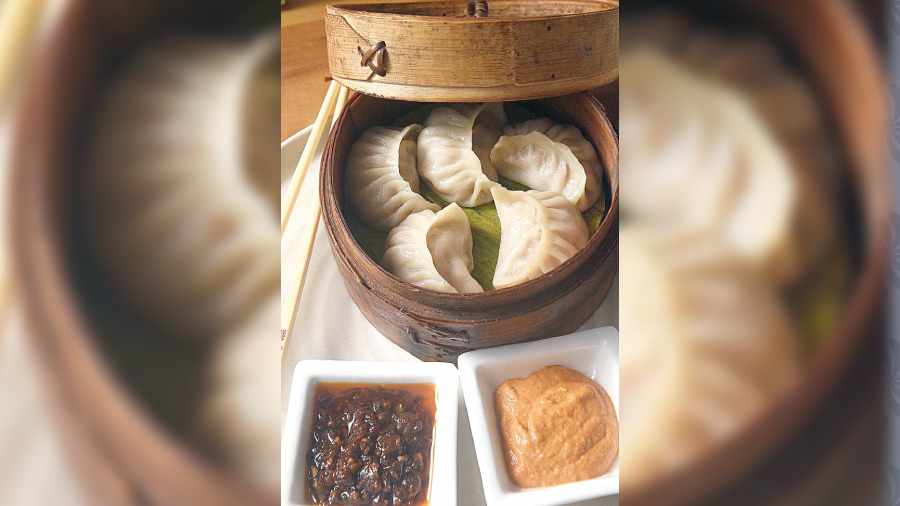 Chicken Momos: Delicious chicken dumplings that are everybody's favourite with mince chicken flavoured with soy sauce, chillies and pepper in thin flour dough filling. It is served with peanut sauce and black Schezwan sauce.
Pictures: Rashbehari Das