Named after the French word 'taverne' meaning a house that used to provide food and lodging for travellers, The Tavern is the new gastronomic addition to Sector V. Sticking to its name and its old-school interiors, The Tavern gives the vibe where the old days meet the modern times. This new kitchen and lounge serves delectable multi cuisine food and great cocktails. Spread over 4,000 sqft, the interiors of The Tavern give you a sense of a vintage European lounge blended with a modern space. Good food is incomplete without some good music and hence The Tavern also offers peppy music. From retro English to Bollywood music, the place will offer different genres of music every day. The Tavern is a perfect chill spot and a dining den for families and friends.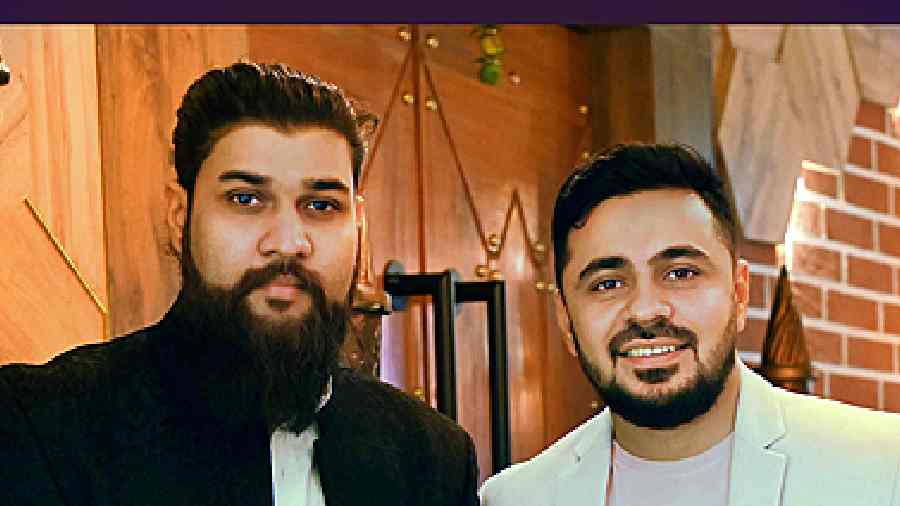 Abhishek Bose (left) and Gourab Kumar Mishra, co-owners of The Tavern. "Nine years of working with my father in the F&B business, the experience has led me to want to open my own kitchen and lounge. My business partner and I have been planning to open The Tavern in Sector V for one year now because we have spent a lot of partying days here during our college days. It was a dream to open a space which will serve some good food and cocktails," said Abhishek. "Initially the idea behind The Tavern was to have an old-school pub but we also added a modern touch to it. In Sector V, all other places deal with lights and music and are party destinations but The Tavern is where people can come in for a nice lunch in the afternoon or dinner and also have a nice party life with our good music. Our food is the USP here, as we make our sauces, dips, and nachos in-house and we have a curated menu with different fusion food," added Gourab.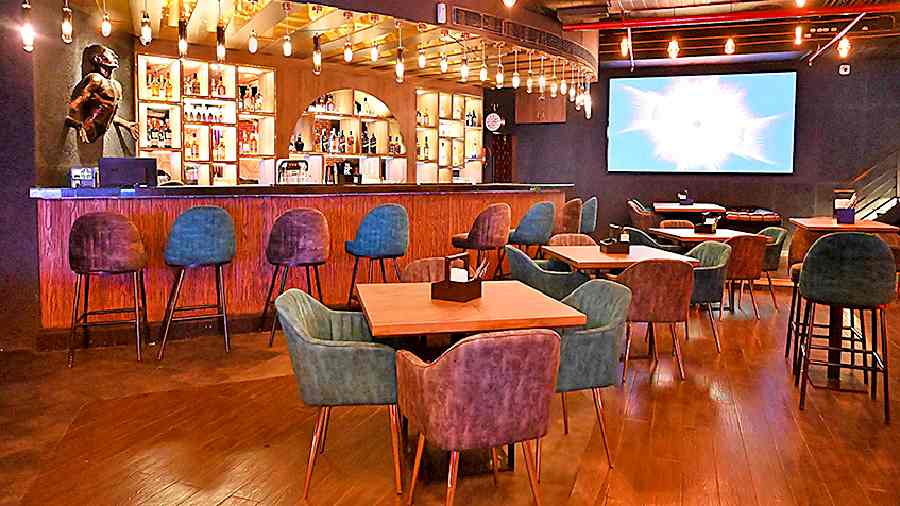 The bar counter has been kept modern with metallic fixtures, cushioned bar stools, and hanging pendant lights which light up the bar area. With a capacity of 150 seaters, The Tavern has wooden flooring which adds the old-world charm to the place.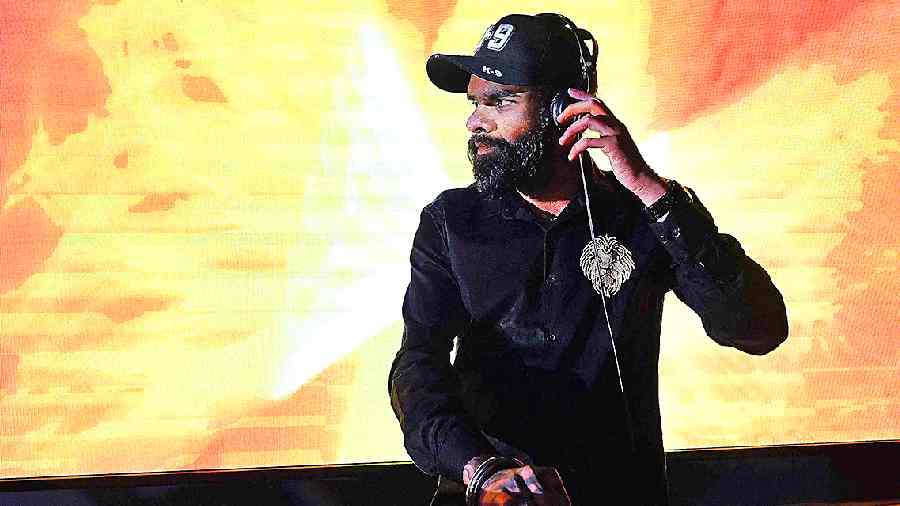 DJ Sundeep Saggu, head resident DJ and nightlife programmer of The Tavern, gave us insights into the music of the place. "We are keeping different genres of music for different days, like we are sticking with retro English and hard rocks for Monday, Trending Tuesdays with the trending music, Wednesdays we are doing ladies nights followed by Thursdays where we are going to play techno music for the young crowd. Fridays and Saturdays we are sticking with Bollywood music and on Sundays, we are going to host live bands from Calcutta and outside. We want our customers to experience good music as they enjoy the good food," said Sundeep.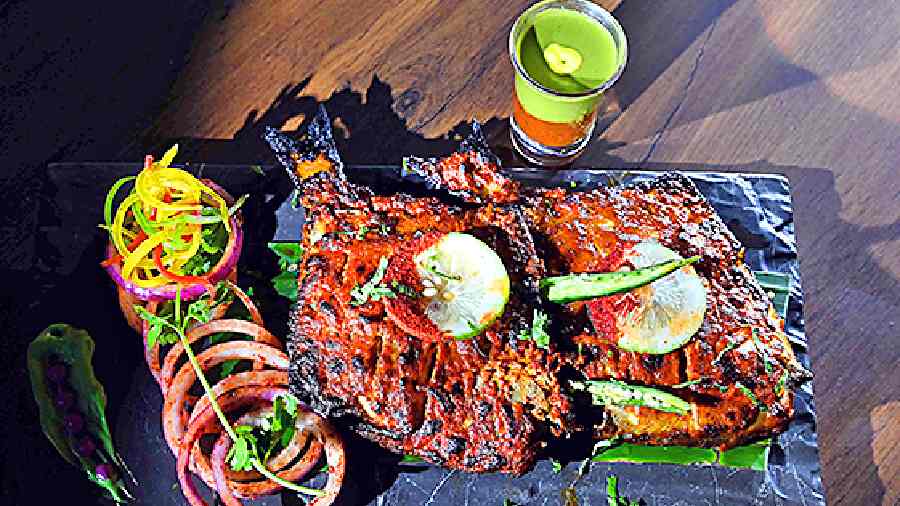 Lemon Grass Pomfret is where Thai meets tandoor! The fleshy pomfret fillets are perfectly marinated with tandoor spices and smoked with fresh lemongrass flavour and chargrilled. Served with spicy lemon slices.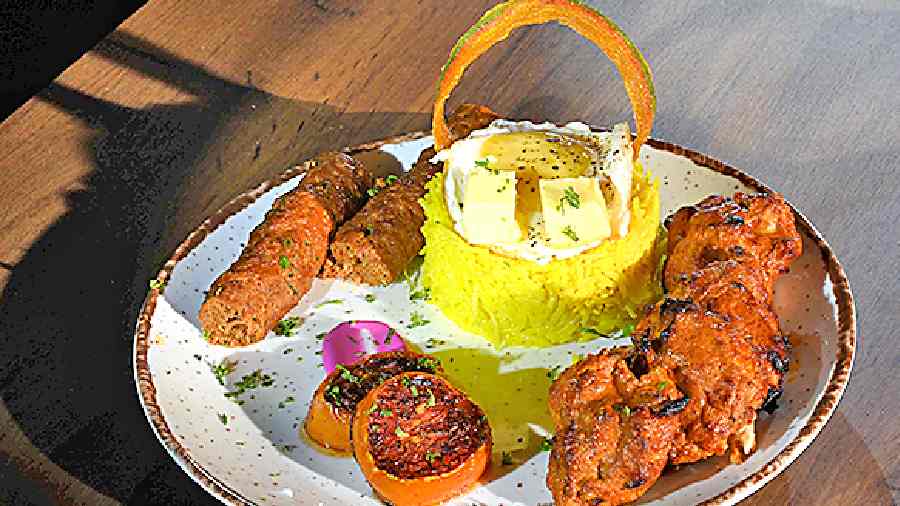 The Park Street favourite Chelo Kebab is being introduced to Sector V by The Tavern. The authentic Chelo Kebab includes Mutton Seekh Kebab, Chicken Tikka, and Grilled Tomatoes with a twist that is instead of white rice The Tavern is serving aromatic saffron rice with two cubes of butter and the sunnyside-up.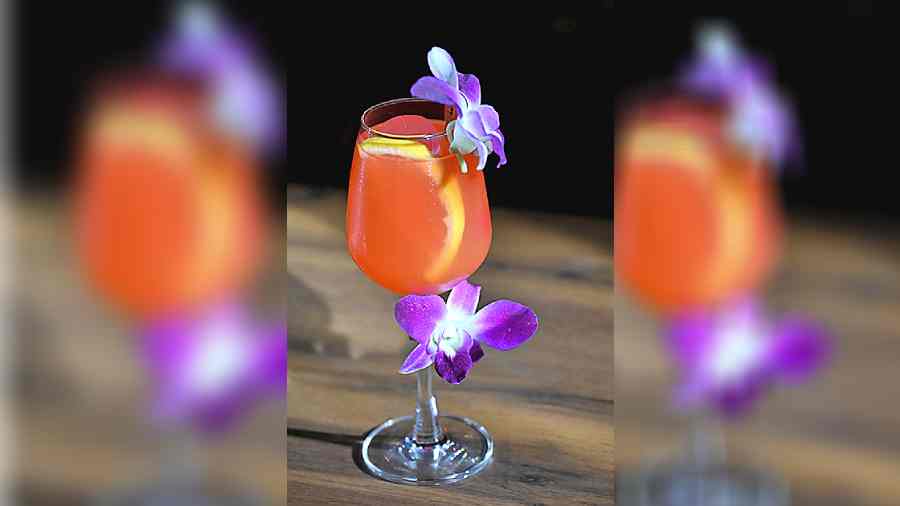 Summer Cooler is a vodka-based drink mixed with fresh grapefruit juice and tinned grapefruit syrup and garnished with pretty orchid flowers. Perfect to turn down the heat in summer.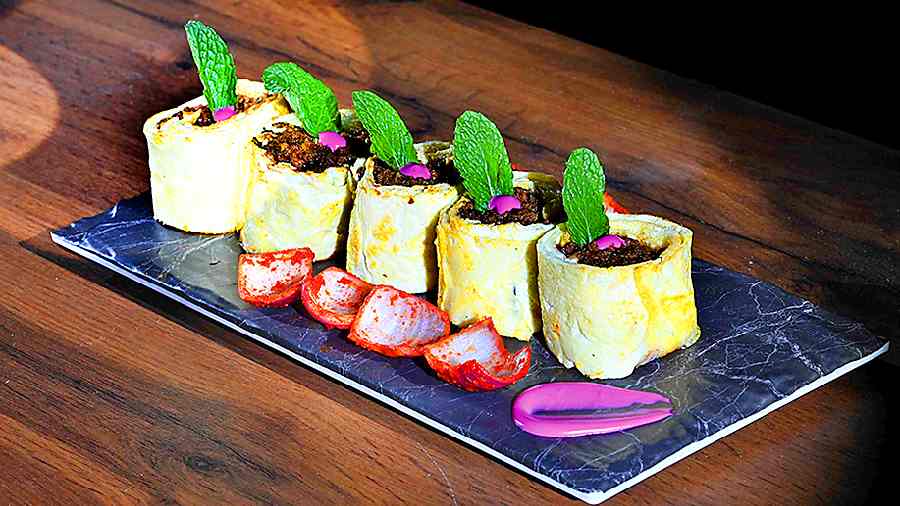 Mutton Patiala has mutton keema mixed with in-house special spices and gently egg-wrapped. A must-try!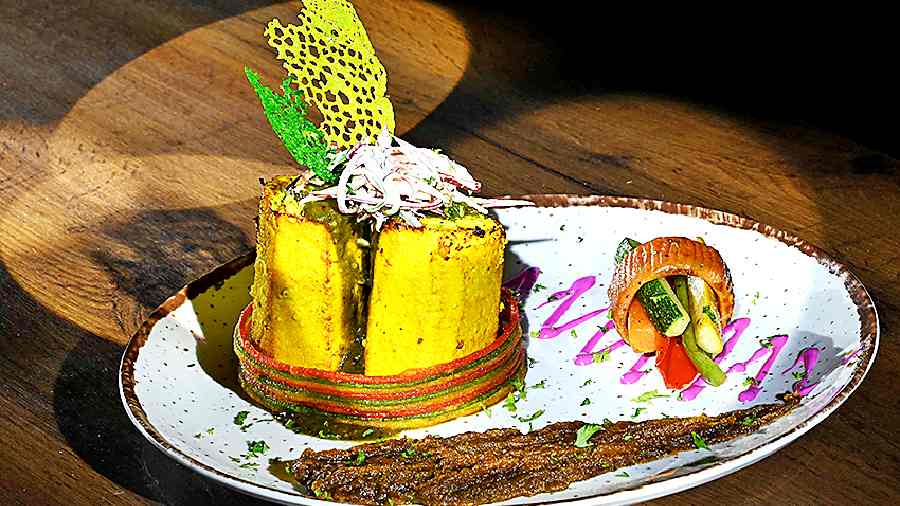 Paneer Trio is grilled and stuffed with three kinds of sauces — apple sauce, mushroom sauce and mixed veg sauce. As you dig into the soft block of paneer, the amalgamation of the three sauces oozes out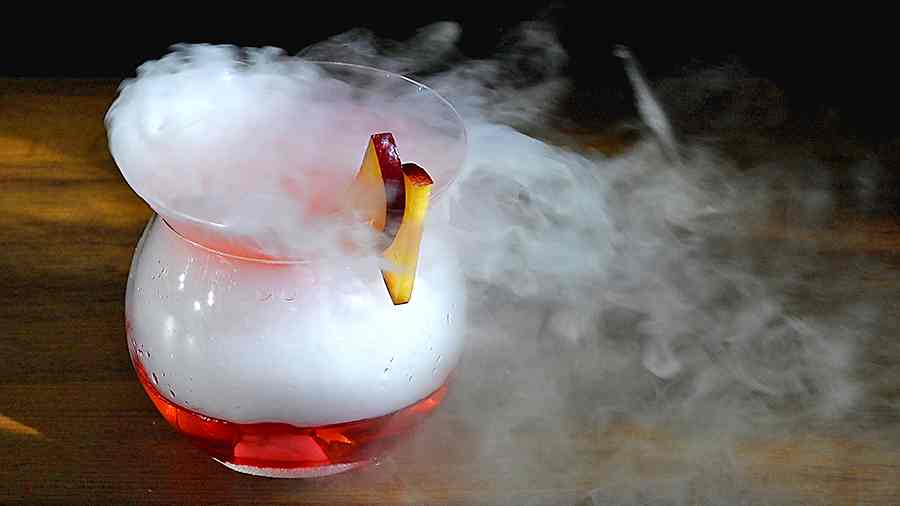 Gin Nut is a concoction of gin and hazelnut syrup mixed with litchi, cucumber and orange juice and smoked with rosemary. It is a fruity-nutty cocktail!
Pictures: Pabitra Das