One quintessential childhood culinary memory during winters, apart from enjoying komla lebus, is dipping roti, parota or bread in warm liquid nolen gur and relishing meals while sunbathing. Whether it is at home or picnics, nolen gur, was, and for many is, a must on the menu. Taking this concept out of home, nolen gur has become such a winter feature in Kolkata café's and restaurants, to the extent that it is being thoroughly experimented with — from milkshakes to fusion desserts and cakes to drinks. My Kolkata takes a look at top fusion offerings by Kolkata eateries this winter. But hurry! They are available on the menu only till February end.
Nolen Gur Milkshake from What The Fruit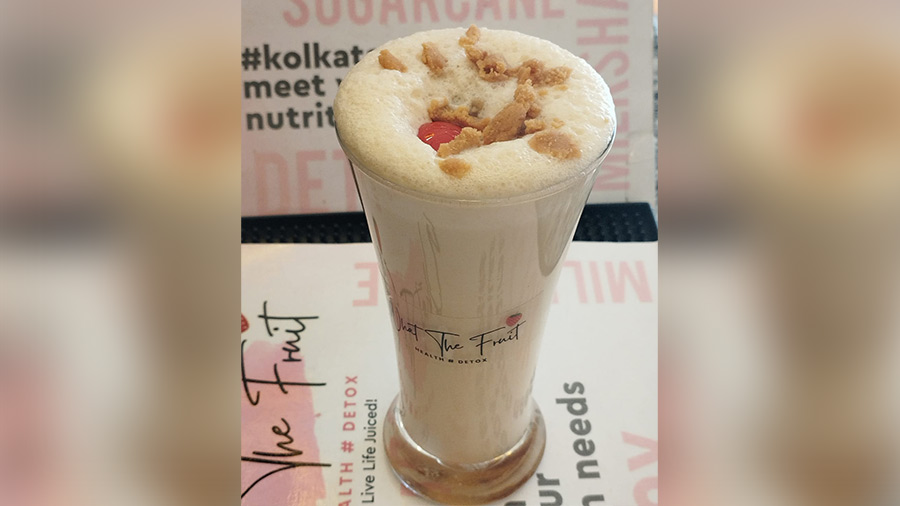 Milkshakes are for all seasons, but What The Fruit (WTF) has sweetened it up further for winters by adding a Nolen Gur Milkshake to its menu. This winter special is made with fresh nolen gur, patali gur, cream, milk and garnished with gur, cherry and raisins to create the perfect balance.
Leeba Khan, proprietor, said, "It's a hot-selling item. Some customers had never heard of this shake before. Kolkatans' love of nolen gur and WTF's innovative idea helped to introduce this milkshake. We started this in mid-December and we have already sold many glasses."
Price: Rs 350/glass
Nolen Gur Cake from Bunzara Café & Boutique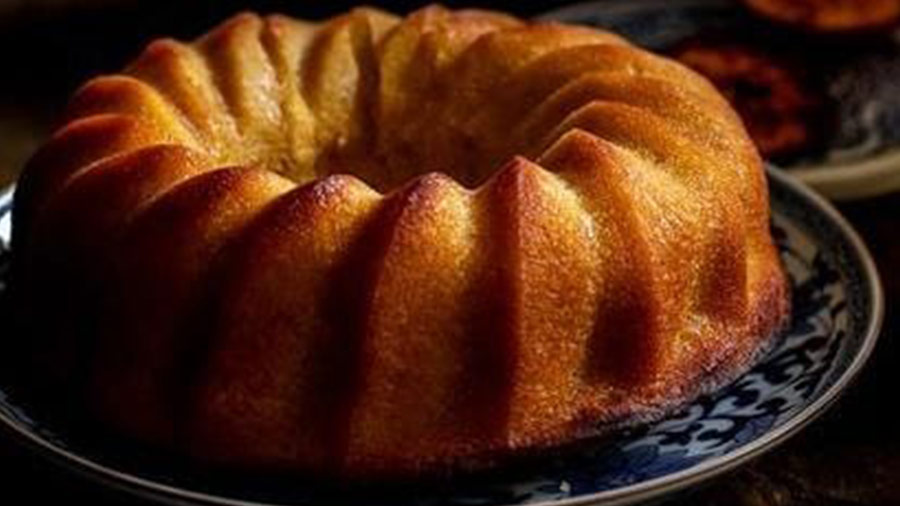 Cakes and desserts are an inevitable part of the winter food palette. Bunzara Café & Boutique brings in the nolen gur twist with traditional fluffy cakes. These tender and fluffy cakes are drenched in the flavour of organic nolen gur. What's more, they are topped with nolen gur syrup for the perfect taste.
Owner Ronojit said, "We always strive to curate innovative and unique delicacies that justify the flavour of each season and winter is the perfect time to savour the flavour of freshly sourced nolen gur through baking. We have substantially combined both in our classic dessert, Nolen Gur Cake. Apart from that, we have myriad season-specific beverage and food options perfect for winter feasts and treats."
Price for 2: Rs 600
Nolen Gur Mojito from What's Up! Café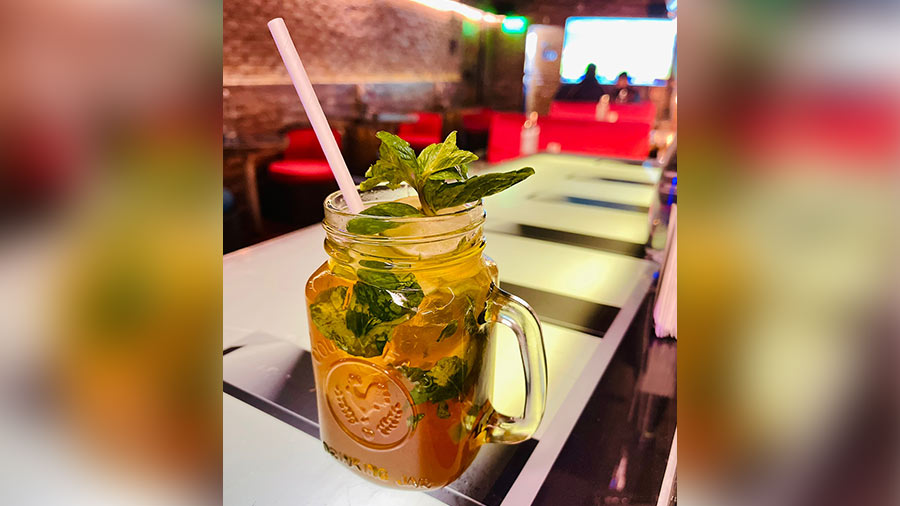 What's Up! Café has always been on the forefront of bringing in innovations with great taste. So, how could nolen gur flavours be behind? This season, enjoy a glass of Nolen Gur Mojito while soaking in the rooftop sun and scenery from the café.
"Nolen gur in the winter is a quintessential favourite for everyone in Kolkata, while a Mojito is a universal favourite across ages. Hence, we thought of blending the two to curate a unique experience and no wonder the response we have got is overwhelming," said Anirban Sengupta, owner, What's Up! Café.
Price: Rs 550
Nolen Gur Omali by Fairfield by Marriott Kolkata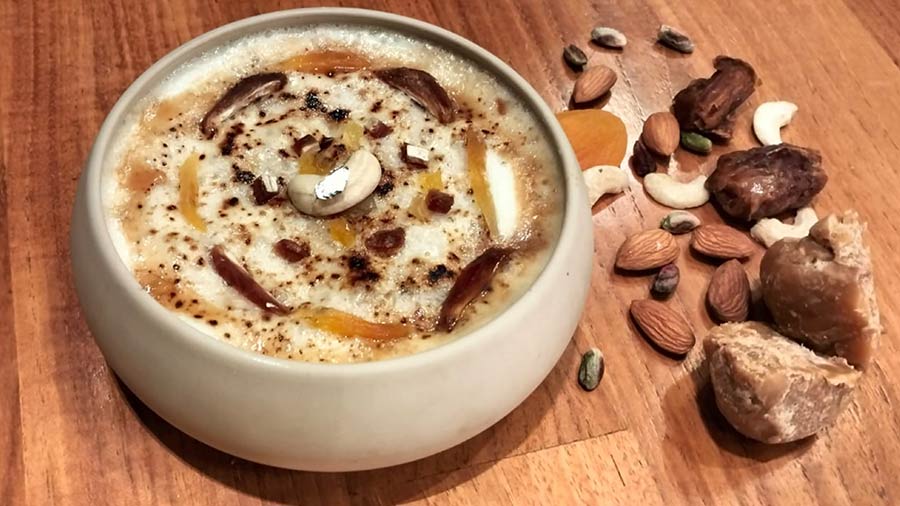 Fairfield by Marriott blends the local flavours of Bengal with Egypt to create this nolen gur fusion Egyptian dessert Omali. It is a soft, puffed, baked bread dish, soaked in nolen gur and milk.
Arabinda Seth, executive chef, said, "Nolen gur, which is very seasonal and available online in Bengal, lasts for only two months i.e, January and February. It is to die for. Various kinds of desserts with nolen gur are available in the market and are slowly spreading all over India. As an innovative step, we thought of merging it into an Indo-western dessert."
Price: Rs 450
Nolen Gur Crème Brulee by Mrs Wilson's Café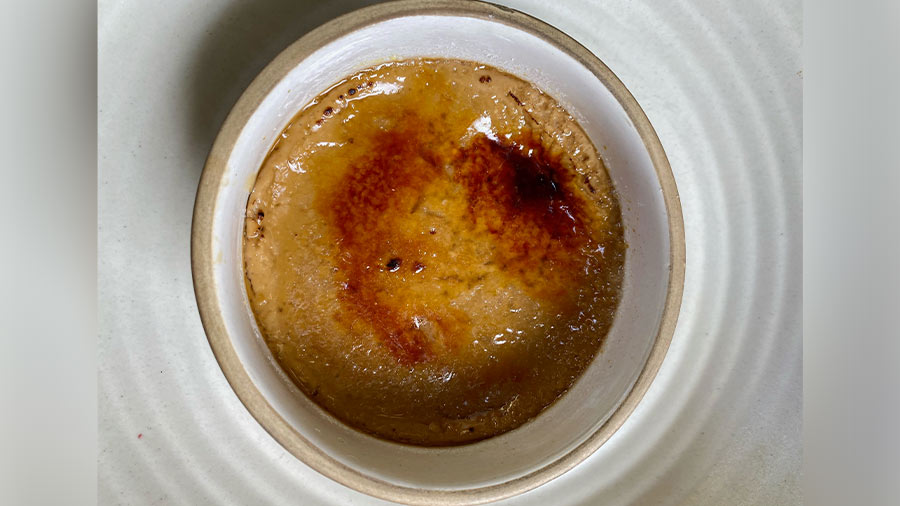 The soft, creamy, melt-in-the-mouth dessert now comes with a nolen gur twist. Mrs. Wilson's Café at Jodhpur Park has Nolen Gur Crème Brulee on its menu. This rich French pudding blends brilliantly with Bengal's iconic Nolen Gur to create gastronomic magic.
"Calcuttans have always had a soft corner for their very own nolen gur. It brings out the ethos of winters in Calcutta, where people are in a celebratory mood. Having nolen gur desserts on our menu adds an extra zing to that spirit," said Abhishruti Dutta, founder and creative head.
Price: Rs 300
Nolen Gur and Coconut Cake by Flurys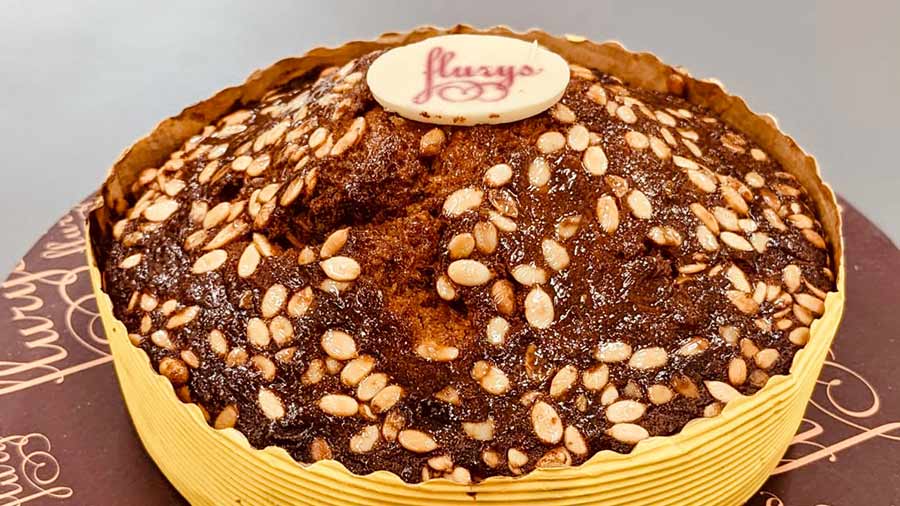 The iconic Park Street tearoom and confectionery, Flurys, is known for its winter plum cakes. Adding to its repertoire is the Nolen Gur and Coconut Cake. This moist tea cake is made out of butter, nolen gur, shredded coconut, eggs and flour. It is the perfect touch of sweet with your evening or morning chai.
Vikas Kumar, director, food production said, "Our Nolen Gur and Coconut Cake has been received extremely well during the festive season, especially by customers looking at something different from the rich nut-based cakes that are usually on offer. The fact that local ingredients were used, made it that much more attractive and many people found hints of winter nostalgia in the product."
Price: Rs 1,000 per tin
Kasundi Nolen Gur Roast Chicken by Desi Videshi Bistro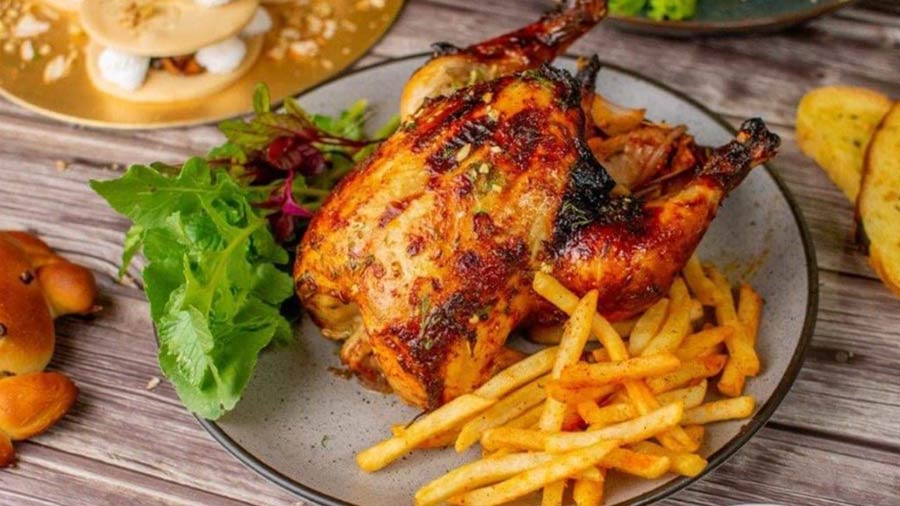 Desi Videshi Bistro lives up to its name and brings to the table a fusion of the desi nolen gur with the videshi roast chicken. The flavorful Kasundi Nolen Gur Roast Chicken is prepared by marinating a whole chicken with fresh nolen gur and other ingredients. The chicken is trussed with a thick thread and the excess marinade is poured on top of it after placing it in a greased tray and then baked to perfection.
"We at Desi Videshi salute our artisans who do all the hard work of collecting palm sap as early as 4am in the morning. It is freshly brewed over a smouldering fire until the natural sugar caramelises, leaving behind a golden syrup with its distinct flavour. We want this exquisite ingredient to be shared with the rest of the world and thus, we have incorporated it in one of the most celebrated Continental preparations, the roast chicken,'' said chef and co-founder, Moumita Bhaumik.
Price for 2 (approx.): Rs 550
Nolen Gur Wash Negroni by Scrapyard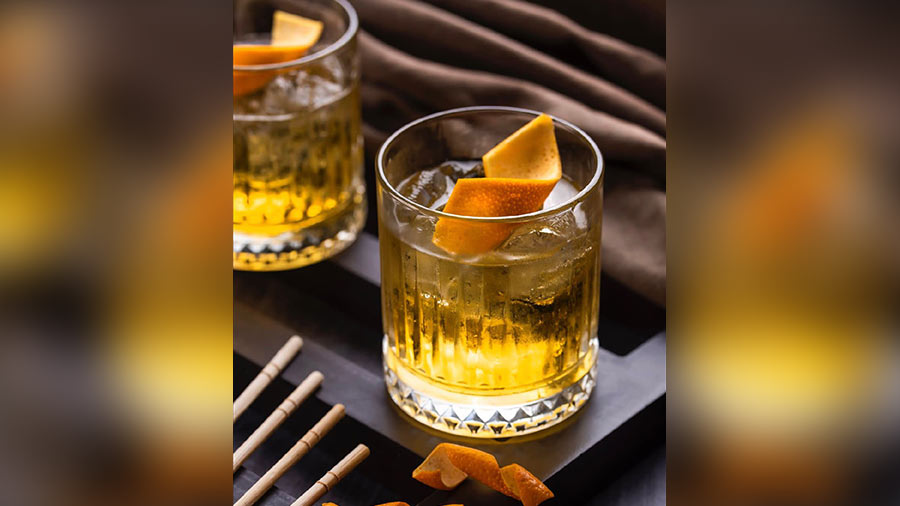 When hanging out with friends and colleagues, check out this drink with a nolen gur twist from Scrapyard. The Nolen Gur Wash Negroni is on the cards till the end of the season. The world famous Negroni blends with the sweet Kolkata emotion to create wondrous magic. Sudip Hazra, beverage manager, said, "As a Bengali bartender, I used nolen gur as a medium to introduce the culture of Bengal with world-famous Negroni."
Price: Rs 651