What does a person with a general dislike for shopping (in any form) do in Bangkok where food and affordable markets form the very identity of the city? A lone traveller making their way back from a beach town in the country, Bangkok's shopping malls metaphorically hold you by the nape of your neck and pull you into their endless rows of corridors, compelling you to make purchases that you are sure you wouldn't need five hours later.
The promise of a better bargain at the next corner meant that a confused shopper like yours truly had walked 16,000 steps without having made a single purchase. It was on a quest to find an experience that extended beyond Siam's shopping district or Khaosan Road's party lanes that led us to the doors of Blue Elephant Cooking School and Restaurant.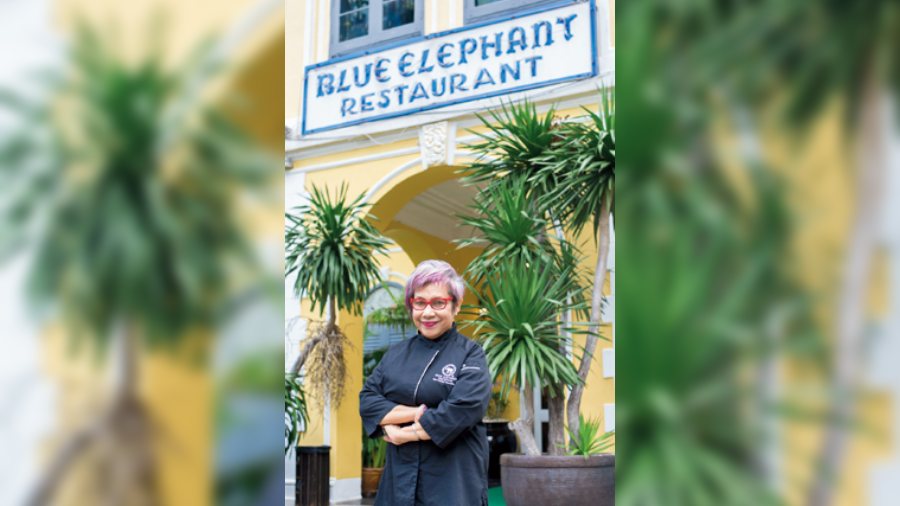 Thai MasterChef Nooror who started this chain of Thai restaurants in Belgium and has now spread it to eight countries
One fine morning when the weather update threatened heavy rainfall but the tourist god shined sunlight instead, I had managed to nip my finger and was sheepishly asking for a plaster from the chef while my wok of green Thai curry simmered in joy. I couldn't have been happier!
The Blue Elephant Cooking School and Restaurant is a product of a Thai masterchef who found love in Belgium but didn't find a decent Thai restaurant. Chef Nooror was settled there with her husband Karl Steppe when she decided to open the very first branch of this school. London, Copenhagen and Paris followed in 1986, 1990 and 1991 respectively.
Over four decades and eight more countries later, chef Nooror is a name to reckon with, having taken home awards like the Thai Taste-Thai Best Award in 2003, with Blue Elephant taking home Group of the Year Best in Britain by BIBA in 2004, Best Restaurant in the Hammersmith, Mini-Oscars, UK in 2005, The Best Thai Restaurant in the World by Thai Select in 2006, Bangkok's Best Restaurant by Bangkok Dining & Entertainment in 2007 and was named the Top Rated Restaurant Overall in Malta.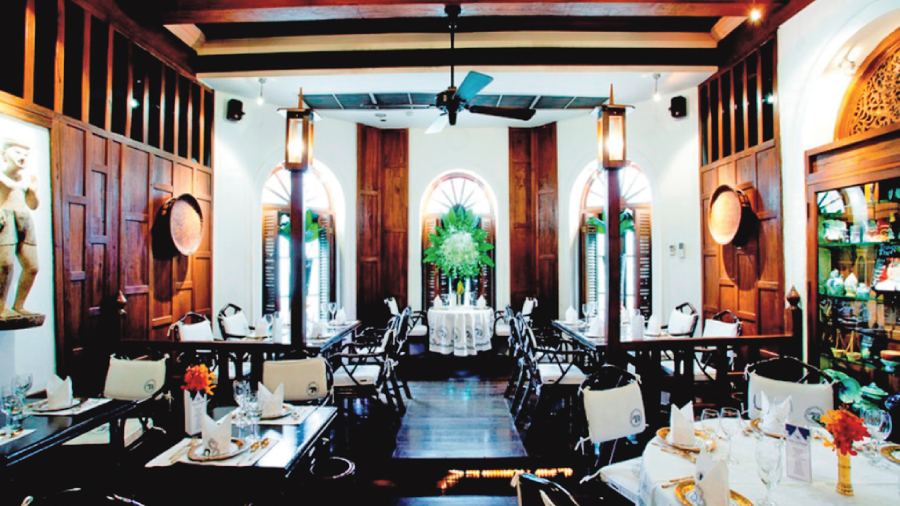 The Baan Thai restaurant on the first floor of the Blue Elephant building
After a single morning spent in the decadent halls of the institute with a scrumptious lunch to follow (made entirely by the participants from scratch!), we were convinced that the accolades were well-deserved.
The Blue Elephant Cooking School and Restaurant is not one of those cooking schools that line the lanes of tourist districts where a chef is appointed to cook in front of you, allowing you moments of the sheer privilege of getting to stir the food as your only accomplishment. Here, you watch and then you go to your station and recreate what you just watched, from scratch. And in my case, with a scratch!
Each day of the week comes with a special menu of five dishes and on a Friday, we showed up at the doorstep to take the BTS Skytrain to the local market to pick up ingredients for our morning adventure. For the motley crowd of eight people from Switzerland, the US, the UK and India, the classroom was abuzz with questions that the chef answered with painstaking patience.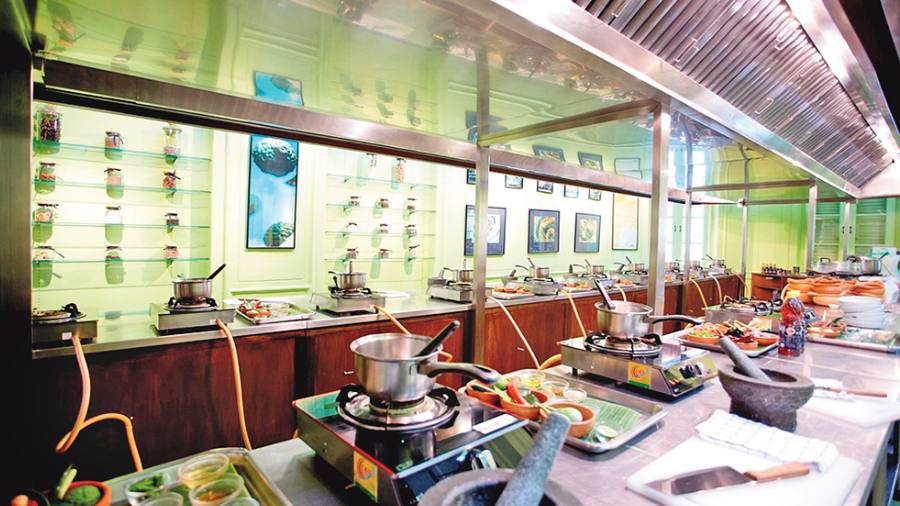 (above) The cooking practice room and (bottom) the Thai green curry whipped up there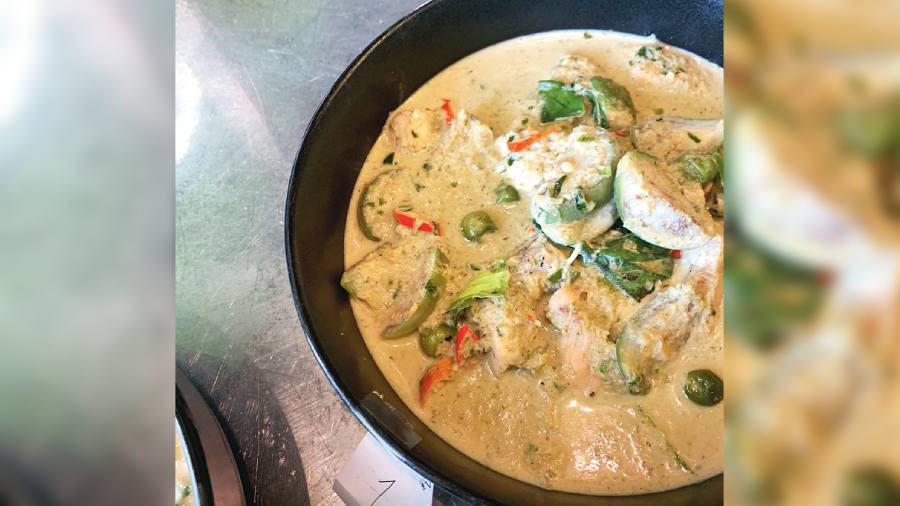 On the menu — Kaeng Keaw Waan Kai (Green Thai Curry with Chicken), Tom Say Plaa Kra Pong (Spicy Soup with Sea Bass) Tod Man Koong (Prawn Cakes), Pad Phed Nut Makeua Yao (Stir-fried beef with long eggplant).
The familiarity between Indian and Thai spices perhaps added to the excitement of the five-hour-long session. The Blue Elephant has now extended its offerings to ready-to-use spice mixes which we packed tons of from the school itself only to find them in abundance at Nature's Basket on Park Street (damn those extra kilos at the airport!).
For those looking to recreate the experience at home till you can make your way to Bangkok, here are two essential recipes for beginners. Khop Kun Ka!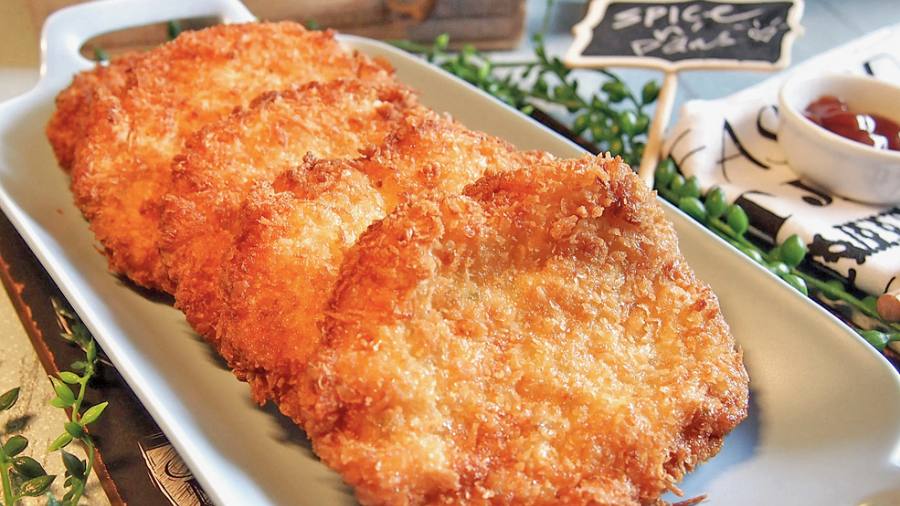 Tod Man Koong (Prawn Cake)
INGREDIENTS (For 6 pieces)
 Prawn meat: 100g
 Garlic: 10g, peeled
 Coriander root and stem: 1 piece
 Egg white: Of 1½ eggs
 Tapioca flour: ½tbsp
 Sweet corn kernels: 30g
 White breadcrumbs: ½ cup
 Vegetable oil: For deep-frying
For the seasoning
 Light soya sauce: ½tbsp
 Oyster sauce: ½tbsp
 Sugar: 1tsp
 Red curry paste: 1tsp
 Ground white pepper: 1/4tsp
 Kaffir lime leaf: 1 piece
METHOD
 In a mortar, pound the garlic and coriander root and stem into a paste.
 Add the white egg and mince the prawn meat together until they are a homogenous paste.
 Add the white pepper, tapioca flour, coriander and garlic paste, light soya sauce, oyster sauce and sugar. Stir well in a circular motion. Add in the corn kernels, red curry paste, kaffir lime leaf and mix well.
 Take about 50g mixture, roll it in the breadcrumbs and press flat in the form of a disc. Continue until you have made 5-6 pieces and deep-fry at 180°C/350°F for about 3 to 4 minutes until golden brown.
 Remove the rissoles from the oil, drain on absorbent paper and place on a serving dish lined with salad leaves.
 Serve with pineapple sauce separately in a bowl.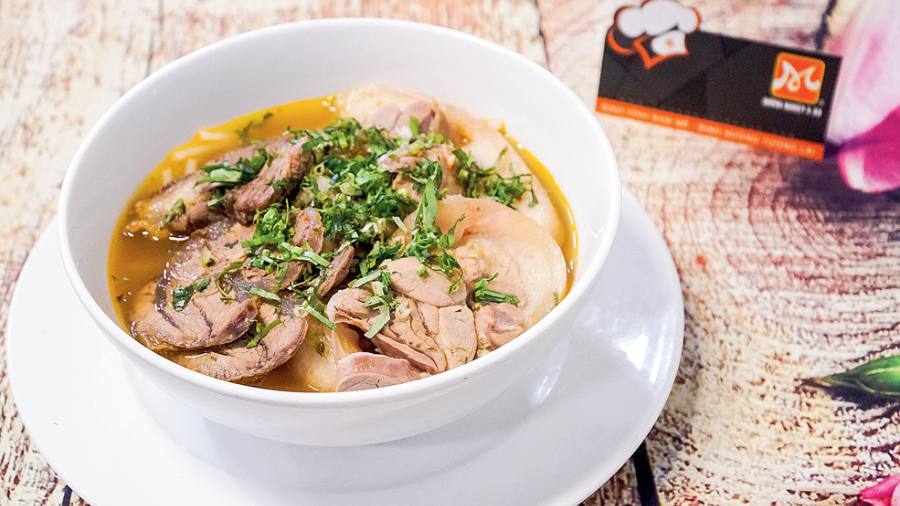 Tom Sab Plaa Kra Pong (Spicy Soup with Sea Bass)
INGREDIENTS
 Sea bass (fillet): 80g
 Stock: 250g
 Kaffir lime leaves: 1pc (shred into small pieces)
 Galangal: 10g, thinly sliced into five pieces
 Coriander root: 2 pieces
 Lemongrass: 1 stem, (crush and cut)
 Bird's eye chilli: 5 pieces
For the seasoning
 Fish sauce: 1tbsp
 Lime juice: ½tsp
 Tamarind juice: ½tbsp
 Roasted glutinous rice powder: 1tbsp
 Chilli powder: ½tsp
 Sugar: A pinch
 Sweet basil: 10 pieces
 Thai saw coriander: 2 stems, finely chopped
METHOD
 Smash coriander root, lemongrass and bird eye chilli.
 Boil the stock, add kaffir lime leaves, galangal, coriander root and lemongrass for 1 minute.
 Add herbs, sea bass, fish sauce and bird eye chilli.
 Add seasoning, fish sauce, sugar, chilli powder, tamarind juice and roasted rice powder.
 Add sweet basil and saw coriander and turn heat off and add lime juice. Transfer to a serving bowl, garnish with sweet basil leaves.
Pictures: The Blue Elephant Cooking School & Restaurant and the author