Calcutta Classics, A Slice of Nostalgia, in association with The Telegraph, was held at City Centre Salt Lake from February 17-19. Calcutta's most loved eateries set up stalls to give the foodies of the city the same old classic taste with their mouthwatering specialities. Restaurants like Mitra Café, Aminia, Kusum Rolls, Bijoli Grill and many others were present at the food festival, serving their specialities to the guests. From sweets to savouries, Calcutta Classics had everything to satisfy a foodie's soul. Snapshots...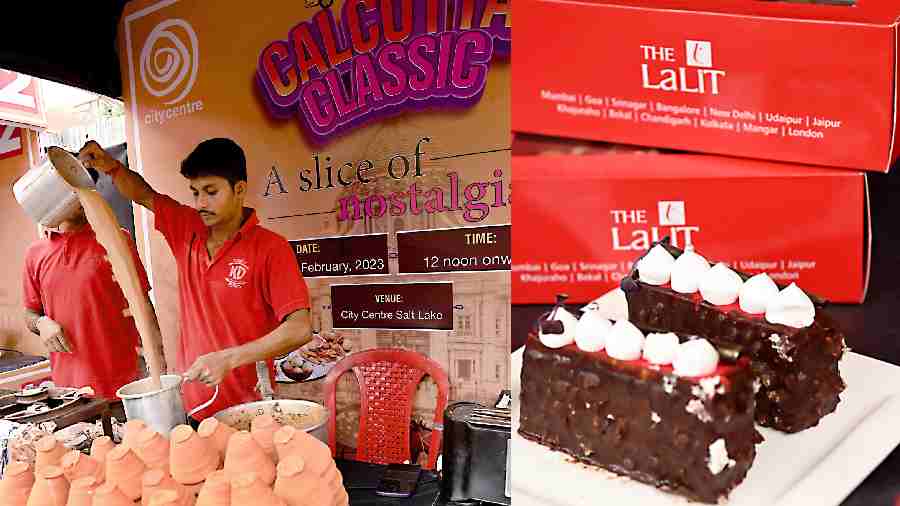 (L-R) masala chai, cakes
Kona Dukan from BBD Bagh brought their famous Malai Toast, served with hot masala tea (two pieces Rs 60).
The Bakery by The Lalit had a wide variety of fruit cakes (Rs 500 for 350g), Black Forest Pastry (Rs 170 each), Banana Oatmeal Cookies (Rs 200 for six), and many more, which were relished by the foodies.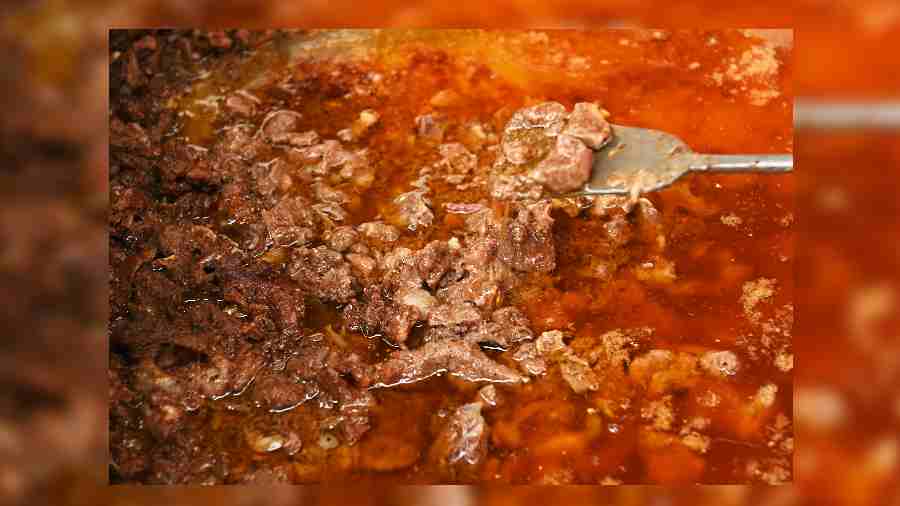 Sabir's Hotel, another iconic Mughlai restaurant, pulled the crowd with their aromatic Mutton Rezala (Rs 330), which they served with Butter Naan, and Paratha. They also had other small bites like Chicken Chop and Mutton Tikia.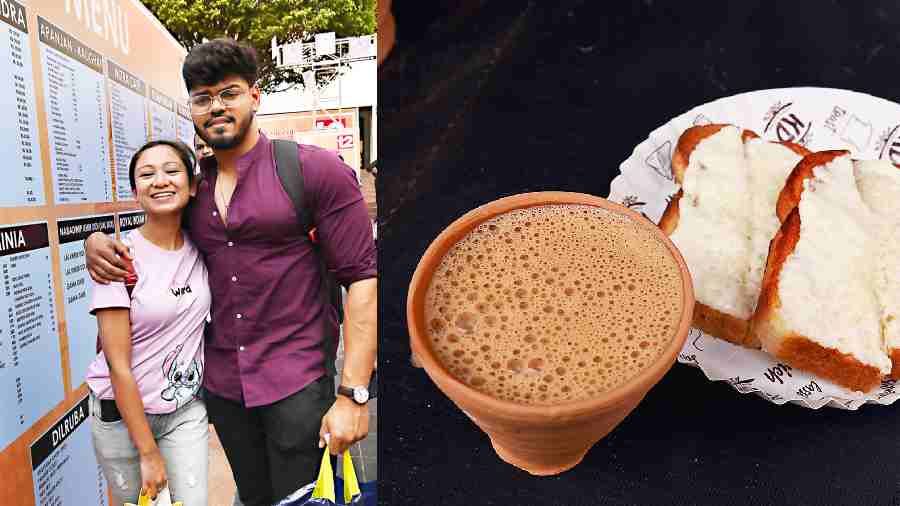 Priyanka Dey and Pratap Sen were spotted with packaged Fish Fry from Mitra Café. They said, "We tried a lot of things from Dilruba and tried the Mutton Singara from Apanjan, which was amazing. Being foodies, this was a very good opportunity for us to browse through all these stalls."
Kona Dukan from BBD Bagh brought their famous Malai Toast, served with hot masala tea (two pieces Rs 60).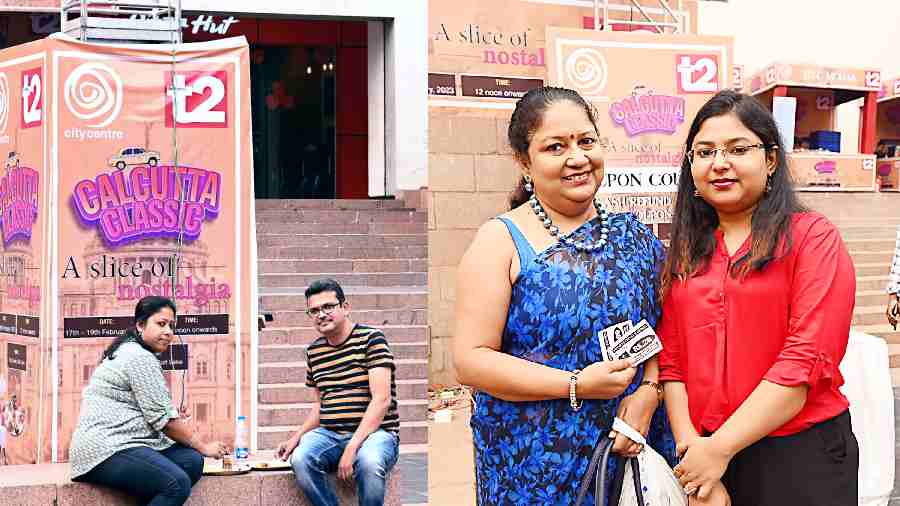 Anandya Chatterjee with his wife Rimi relished the Mutton Biryani from Royal Indian Restaurant. "We are big biryani lovers and here we are at the Calcutta Classics for biryani. We have been here before for another edition of Calcutta Classics. We will also take home the Fish Fry from Mitra Café," said Anandya.
Sunanda with her mother Ruma Chowdhury were buying coupons to taste more dishes from the stalls. "We had the Fish Kabiraji from Dilruba and got the Mutton Rezala from Sabir's Hotel. We will be buying more food from our favourite stalls like Apanjan and Mitra Café," said Sunanda.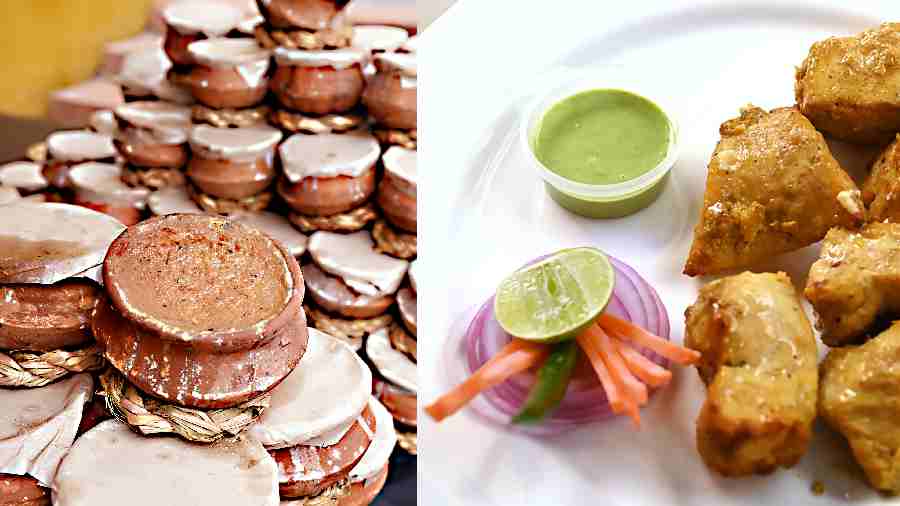 The 100-year-old famous Nabadwip Khir Doi was a crowd-puller. 500g (Rs 180) and 1kg (Rs 3,600)
These luscious Fish Banjara Kebab (four pieces at Rs 250) were from Bonophool restaurant in south Calcutta. They also served Chicken Angaara, Bonophool Special Roll and Chicken and Mutton Biryani.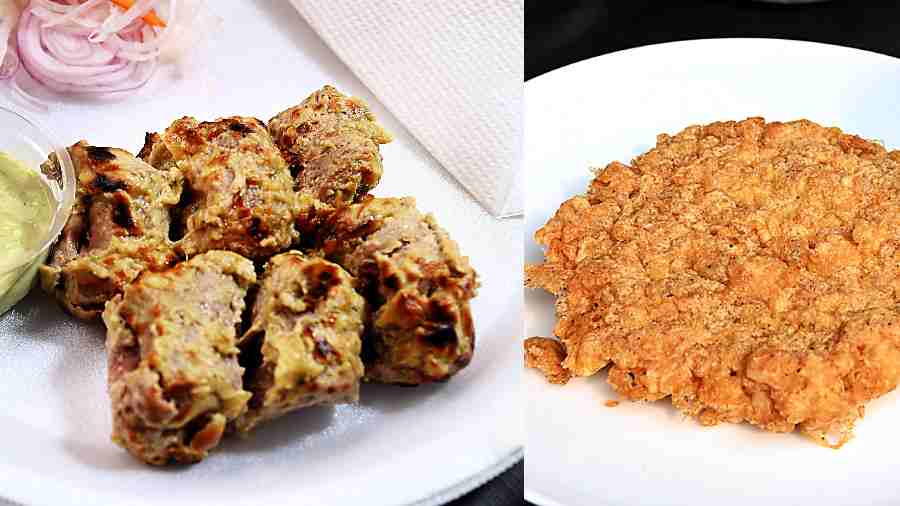 One of the oldest Mughlai cuisine restaurants in Calcutta, Aminia served their tender and juicy Mutton Reshmi Kebab (full Rs 420, half Rs 220) with their other famous dishes like Chicken Kathi Roll, Egg Mutton Kathi Roll, Egg Chicken Roll and many others.
Dilruba from north Calcutta had their crispy fried and airy Fish Kabiraji (Rs 120) and other fried specialities like Paneer Cutlet, Diamond Fry, Chicken Cutlet, Fish Butter Fry and many more.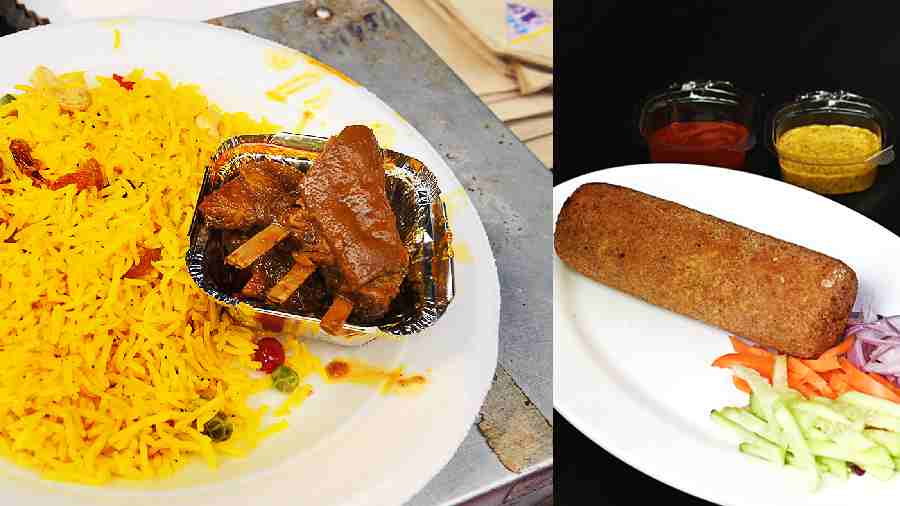 Apanjan Kalighat served Bengali delicacies like Basanti Pulao with Mutton Kasa (Rs 200), Chicken Kasa (Rs 150) and other items like Chicken Kabiraji, Fish Finger, Fish Chop, Egg Devil and more.
Bijoli Grill served their special Fish Roll (Rs 200) with ketchup and kashundi. They also served their other fish specialities like Fish Fry, Fish Orly, Prawn Cutlet and many more.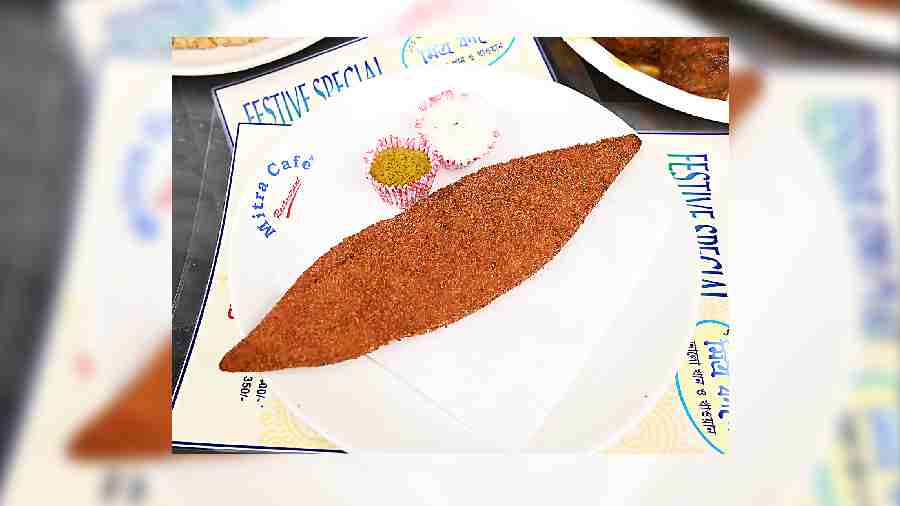 The legendary 100-year-old Mitra Café served their famous Fish Diamond Fry with Kashundi (Rs 250) along with their other specialities like Prawn Cutlet, Chicken Lollypop, Egg Mutton Devil, and Mutton Kabiraji.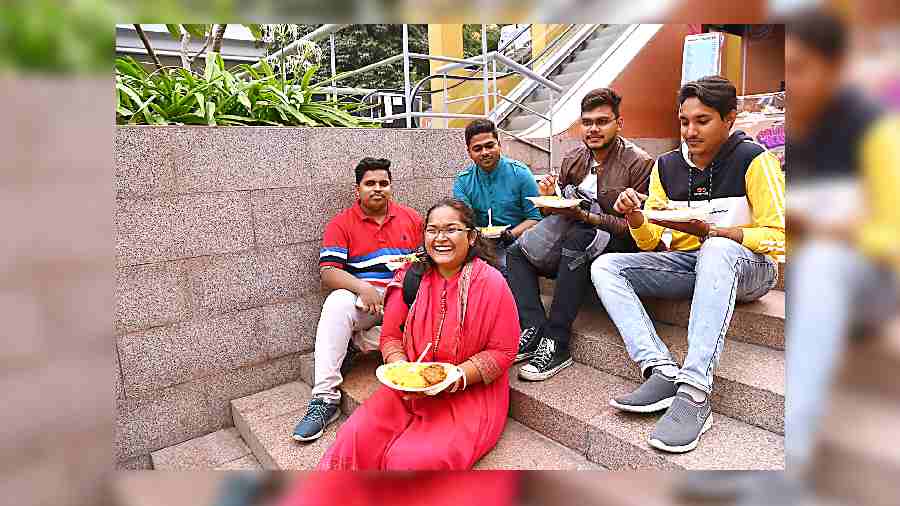 This group of friends were found enjoying the Basanti Pulao and Muttton Kasa from Apanjan. (L-R) Tanaya Halder, Biswajit Das, Shodesh Mandal, Dipanjan Balui and Akash Mandal said, "We are from Behrampore and visited City Centre today and saw this food festival going on. We decided to try some good Bengali food for our afternoon lunch. We will also try some sweet treats before leaving."