Located in the heart of Hazra Road, Café Enigma aims to become south Calcutta's newest chill pad with its open-plan aesthetic, blue and serene interiors, refreshing drinks, foot-tapping music, a wide variety of flavoured hookahs, and delectable food for a fun evening with friends and family. The word "enigma" comes from a Greek word that means "shrouded in mystery" and that is the experience they aim to provide to their guests. The menu is an eclectic mix of global cuisines, from their range of pizzas and pastas, Mexican quesadillas and sizzlers to their wide selection of beverages that include mocktails and shakes. Whether you're looking to unwind with a leisurely cup of coffee, a quick breakfast, or a hangout with your friends, Café Enigma is the place for you.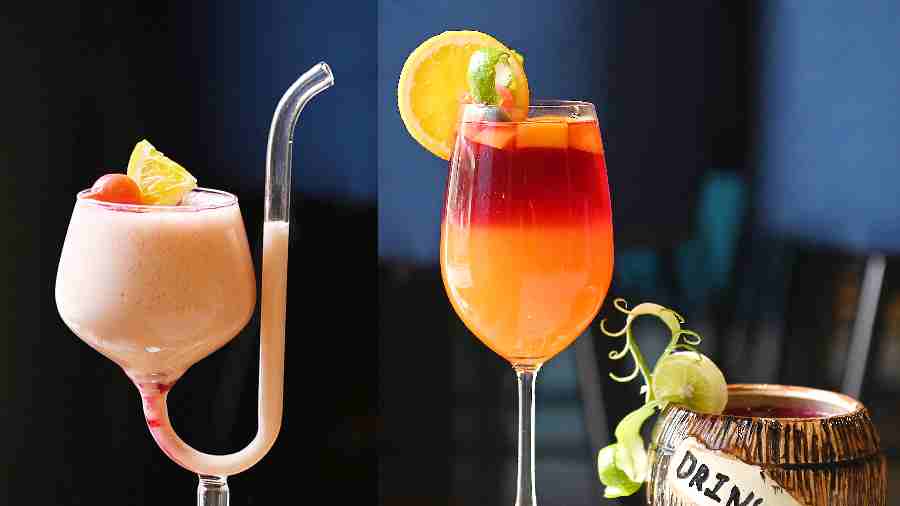 This smooth concoction called Pink Lady is served in this unique glass and made by mixing lychee crush, pineapple juice, and grenadine syrup with vanilla ice cream.
Beat the heat this summer with Tangy Sunrise (left), a refreshing tangy mocktail made with orange juice and cranberry juice accompanied by mango crush. The drink is served unmixed in a tall glass. Get the beach vibes with Berry Lovers (right) served in a coconut-shaped glass and made with fresh strawberry, cranberry and blueberry juice, garnished with maraschino cherries.
Mexican Rice and Jacket Potatoes, also known as Arroz Rojo or Spanish Rice, is a zesty and flavourful vegan dish. It has rice, onions, garlic, fresh tomatoes, tomato sauce, green bell peppers, and cumin for an earthy and spicy aroma accompanied with condiments such as butter, cheese, sour creamand cheese-filled potatoes in creamy gravy.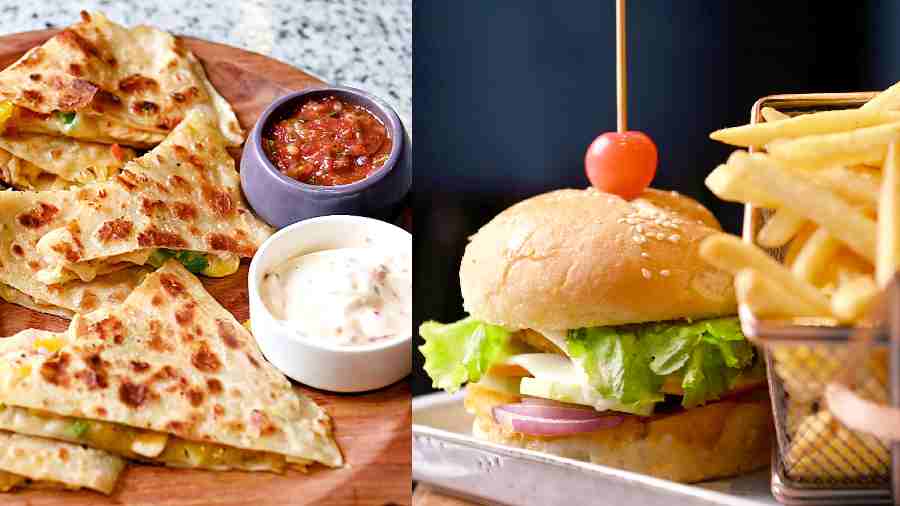 Smoked Chicken Quesadilla where crispy tortillas are stuffed with smoked chicken, sauteed bell peppers, onions, cheese, and jalapeno aioli sauce, and served with salsa and mayo.
Veg Cheese Burger is a snack with loads of flavourful vegetables in a bun. An easy and quick healthy burger made with mixed veggie patties, cheese slice with onion, cucumber, tomato, mayonnaise, tomato sauce and chilli sauce.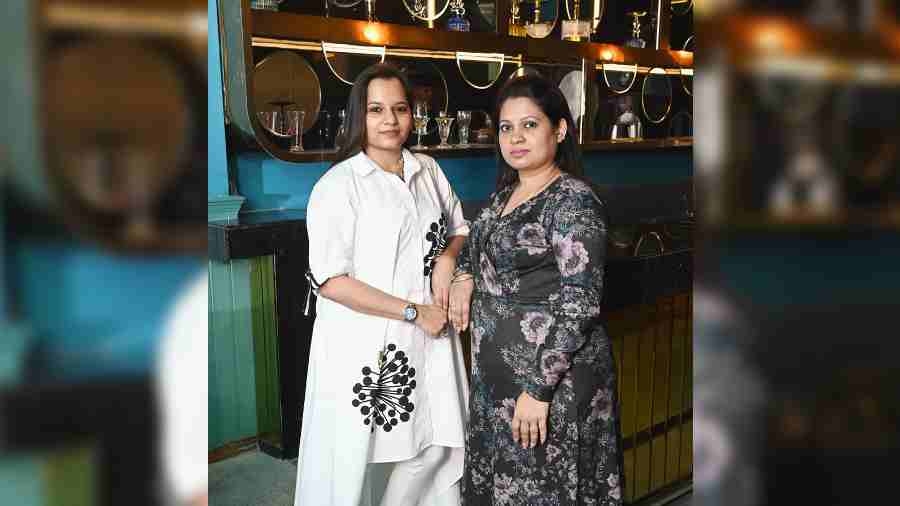 "We came up with the name 'Enigma' after the 90's song. We wanted to keep the name classy yet catchy. After our other F&B venture downstairs which is perfect for family dining, we want this place to be the hangout spot where all age groups can come, eat, chill and relax with our tasty food, a wide variety of refreshing mocktails and hookahs. We have five elements in our body and the huge element is water, so we wanted to give the huge element to the place by painting it in blue, which is very soothing to the eyes," said co-founders of Café Enigma, Darshhana Hora (left) and Ananya Sethi. Goldie Sethi and Chetan Hora are also co-founders but not present in the picture.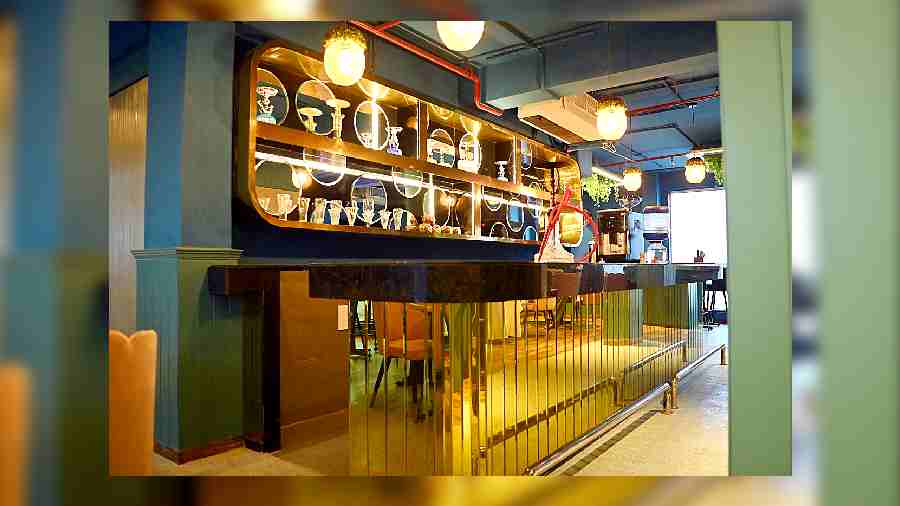 The gold metallic bar adds an extravagant touch to the café, serving a variety of mocktails and different flavours of hookahs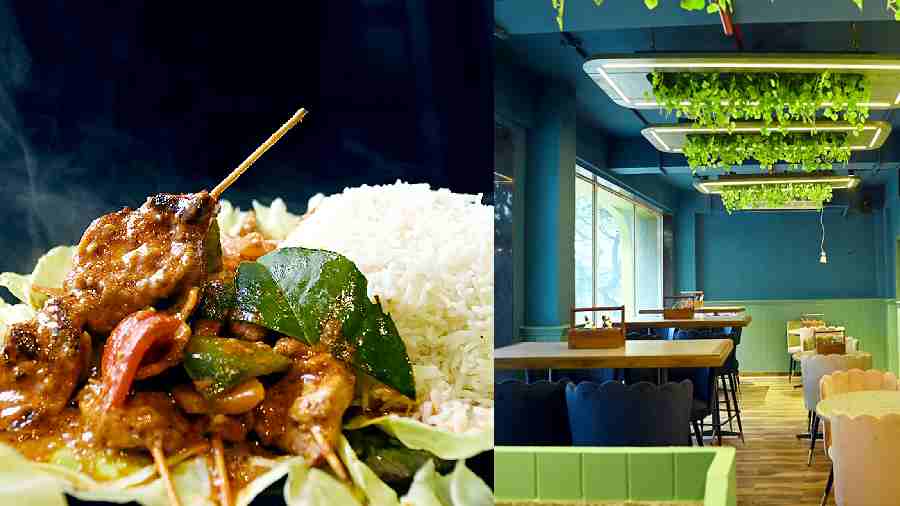 This flavourful Thai Four Stick non-veg sizzler has four pieces of shaslik chicken tossed in chef's special Thai sauce, garnished with tossed onion, capsicum accompanied with butter rice. These flavours of Thailand on one platter are sure to stimulate your taste buds!
With 1,900sq ft, Café Enigma has wooden flooring with soft plush fixtures in pastel shades to match the interiors. Natural light streaming in through the large glass windows lights up the café during the daytime, making it look serene.