Kathmandu Kitchen
It's a bit of a task to find Kathmandu Kitchen, being tucked away in a lane. So ask locals for directions as you walk down from the mall towards Chowk Bazar. The 35-cover eatery, established in 2016, is done up in earthy tones, but don't go by the muted interiors because this is where you are likely to sample the best Nepali thali from this list. 
There are over 30 types of thalis on the menu, so feel free to ask the owner, Elvin Chhetri, for recommendations. He and his father Milan are usually around. 
We recommend trying the Sekhwa Thali or the spicy Choila Thali. There's also a Veg Thali option. The thalis come with curries, dal, seasonal vegetables like newari aachar, gundruk, saag, and chutneys like fermented soya bean chutney, papad, salad and more. "We have just introduced Nepali Kheer," adds Elvin.  
Filmmaker Birsa Dasgupta recently tweeted about his meal at Kathmandu Kitchen.
The restaurant is expected to change addresses. "In July 2022, we will be moving to a more spacious spot that is just opposite our existing location. We will be able to accommodate 70 covers," says Elvin.
Location: HD Lama Road, below Central Inn Hotel
Cost: The thalis start at Rs 150 (veg)
Mohan Eateries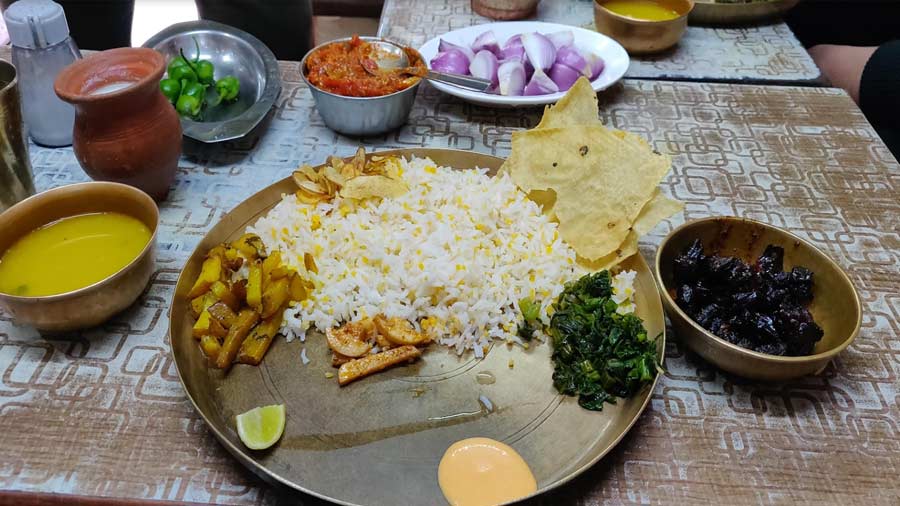 Karo Christine Kumar
Mohan Eateries is one of the few places that serves makkai ko chyak-la or corn grits mixed with rice as part of the thali. It's somewhat like a coarse polenta and the corn makes the meal tasty and wholesome.
The eatery consists of one cosy room with a community table and benches, and it almost feels like dining in someone's home. The walls are decorated with pictures of old Darjeeling, vinyl records, and a large board that has the 'Top 13 Dishes To Try'. We recommend the Sukuti Thali, with sukuti or dried buffalo meat, because you won't find this elsewhere easily. Or you can go for Chicken, Pork, Beef, Buff or Veg Thali, depending on your preference.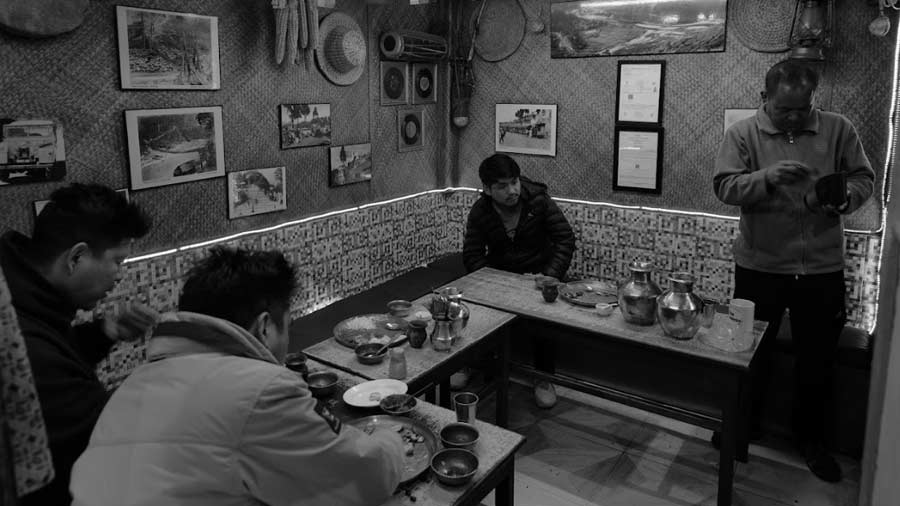 The cosy interiors of Mohan Eateries
Ajith Gonamanda
The eatery is run by Mohan, who is a Bob Marley fan, as is evident from his long locks and the music played in the eatery.
It's not on the menu but you can ask for a bottle of Sikkim's famous HIT beer to wash your meal down.
Location: At the entrance to Robertson Road (the road that runs parallel to Glenary's)
Cost: Thalis are priced Rs 200-Rs 300
Nepali Chulo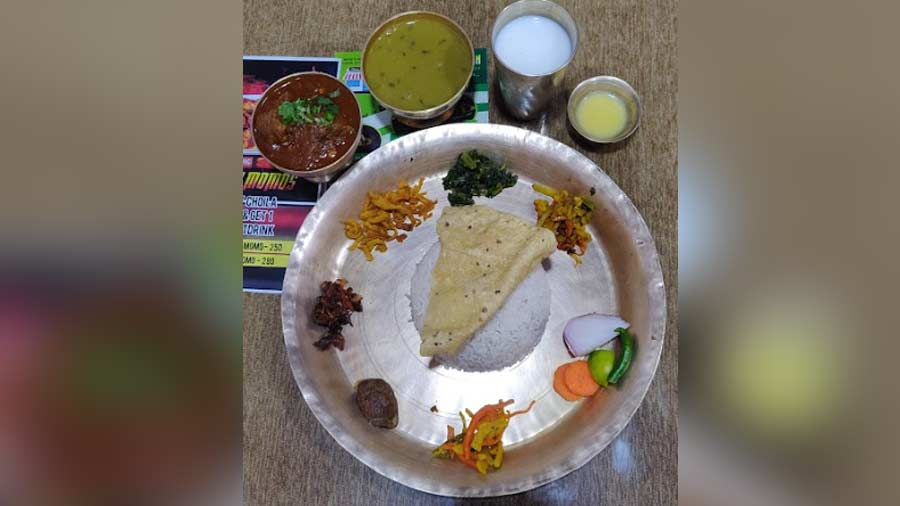 Karo Christine Kumar
If you wish to avoid long queues, take a short walk to Nepali Chulo near Mahakal Market on Laden La Road. The restaurant is usually not as packed as the ones closer to the mall. The Mutton Thali is the most popular thali option and is served in copper utensils with a bowl of kalo dal. It also has a variety of little portions of different vegetables, and on quizzing the kitchen, one learns about lesser-known Nepali spices like the green siltimur with its strong citrusy-peppery flavour, which are used in the preparation.Types of aachar are also served. Aachar doesn't typically mean the pickle that north Indians know of. When referring to Nepali cuisine, it is a vegetable combination (for example, gorkhey aachar, which is made up of cucumber, radish and boiled potatoes in churpi).
If the restaurant is not too busy, you can request them to play your favourite song or the Nepali number Batash by Shashwot Khadka for a local vibe.
Location: Mahakal Market, Laden La Road
Cost: The Mutton thali is priced Rs 330
Penang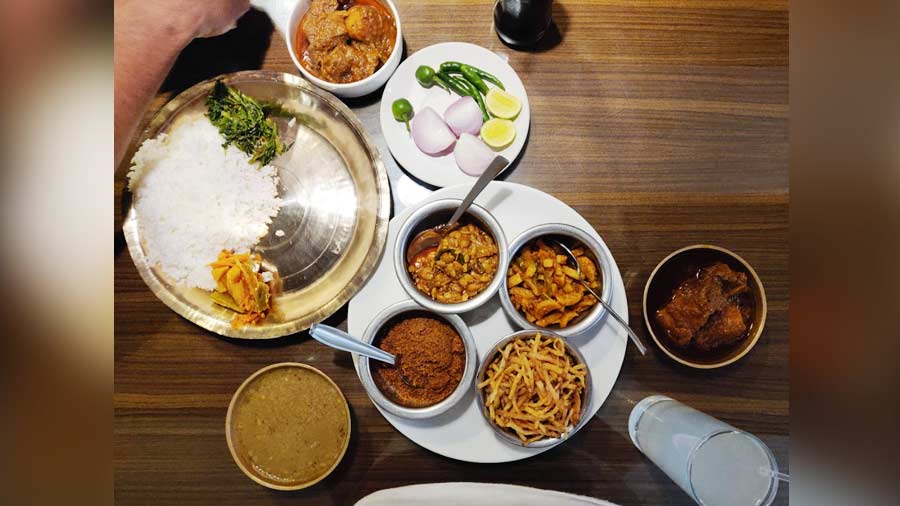 Karo Christine Kumar
Established in 1972, Penang is one of the oldest restaurants in Darjeeling serving Nepali and Tibetan cuisine. Ask anyone where to get a Nepali thali and chances are that Penang will be their first recommendation.
A flight of stairs leads up to the restaurant that was renovated in 2016, housing cushioned sofas and wooden tables. Choose from pork, chicken, mutton, veg thali and more. Nothing beats the variety of achars that come with the thalis here. There's mulo ka achar (pickled daikon radish), kinema ko achar (fermented soybean), crispy aloo bhaja and dhuli achar (peanuts with sesame).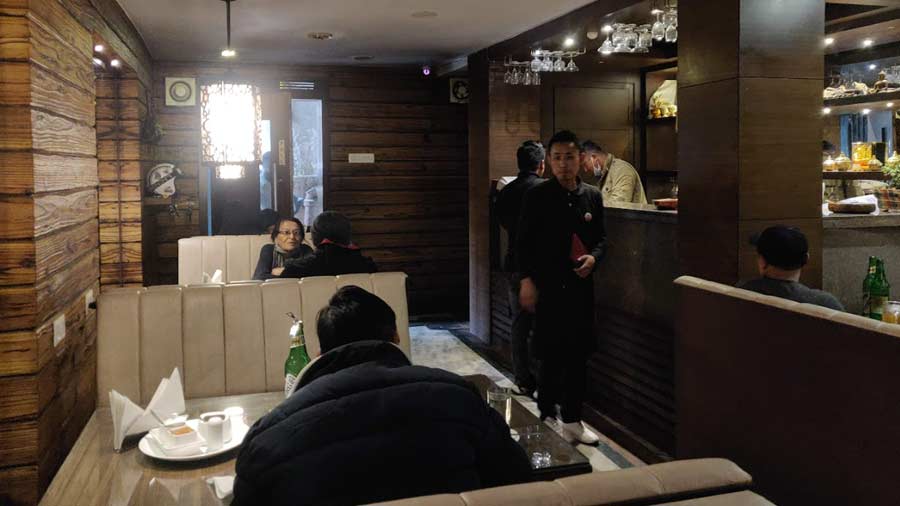 Inside Penang
Karo Christine Kumar
The service is quick and the turnover of tables even quicker, so don't expect to hang around long after the meal is done. You probably have a long shopping list to cover, anyway! Don't forget to include tea from Golden Tips.
Location:11 Laden La Road (near Big Bazar)
Cost: Rs 200 onwards