The Alumnae Association and the drama club (Voices) of Women's Christian College, Kolkata, organised a two-day drama workshop for students to educate the students and make them culturally enriched.
The workshop conducted by Sima Mukhopadhyay, theatre personality and director of the theatre group, Rangroop, included lessons in physical training, voice modulation, singing, recitation and stage movements.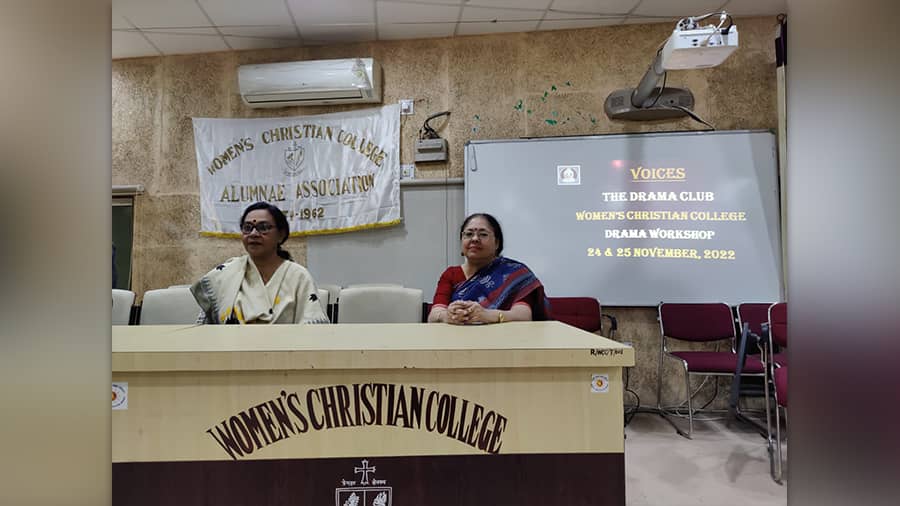 Sima Mukhopadhyay (left) and Ajanta Paul (right) at the workshop
The students were asked to enact skits on the theme of women challenging patriarchy.
"There was a constant give-and-take. We made them prepare four skits on women's empowerment which we connected with powerful songs and concluded with a poem. Theatre must go on. It reflects the times and embodies a social message," Mukhopadhyay said.
Arunima Biswas, a student of the English department and a participant at the workshop, said it was an incredible experience. "We got to learn about the craft from professional people. We performed with strangers and the outcome was encouraging."
Ajanta Paul, principal of Women's Christian College, said the workshop would "complement the academic curriculum and provide holistic education to students to help them develop in social and cultural directions as well".