The US Consulate General Kolkata organised a networking and knowledge-sharing meeting in partnership with Kolkata-based social enterprise, Contact Base.
The participants were business leaders, change-makers, entrepreneurs and educators, and stakeholders in the economic empowerment of women in India, Bangladesh, Nepal and the USA for building regional coalitions and networks in South Asia.
The meet was a part of the project 'Women Welding the Workplace'. Since 2021 this US Consulate Kolkata-led initiative is functioning to develop solution-based support networks for enabling greater participation of women in the workforce in South Asia with a focus on India, Nepal and Bangladesh.
The two-day meet hosted sessions that covered themes like Inclusive Access to Finance, Building Eco System for Women's leadership, Skilling the Workforce and Well-being at the Workplace.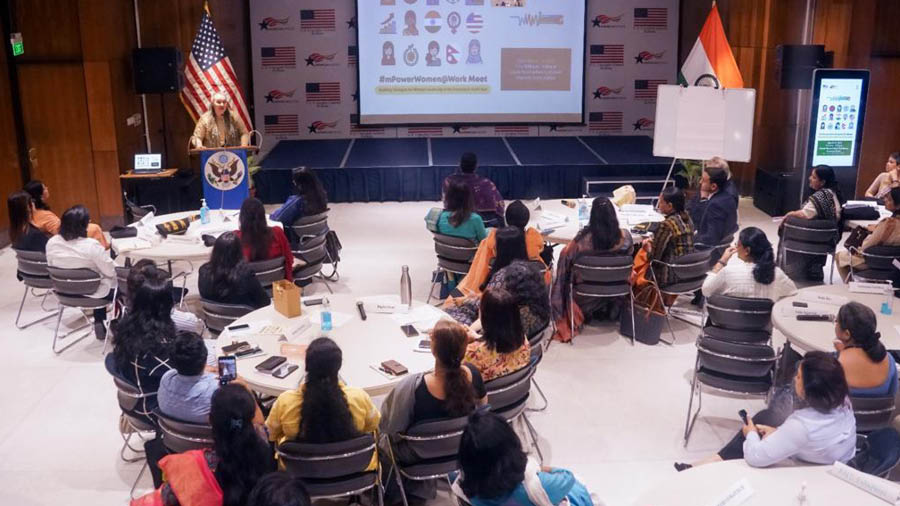 US consul general in Kolkata Melinda Pavek speaks on the occasion.
Courtesy: American Center Kolkata
While inaugurating the event on Tuesday morning, US consul general Melinda Pavek said: "This event is one of many efforts across the region that continues our partnership with local organisations to focus on raising awareness and motivating action toward revised policy frameworks, safer work environments, continued education, and equal compensation. For our part, we will continue to contribute to strengthening this framework as a South Asian dialogue and look forward to continued regional synergies and collaborations."
Several women delegates were present at the event, including US-based well-being experts Kimberly Moore and Ednesha Saulsbury, co-founders of Black Woman Be Whole, Selima Ahmad, Member of Bangladesh Parliament, entrepreneur, and founder president of Bangladesh Women Chamber of Commerce and Industry, among others. Michella Bekkering, national engagement director of US Global Leadership Coalition, participated in the event virtually.
A number of panel discussions, lectures, and master classes took place at the vent. During one such panel discussion on 'Leadership at Workplace', Shaleni Biswas, an entrepreneur, said: "When I started my company, I saw doubts in the eyes of all the employees. A woman always has to prove her position, while the men are always accepted as natural leaders."
More than 30 West Bengal-based start-ups took part in the meet and showcased their unique ventures and enterprises. Among them five Kolkata and Guwahati-based start-ups were mentored in developing elevator pitches. Mentors and business experts from India, the United States, Nepal and Bangladesh participated in these sessions.