Hollywood's biggest night — aka the Academy Awards, now just five years short of its centenary — took place in Los Angeles on Sunday. In a night crowded with first-time wins, underdog triumphs and remarkable comebacks, a packed Dolby Theatre witnessed Everything Everywhere All At Once take home three of the four top prizes — winning Best Picture, Best Directing and Best Actress in a Leading Role for Michelle Yeoh, among a whopping seven wins overall — with India bagging two Oscars, both for the first time in their particular categories. While crowd favourite Naatu naatu from RRR danced its way to the Best Original Song trophy, The Elephant Whisperers quietly but firmly landed itself at the top of the heap in the Best Documentary Short Film category.
Highlights from the star-studded gala...
Naatu naatu wins big!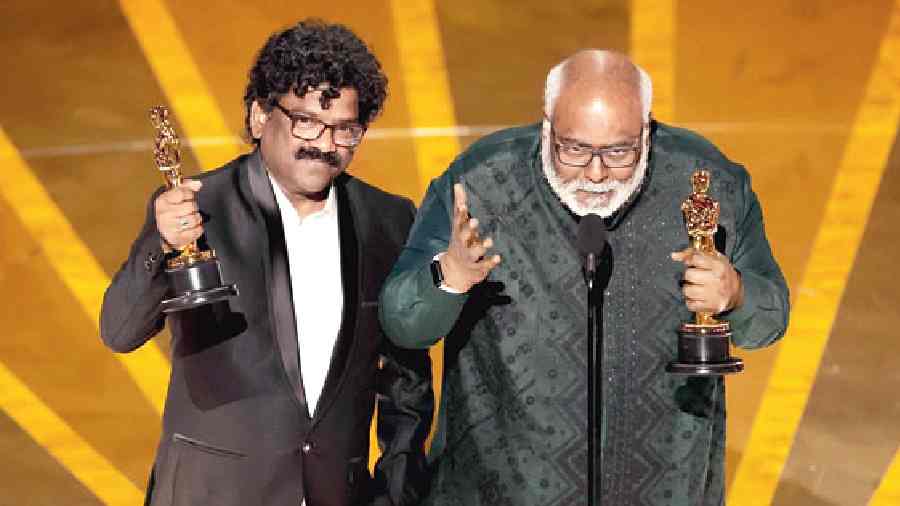 Composer M.M. Keeravani (right) and lyricist Chandrabose accept the Oscar for Best Original Song for Naatu naatu from RRR
The "banger" from RRR — as a smiling Deepika Padukone, introducing the song on the Oscars stage, described it — was the favourite to win the golden statuette, despite strong competition from Rihanna's Lift Me Up from Black Panther: Wakanda Forever and Hold My Hand by Lady Gaga from Top Gun: Maverick.
But there was no holding back Naatu naatu that brought the audience at Dolby Theatre to its feet during the live performance of the song as well as when it was announced as the winner in the Best Original Song category. Composer M.M. Keeravani, accompanied by lyricist Chandrabose, received the award, even as Team RRR, and the rest of the audience, cheered them on. Keeravani kept his speech short and sweet, saying that he grew up hearing the Carpenters and gave a shout-out to their popular song Top Of The World, moulding the lyrics to, "RRR has to win, pride of every Indian and must put me on the top of the world."
Women Power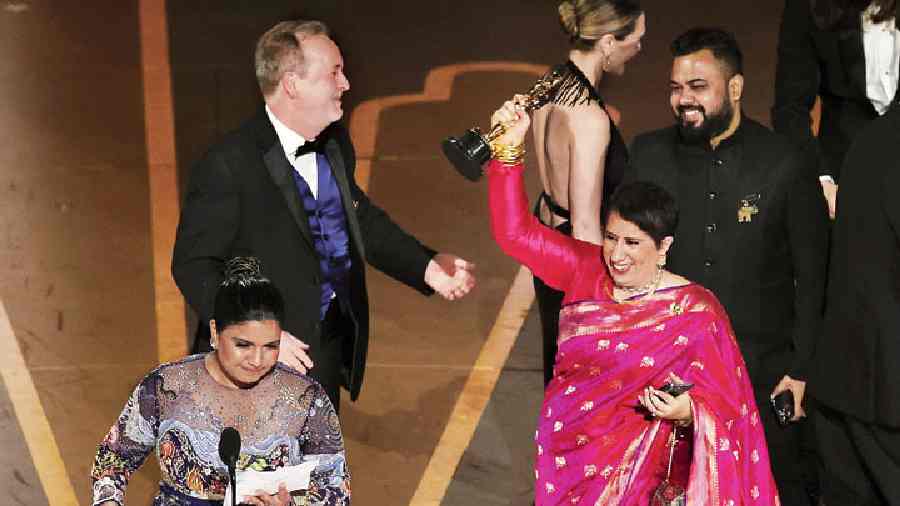 The other big win for India came in the form of The Elephant Whisperers with director Kartiki Gonsalves and producer Guneet Monga winning the coveted trophy for Best Documentary Short Film. A heartwarming story about the connection between humans and animals, the Netflix documentary struck an instant chord with its story of indigenous couple Boman and Bellie forming a relationship with an elephant named Raghu.
Gonsalves thanked her "Motherland India" for the honour, saying, "I stand here today to speak for the sacred bond between us and our natural world, for the respect of indigenous communities and empathy towards other living beings we share our space with, and finally for co-existence. Thank you to the Academy for recognising our film, highlighting indigenous people and animals".
Monga, who has always championed the cause of independent Indian cinema, wrote on Twitter: "We just win (sic) the first ever Oscar for an Indian Production! Two women did this! I am still shivering." In 2018, Monga was amongst the first producers from India to be inducted in the Academy of Motion Picture Arts and Sciences. She served as an executive producer on Period. End of Sentence., which won the 2019 Academy Award for Best Documentary Short Film.
However, another Indian documentary film, Shaunak Sen's All That Breathes, which made it to the nomination list for Best Documentary Feature at the Oscars, lost to Russia's Navalny.
Smashing the glass ceiling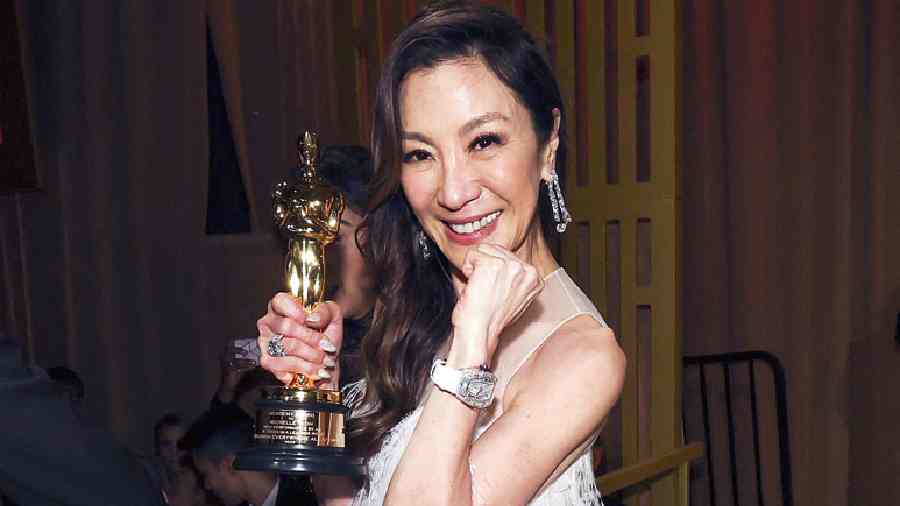 Michelle Yeoh with her Best Actress in a Leading Role statuette
A major Asian presence scripting history at #Oscars95 was Michelle Yeoh, who became the first Asian actress to win the honour for Best Actress in a Leading Role. "For all the little boys and girls who look like me watching tonight, this is a beacon of hope and possibilities. This is proof that dreams do come true," Yeoh said in her speech, receiving cheers in response. "And ladies, don't let anyone tell you that you are past your prime."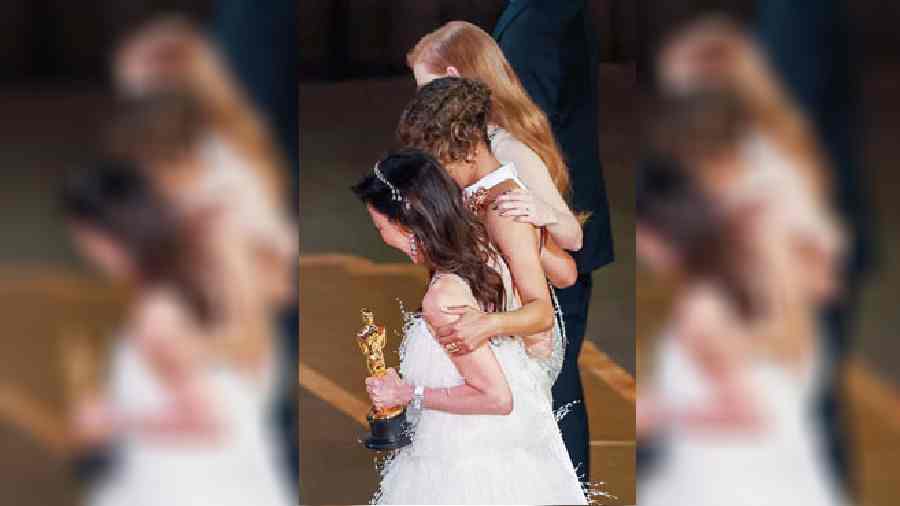 Yeoh walking off the stage arm in arm with Halle Berry and Jessica Chastain who presented the award to her
The Malaysian-born stuntwoman-actor won for her spectacular, shape-shifting role in Everything Everywhere All at Once, with the crowd rising to its feet to applaud when she walked on to the stage. Echoing the theme of her film, which centred heavily on immigrant motherhood, Yeoh paid tribute to her own mother. "I have to dedicate this to my mom, all the moms in the world," an emotional Yeoh said. "Because they are really the superheroes, and without them none of us would be here tonight."
Significantly, Yeoh was handed over the trophy by Halle Berry, the first woman of colour to win in the category, when she took home the prize for Monster's Ball more than two decades ago. "This is history in the making," screamed Yeoh, as she walked out with Berry and co-presenter Jessica Chastain.
Making India proud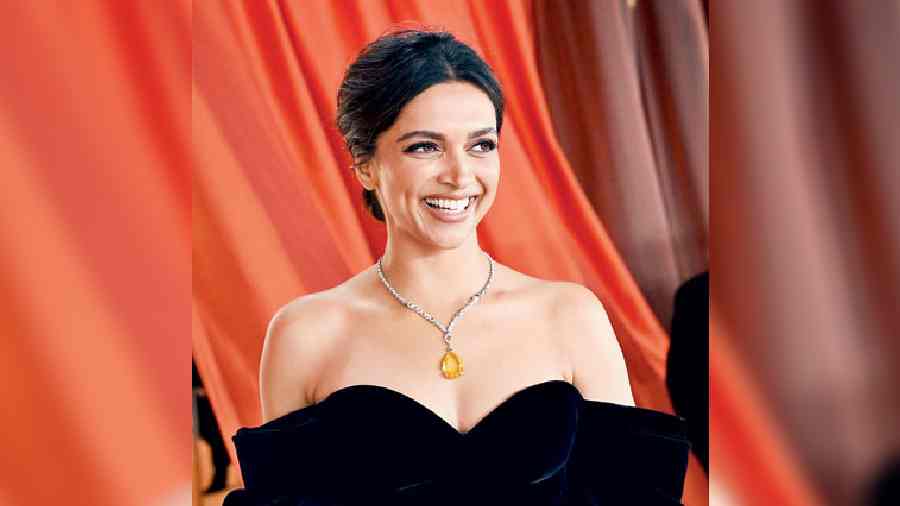 Deepika Padukone at Dolby Theatre
Also making her presence felt was Deepika Padukone, who became only the third Indian — after Persis Khambatta and Priyanka Chopra Jonas — to present an Oscar. Channeling classic old-world Hollywood, and looking every bit like Audrey Hepburn in Breakfast at Tiffany's, Deepika presented the live performance of Naatu naatu on stage. "Do you know Naatu? Because if not, you're about to," smiled Deepika, amid a rousing response as the Naatu naatu dancers, accompanied by vocalists Kaala Bhairava and Rahul Sipligunj, burst on stage and took over for the next few minutes.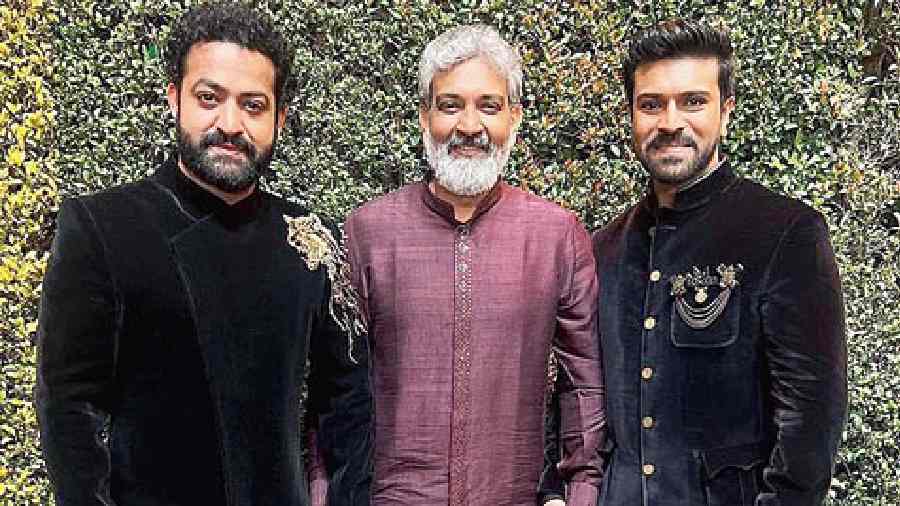 Team RRR — Jr NTR, SS Rajamouli and Ram Charan — at the Oscars
While Deepika was singled out for her choice of outfit, confidence and poise, praise for her at the Oscars also came from unexpected quarters. Fellow actor Kangana Ranaut hailed Deepika for being so graceful, "How beautiful @deepikapadukone looks, not easy to stand there holding entire nation together, carrying its image, reputation on those delicate shoulders and speaking so graciously and confidently. Deepika stands tall as a testimony to the fact that Indian women are the best".
The American dream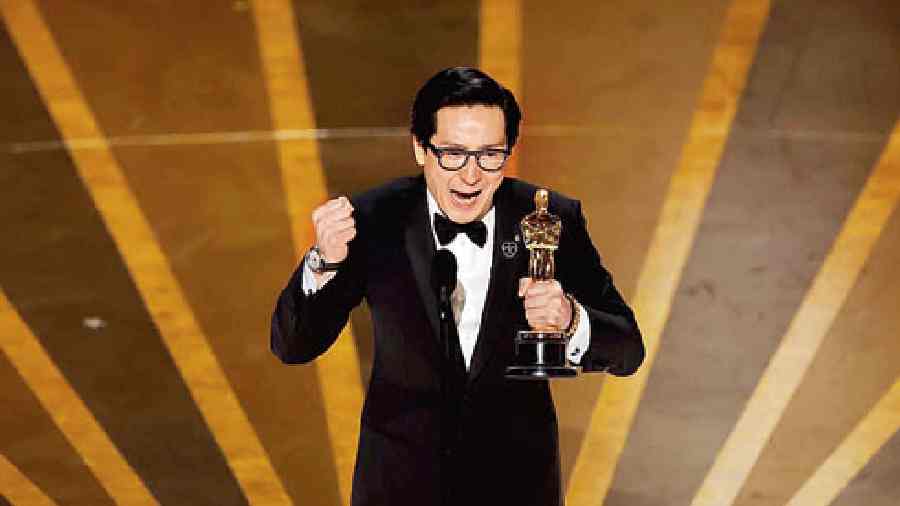 Ke Huy Quan with his Best Supporting Actor trophy
Ke Huy Quan, who has made a name for himself for his exceptionally emotional speeches over the last few months as he has picked up one award after another for Best Supporting Actor for Everything Everywhere All At Once, continued the streak at the Oscars. "My mom is 84 years old, and she's at home watching. Mom, I just won an Oscar!" Quan said, opening his speech to riotous applause and cheers from the audience.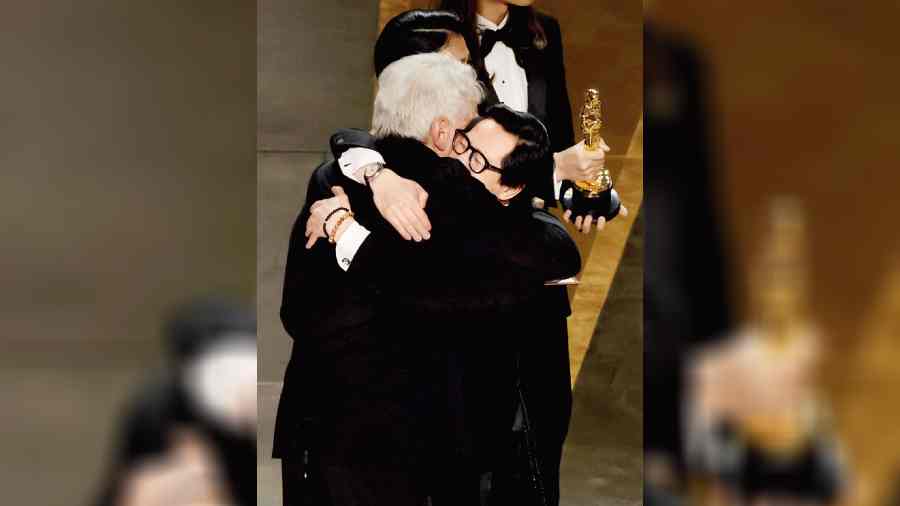 With Harrison Ford
"My journey started on a boat," he continued. "I spent a year in a refugee camp and somehow I ended up here on Hollywood's biggest stage. They say stories like this only happen in the movies. I cannot believe it's happening to me. This, this, is the American Dream," said the affable actor, who was discovered by Steven Spielberg as a child and cast in Indiana Jones and The Temple of Doom, with Harrison Ford in the title role.
One of the major click-worthy moments of the night was courtesy Quan's reunion with Ford on the Oscars stage as the veteran actor gave away the golden statuette for Best Picture for Everything Everywhere All At Once.
Whale of a comeback!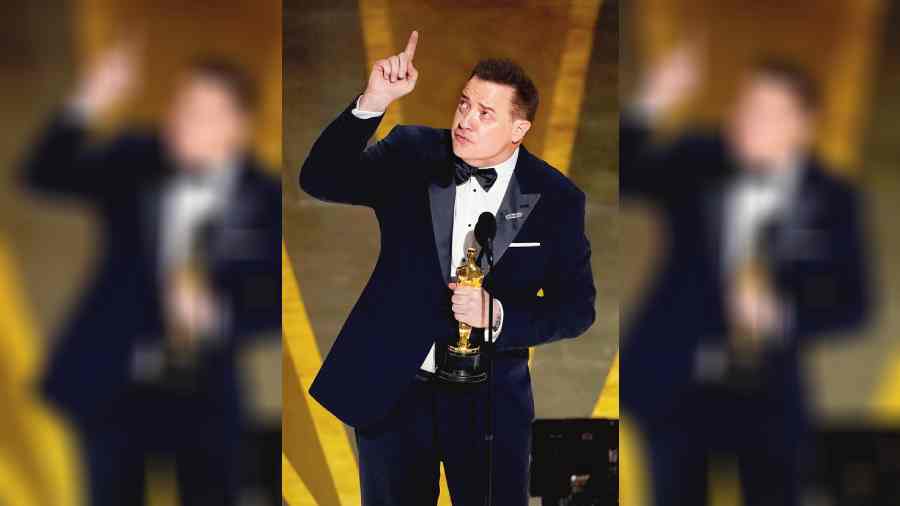 Brendan Fraser delivering an emotional speech
Scripting a comeback story like few others in the recent past, Brendan Fraser edged out Austin Butler to win the Oscar for Best Actor in a Leading Role for The Whale. Visibly tearful and overwhelmed throughout his speech, Fraser thanked those who got him to the stage at Los Angeles's Dolby Theatre. "I started in this business 30 years ago, and things, they didn't come easily to me, but there was a facility that I didn't appreciate at the time, until it stopped. And I just want to say thank you for this acknowledgement. Because it couldn't be done without my cast," he said."
"It's been like I've been on a diving expedition to the bottom of the ocean," he continued, "and the air on the line (has come from) some people in my life like my sons Holden and Leland and Griffin — I love you Griffey, my manager JoAnne Colonna, (my publicist) Jennifer Plante and my best first mate Jeanne (Moore)."
Woman talking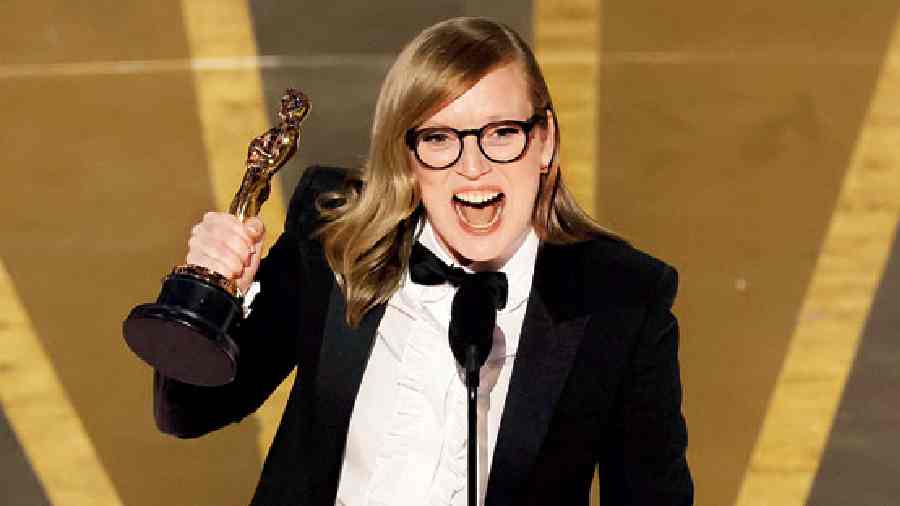 There has been quite a bit of criticism levelled at this year's Oscars for not having a single woman in the Directing category. Sarah Polley, whose name has come up often as one who deserved to have her name up there on the nominees list, reinforced the same with a smart speech directed at the Oscar committee.
Polley, who won the Academy Award for Best Adapted Screenplay for her powerful film Women Talking, 'hailed' the Academy for "not being mortally offended by the words 'Women' and 'Talking' so close together like that".
She then spoke about the power and importance of real communication. "Miriam Toews wrote an essential novel about a radical act of democracy in which people who don't agree on every single issue manage to sit together in a room and carve out a way forward together free of violence. They do so not just by talking but also by listening."