Ancient stone temples from the Chola era are being recreated at Manicktalla Chaltabagan Lohapatty Durgapuja Committee. My Kolkata is the digital media partner for the puja. 
Theme and decorations
Intrigued by the forts and temples of south India built at a time when there was no technology or machinery, only hard labour and exquisite craftsmanship, the Manicktalla Chaltabagan Lohapatty Durga Puja Committee chose 'Incarnation of Ancient Architecture' as its theme this year.
"It is a wonder how craftsmanship, blended with ancient technology contributed significantly to the sophistication, perfection and grandeur in the structures," said Rajesh Kumar Jaiswal, secretary Manicktalla Chaltabagan Lohapatty Durga Puja Committee.
The pandal made by artist Sutanu Maity will have stone finishing to keep it as close to reality as possible.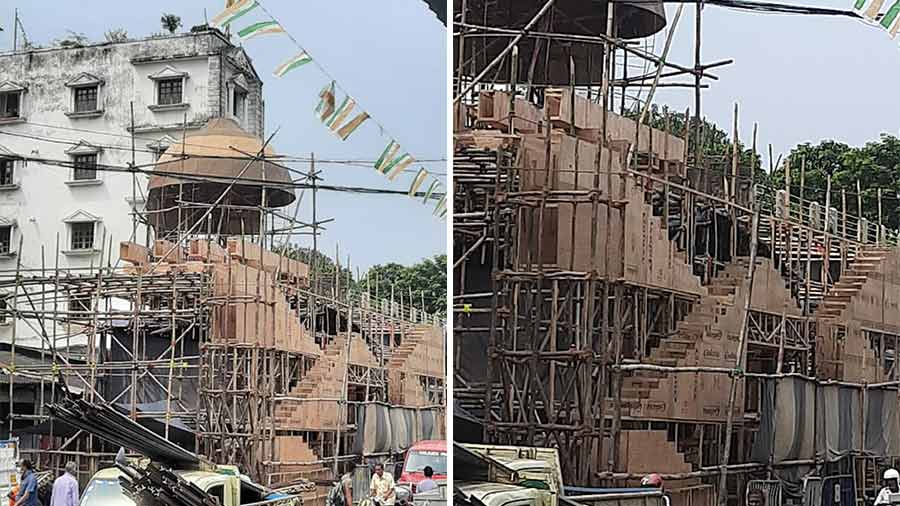 The pandal modelled after an ancient south Indian temple
Manicktalla Chaltabagan Lohapatty Durga Puja Committee
The idol
Though made of clay, the idol will appear to have been carved out of stone to replicate the idols seen in the ancient temples down south.
"We wanted the idol to gel with the theme. Idol-maker Badal Chandra Paul has made it possible. I am sure visitors will like it," Jaiswal said.
Durga's costume and jewellery will have a south Indian touch as well.
Looking back
The Manicktalla Chaltabagan Lohapatty Durga Puja turns 80 this year. It was started in a small shop in 1943 by Nitin Jaiswal.
The puja has won several awards since 1997. It has won much appreciation for its socially relevant and environment-friendly themes. Windmills and solar panels were used to draw electricity and light up the pandal in 2015.
The Manicktalla Chaltabagan puja is a popular choice among film stars for sindoor khela on Dashami.
"Chaltabagan is not only famous for the novelty of the pandal but is one of the top crowd-pullers in the city and has hosted prominent personalities from the world of art, culture, foreign consular corps, sports, politics, industry and glamour each year. The puja has been graced by a number of personalities from various walks of life, including chief minister Mamata Banerjee," said Sundeep Bhutoria, chairman of the Manicktalla Chaltabagan Lohapatty Durga Puja.
This year's chief guest will be Shatrughan Sinha. "He is a dear old friend who also happens to be an MP from our state. He has visited our pandal in the past as well hence is the obvious choice for our chief guest this year," Bhutoria said.
Countdown
Manicktalla Chaltabagan will open its gates for visitors on Dwitiya, September 27. Dona Ganguly and Shatrughan Sinha will be among those who will attend the inaugural ceremony.
How to reach
The Manicktalla Chaltabagan Lohapatty Durga Puja is on Raja Ram Mohan Roy Sarani and can be reached by buses plying on Vivekananda Road. Autos are easily available from Girish Park and Kankurgachi. Girish Park is the nearest Metro station.