The general belief is that once you are diagnosed with a heart disease, it will remain with you for the rest of your life. Based on this theory, a few cardiologists with futuristic vision felt strongly that there should be a way to help people with heart diseases lead a normal life, a quality life, a productive and dynamic life, a meaningful and resourceful life.
Hope for heart patients
The Cardiovascular Research Foundation (CRF) was set up in New York in 1989. A year before that, in 1988, Dr Martin B Leon organised a meeting with 150 cardiologists in Washington DC. The Transcatheter Cardiovascular Therapeutics (TCT) conference discussed how thorough investigations, a clear understanding of pathology, research, innovations, application of technology and education can help physicians and allied professionals work together to ensure a productive quality life for all patients of heart diseases and even completely cure some heart ailments.
Steady growth of TCT
From its inception in 1988, TCT — the annual scientific symposium of the CRF —  has grown steadily and today it is the world's foremost educational forum specialising in interventional cardiovascular medicine. Debuting as a small gathering of 150 in 1988, TCT now attracts more than 10,000 attendees from more than 100 countries. Every year, TCT features major medical research breakthroughs and is a meeting ground for leading researchers and clinicians from around the world to present and discuss the latest evidence-based research application of innovative technologies to improve heart care of the world's population.
TCT 2022
This year, the TCT conference was held at the Convention Centre, Boston, between September 16 and 19. After 2019, there had been a major setback because of the COVID pandemic. The conference had to go virtual and the main ideology of the meeting to enhance global heart care was seriously jeopardised. The number of attendees (nearly 12,000 in 2019) dropped significantly during the pandemic. The TCT 2022 meeting was a kind of revival and restrengthening of the original heart care philosophy. The young generation was incorporated in the leadership. The conference also saw engagement of cardiovascular research scientists from all over the world, application of artificial intelligence in cardiovascular care and creation of a new horizon in the cardiovascular disease landscape.
This year about 6,000 attendees and around 700 faculties participated from across the world. Representation from South Asia, particularly India, was comparatively less. Meanwhile, active participation from Indian faculty highlighted the concerns of non-availability of advanced heart care facilities, unaffordable heart care economics and changing pattern of heart disease, particularly the rise in diabetes, obesity, high blood pressure and smoking as well as of relatively young patients being diagnosed with a heart condition. These developments underline the need for original research work on cardiovascular diseases in the region.
On September 16, the session on 'TCT Medtech' on heart failure was very meaningful. As more and more heart patients are surviving with advancement of therapy, a new entity called 'heart failure syndrome' is progressively on the rise. The world is facing a new challenge of how to alleviate this escalating number of heart failure patients with advancement of pharmacotherapy, sophisticated cardiovascular device implantations, and more innovative biomedical technologies.
The mandate was to have more global research and comprehensive data analysis for heart patients. The main objective is to minimise hospitalisation, re-hospitalisation and eventually diminish mortality and improve survival.
Principal objective
The principal objective of TCT 2022 was to work towards a normal life for heart patients. TCT's new format was very meaningful. This year, TCT underwent a complete transformation. The in-person format meant shorter and less didactic lectures. Rather than having the faculty addressing from a podium, the emphasis was on communication and discussion loaded with contextual information for practical implementation.
Takeaway from TCT 2022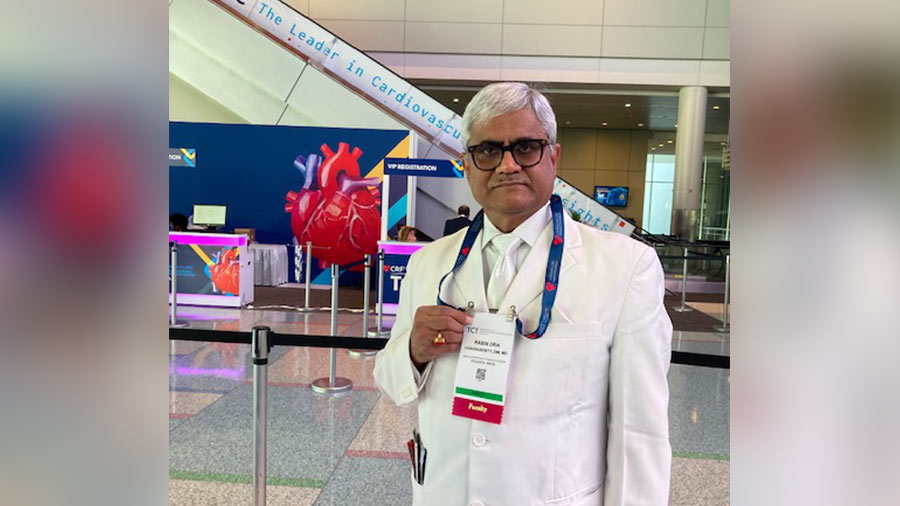 At TCT 2022, Chakraborty suggested the formation of an international council of TCT faculties following a discussion with present course directors and other key opinion leaders from India, Bangladesh, Egypt, West Asia, Japan, UK and the Far East
As an invited faculty from India, I was keenly following and also directly participating in some live cases, late-breaking research outcomes, FDA Town Hall meetings, innovation and shark-tank sessions, with faculty from across the world. The revamped sessions added a lot of value. I also suggested the formation of an international council of TCT faculties following a discussion with present course directors and other key opinion leaders from India, Bangladesh, Egypt, West Asia, Japan, UK and the Far East.
On Friday, September 16, a new entity called the MedTech Innovation Forum was discussed. It combined industry presentations on new devices with lectures on topics such as reforming healthcare delivery, global digitalisation and consumerisation of health data. I was actively involved in the discussion and the question-answer session on global digitalisation and consumerisation of heart care data. I emphasised on the difficulties developing countries faced in collating the data base in an organised format. I suggested a standard guideline that was highly appreciated. 
Also, a full day's session on heart failure was very pertinent in the context of today's cardiological practice. I was actively involved in a discussion on the new drug therapy and practical utilities of devices such as Cardiac Resynchronization Therapy (CRT) pacemakers and defibrillators for the management of advanced heart failure.
During the next two days, there were very complex live cases from many advanced and leading cardiac hospitals from all over the world. I found advanced coronary interventions with new imaging technologies and the use of devices like rotablators and haemodynamic support devices like impella to be very educational. I took part in long discussions about new methods of performing complex blockages at the main heart artery bifurcation or divisions. These can be easily adopted with some experience. 
It was suggested that I be a proctor for advanced coronary artery angioplasties in our subcontinent. Heart valve replacements through catheter have come up very well and I realised that in the near future, most of the heart valve replacements will be done by interventional cardiologists and not by cardiac surgeons.
Renal Denervation Therapy
For hypertension treatment, the new concept of denervation of the nerves and their branches around the kidneys will be a key factor. These patients do not require many tablets to control high blood pressure.
Some cases were demonstrated. Renal denervation with new radio-frequency technology and with special ultrasound technology looked very promising for future care of high blood pressure.
Finally, some important and well-designed medical trials confirmed that use of many stents in multiple blockages of arteries of the heart with impaired heart function is not beneficial. These patients do well with good medical therapy. In stable coronary artery disease, even with mild chest pain, medical treatment with tablets is better than stent implantation. This information is based on scientific evidence and should be practised. The rush for multiple stents or even bypass surgery has relatively inferior long-term benefits.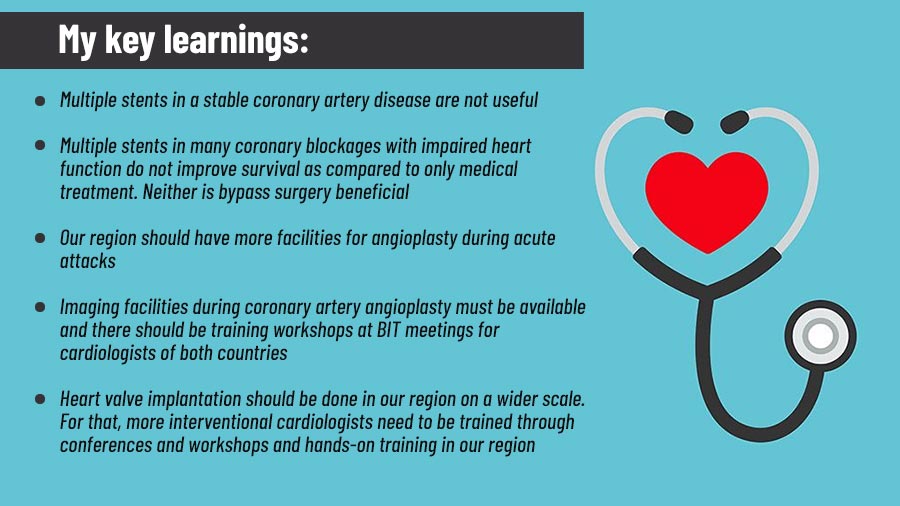 TCT 2023
For the forthcoming BIT meeting to be held at Dhaka in February in 2023, TCT course directors Gary Mintz from Washington DC and Ajay Kirtane from New York have agreed to be the faculty. In addition, many TCT faculties from countries like Japan, Singapore, and UK have agreed to perform live cases at the BIT meeting.
Indian participation
The landscape of cardiovascular intervention and the application of newer technologies are widening with time. World-wide cardiovascular interventions have now taken on a new format. Indian cardiologists must remain on the same page. For this, more and more cardiologists should attend such meetings and new facilities should be available in the Indian market. The government should be proactive in making these tools available to cardiologists and industries and manufacturers should make the price of newer technologies affordable for patients.
The author is a Kolkata-based senior consultant interventional cardiologist and electrophysiologist.