The uncertainties and stresses of life have been exaggerated during the pandemic. This has made it more important than ever to take a break, assess progress and take corrective steps. In order to provide extensive insight on this topic, the Lifestyle Committee of The Bengal Chamber of Commerce and Industry is organising the third edition of BCC&I Step Forward: A Power Session, presented by Woodlands Multispeciality Hospital and Digital Media Partner My Kolkata. The session will discuss the topic, "Why you should take a step back to move forward" virtually on March 24 from 4pm.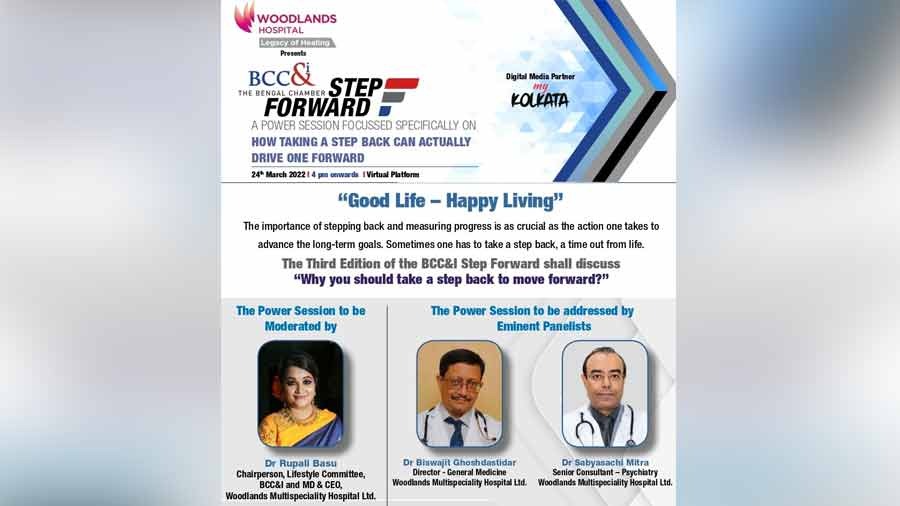 The session will be moderated by Dr Rupali Basu, chairperson of BCC&I's Lifestyle Committee and the managing director and CEO of Woodlands Multispeciality Hospital. The panel will comprise experts from the hospital — Dr Biswajit Ghoshdastidar, director of general medicine and Dr Sabyasachi Mitra, senior consultant of psychiatry. 
"Stepping back and measuring progress is a crucial method to judge the action that should follow in order to advance long-term goals. Sometimes one has to take time out to focus on this analytical exercise to get dividends in the future," said Dr Basu. 
This session is a part of extended efforts by BCC&I's Lifestyle Committee to enlighten people about what truly constitutes a good lifestyle and the diverse approaches to attain it. The previous two editions of Step Forward shed light on the facets of leadership and the need for business resilience in today's climate. 
Viewers can tune into this edition on BCC&I's Facebook page or YouTube channel, or stream it here.