Anju Modi
Anju Modi's 'The Road Less Travelled' was serenely beautiful in spirit and contemporary cool. Plenty of whites with an occasional spurt of colour stood out. The layering was eye-catching. Of course there were the signature bridal lehngas in rich hues, but overall the tones were muted and the style subtle yet statement. Aditi Rao Hydari was an understated bride in her minimal make-up and offbeat bridal hues of green and mustard. Really a 'Road Less Travelled'.
Varun Bahl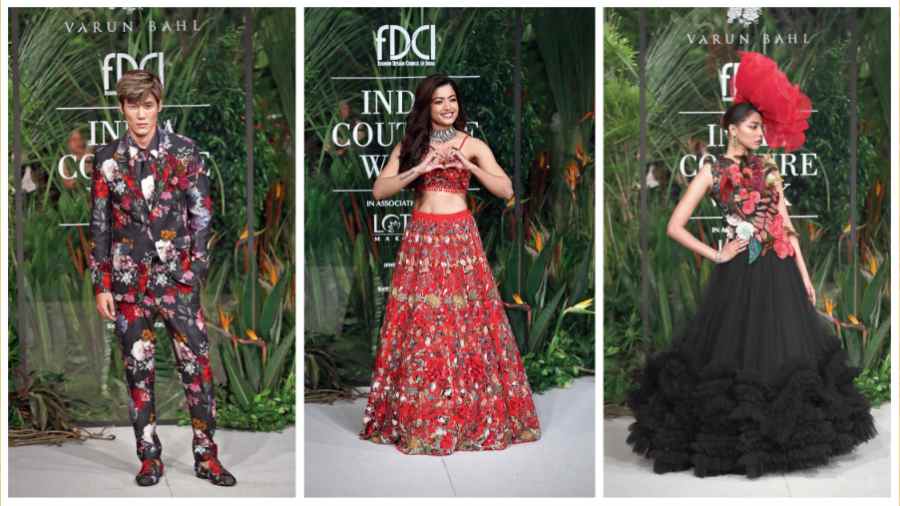 Floral drama defined Varun Bahl's 'New Leaf'. And the designer played around with this timeless inspiration across a range of silhouettes. For his women and men too. From dresses, lehngas and separates to sherwanis and striking suits. A few elaborate headgears added to the romance. He also revisited his "signature" embroideries over the years. Feathers, sequins, patchwork embroidery, 3D patterns, luxe prints and beautiful detailing made up 'New Leaf' that was complemented by jewellery from Sehgal Jewellers by Bobby Sehgal. Pushpa actress Rashmika Mandanna walked in a red lehnga, minimal-casual and pretty.
Falguni Shane Peacock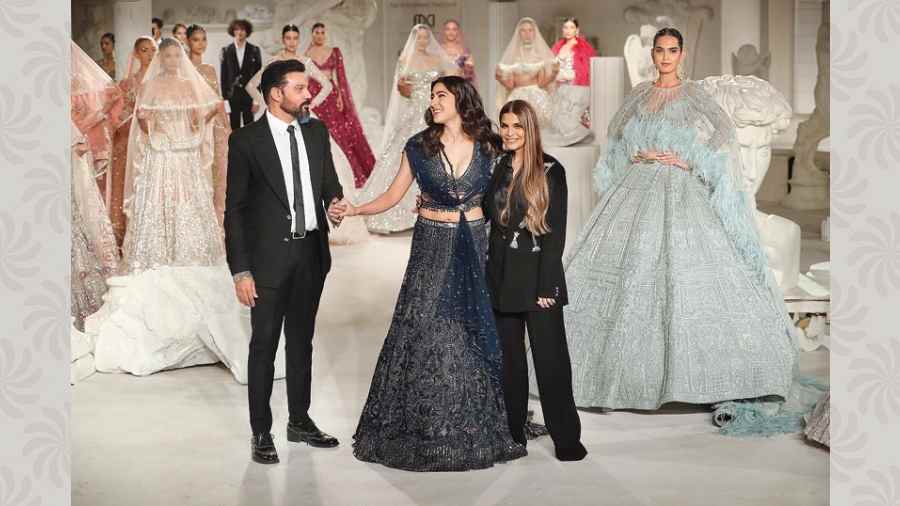 Sara Ali Khan with Shane and Falguni Peacock
The husband-wife designer duo showcased 'Love Forever', an ode to French art, combined with its Indian counterpart. The cocktail lehngas with chrome applique for her were the eye-catchers. Grandly elaborate, they oozed royal vibes. Feather, ruffles and crystals on ivory, 'pale blush, pink parfait, old rose, peach whip, beet red and French roast, peppercorn, metallic stone green, metallic pewter, gilded gold and the signature opal whites' added to the royal glamour vibes. A bit of shine and shimmer around the eyes and on the hair and bejewelled sehras for him and veils for her complemented the mood of the collection.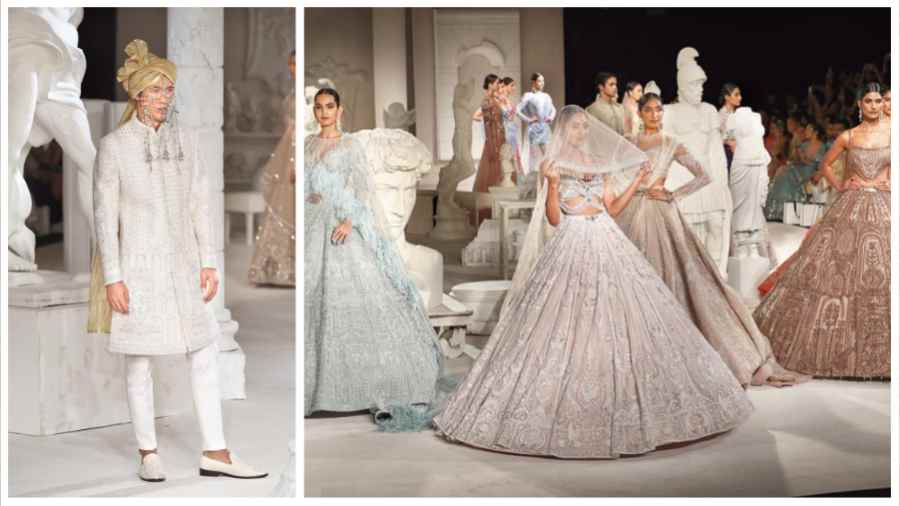 Sara Ali Khan walked in a contemporary midnight-blue lehnga, her clean and fresh look accentuating the colour, crystals, beads, the silk organza applique with silver and grey sequins, even more. Archana Aggarwal's jewellery paired with the ensembles for the right statement.
Suneet Varma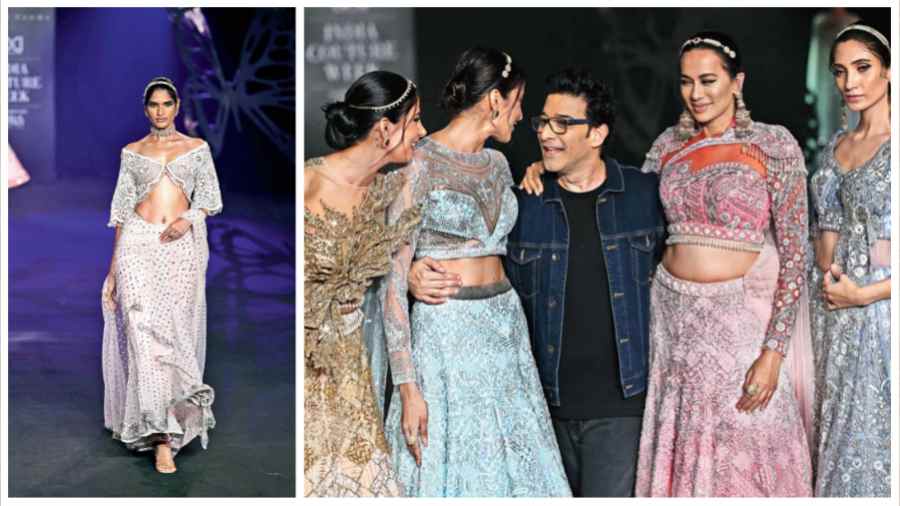 Suneet Varma's 'Sitara' had a princessy feel. His women walked in heavily embellished saris, lehngas and separates, all with a dream-like vibe. The pastels were refreshing. The accessories enhanced the royal feel. Suneet played around with the cholis. Contemporary or traditional, they all came with an X factor. #sosexy
Dolly J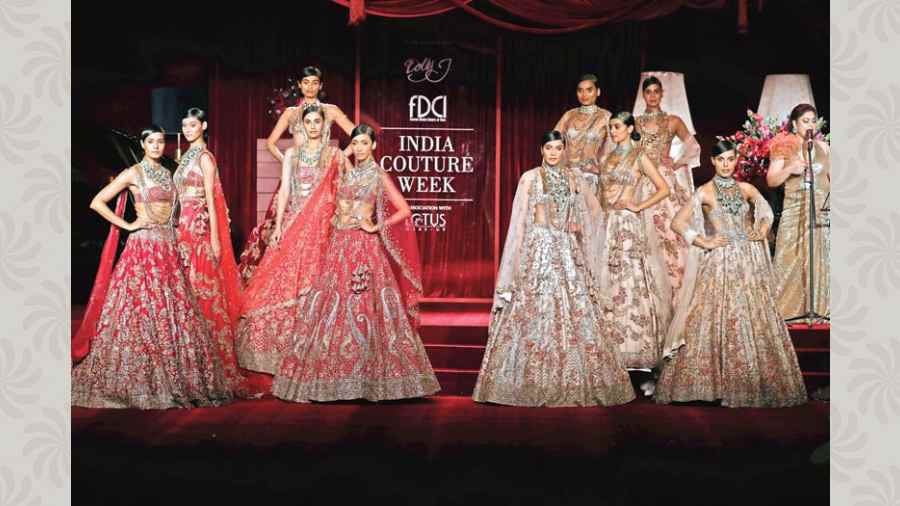 The designer showed 'Meraki', a line high on shimmer, shine and drama. Elaborate lehngas and gowns were complemented by statement jewellery by Calcutta's Sawansukha Jewellers. Exquisite jewellery in diamond and jadau were showcased, paired with the clothes. Shilpa Shetty Kundra was the showstopper in her sensuous cutaway gown, very fairytale-ish. Metallics and detailing on the sleeves featured prominently.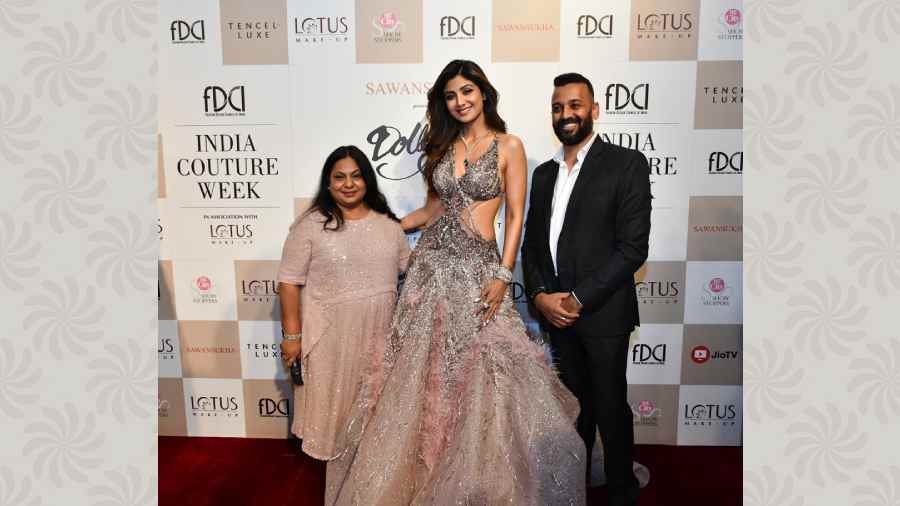 "Our diamond collection is an opulent grandeur of timeless designs, handcrafted intricate karigari which has finest triangle-shaped diamond, double-cut rose diamond and square-cut princess diamond exclusively to put an extra glitz and glamour to the event. This collection has necklaces, long tassel and modern diamond-studded chains which create a striking look. Our jadau collection has its roots in Bikaner. Phenomenal designs, eye-catching minakari karigari stitched with uncut diamonds, pigeon red rubies and Colombian rare green beryl, which makes each piece stand out from the ordinary," said a collection note from Sawansukha Jewellers.
Siddartha Tytler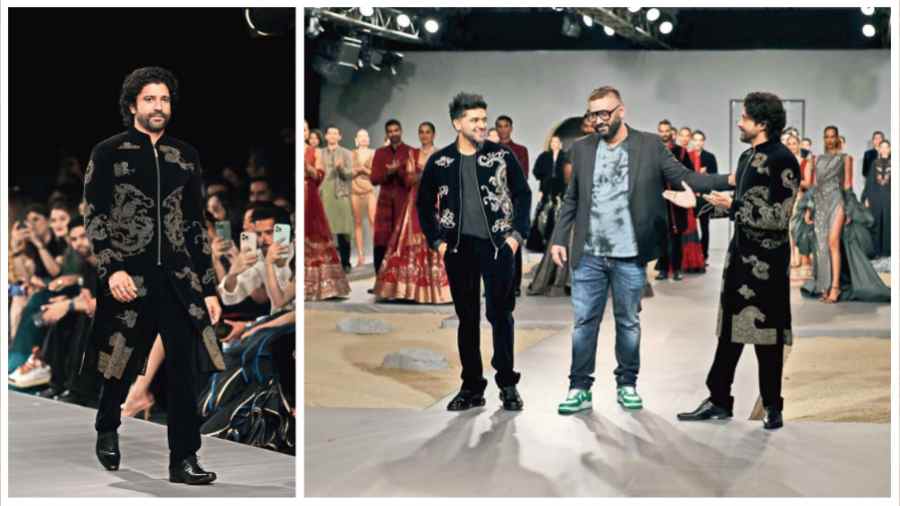 Siddartha Tytler's 'Shan Shui' derived inspiration from Chinese art. Nature was a recurring motif. The Delhi-based designer showed a cocktail line and saris, lehngas, sherwanis, kurtas and bandhgalas in maroon, navy, olive, charcoal and the classic black. Sequins, quilting and crystals embellished the outfits. There was a play of sleeves and sheer. While Farhan Akhtar made a statement in a contemporary-cool sherwani, Guru Randhawa was casually styled in jackets and pants.
Kunal Rawal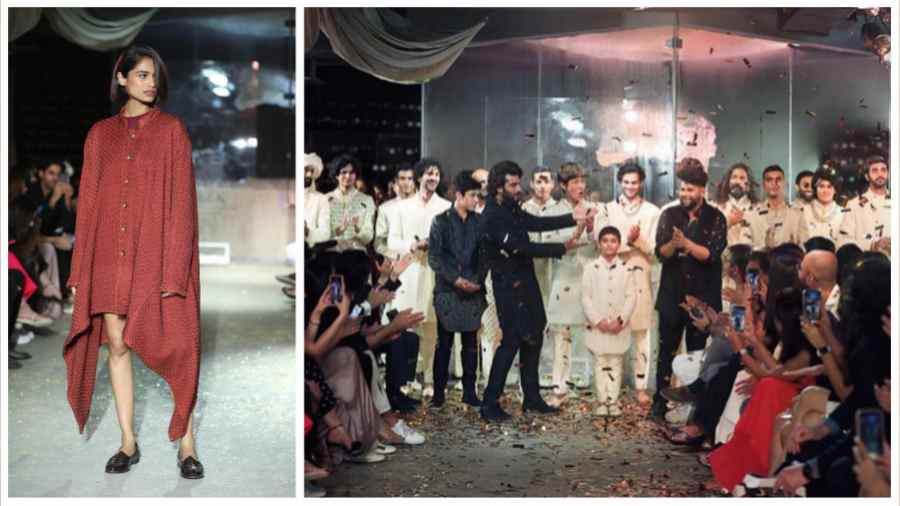 Just like FDCI India Couture Week, Kunal Rawal celebrated 15 years of his label with 'Dear Men'. The collection showcased a range of menswear, good to take you from a boardroom to a brunch to a wedding. We loved the occasional womenswear too. Chic and cool. Arjun Kapoor who had walked for Kunal earlier too, was there to celebrate his special moment. The designer gave Arjun a 'tone-on-tone' sherwani.
Rohit Gandhi + Rahul Khanna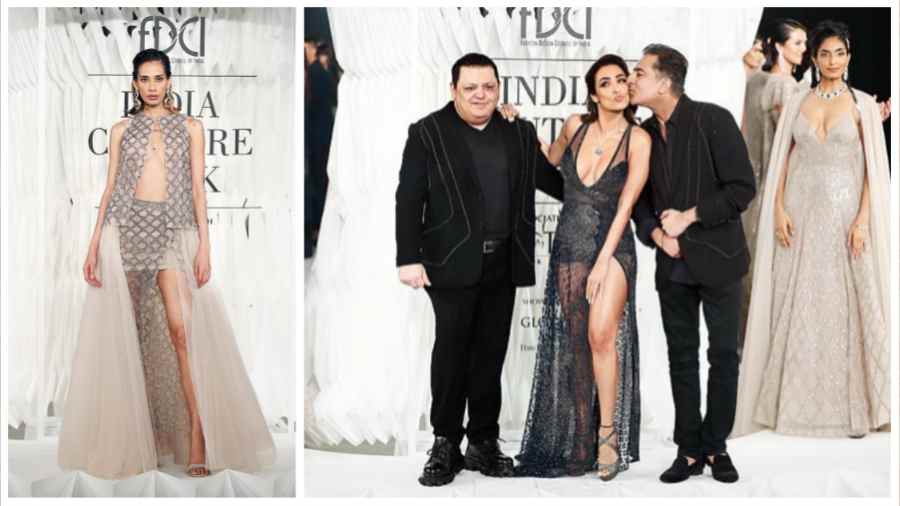 The designer duo showcased a sexy line of gorgeous party and cocktail wear dominated by grey. Called 'Fibonacci', the collection had jackets, shirts, draped kurtas and layered suits for him and cocktail lehngas, draped saris and gowns for her. The models sashayed down in tulles, organzas and velvets. Pearls, crystals, tassels and sequins added to the glamour. Coral, hearthstone, teal and blues too featured in the line. Malaika Arora's was an oomphy presence in a slit midnight gown.
Amit Aggarwal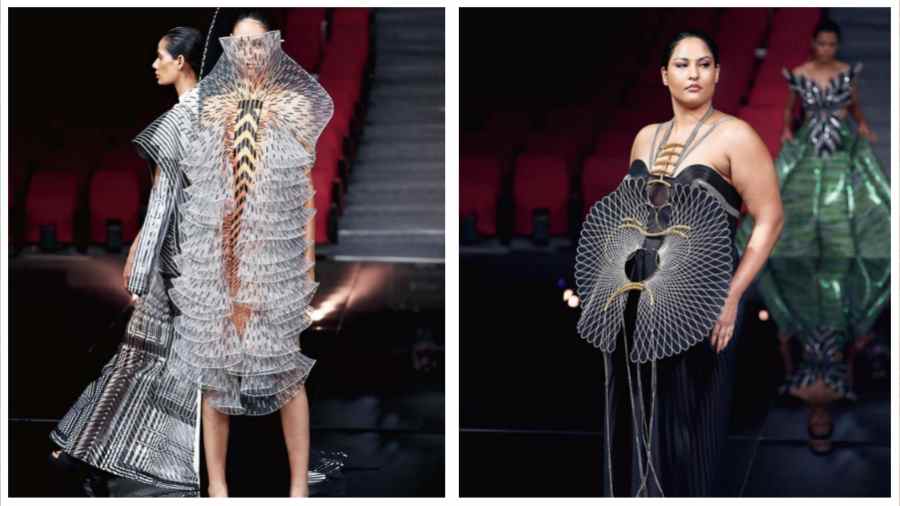 Amit Aggarwal's (inset) was a stunning showcase of folds and textures, his signature, making it one of the best shows of the week. Ingenious and how! Saris, gowns, dresses and suits, the AA way, were sent on the ramp in a spectacle that was a striking statement, futuristic and truly couture. Vibrant shades and patterns intermingled in the collection that was "a celebration of the fact that we are the glitch in time: warping forms, straddling realms, embracing eternity".
Pictures: Sandip Das and FDCI