Sri Sri Academy
Around 217 students of Sri Sri Academy retold the stories of freedom fighters, focusing on the lesser-known ones, at their virtual Independence Day celebrations this year. The children presented a medley of songs and dance performances in an hour-long programme.
Chapters from the history book came alive as the students enacted the roles of Matangini Hazra, Rani Chennamma, Surya Sen, Khudiram Bose, Ram Prasad Bismil and other leaders. The event began with the students taking a pledge of righteousness and good conduct, initiated by principal Suvina Shunglu. The dance numbers that followed paid tribute to our soldiers and war heroes. The multilingual event ended with a play, panning out in both colour and black-and-white and taking the audience to the worlds of Khudiram Bose, Prafulla Chaki and "Gandhi Buri".
"I wish for a safe and secure India. The sense of civic awareness, responsibility and ethics should be instilled in kids. They should learn to respect women, all faiths and cultural diversity. The freedom of mind is as important," said the principal.
Shri Shikshayatan School
Students of Shri Shikshayatan School recently celebrated the 75th Independence Day with great enthusiasm and pride. The celebration was divided into two parts — the first part was held on the school premises. It was attended by teachers, co-ordinators, administrative and Group D staff members. The second part streamed virtually. It began with a speech by secretary general Bratati Bhattacharya, who emphasised the importance of reflection, evaluation and introspection of the path that all need to follow to move ahead. "At Shri Shikshayatan School, we firmly believe there is a need to make students realise the true meaning of Independence and the correct meaning of freedom. So, we celebrate the independence of India over 10 days through various activities," said principal Sangeeta Tandon.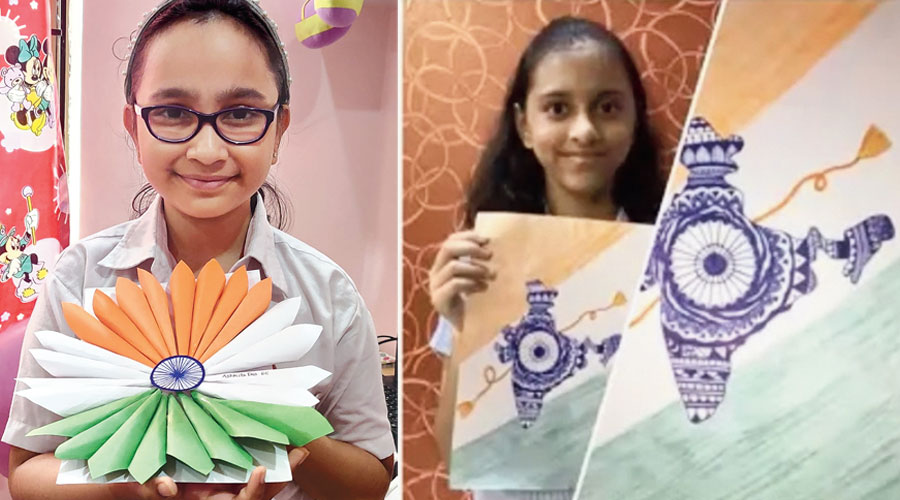 Delhi Public School Newtown
Delhi Public School Newtown celebrated Independence Day with an array of fun-filled activities, engaging students from Nursery to Class VIII.
From colourful PowerPoint presentations to singing patriotic songs and dressing up as freedom fighters — the children did it all to pay tribute to the motherland. They also made flags, bookmarks and animated images through innovative techniques. "We need to be working for the good of our country. We should all work towards eliminating the differences that are there in our society. We are making a mark as a nation in every field and everyone should take pride in that," said principal Sonali Sen.