Whenever artist Ratnadip Pramanik would travel to south Kolkata from his home in the north, he would see a series of single-screen cinemas, some shut, while others struggled to stay afloat. He couldn't help but feel sad at the situation. However, more than halls, he would feel more sad about the condition of theatre productions in Kolkata. "From being one of the prime sources of entertainment, stage shows such as theatres and jatras have lost their popularity, leaving the technicians struggling," said Pramanik.
So when the opportunity to decorate the pandal of Behala 11 Palli Puja came to Pramanik, he didn't think twice before planning it entirely on the theatre technicians. Probably for the first time in the city, a Durga Puja is being decorated and dedicated to the theatre technicians from Bengal.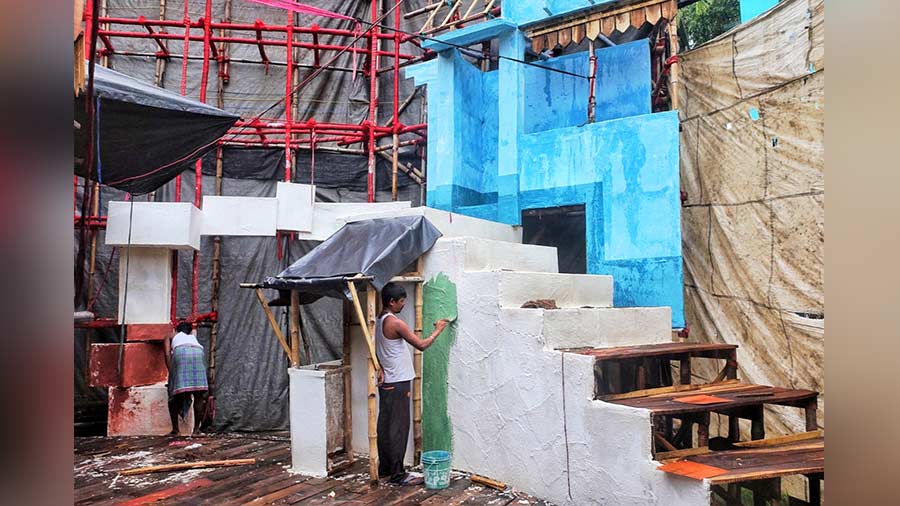 The main stage-like structure at the pandal
Talking about the main concept, Pramanik said in the past, theatre technicians like the light man, make-up artist, and set makers had steady income. With declining popularity of theatre and digitisation, several such people have lost their jobs. "Once without these technicians, none could think of producing a theatre. So through our pandal, we are trying to show the common people how these people used to work," said Pramanik.
According to the plan, the main pandal would look like a stage and Ma Durga's idol would be placed on that. The entire pandal will be decorated with theatre-related artwork.
However, the main attraction of the puja is something else — to show how the technicians used to work, several of such technicians have been hired by the puja from different theatre groups in and around Kolkata. "They would actively work at the pandal. The lightman would work on the light, while the set artist would work on the sets and so on. Starting from Mahalaya till the end of Durga Puja, these technicians would be present at the pandal and the audiences would be able to see them working," said Pratip Ghosh, one of the main organisers of the puja.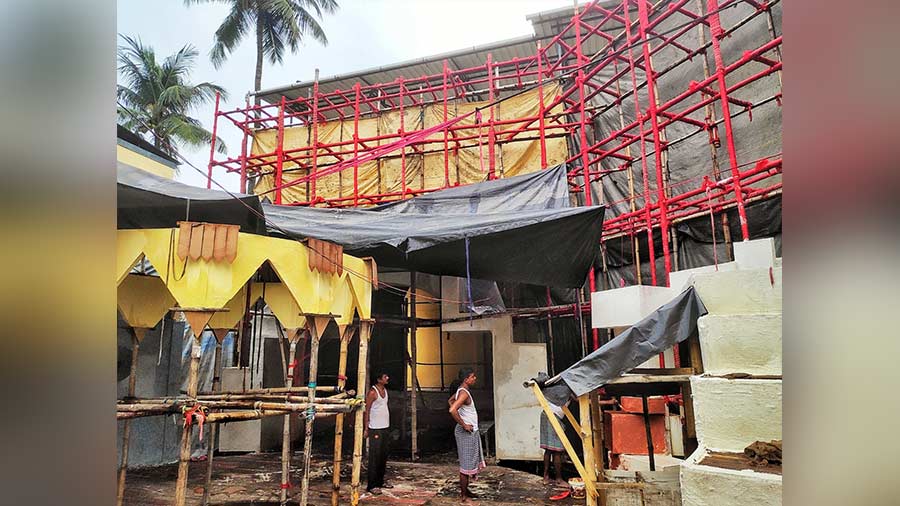 The pandal in the making a month before the start of Durga Puja
Ghosh couldn't be happier about the theme. Having a deep respect for the art, Ghosh is working day and night for the puja. "We have conducted a long research before starting the work and that included talking to a number of theatre personalities including Chandan Sen, Deb Shankar Halder, Satyam Bhattacharya and Kharaj Mukherjee among others. Their interviews have been recorded and we are planning to play them at the pandal with digital projection," Ghosh added.
Besides, the Puja has taken a unique route for publicity. Instead of hoardings, banners and other traditional advertising or publicity methods, the club has hired an autorickshaw with an announcer who would publicise about the Puja through a loudspeaker. "Just the way it was done in the old days. We just want to capture that charm in our Puja," said Ghosh.