In its 54th year, Mohammad Ali Park Durga Puja pandal will replicate Rajasthan's Sheesh Mahal.
Numerous pieces of mirrors and coloured glass will be used to recreate the ambience and grandeur of the Sheesh Mahal.
''Following several requests, we decided to go ahead with the Sheesh Mahal theme,'' said Surendra Kumar Sharma, general secretary, Mohammad Ali Park Durga Puja committee.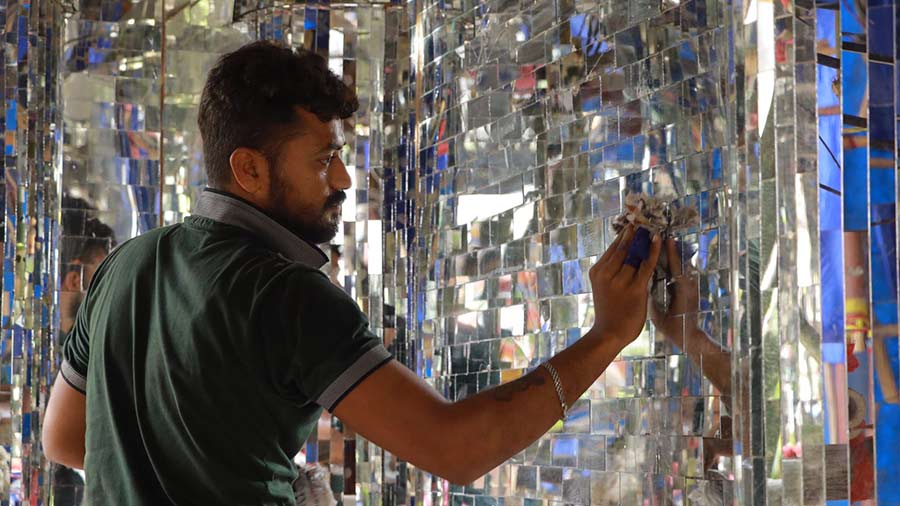 A man polishes the mirrors that adorn the pandal wall
Photograph: Mohammad Ali Park
"To make the pandal more vibrant, apart from mirrors and artificial gemstones, we are planning to install several exquisite paintings," he said.
Special care has been taken to set up the lighting arrangements to highlight the interior of the makeshift Sheesh Mahal.
Ashok Ojha, joint secretary, Mohammad Ali Park Durga Puja committee, said, "With thousands of flickering reflections, the Sheesh Mahal pandal will illuminate its surroundings and create a magic. One can relive the beautiful past of the palace here. It will remind the visitors of the grandeur of the royal era of Rajasthan. The artists have done a hugely commendable job. The murals on the pandal walls and the mirror and glass work will add to the venue's splendour."