As part of the requirement of the character, Ray had wanted to know what my capabilities were. So, the question-answer session went something like this.
Ray: Do you know how to mix drinks?
Barun: Not really. But, one could pick it up, I suppose.
Ray: Can you swim?
Barun: Sort of.
Ray: What exactly does this 'sort of' mean?
Barun: Meaning … I wouldn't drown immediately if I were to fall in water.
Ray kept looking at me suspiciously.
Ray: Can you sing?
Barun: Sort of.
Ray: Can you drive?
Barun: Nope.
Ray: What can you do then? Can you ride a bicycle at least? (Exasperation in his voice)
Barun: That I can. But, haven't done it in a long while.
Ray: I thought you couldn't even do that…
************************
The above exchange is an excerpt from Satyajit Ray: The Man Who Knew Too Much. The quick repartee was also the hallmark of the book launch at Starmark in South City Mall on May 26. The writer, Barun Chanda, who was the protagonist of Seemabaddha, Shyamalendu Chatterjee, recounted for a rapt audience his memories of Ray, the man, the director, and sometimes the dictator. His accounts were interjected with remarks from Dhritiman Chatterjee and recollections by Siddhartha Chatterjee, which kept the audience entertained. The panel was moderated by Chanda's son, Avik Chanda.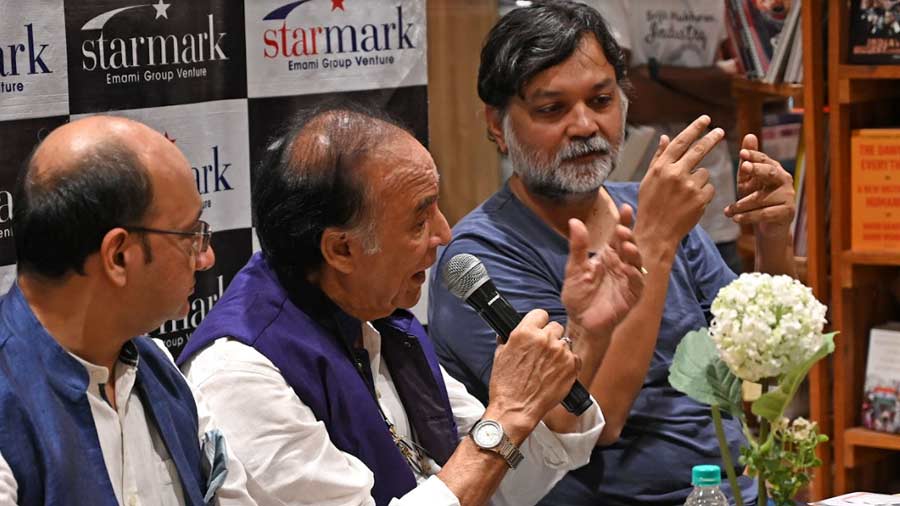 "Clearly it is a case of men who knew too little speaking about the man who knew too much," began Srijit Mukherji, who went on to compare Ray to a whole library, where every facet of the man's personality held a wealth of information on the subject of filmmaking. "My first film Autograph was a tribute to him… I needed to get it out of my system in order to be able to make any other film. This was the gurudakshina with which I started my journey."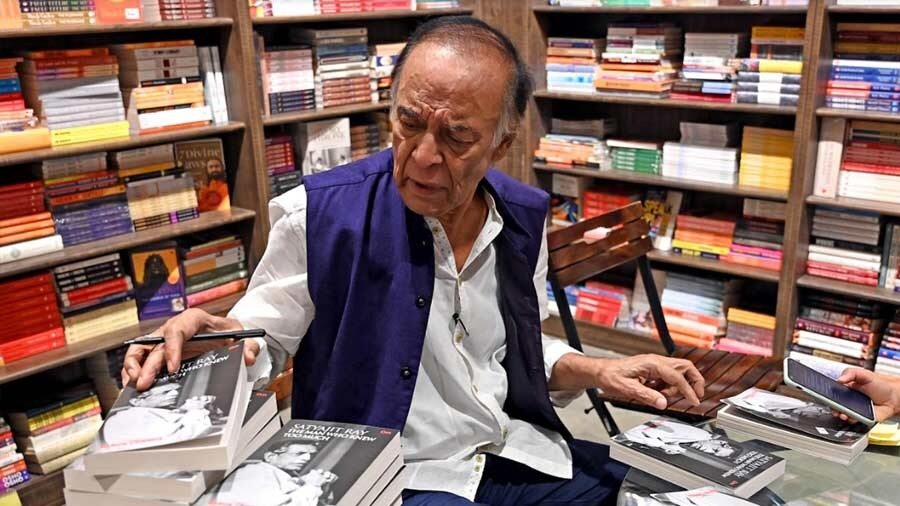 "This book was the survival of my sanity during the pandemic," said Barun Chanda. He went on to recount the story of Ray being sceptical of Chanda's desire to read Bangla literature, but suggesting that he read the two stories out in that year's Puja Sonkha – Seemabaddha by Sankar and Kalo Rasta Sada Bari by Sunil Gangopadhyay. We all know how that story ends! But Chanda also went on to admit that ultimately, Seemabaddha the movie was quite different from its original story.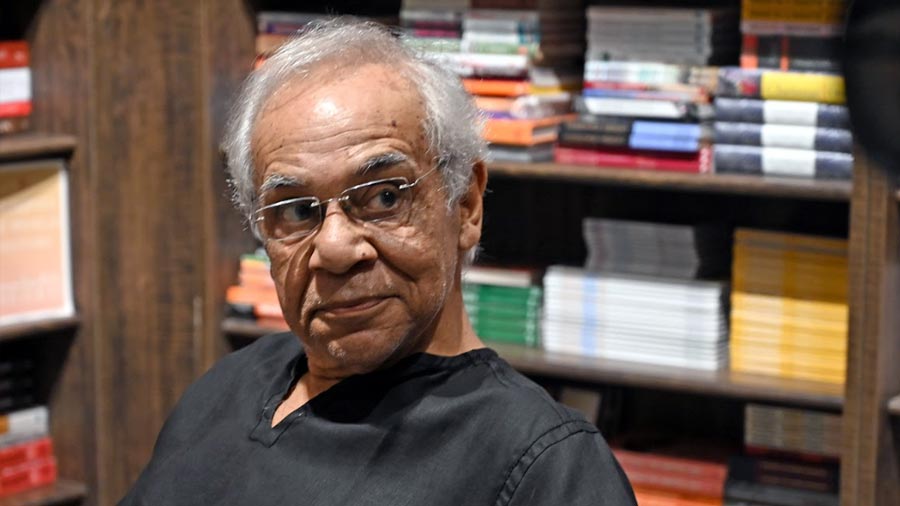 Dhritiman Chatterjee, the protagonist Siddhartha in Ray's Pratidwandi, agreed that the above occurrence was the reason he never read Sunil Gangopadhyay's novel of the same name. "I did not want a conflict between the director's vision and the writer's vision."
He mentioned Aranyer Din Ratri as one of his favourite Ray movies, not least because of how it serves as an example of how a director can take the kernel of a story and make it completely his own. Chatterjee and Chanda went on to argue about Ray's "ideal" Feluda. The answer lies within the book!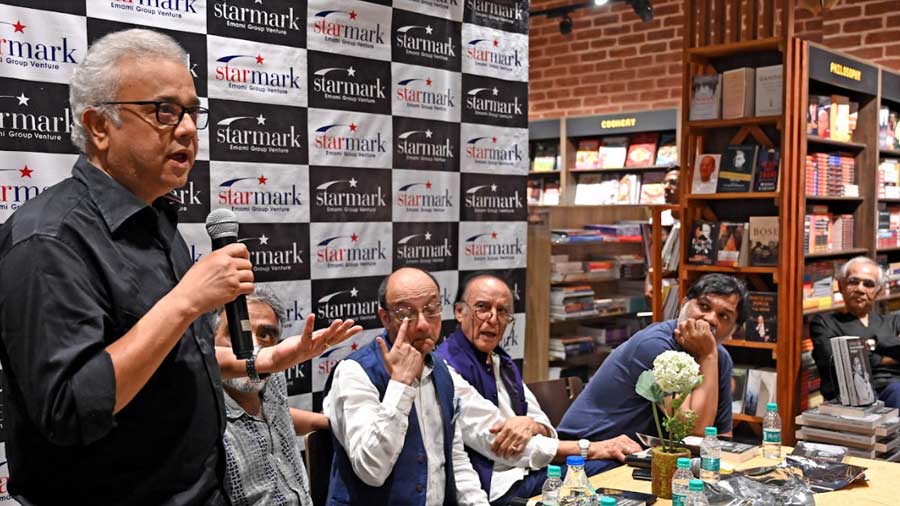 Siddhartha 'Topshe' Chatterjee recalled his childish memories of Ray – being picked up en route to the sets and exchanging notes on breakfast. It turned out sheddho bhaat was Ray's favoured meal and Chatterjee's preferred breakfast. Later he realised that this was Ray's way of getting to know him, in order to put him at ease, and then later direct him on set without alarming the child actor.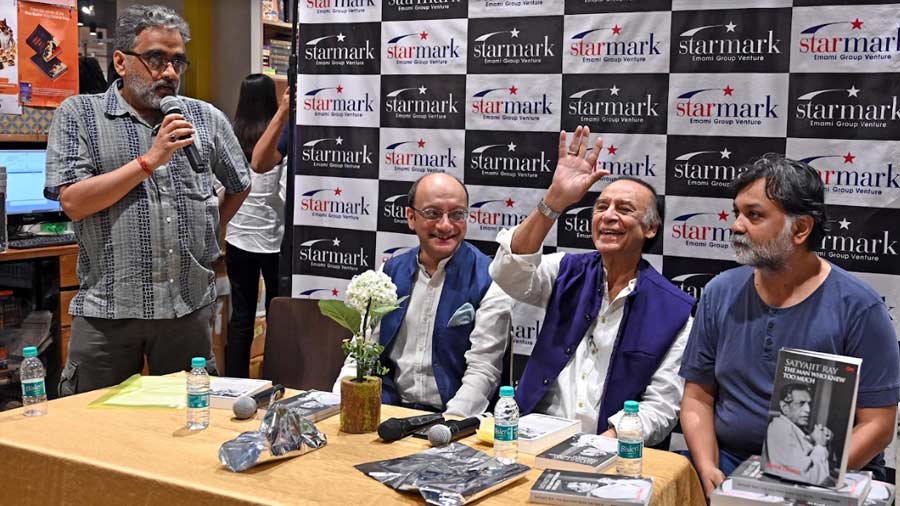 "Cinema has always been an abiding interest and Ray has been in my foremost thoughts," said Shantanu Ray Chaudhuri (standing), editor at Om Books International, who has also worked on a number of books with the Ray Society. "There are some fascinating anecdotes inside this book. For instance, I don't think anyone else has spoken about Ray's title designs. Also, I have been privy to the sight of Ray's expansive library but the description really comes to life in these pages," he said, going on to explain that what makes the book an engaging read is the fact that it has been "written like an adda."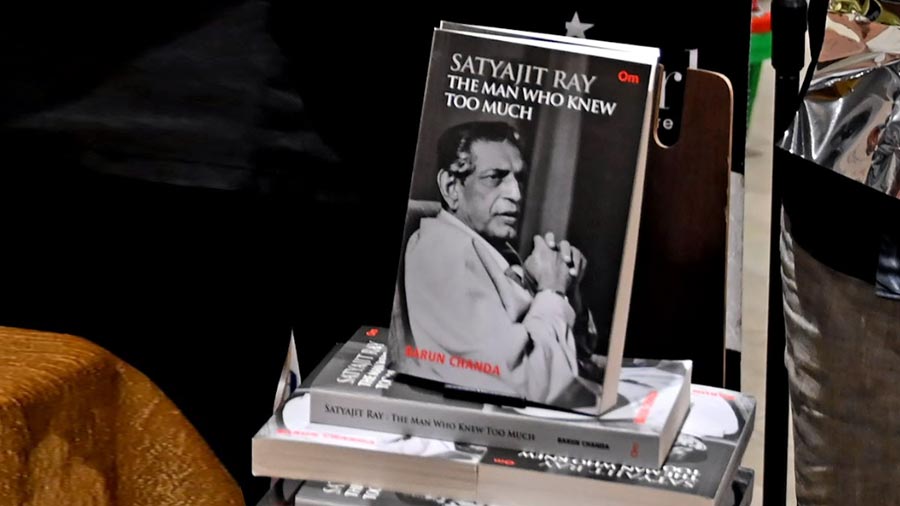 Get your copy here.