Some 28 years ago, when singer Rupankar Bagchi first arrived at the Bengali music industry, it was a very different time. The studio recording process was tedious and it took a lot of time to record just three or four songs. "That's why there were a lot more stories behind every song. Now, the process has changed and things have become more streamlined," Bagchi reminisced, after his solo concert on Saturday (September 16) at Rabindra Sadan.
The concert, Bho-katta Tomar Bhalobasha – 25 Periye Rupankar Ekok, was all about celebrating the glorious journey of the singer in the industry. "We wanted to hold this the year he completed 25 years, but unfortunately, that was 2020. Because of the pandemic, all live shows were cancelled and gatherings of this magnitude were out of the question. So, we are celebrating it this year," said Subham Chakraborty from Event Mas, the company that organised the event.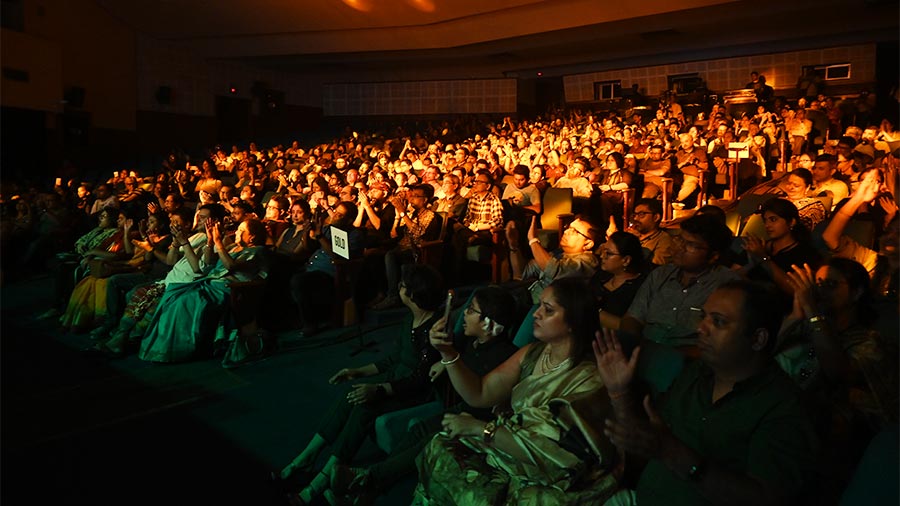 The audience at Rabindra Sadan
With relentless requests from the audience, the singer couldn't contain his emotions and delivered soulful songs, one after another.
The event was divided into two parts. In the first part, Bagchi sang about a dozen songs, with only two acoustic guitarists accompanying him. He started with Bhoy Ki Morone, a song by Mukunda Das. The collection of songs included creations of Hemanta Mukherjee, Mohammad Rafi, Mukesh, Kabir Suman, Jagjit Singh and Rabindranath Tagore. After singing Kabir Suman's Jodio Akash Dhoyay Mriyoman, Bagchi asked the audience to tell the composer's name. As many of them answered correctly, Bagchi said, "Without Kabir Suman, Bengali music would have died long back. He is the person who has kept Bengali music alive."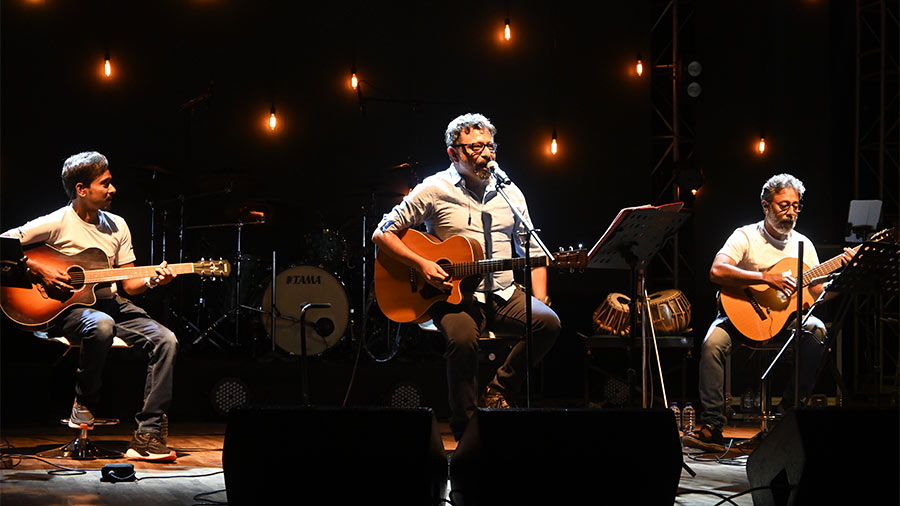 Bagchi also paid tribute to Kabir Suman at the concert
Bagchi added, "My wife Chaitali (Lahiri) used to work in advertising and would come home late at night. It was a demanding job and due to the pressure, she would not be able to sleep at night. And I would sing this song to help her fall asleep," said Bagchi, before singing Aladin. "Whatever I am today it is because of Chaitali and I would go ahead and say that I am alive today because of her."
"I think Rupankar is the Frank Sinatra of our generation. I do not have enough words to praise him – he is a fantastic singer and a holistic performer. A man who was a theatre artist and now a brilliant singer," said interdisciplinary artist Sujoy Prasad Chatterjee, who was one of the first to arrive for the concert.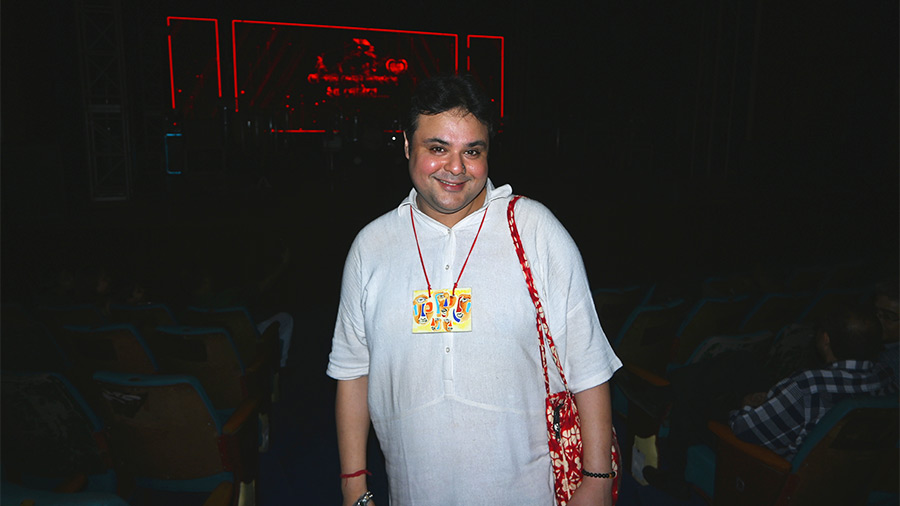 Sujoy Prasad Chatterjee
The second half of the concert started on a different note. With electric guitar, keyboard, drums and tabla, it was a time for celebration. In this segment, Bagchi sang about 20 songs. Hits rendered by him included Chand, Boudimoni, Tobu Tumi, Chupi Chupi Raat, Priyotama, Rukatha, Belasheshe and Aaj Shrabon.
During the first half, the audience was sitting and enjoying the music, but by the end of the second half, they were all up on their feet, shaking a leg. During his performance, Bagchi felicitated his fellow musicians and talked about his journey with composer Debojyoti Mishra. "I have made several songs with Debu da and I remember him waiting for me to record a particular song. I was sick and admitted to hospital, but Debu da didn't hire another singer for that song. I am eternally grateful to him for that gesture," Bagchi said.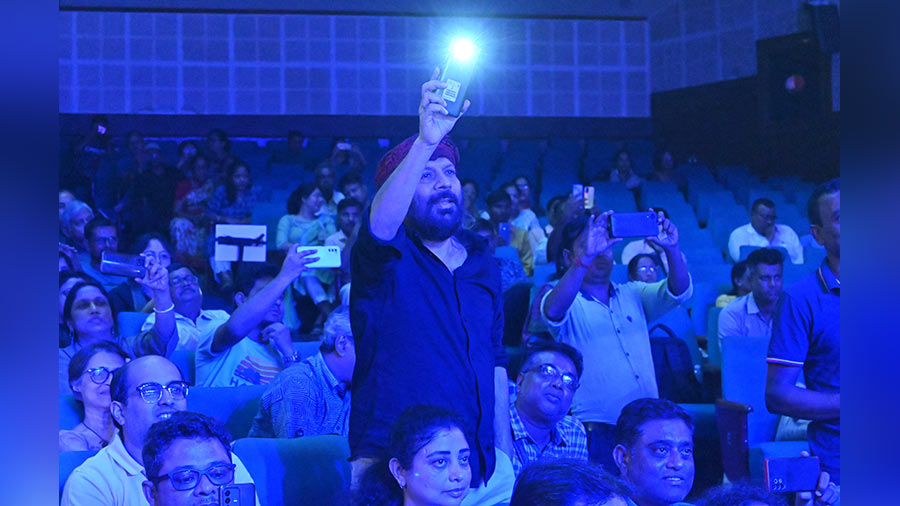 Debojyoti Mishra
"A singer's dedication, pain, happiness, his ability to celebrate life and his attitude of constantly evolving by learning new things inspired me. I would say he is an exceptional performer of our time and a beautiful human being," Mishra added.
Meanwhile, the audience kept requesting one song after another and Rupankar took their requests. The concert ended with E Tumi Kemon Tumi and Bho-Katta. "This is Rupankar for you. A singer who can sing 12 songs with just two guitars live and the same person can make the full house dance with his voice," said Sagarneel Chatterjee, an audience member.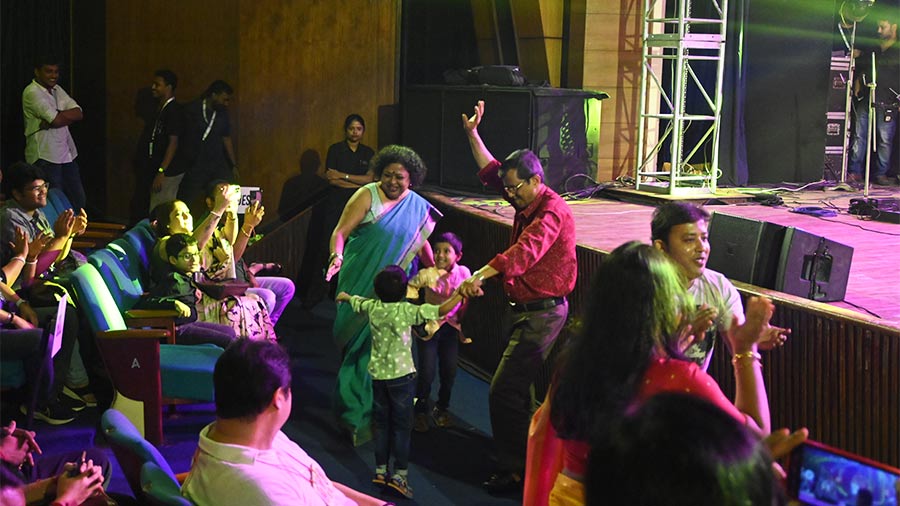 The audience gets its groove on
"I have been following his music for the last 20 years and Rupankar has never disappointed me. He sings classical-based music with the same proficiency he sings any other genre of music. A true musician. This is rare," said Kamalika Acharya, a Tollygunge-based homemaker, who attended the concert.
After the concert, when Bagchi was asked about the success of it, he said, "I never expected anything from this evening, but hoped that my listeners would come and hear the music. And that's what happened. Those who came have been following my music for the last 28 years and the best part was that the next generation of audiences came along with them. I was very comfortable during the concert. It was as if I was singing among the people I know dearly," Bagchi signed off.